Chapter 2
Setting the Right Goals to Make Use of Your KPIs
KPIs & Goals
Any project, whether it is a photo studio launch, a specific shoot, a product launch or an image conversion test, needs defined goals.
These goals are measured through Key Performance Indicators (KPIs).
There's lots of reading you can do on KPIs and goal-setting, but the basic idea is really common sense: a KPI is an agreed upon metric by which you can measure success towards a goal.
1. Identify a goal
2. Identify a measurement of data toward that goal (a KPI)
3. Create dashboards or reports to measure progress
4. Review results and make informed decisions
The process is simple
A goal can be general ("increase the number of products our studio shoots" ), but you'll have far better results if you're specific.
Include a measurement and, if possible, a timeline ("20% increase in the number of products shot in-house with a flat budget over the next year").
A shortcut to creating a good KPI is by making the KPI what is known as SMART (Specific, Measurable, Attainable, Relevant, and Time-bound).
For example, the "20% increase in products shot per year" example above checks all of these boxes (with the possible exception of Attainable – but I have faith in this hypothetical studio!).
Examples in a Studio Environment
Let's take a look at three examples of goals in a photo studio, along with an example of a supporting KPI to measure progress.
EXAMPLE NO. 1
Reduce Turnaround Time
Goal
Reduce turnaround time from sample arrival to final asset delivery by 50% in the next 90 days.
A. KPI
Duration from date/time of sample arrival to date/time of asset delivery.
EXAMPLE NO. 2
Reduce Reshoots
Goal
Reduce reshoot requests to less than 3% of images shot over a season.
A. KPI
Ratio of the count of reshoot requests to the overall count of images delivered.
EXAMPLE NO. 3
Increase Image Assortment
Goal
Add two detail shots to all (200) premium products for Fall 2022.
A. KPI
A percentage of the number of premium products with a detail shot completed versus the total number of premium products in Fall 2021.
B. KPI
A separate KPI could track the sales increase from the added detail shots and measure it against the cost investment to shoot and retouch these images, calculating ROI.
It's Not One-Size-Fits-All
In-house brands are going to have different goals and KPIs than commercial studios, and no two studios are alike.
In-house, there is more likely to be a focus on ROI, efficiency, creative output and asset performance.
Commercial studios are also likely to focus on operational efficiency, but may focus more on goals like reducing turnaround times, increasing profit margins, and forecasting for growth.
It's important to talk to your team, understand the larger organization's goals, and make sure your studio's goals are aligned. Then, agree on KPIs for your studio goals. Ideas for metrics of success (i.e. KPIs) can come from your studio team, as well as leadership and other departmental partners.
A wholesale account representative might suggest "reduce turnaround time of photography for late sample arrivals to 4 days by the end of Q4".
Your in-house stylist might request "cross-merchandise all (100%) of our on-model photography for next season's shoots."
Your CMO might say "get all of the Fall season shot two months earlier." We'll translate that request into a KPI for the CMO: "Reduce time to market by 25% over the next months."
Once you have agreed on how you will measure success for your studio and have consensus and approval from leadership, all that is left to do is to aggregate the data and create reports.
These reports will keep you abreast of progress, allow you to make changes in real-time, and keep leadership informed of progress. In the next section, we'll discuss where all of this data lives and how to get a handle on it.
"Once you have agreed on how you will measure success for your studio and have consensus and approval from leadership, all that is left to do is to aggregate the data and create reports."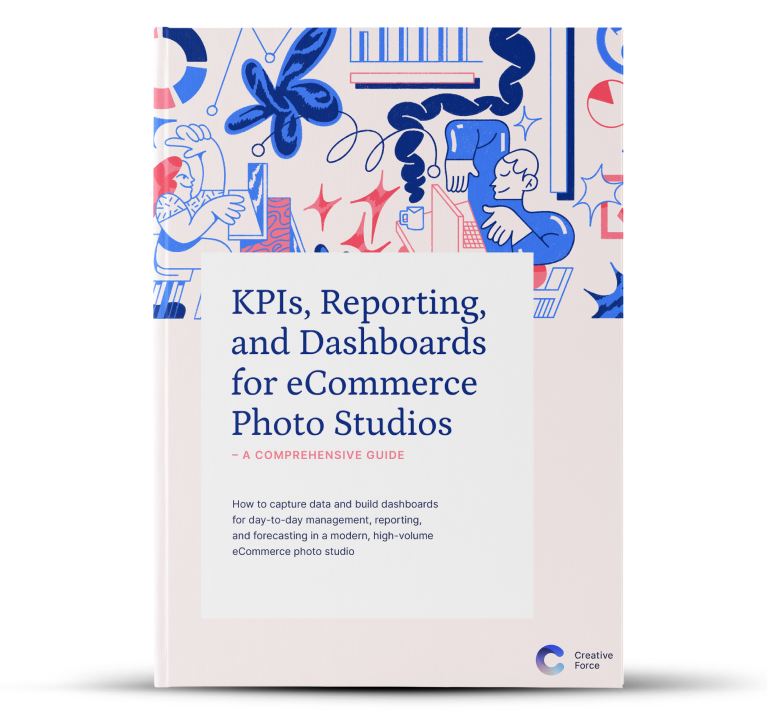 Want the eBook?
Our comprehensive guide to KPIs, Reporting and Dashboards is available as an eBook.
Sign up now and we'll send you a copy to your email.