Chapter 4
Introduction to Reporting
This is where things get exciting!
In the coming chapters, we'll take a deep dive into many common photo studio goals and KPIs - and how to build reports and dashboards measuring them.
Depending on your role in the studio, you may want to view these Report chapters differently: tactically for some roles, informationally for others.
All of the reports we discuss in this guide have the potential to be a valuable resource to you, whether you work "on the ground" in a photo studio or as senior leadership. As such, the way in which you use different reports - and you would want data presented to you in a dashboard - will likely vary, based on things like how often you need to access specific data and what trends you're keeping a close eye on.
Let's take a moment to discuss what each approach to this guide looks like.
For Studio Leadership
For studio managers, producers, operations leads, and anyone with an "on-the-ground" studio role, I'd suggest a hands-on approach: get into the weeds, audit your studio's data, and create some of these reports for yourself. Higher management and leadership roles will undoubtedly appreciate your efforts!
For Higher Management
For leadership roles, I'd recommend more of a "skimming" approach, take note of the reports and KPIs being discussed, potentially sharing examples with the appropriate team members in your organization. The reports, goals, KPIs we'll cover can serve as inspiration for your team - and an example of what is possible when you get a handle on your studio's data!
Deep-dive into Reporting Themes
Each report chapter will have a different theme, like "Reporting for Higher Management" or "Daily Production Monitoring." These themes are areas of reporting that we've found useful in studios over the years. Following a quick intro, reports will be presented, with detailed instructions on how to create similar reports in your studio, using your data. Each report will have its dimensions and metrics called out, its potential data sources identified and, perhaps most importantly, the overarching goals and KPIs involved. As we've discussed at length - you need goals before you can start creating useful KPIs and reports.
A Note on Dashboards
Some sections will incorporate dashboard displays, containing multiple reports. If you don't have a system in place to display reports on dashboards - don't worry! Dashboards are just collections of reports. Think of dashboards as the table setting; reports are the meal. Don't be discouraged if your reporting doesn't look exactly the same as our examples.
A Note on Your Tech Stack
You're going to have a much easier time creating all of these reports if you have a photo studio management platform in place. That said, anyone can build (most of) these reports using the systems that currently exist in their studio environment. It's just that software built specifically for photo studio workflows is going to provide you with far simpler, more robust, centralized reporting opportunities. Achieving this level of reporting is a lot trickier when you're just linking a series of spreadsheets or CSV exports together. Furthermore, many of these reports are available "out-of-the-box" on day one with a studio management platform (like Creative Force).
Ready to Go? Let's Review!
We've previously covered goal-setting, and how you need specific goals to create KPIs (and reports) that measure success. KPIs & Goals
We've discussed data sources in the photo studio and what those systems look like. Photo Studio Data Sources Glossary
We've offered up a free photo studio data audit cheat sheet. You don't need to complete the data audit to make use of the Reports chapters. But if you DO complete the data audit, you'll have a head start at creating every single report referenced in this guide. Data Audit Cheat Sheet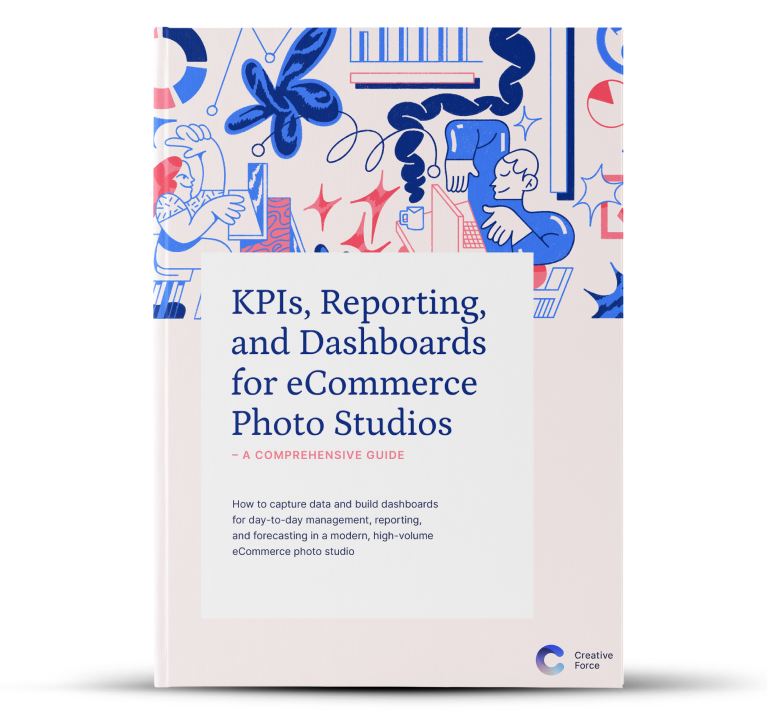 Want the eBook?
Our comprehensive guide to KPIs, Reporting, and Dashboards is available as an eBook.
Sign up now and we'll send you a copy to your email.