Back to list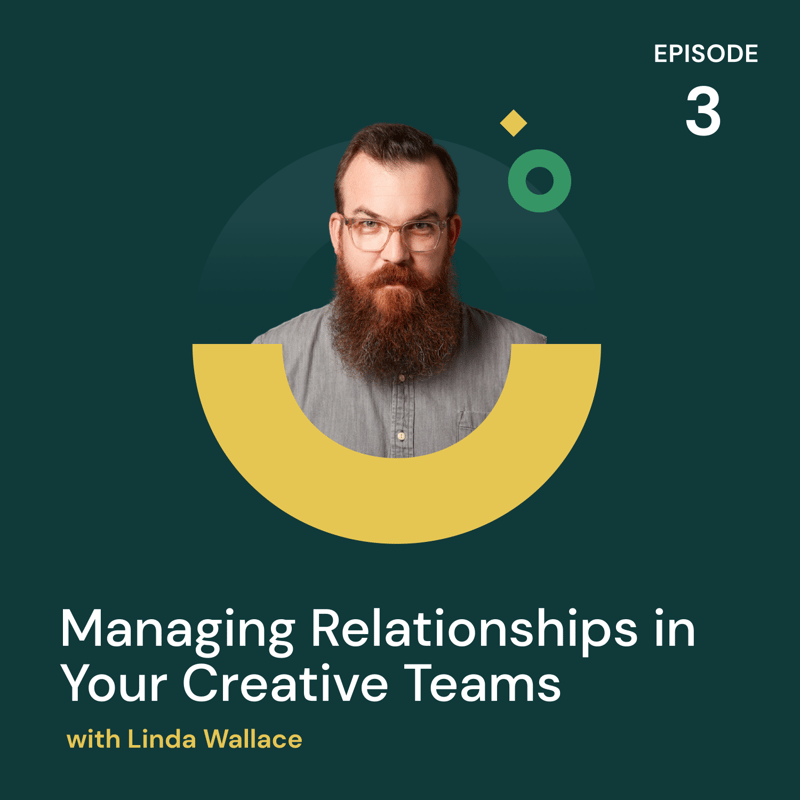 Episode 3 - April 8, 2021
Managing Relationships in Your Creative Teams with Linda Wallace
Summary
Daniel is joined by Linda Wallace to discuss managing relationships between creatives, particularly when faced with a rapidly changing work environment. Linda was with Nordstrom through the shift from film to digital, the 2008 recession, and the 2020 pandemic, each of these major industry upset moments giving her an important perspective on managing how your teams interact with each other.
Key Takeaways
"A team is not a group of people that work together, a team is a group of people that trust each other" -Simon Sinek
See, hear, support, and challenge your teams to build trust
Fear and creativity cannot exist at the same time
Curiosity breeds creativity
Honest communication and truly listening to your team can help them feel supported
Leading with vulnerability can help your teams understand that they aren't alone
Developing a healthy sense of self-awareness can help you support your colleagues better
Challenges (or hills) can be difficult but offer us valuable new perspectives
Links & Resources
On Fear and Creativity
Full transcript of the episode
Daniel Jester:
From Creative Force, I'm Daniel Jester, and this is the E-commerce Content Creation Podcast. Today on the show, a real treat for you, my conversation with Linda Wallace. Linda had already made quite a career for herself in Nordstrom prior to the 2008 recession that led to smaller budgets and faster turnaround times for e-commerce creative. She realized through that time that a significant part of success in her studio would not be around great art direction or fantastic imagery, but would mainly focus on managing relationships in her studio.

Daniel Jester:
I talk with Linda in this episode about the things that she learned in the early days of e-commerce with Nordstrom, and how that led to a late career pivot to follow things that she was passionate about, and help people really learn to communicate and manage relationships in their day-to-day lives. Welcome to the E-commerce Content Creation Podcast, I am your host Daniel Jester. And with us today on the show, Linda Wallace, formerly of Nordstrom in their e-commerce and bonusly, various departments through Nordstrom. Today we're going to be talking specifically about managing relationships between creatives in your photo studio. First of all, Linda, welcome to the show and thank you so much for giving us some of your time today.

Linda Wallace:
Thank you Daniel. I'm so excited to be here, I really am.

Daniel Jester:
I'll be honest with you Linda, I have been looking forward to this conversation since we last spoke.

Linda Wallace:
Cool.

Daniel Jester:
I think it's a really pertinent conversation and I really enjoyed everything that we talked about. I'm going to give the audience a little bit of background here. Linda was with Nordstrom for a very long time, across all different phases of retail and e-commerce and into creative production, both pre-2008 before the recession and up until recently. Linda, I'll throw it to you, give us your job interview work history.

Linda Wallace:
Sure. I consider myself so incredibly lucky. I got to live in the city I love, and worked for the company I really love, which was Nordstrom. I really feel like they educated me. I grew up at Nordstrom starting off long ago than I care to mention. As a fashion illustrator, kind of a baby fashion illustrator, graphic design, and then photo art direction for a print. So this goes back before e-comm. I took a 10 year hiatus from being full-time on Nordstrom when my daughter was born. Freelanced, art directed around. Came back to Nordstrom 10 years later and landed in this thing called e-comm. That didn't really exist in '97 when [crosstalk 00:02:43]. I'll be honest with you, my first impression was, what fresh hell is this? Because even at that point in '07 before e-comm we started to really understand it and evolve it, not just as some version of a print process of photography, but it true, unique, specialized business model on its own-

Daniel Jester:
It's own thing. Yeah.

Linda Wallace:
... It was like, "This is weird, this is awkward, we're not doing it right." I'll give you more context about that. But, that was an interesting place to land for sure.

Daniel Jester:
Yeah. The last time we spoke, I don't think you mentioned that you were a fashion illustrator, and I have interesting thoughts on that. On my bedroom wall right now are some 1920s fashion illustrations from a woolen company for their men's winter line for 1921. What stood out to me, and why I love them is, for one thing I'm just a fan of ephemeral kind of art like that, like the odds of that thing surviving. It wasn't intended to survive until 2014 when I bought it. But also I always felt a certain kinship as a product photographer with these fashion illustrators before photography, because these were people who were very talented artists who were probably using this to subsidize artwork that they really felt passionate about.

Daniel Jester:
It may not have been the work that they loved doing, but it paid the bills. That's how I thought about product photography, it's not the work that is going to end up in my art show or anything like that, but I'm learning a lot, I'm gaining a lot of skills through doing this process. And I'm subsidizing work that maybe is more interesting to me. I love that you have that background and that you've truly spent all different segments of imagery for retail, it's really incredible.

Linda Wallace:
Yeah, that was cool. I basically started as a little kid as an artist, I drew. All the ways that that has manifested in my life, all the way to my own personal practice of abstract painting is just been really fun journey. And I've loved it really. Even the work I did for retail is a lot of fun for me.

Daniel Jester:
Amazing. But unfortunately we're not here to talk about art. This is E-commerce Content Creation podcast. We talk on this show about all things having to do with the creation of e-commerce creative, content production in creative production. The reason that we asked you to be on the show today is for the lubrication that really makes a studio function well, that makes the technology, the equipment, the processes, the workflows, the lubrication that makes all of that work smoothly is the relationships between the people in your studio. This is something that is near and dear to your heart. So today our topic is, managing relationships between our creatives in the photo studio. Because it can be a challenge, emotions run high, egos run high, you've got people with career histories that span a long period of time, that come from different backgrounds with sometimes competing needs.

Daniel Jester:
Full disclosure for you and for our audience, I've spent my entire career in creative production in in-house production studios that were producing a lot. I don't have a lot of experience in the days of big budgets, five shots a day, on location and calling it a day, or spending a whole day shooting just to cover shot. There can, and certainly has been times when emotions run high, and leadership in a studio, the best thing they can do for their studio is equip themselves to manage those relationships effectively, give their teams the tools to communicate well, and that's what's going to make all of the rest of that work. Because otherwise you got a bunch of mad people in a room with a bunch of expensive equipment, nothing's getting done. Let's dive in. I don't know even where to start Linda, how do we do it?

Linda Wallace:
You started off really well, I think you nailed it. Yes, to all of that. In the early days when I came in 2007, 2008 of course the recession hit, very challenging business climate. On top of the fact, that we were in a new business model, a lot of us were what I call legacy people, we understood how to do it the old legacy way. The studio was half full of those people, half full of people who were brand new, and learning this new thing, photography. There was a lot of tumultuous stuff going on. A lot of us, including myself, it took us a while to realize that we were actually building a new business model, in a venerable 110 year old company. We were frankly frustrated and pissed off that we had these budgets that weren't letting us do our job the way we understood how to do our job in the past.

Linda Wallace:
It was frustrating, and there were a lot of frustrations out on the teams. I would say, the company during those times was in reaction phase, because we didn't understand what e-comm really was. And we were still figuring out what it needed. Yes those shots need to be cheaper than the big print shots, but how much cheaper? What were the production needs going to be? That was still developing. So running, responding to change took its toll on people. People saw their careers that they loved in travel, and budgets and lower shot counts, that eroded, that changed into something else. That was incredibly difficult for people. Sets got smaller, we got fewer people on sets, everybody's job was changing. Sometimes we would change processes, completely change them three times a year, which meant actually remodeling the studio maybe once or twice a year in order to accommodate new ways. Sets were going from large to small, from less efficient to efficient, was a grinding process.

Linda Wallace:
When we finally realized, yeah, this is a new business, we are a startup, I'll be honest, a lot of us took a victim stance. Why are they doing it to us? Finance doesn't understand fashion, why should they be dictating us how we do our job? In hindsight they had to, in hindsight we had to massively change. Once we embrace that, I'm talking about management, then we had to message that down. But once management, which was also really, what the hell is going on? Once we figured out, okay, we are at the tip of the spear, along with other companies alongside us, figuring out a new industry, we went from fear and frustration to curiosity. And that was a really cool and watershed sort of transition.

Daniel Jester:
Absolutely.

Linda Wallace:
It took a while.

Daniel Jester:
I came up in 2008. So I'm in this weird balance of like I have glimpses of pre-recession what that looked like, but then my first job in commercial photography was for a home goods retailer, and I was the photographer and that's it. I hired an outside stylist couple of times a year as needed. I didn't know what I didn't know until I jumped over to HauteLook, which was a Nordstrom subsidiary. To speak to your point, I can imagine what it'd be like to be a hundred plus year old company and building a new business model within that business. And this is an analogy that I use quite a bit, I'm glad you said it, because creative production within a business encompasses so many different tasks and so many different teams to make that function, that it really is a complete business.

Daniel Jester:
You've got sample management, you've got specialized roles that require people with specific talent, also the tools that they use, the equipment that they need, all of these things. Sometimes in studios you have copywriters, it's not like fulfillment where everybody in fulfillment does fulfillment, there's all of those things in one kind of microcosm. But it stands to reason, I think Linda that there's a reason that Nordstrom is where it is today, in the managers that they had they were able to navigate this, because there are other storied retailers who aren't in the position that Nordstrom is in today.

Daniel Jester:
You can't solely point to their adoption of e-comm or changing the way that they produce their creative. But that certainly had an impact. Linda, take me through, the light bulb has gone off, and you realize that we have to be thinking about this entirely differently. You understand the problem now which is a step in the right direction. Is the next thing that you need to work on with your teams, the fear of failure in this new venture? And realizing that we need to try things and some things aren't going to work and that has to be okay?

Linda Wallace:
Absolutely. I would say that there were a few years there where management was also confused about what's going on. Our teams were confused, frustrated, scared, management was too. Because like I said, we weren't sure where this ship was sailing. It was just this wild ride and we were constantly in reactive mode. Once we figured out what the story was, and that story was, this is a new business model, and we got our heads around about how different it was, I remember having this new sense of my responsibility to the teams, knowing how confused they are, knowing how scared they were because their jobs were changing. Knowing how frustrated they were because of radical pace of that change that we started recognizing that we needed to be more supportive. For a while I think we were just trying to manage ourselves as managers.

Daniel Jester:
Sure.

Linda Wallace:
We couldn't tell the story, the company couldn't even quite tell the story. Once we were able to tell the story, then we stepped more in a stronger support role, and had more resources at that point. We started to develop the relationship part. It's as if we just didn't have the resources, emotionally ourselves, to be able to do that. And what's interesting about that in hindsight is, I think that it's easier for a business, and it's easy for managers to think about attending to the feelings and the inner experiences of their teams, when there are such challenging demands on their business. That can feel to management, and I copped to this, like not a priority and maybe even enabling it worse. I'm not going to attend to this person's feelings, I'm not going to encourage this fit they're having, we've got business to do. It's a balance but, what I realized is that people show up to work as people, they don't show up as workers, they are people.

Linda Wallace:
I love this quote by Simon Sinek. He says, "A team is not a group of people that work together. A team is a group of people who trust each other." Well, what does trust come from? Trust is, you see me as a person. There are non-negotiable needs in every relationship and that includes relationships at work. And that is, do you see me? Do you hear me? And do you support me? And do you challenge me? What I love about that is that, that is a common denominator for every meaningful thing we do in our lives, with ourselves, with our relationships and with the people at work. When I packaged it that way and I said, this is about relationship, okay, there's a lot of work already done on this, there's a lot of research about this, there's a lot of information here.

Linda Wallace:
I remember this is a story we did, I was really uncomfortable with just how the grinding change was really affecting morale. Morale was at a low ab. So I talked to the tech people in their studio and I said, "We made a fireside chat. Can you put some monitors? I'm going to get chairs around in our cafeteria. Can you get some monitors in the middle that face out to the chairs?" I want them all to have those fires. And we're going to sit around the fire and we're going to raise our hands and say, "Hey, what's going on with you? How are you navigating this? How are you doing this?" That was a cool experience, but it was the shift we had where it was like, okay, we have to take care of, help people with their experiences.

Linda Wallace:
That doesn't mean and in any relationship it takes to. You don't go to work, you don't show up in any relationship expecting to get all your needs met your way. It's a partnership. I do believe that as much as, when somebody is being seen and heard and feels validated, they're much more open to the needs that you have to be supported. It's not like it's a distraction from business to do that, it's actually supports business. And we saw that where when we started to acknowledge to our teams, we know this is hard for you, and we want to hear about what you guys need to help make it better, that was our step towards acknowledging and we get what you're experiencing. Then second to that is, here's the story, here's our goal, here's why we're going through what we're going through.

Linda Wallace:
Because if they have the why, then it starts to make sense. And then you say, "We have a problem to solve." And you put them in the place of authorship which is, "You guys help us solve the problem, we want your voices." But the cool thing about that is, including people, including teams to solve the problems in the business, it helps get them out of their fear brain, "My God, there's so much change, I don't know what this means to me." Get them out of their fear brain and into their creative brain. Creativity and fear neurologically cannot coexist, there are two different places in the brain. We've got your lizard brain, fear, anxiety, what's going to happen to me? The middle brain is the creative brain. You get them thinking creatively and they're not in their fear brain anymore.

Daniel Jester:
So you're engaging them in bottom-up problem solving-

Linda Wallace:
Yes.

Daniel Jester:
... And in this way, I think it helps them to see the problem for what it is. Because it's two different things, seeing the problem for what it is versus being afraid of a problem.

Linda Wallace:
And taking it personally.

Daniel Jester:
Because the fear is irrational and that makes the problem look all warped and twisted. But if you look at it from, there's a problem here that needs to be solved and I can be a contributing party in solving it, some of that distortion goes away and it becomes a little bit more clear how to work around it.

Linda Wallace:
And it's empowerment. It's like, what makes you feel better when you have a big problem to solve? Having a path toward solving it, contributing to solve, it kind of calm the anxiety down.

Daniel Jester:
One of the challenges that I certainly experienced and that I can see people experiencing, and maybe you can speak to this, but this might be a hard question, Linda, but I'm going to hit you with it anyway. Even in today's modern workplace, there can be a perception that there's a manager that doesn't want to hear your problem, because it's dumb to them. How's a manager can we either teach ourselves or teach our other senior leaders to be approachable to somebody? When I think about some of the best people that I've ever reported to in my career that felt the most nurturing, that I felt like I got the most growth out of, were the people who would indulge me for a minute saying, "Look, you can't really help me with this problem, but I got to lay it out for you." But the managers got to put the work in to achieve that level of trust with his team. How do we achieve that level of trust?

Linda Wallace:
I love that you brought this up, because you nailed it. When you're a manager in creative operations , yes you are working with your teams towards objectives for the business, that's important, but you're working with people. Brene Brown she did a podcast on the Anatomy of Trust and she said that, trust is built and it's also destroyed in the small moments. It's finding those small opportunities to connect, or missing opportunities to connect or disconnecting. I think that managers have an extra responsibility and a special job to do, to learn to be coaches in a way, and a coach who recognizes that they have a human being with an emotional experience and with fears. So your experiences is to have somebody just listening to you is huge. A lot of times as human beings, we just want to be heard, with not being judged, and not being criticized for it and having the space just to be heard. When we do that, we get it off her chest. If that person's like, "Yeah, I can see how you'd feel that way. I understand why you feel that way. I get it."

Linda Wallace:
I have a story. My daughter was in college, and she was overwhelmed by some big project that she had to do. She was whining, and pitching and moaning and sticking your head in the sand and I was like, "Girl, all you have to do is boom, boom, boom." This is, when are you doing this? When are you doing that? From my point of view, I was like, "It's easy. You just do this one, two, three." For her she was immobilized by anxiety. So she'd come to me and I would just say, "Well just do this, it's easy. What are you talking about? It's clear." And all she want to do is talk about how afraid she was, and I was just like, "Get over it, just do your thing." Well, the more I resisted, the louder she got in her feelings.

Linda Wallace:
Then I just, a mentor mindset, if you want to bring people along, you first have to meet them where they are. So I met her where she started off one day, and I shut up, I listened and I said, "Yeah, that sounds really hard. That must be difficult, I can see how you feel that way." I just listened and let her go off. Then this miracle happened, I couldn't believe who showed up after that. She just got down to business, she did everything she was supposed to do, she didn't whine about it, she was empowered, she did it on her own. So there's a thing about, when we support people and when we coach people. It's a combination of support and challenge and trust.

Linda Wallace:
We trust their journey, and their journey is going to look the way it looks. Sometimes we need to challenge them like, "Actually there is accountability here and I need you to do this by then." That's the partnership. It's like, I'm going to be accountable to you, but you have to be accountable to the company. We're grownups here, this is a relationship, it's not all about either one of us. A manager has to be that way, has to deal with the human being. The human being is not a cog in wheel, human being comes with all their feelings, other complexities. They really will be a much better team player if they feel supported and listened to.

Daniel Jester:
And they just can't help but be influenced by their environment both emotionally and physically in the way that cogs in the machine aren't. Right?

Linda Wallace:
Right.

Daniel Jester:
You mentioned having a mentor, and this is something that I've worked for companies that had mentorship programs to varying degrees of success. How important would you say it is to find somebody who can mentor you? What do you look for in a mentor to help you navigate difficult situations, maybe difficult interpersonal situation?

Linda Wallace:
I think as a manager in hindsight, and I didn't have... My mentor came from outside of Nordstrom. And however you get it, but I think as a manager, it's a good idea, especially people who are learning to be managers to have a mentor. And I can't really speak to... There's great podcasts, there's coaches, and if you're lucky enough you may find one in your own company. But I think that when you sign up to be a manager, you're signing up for the responsibility of doing a lot of personal growth, that's my belief. Because you lead by example, you lead by example with your transparency.

Linda Wallace:
"Hey guys I'm struggling too, here's how I'm navigating it. I have trouble too." How do you do that? How do you know how to navigate these things? You get a coach. It's self-awareness, it is understanding when you're not showing up well for somebody and why, it could be something about you. This person triggers me, this person triggers something in me. It's like, well, what is this about me? Let's not make this about me, let's make this about what's going on with this person and what we need to do to help get this person to show up better for their job, in a way that feels better to them, and is good for the company.

Daniel Jester:
It's not true that I haven't ever had a mentor, I definitely have had mentors. It was one of those things where I look back on it and I'm like, "That was a mentor." Somebody that I just asked for advice. But the way that I think of it is that it's, I have a handful of people in my life that I'll ask a question about a situation too, and their response isn't giving me an answer, but it's giving me a perspective. Then all of a sudden, the answer's just right in front of me and it's unbelievable.

Linda Wallace:
That's cool. That's happened to me too. I'll just throw a question out there, it's like, "I need to know about this." And it comes to you. Somehow there are teachers all around, it could be a podcast, it could be a person, it could be somebody who doesn't even necessarily do what you do, but they've got this little bit of wisdom that actually applies.

Daniel Jester:
One of those teachers Linda, it might in fact be Linda Wallace, and I'm going to tell you why. Last time you and I had a conversation, you mentioned about climbing a mountain and looking back at all the mountains behind you and looking at the mountain in front of you. I do quite a bit of bicycling as a hobby, and one of my favorite things to do is to bike up hills, I like climbing to the top of them. I don't even care that much about going down or going fast, I like the challenge of getting up to the top. And it occurred to me that I would never in a million years ride my bike to the top of a hill or a mountain and not take a moment to enjoy my new perspective.

Daniel Jester:
There's an analogy there about the challenges in our lives. And it would be foolish of us, and it would be just honestly downright stupid, to climb a mountain figuratively and not take a moment to learn from the new perspective that we've achieved there. To look back at the mountains that we've climbed, and to think about how that equipped us for the mountains in the future. I want to thank you for that little story, that kind of sparked out of me. Literally I think about it every single time I'm climbing up a hill, that the reward is the new perspective that I get.

Linda Wallace:
That's so gratifying, I remember that a lot. It's like, "There's a mountain in front of me, I don't know how many get over it, but there's a string of mountains behind me and I got over those, I'll figure this one out." That's the kind of attitude we took in the studios, was like, "Okay, another budget, another challenge, another technological hurdle to go over. We'll figure it out. We figured out those, we'll figure this one out." You get a muscle for it. And I love that you added the perspective part, which is, stop, look around, connect some dots, create meaning, find the meaning in your journey towards growth and change, because that's what solidifies the growth. Pause, what did I learn from this? How did I grow from this? What did I gain from this? Collect those goodies.

Daniel Jester:
It's something to be enjoyed and to be savored, it's not something to hide. Would you ever climb to the top of a mountain and absolutely refuse to walk to the edge, to look around? You can go really deep down that analogy and talk about people that are afraid of heights or whatever, but you get my point that you wouldn't... There are people who almost fear gaining a new perspective because it what it might change about what they understand their lives to be. And-

Linda Wallace:
That's a whole [crosstalk 00:26:50]. Change.

Daniel Jester:
Definitely not this episode, but one of the things that I think the perspective that I've gained in my conversations with you and just thinking about all of this is that, we can lament the current state of e-commerce production, for those of us who remember the days of larger budgets and more, I guess, free time or more creative time. But I think the important thing to note here is that there's a new perspective here, which is that it's a woken, a new generation of managers who realize that they need to be emotionally prepared to manage their teams. That we can all do this work and we can be happy and we can get a lot of fulfillment out of it if we have the right support structures in place. I thank you Linda so much for coming on the show and sharing some of our insight. And I'm going to let our listeners know now that well, I'll set it up and then you can hit it home. But Linda recently retired from Nordstrom and is in retirement starting a new career journey, and I'll let you explain what that is.

Linda Wallace:
Yes. After a rush, something like all told, over 25 years, more than that, I'm going to say into the 30s years in my career which loved it. As I grow and change and make meaning in my life, I realized that the light in our lives comes from love, love for each other, love for what we do. And this is on a personal lives, in our work lives, and it's where the juice comes from. My journey through the e-comm experience and working with teams got me really interested in the idea of relationships and how incredibly important they are, whether they're at work or whether they're in your home or it's a relationship with yourself. So I'm starting a new relationship [inaudible 00:28:39].

Daniel Jester:
There you go.

Linda Wallace:
And I've been studying for over a year, so even before I retired I was already starting. I'm going to be getting my business going in about a month and a half and continue to train, but it's just juicy and it's fascinating, and I love learning about it, and it's huge and good relationships being there for each other, being transparent with each other, supporting each other in this human journey which is perfectly imperfect. We just have to join hands and say, "Yeah, this is hard, and it's beautiful, and I see her having a hard time, sometimes I have a hard time. Let's just be there for each other."

Daniel Jester:
Amazing. Linda, do you have any resources for our listeners that you like on learning a little bit more about managing relationships in your team, books, podcasts, anything you'd like to throw out there to share with our audience?

Linda Wallace:
Esther Perel, who is a big relationship guru, and actually relationship in sexuality, has a podcast about work. Her podcasts usually have, she's interviewing either with her relationship podcasts it's a couple, the one about work is teams or partners in a business. Her approach is the same, it's like, this is a relationship. And so that's a really interesting one. I am still searching for ones that... There's a lot of them that are applied to work. I'm learning the basics of all relationships through my school, the relationship school. Jason Goddess, who's the founder and who's I think is really genius, it's wonderful, got a great podcast. It's what hit me to this stuff.

Daniel Jester:
Very cool.

Linda Wallace:
Then I looked around and said, "Well, supply of work." In a lot of ways.

Daniel Jester:
The first one that you mentioned there just got me thinking about the role that intimacy plays in a romantic relationship and how that can serve as a tool to break through sometimes communication barriers that develop in a relationship that is totally absent from a professional partnership. It just makes me wonder like, Man, that makes that so much harder to navigate that you don't have some of those intimacy tools that you would have in a romantic relationship. And now over the whole other podcasts, plan it.

Linda Wallace:
And I think when you talk about the non-negotiable needs of feeling safe in a relationship, they apply to any relationship. Does this person feel me? Does this person understand that... We can't always be understood, but is this is person seeing me? Are they listening to me? Are they supporting me? And are they challenging me?

Daniel Jester:
From my perspective on that, it's also that am I communicating effectively? I've been in situation on set with a stylist where it just occurred to me that I hadn't said anything for a few minutes. And the stylist is unaware that I am solving this technical problem on the computer in front of me and they just think that they're being ignored. That was like that one little small tool was just to say, "Hey, I'm doing this. Just give me a minute here and then I'll let you know when I'm ready." In the absence of even saying that, I didn't know that I'm building this-

Linda Wallace:
Feeling.

Daniel Jester:
.... Negative goodwill. I don't know negative goodwill that's not anything, but you get what I'm saying, that I'm building this almost animosity, just because I got wrapped up in something technical and didn't say those two sentences to help them understand.

Linda Wallace:
What's cool about that is you saw your responsibility in there. Well, "I could have communicated." I would also say the other person has some responsibility to say, Okay, I'm making up a story that Daniel is not caring about me right now and checked out and ignoring me, that's my story. But why don't I check in and say, "Hey, I'm just curious about what you're doing there, because I'm wondering where we are in our day." Or whatever she needed or he needed. And so that's the responsibility that comes from self-awareness. It's like, this kind of thing what's really going on? I'm blaming Daniel. I don't have all the story. I'm just going to say, "Hey, over here, it feels a little this way, what's going on over there?" It's that kind of communication that is responsible. It has self-awareness, it's curious.

Daniel Jester:
Yeah. You could almost say that going into this conversation, I would have speculated that communication would be the key word, but realistically it actually might be curiosity, because if you're innately curious about a relationship or a situation that you're in, you're not spending time jumping to conclusions and creating narratives that aren't there.

Linda Wallace:
Yeah. Just like what I said before, you're not in your lizard brain, you're going into your curiosity brain.

Daniel Jester:
Amazing.

Linda Wallace:
So you're getting out of fear and that's the thing, I think managers have a responsibility to have some self-awareness. How might I be coming across to somebody? Or how am I not showing up for this person because they trigger this thing that reminds me of my dad or my mom or whatever? It's like, knowing that that's your story.

Daniel Jester:
That's a very real thing. That power dynamic is something that I don't think I was in a management role long enough to really master. But I got to thinking about having a bad manager in my past and why his jokes never worked. It's because of the power dynamic. Because of the power dynamic between him and his team in the studio, his jokes couldn't work because we're not on a level playing field, it feels different when somebody in a position of power is making a wise crack that like your friends that you'd be working on set with makes.

Daniel Jester:
So I became really sensitive to this idea that people perceive my personality entirely differently when they perceive me as being someone in a position of power. Not that I ever even considered my role or position of power, as much as I considered it a facilitator, but there is still for all of the more progressive ways that we think about the workplace and building our team structures and what being a manager means and all of that, there's still very much as ingrained in us, in my generation for sure, this idea of the boss employee power relationship and that-

Linda Wallace:
That's real.

Daniel Jester:
It's interesting. Man, so many things. Linda, we're going to have to have you back on the show, but I think that's probably a good place for us to wrap it up there. Thank you so much for your time and your insight. Anything else you want to say to our audience or where they can connect with you if they're interested?

Linda Wallace:
Yeah. I'm six weeks away from having my website up. This was a lot of fun, and you said earlier that this wasn't about art, we're not talking about art, I think we are.

Daniel Jester:
Yeah. You're right.

Linda Wallace:
The art of creating art in a little white box, the art of relationships. And this is my favorite stuff to talk about [inaudible 00:35:02], my favorite stuff.

Daniel Jester:
Beautiful. Linda, thank you so much. It was just such a joy to have you on the show, and I can't wait to have you back again.

Linda Wallace:
Thank you, Daniel. I had so much fun. It's an honor.

Daniel Jester:
That's it for today's episode of the E-commerce Content Creation Podcast. Unfortunately at the time of this recording, Linda Wallace, his website was not up and available, but please check back. As soon as we have a link in a place that we can point you to, we'll share with you some resources on how you can connect with Linda, and how you can learn more about managing relationships, both at work and in your day-to-day life. I had a lot of fun on this conversation with Linda and I hope to have her again on the show soon, I think she's got a lot to offer and a lot that we can learn from as we continue on this journey together. But thanks for being here today for listening, the show is produced by Creative Force. I'm your host, Daniel Jester, until next time my friends.
Subscribe to the eCommerce
Content Creation Podcast
About the host

Chief evangelist at Creative Force
Daniel Jester is an experienced creative production professional who has managed production teams, built and launched new studios, and produced large-scale projects. He's currently the Chief Evangelist at Creative Force but has a breadth of experience in a variety of studio environments - working in-house at brands like Amazon, Nordstrom, and Farfetch as well as commercial studios like CONVYR. Creative-minded, while able to effectively plan for and manage a complex project, he bridges the gap between spreadsheets and creative talent.