Back to list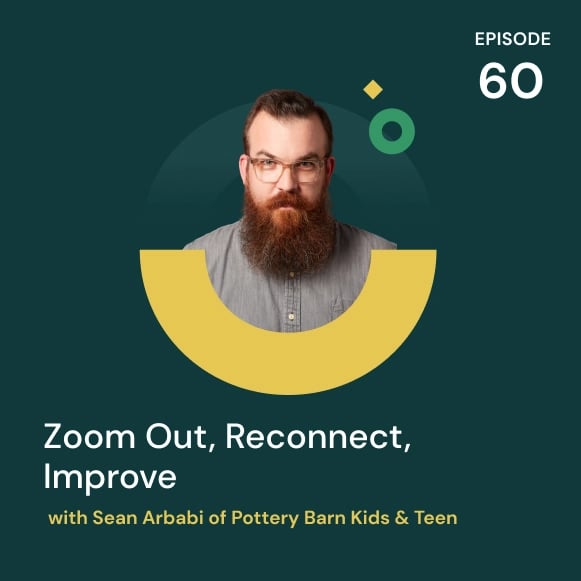 Episode 60 - May 10, 2022
Zoom Out, Reconnect, Improve with Sean Arbabi
Summary
Sean Arbabi joins Daniel on the podcast to talk about the relationships and disconnects that can happen between the studio and adjacent stakeholders. Sometimes you need a "zoomed out" that can help build fluency between departments and allow for more effective communication and facilitate problem solving.
Key Takeaways
It's all about inputs and outputs, and being aware of what impacts you have downstream, along with what upstream processes impact you.
Saying "I don't know" is powerful. You don't need to know and you're doing a disservice by trying to know
The "Fake it til you make it" attitude can exacerbate this
Real talk: The relationship between studio and merch team can sometimes be complicated. On this podcast we love our merch partners, but sometimes there is a lack of understanding of how a studio operates and that the approach to imaging requires the same type of project management as any other department.
When you aren't willing to say "I don't know" you risk oversimplifying someone else's role, and that can lead to friction and problems.
Links & Resources
Full episode transcript
Daniel Jester:
From Creative Force, I'm Daniel Jester and this is the E-Commerce Content Creation Podcast.
Daniel Jester:
I need to open this episode with a bit of, not exactly a correction, but a comment. Near the top of the episode, I refer to past episodes with Mark Burnson. At the time of this recording, we expected this episode to go live immediately following those episodes. We ended up shuffling the releases because of guest schedules, and which episodes were time bound needing to be released before the Henry Stewart and Pixel's events in New York City. Folks, running a podcast is a lot of fun, but it can be a bit of work trying to juggle some of the schedules and pay attention to at what point you recorded things, and when you're going to hear them, and I couldn't do it without Sean O'Meara producing.
Daniel Jester:
So, a little shout out for Sean there, thanks buddy. A different Sean joins me for this episode, and we free wheel a little bit on some familiar topics. I'm joined by Sean Arbabi of Pottery Barn, Kids and Teen. And we start discussing the idea of the zoomed out role at the studio, who can help build and support the connective tissue between the studio and adjacent stakeholders. Then we go from there, touching on the fake it till you make it attitude that sometimes can become a detriment to the studio, and we also discuss the nasty habit of believing, it's just faster to fix it myself.
Sean Arbabi:
Well you said upstream, and that is the phrase that I use all the time. If you can fix it at the source, fix it at the source. Why do we have a hundred people down river cleaning the water, when you can go to where the pollution is happening at the source and remove it? The investment in this whole process is necessary because I am not a photographer, or I'm not a photo studio manager, or photo studio director, or a stylist or a re-toucher. We are part of a team that's trying to develop the best work to help our product sell.
Daniel Jester:
I don't think I have any other housekeeping to update you on, so let's dig in with Sean Arbabi.
Daniel Jester:
This is the E-Commerce Content Creation Podcast. I am your host, Daniel Jester, my guest today Sean Arbabi. Sean, welcome to the podcast. How are you?
Sean Arbabi:
I am well, thank you for having me.
Daniel Jester:
Great. Well, I can tell you that I am feeling like a million bucks, because right before we recorded this podcast, I had taken my kids to lunch. And I recently, this is a lot of information for our listeners, but I'm going to give you a little peek behind the curtain over here at our house. I recently sold my truck, my wife and I have decided that we were going to be a one car family for a while. Our lifestyle lends itself to that and I had this truck that was sitting there and it wasn't doing anything. I sold it to a couple of teenage brothers who are going to get a ton of great memories out of it. And so today as my wife was running an errand and I said, this is the time for me to see let's test this theory. Can I get my bikes out?
Daniel Jester:
We can bike over to the sandwich shop and grab some lunch, and we went and we did that. We came home and after being home for a while, I had that sinking feeling where I said, you know what? I haven't seen my wallet in a while. Where's my wallet? Oh no.
Sean Arbabi:
Oh geez.
Daniel Jester:
I call the sandwich shop, they haven't seen it. I looked through all the house. I had changed my clothes and so I'm looking through all the pockets of the shorts that I was wearing, and I'm looking for it everywhere, and I can't find it anywhere. And my wife comes home and I'm like, "I can't find my wallet. I needed to take the car and go, I'm going to go retrace our steps that we biked home," and low and behold, Sean. I was halfway to the sandwich shop, following the path that we took home from the place, and I see my wallet in the middle of the street in residential neighborhood sitting there, all my cash, all my cards still in it.
Sean Arbabi:
Wow.
Daniel Jester:
I can't believe that I found it, it's mind blowing to me. And this is not the first time that I have found something in a relatively impossible situation. A few years ago, my wife lost her wedding ring at the beach, discovered it.
Sean Arbabi:
Oh my gosh.
Daniel Jester:
And we discovered it when we got back in the car, and I went back out, I walked back to the spot that we were at the beach and somehow found it in the sand. I have no idea if I'm the luckiest person when it comes to finding lost things alive, but suffice it to say, I'm feeling great.
Sean Arbabi:
You need an Apple AirTag to shove into your wallet there.
Daniel Jester:
Yeah, we are. We're planning,
Sean Arbabi:
Just follow the direction that it provides you on your phone.
Daniel Jester:
Absolutely. I have bought some, I haven't activated them yet. We have some travel coming up, my family and I, and I was going to AirTag all of the kids so we don't lose them at the airport, but I guess I had to worry about my wallet and my keys, and that sort of thing.
Sean Arbabi:
I do. I put one on my keys and one on my luggage. So, that's great. Go ahead. You were saying, I'm sorry.
Daniel Jester:
This is three minutes now in our audience is wondering if we're ever going to talk about anything interesting, or related to studio work and stuff. And I promise you, audience listener, that we are. We invited Sean Arbabi onto the podcast. This has been a few weeks coming now. The last time that we met, I guess it was over a month ago.
Sean Arbabi:
Yeah.
Daniel Jester:
Just before the blow event from Pixels here in Los Angeles, that we chatted about having you come on.
Sean Arbabi:
It's a good segue, actually. Sorry for interrupting because-
Daniel Jester:
No, please.
Sean Arbabi:
It's kind of an analog problem that you could possibly turn to digital to then find your wallet. And it kind of fits our little theme of adapt or die as far as our analog world that's transferring into digital. So I guess there is a little tie into the story.
Daniel Jester:
We talked just before we hit the record button here, that we're kind of building a little bit off of the most recent, I think the most recent episode that our listeners will have heard. When we had Mark Berenson and his crew of automation gurus on the podcast. And one of the roles that they had, this guy, Dan, whose job it was to zoom out from the process and look at all of the areas where automation was happening and figure out how to standardize, take best practices, and unify those things. And that's what we're going to talk about, but we're going to go a little, we're going to zoom out even further from the studio, and we're going to talk about why we should be thinking about inputs from the merch team, outputs to the web team, everything that's going on within the studio, how we can best break down some of these silos.
Daniel Jester:
And maybe it is having a person whose job it is to zoom out and look at all of these things, and be fluent in the languages that all of these roles and tasks speak in order to help us. You know, this is core to leveraging emerging technologies, to making our jobs easier and letting us focus on the things that really add value to our customers. So, that's the framing of the conversation today, and-
Sean Arbabi:
Great.
Daniel Jester:
We have to figure out a place to start on that. So Sean, where, where would you like to start?
Sean Arbabi:
I have an advantage, a little bit, to being that inside person from being a commercial photographer for 25 years. I had crews that I worked with, I worked with various parts of production, with various clients on delivering images, or what we call assets. And then my career shifted after 25 years, and I took over directing a photo studio that was mostly E-Commerce based. And although I brought a lot of photography knowledge to that, and production, producing, art directing in a sense from all the work I had done in the past operations as well. But not the operations from a start to finish corporate company going from as you mentioned, receiving merchandise and then transferring that merchandise into production for various uses in marketing, developing, producing images for that are then put up on E-Commerce sites. And again, used in email promotions and all of that.
Sean Arbabi:
And through that process, I started to see various breakdowns and issues that we had from merchandising, you and I talked about earlier. From merchants having completely different software or not having software at all, but working in spreadsheets. To the photo studio having very specific software and programs that IT didn't really know and don't really deal with. FileMaker Pro, or Capture, or a standalone digital studio management production tools that they're not well versed in, nor can they provide direct IT help for. Then to our E-Commerce team to provide those images and understanding the goals of each of your partner. And so, I started to realize there was not that one person and that at least in my previous company, I didn't see a leader that was addressing all the various breakdowns and communication. It's kind of like starting in Spain, having it come to the United States, and then giving it over to Mexico.
Sean Arbabi:
And if you don't speak those languages from each team, and you don't connect those teams together, and understand their goals and their challenges. Along with a huge issue of being planning and not dealing with planning across the board, you end up just scrambling constantly to address final needs. For merchandise that needs to be sold on the site, for deadlines that are impossible to meet, and those connections are difficult. Not only with systems integration, but with process and with people who understand those parts. So every time I started going outside my studio role, and began to ingest all this information that I didn't know about because it wasn't my wheelhouse, I thought this is just building your knowledge base to understand every part of production in any company that has product that they need to build, buy, and then photograph to get online to sell. And you start to realize it's an ongoing issue throughout every company.
Sean Arbabi:
And there are challenges. And I spoke to an industry person recently that discussed what I work in now with the company with Pottery Barn, Kids and Teen. Addressing post production, photography, and color. There's lots of issues in that as well. And so, although we're in the world of production and of photography, we're really in the world of marketing and in the world of delivering increased sales and reduced returns from the work we produce.
Daniel Jester:
Yeah.
Sean Arbabi:
And that has to be realized. So as you mentioned, stepping back to have a person to oversee all these various disconnects and connect them is often not a role that's put into a company. And when you're delivering high production, you never have the chance to step outside because you're constantly playing catch up, trying to deliver. To then go and discover, and have those conversations and implement those processes and software. So, it's a deep challenge.
Daniel Jester:
I've shared the story, I think, on this podcast before. And it's really interesting what can happen when you bring cross-functional teams into a meeting with the studio. And in this particular case, I was with a commercial studio. We were meeting a client at their offices and it turned out that the web teams and the clients' internal studio teams and us as an external service provider that supplemented their internal team. And then the merchandisers, as sort of the inputs, had never actually all sat in a room together and we're talking about things and it turned out that the e-com team was often very frustrated with the studio team because of some naming inconsistencies in the way that files were named. Because if it wasn't exactly right, or if a mistake was made, it had some outsize impact on their ability to organize the images and get them where they needed to go.
Daniel Jester:
And so just having that conversation was enough to realize the importance of the problem and put in controls and safeguards to prevent it from happening in the future. And the thing about, one of the interesting things about communication and about fluency is when you cannot communicate effectively, or when you're not fluent in the languages that various teams speak, animosity starts to build, and then it can get really frustrating. And now there's no longer a desire to solve the problem because you're just mad about stuff. And I think there's a lot to be said for engaging those teams. And you said something Sean, that I think is absolutely right, which is that it's an ongoing thing. It's not a state that you achieve and arrive at. It is something that has to be protected and cultivated continuously to make sure that it's continuing to happen.
Sean Arbabi:
A person from the web team or the e-com team had called out a few images that weren't prepped properly for their site. And when I looked into it, I realized this cannot just be a couple of images. It has to be hundreds. And so when I asked that person, what have you guys been doing? Because it's not just five of these images that we didn't prep correctly from production. It has to be hundreds. And they said, "oh, we've been correcting them on our side." And I put my hands on my face, because I realized that is not what should be happening from production. You should be delivering to what the web team needs. And if you cannot, for whatever reason, systems, equipment, time, deadlines, whatever it may be, you need to communicate that to the next team. They have specs on how they need to receive imagery for the site.
Sean Arbabi:
And usually you have a dam team that's kind of in between that can either automate that process. But if you don't deliver it properly, like say you don't silhouette a model and put them on a gray background, like they need them or have a transparent background so they can add a color in. You always have to own up to those errors. Even if you didn't know about them and say, I'm sorry, I had no idea I'm new with this company, whatever it may be. And, and the point being is that you have to be deeply invested in your partner's goals and what they need. And that's how you break down those walls. You have to own up to errors. You make because everybody makes them and you have to explain what you're limited on, whether it's with budget or time or equipment. And there just has to be an open conversation. And I also believe that, as corny as it sounds, humility and kindness is incredibly important in, especially in high production when everybody's barking out orders to each other, so.
Daniel Jester:
There's a real, and maybe it's too strong to call it an illness in our industry, but there's a real issue with people who have this mentality of, it's just faster for me to fix it. But then it's faster for me to fix it a thousand times a week or you know, 10 tens of thousands of times a year. And you're not addressing the problem upstream to where you're receiving what you're supposed to be receiving. And one of the key things, one of the huge drivers of waste in any system is re-work.
Daniel Jester:
And by just being faster to fix it, is embracing redoing work that somebody else had already done. And these are not things that add value to our customer experience. And it becomes why that role that we're talking about or that person or organization or a team or whatever it is, that zoomed out role. One of the key things that they need to have is being well versed in root cause analysis. Whether they want to be six Sigma certified or whatever it else, it is, whatever flavor of process improvement, whatever it is. The one thing that you can't escape is the ability to take someone's issue, find the root cause and correct it and prevent it from happening again. That's critical, critical to any kind of well functioning system and well functioning team.
Sean Arbabi:
Well you said upstream and that is the phrase that I use all the time. If you can fix it at the source, fix it at the source. Why do we have a hundred people down river cleaning the water when you can go to where the pollution is happening at the source and remove it? The investment in this whole process is necessary because I am not a photographer or I'm not a photo studio manager or a photo studio director, or a stylist or a re-toucher. We are part of a team that's trying to develop the best work to help our products sell. And that is the ultimate goal. So just saying, I'm just doing my job, but it's going to affect you of what I don't choose to care about, is a cancer, like you said, and is a big issue. The other two issues we really have in our industry, being in it for 30 years, is we are a fake it till you make it industry.
Sean Arbabi:
People do not talk about what they don't know out of fear of never being hired again.
Daniel Jester:
Yeah.
Sean Arbabi:
And what I try to do, and I've done this in my life in general. I'm an open book and maybe I'm an over communicator. But what I try to do is say, listen, I don't know everything too. And the three word phrase of, I don't know is sometimes the best answer.
Daniel Jester:
Yeah.
Sean Arbabi:
And so when you have an atmosphere that is not developing open communication and sharing of ideas, then you begin to have people stop because they're afraid of what to say. If you don't address that issue of people not being willing to speak up and ask a question that they shouldn't know, because especially if you're a freelancer, it's hard for people to know internal processes and requests and recent changes. So, you have to be able to have people be able to speak up and not make it a faked or make it industry.
Sean Arbabi:
But instead have open communication to what people know. I was once on set in front of a VP and they were asking me questions about various processes. And we had a couple of different names for how we produced imagery. Let's call it e-com basic, e-com intermediate, and e-com advance, maybe being brand. And I mentioned that I didn't understand the difference between a couple of those. The basic and intermediate because the images overlapped each other. Then that vice president said to me, I don't understand the difference of it either, I can't see a distinction. And I think everybody probably sat there said, I've had that same question for months, but I didn't want to bring it up because I didn't want to look stupid. The other part of the industry that I do see that we struggle with is your photographer or your stylist, your professional, get on the set and figure it out.
Sean Arbabi:
And that kind of mentality is never beneficial for a team of freelancers that are not internal. It is not good for full-time employees either, but you have to be willing to say, I'm here for you to be successful. What tools, what process, what information do you need that I'm not providing for you to be successful at your role here? Whether you've been hired for a day or whether you're hired three days a week. I've seen those throughout production. Figure it out, you're a professional, figure it out. That makes no sense. I know everything about photography, but if I don't know what you need for the cover of your magazine or for a banner for your e-com site or for a promotion image, that's going to go in stores. I cannot deliver that. I need all the specs and information on that. So, I try to step in with anybody I work with and say, if you have a great idea, please bring it up and I will credit you for that idea.
Sean Arbabi:
I'll never take credit for your ideas. If we all together, we collectively believe in that idea and I'm the one to make the final decision and it's wrong, I will own the responsibility, because I was the one who made the decision, I'm in that position to make that decision. And so to me, it's again, breaking down walls to show people that you care about them, you care about their success. And then you can start to have open conversations about fixing various processes throughout production. There's another part to this too. That is, might sound controversial, but I love my merchant friends. I love buyers and they're some of the nicest people, their products are their babies. And when you care about it, they're very appreciative and thankful. And I love that kind of response because a thanks every once in a while, makes your job all worth it.
Sean Arbabi:
But in many companies I see that the merchants are driving the business. And I don't have an issue with them driving the business because they're determining which products they're going to sell, which trends are happening. But often they're involved in marketing, where they're driving the planning and the deadlines or the lead times of marketing. And they often don't provide all of the lead time that is needed to produce the work. And so that is something that I disagree with. I think that leaders of merchant teams and leaders of production, in any company need to speak and say, listen, this is when we need things for us to deliver to site by this time. And if you're going to give us a thousand products to shoot, it's going to cost us this much. But if you don't tell us that you're going to buy 3000 products next year, then we have to expand our operations and know about it.
Sean Arbabi:
If everything becomes a priority, because it's all coming in late, or you're not thinking about our lead times, you're just tearing apart our production teams. And that's what happened in the last company that I was with. At one point, at many points, I decided to when we had leadership meetings and they said, Sean, why aren't you guys getting all this work up? I said, out of the 900 current shots we have, 820 of them are prioritized.
Daniel Jester:
Yeah.
Sean Arbabi:
That is, you can prioritize 10 to 15%, but you can't prioritize everything. And unless you give us a clear metric of what is selling best and what we should truly prioritize, based on sales and revenue generated from those products, we can't prioritize everything. So, when merchants drive the business, great. But when they drive production, lead times and deadlines and don't understand when we need to receive the product and how much product we need to photograph through production, those are challenges. And I'm not speaking about the current company. I'm just speaking in general. I've seen that in many companies and it's a major production issue.
Daniel Jester:
I completely agree with you, Sean. And I think that your experience with merchandise teams is virtually the same experience that I've had at companies, where I had close interactions with the merchandise teams, to echo what you said. I have close friends who work in merchandising, who are merchants, that I care a lot about. But the issue isn't in that the type of person that goes into merchandising is just demanding in a certain kind of way. I think a lot of the issue is sort of what we're talking about, which is it's a lack of fluency with our own stakeholders on how a studio needs to operate and exactly how complex the process is.
Sean Arbabi:
Correct.
Daniel Jester:
We still, to this day. I've said often on this podcast that I think of this sort of era of creative production that we're in, the modern era of creative production, as having been shaped by the 2008 recession or 14, a 14 year old industry now. So to speak because this is, we've been doing things this way as response to the recession, coming into our own to put it that way. Maturing a little bit and still, still in the year 2022, I hear people, oh, it's just taking pictures. It's just taking pictures. It is, but everyone's rolling their eyes right now because every photographer has complained about being the guy that just takes pictures or the person that just takes pictures. It's just a lack of understanding of the complex process.
Sean Arbabi:
Yes, it's oversimplifying many processes that make people professionals and that is always the issue. And it's something that, again, I've always been hypersensitive to. I understand styling. I understand the goal of styling. I understand style guides and lighting guides and what we're trying to achieve. I am not a stylist. So if my stylist tells me that the suit was made wrong or the product is not conforming to what we need, I have to listen to that stylist. I can't say, why don't you just tape it and do this, because they've been doing it for many, many years and have tried all of those techniques. When you oversimplify somebody's job, you tend to overlook their challenges. And as Sean and you and I were talking about, the connectivity of this whole process. Once I had a VP merchant ask me when I went to him with a specific issue of deadlines and lead times, and not having enough time for their product. They said, well, of all the spring product that we purchased, Sean, how much have you photographed of it right now?
Sean Arbabi:
Can you tell me that? I said, I can't. And he said, why not? I said, because you don't provide me the information for all the products that you buy. I can tell you what you've given us, but you don't provide us that information. And that disconnect of expecting us to know when we're done with all of their product, yet they haven't even provided us the numbers. That in a microcosm, shows the disconnect throughout these teams. Throughout merchants, to production, to web teams, to deliver that imagery, those assets that everybody is clamoring for to help sell their product.
Daniel Jester:
The solution, unfortunately, is one that in my experience also can be hard sometimes to get buy in from stakeholders on. The solution, I believe is inviting people into the studio and showing them how you operate and showing them how complex the process is. And showing them things like, this is what this fabric or this material, or this product looks like when it's photographed. This is what it looks like when it goes through retouching. And this is what it looks like before it goes on the web, when it matches the color and it looks great and it's presentable, and it's what we want to use to sell. One of the things, and I feel like this is one of the things that's seismically shifting a little bit and at least the things it's entirely possible that I've built myself a very interesting echo chamber on LinkedIn.
Daniel Jester:
But this is one of those things that I feel like people are pushing against a little bit. The I'm too busy to do anything other than the top priorities that I have today.
Sean Arbabi:
Yeah.
Daniel Jester:
It goes back to that process improvement mindset. We need to get our web teams, our e-com teams into the studio to see how we work. We need to get the merchandisers and our other cross functional teams into the studio to see how we work. And we need to spend some time with them and learn about their needs and their challenges. And the merchandise teams are dealing with some significant challenges, especially in today's supply chain climate. It is hard to get things on time.
Sean Arbabi:
Correct.
Daniel Jester:
And those teams are stressed and they need some grace and they need a little understanding from the studio. And understanding across the board, that there's going to be some delays and there's going to be some unknowns.
Sean Arbabi:
That's right. You have to be flexible in this time.
Daniel Jester:
Absolutely flexible and resilient. Sean. I think that's probably about the time that we have for this episode today. Thank you so much for bearing through our technical- [crosstalk 00:27:16]
Sean Arbabi:
No worries.
Daniel Jester:
problems to the listener. By the time you hear this, our editor will have fixed all of this and it'll sound amazing, but we had some technical problems behind the scenes on this episode. I got dropped off the call a couple of times. So, Sean, thank you for your patience. Thank you for your insight. And thank you so much for your time coming on the show today.
Sean Arbabi:
My pleasure. I loved it. Thank you, Daniel. Appreciate it. And it's always nice to speak to you guys.
Daniel Jester:
That's it for this episode, many thanks to our guest, Sean Arbabi, and thanks to you for listening. This show is produced by Creative Force, edited by Calvin Lanz. Special thanks to Sean O'Meara. I am your host, Daniel Jester, until next time my friends.
Subscribe to the eCommerce
Content Creation Podcast
About the host

Chief evangelist at Creative Force
Daniel Jester is an experienced creative production professional who has managed production teams, built and launched new studios, and produced large-scale projects. He's currently the Chief Evangelist at Creative Force but has a breadth of experience in a variety of studio environments - working in-house at brands like Amazon, Nordstrom, and Farfetch as well as commercial studios like CONVYR. Creative-minded, while able to effectively plan for and manage a complex project, he bridges the gap between spreadsheets and creative talent.