Back to list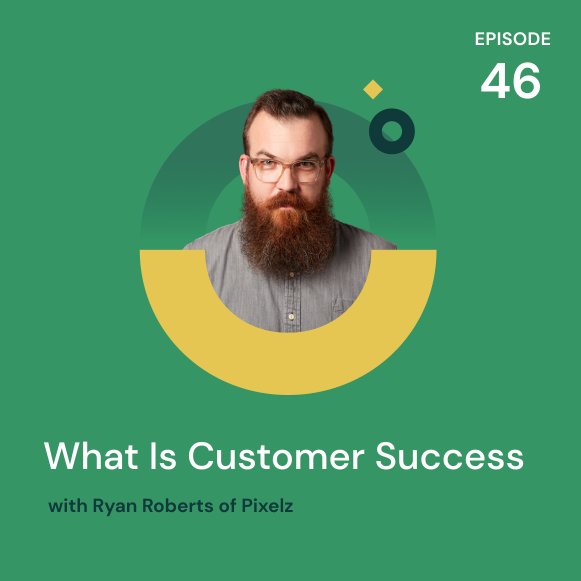 Episode 46 - February 1, 2022
What is Customer Success with Ryan Roberts of Pixelz
Full episode transcript
Daniel Jester:
From Creative Force, I'm Daniel Jester. And this is the E-commerce Content Creation Podcast.
Daniel Jester:
On its surface, it might seem kind of unusual to have an episode about customer success for our podcast. After all, this is a podcast about creative production, not sales or SaaS, or some of the other things you might think of when you hear the term customer success. But think about it like this, at the end of the day, customer success is really about asking the right questions, expectation setting, and continuous improvement. Being the person or team that asks 'why?', in order to determine what is the root cause, and what is the symptom.
Daniel Jester:
My guest for this episode is Ryan Roberts, Customer Success Director of North America for Pixelz. We talk about all of these ideas and we discuss how customer success connects with, and overlaps other customer touchpoints, and what their ongoing role is in ensuring customers keep coming back.
Ryan Roberts:
We have onboarding team, but then the customer success gets in towards the later portion of the onboarding end of the sales process. And we help bring them in for the landing, is the way I like to view it. That's what the customer success' main goal is, is making sure that the customer is aware of the capabilities and how to utilize them towards their needs.
Daniel Jester:
Throughout recording and then editing this episode, I kept coming back to the idea that even in the studio, we all can think of ourselves as customer success in a way. We should be invested in the needs and experiences of our customers and partner with them to be as successful as possible. Before we jump in, a quick plug for an upcoming industry event, Pixelz is hosting their FLOW Event in Los Angeles on February 24th, 2022. You're going to be able to hear from some talented and knowledgeable industry professionals, some of whom you've heard on this podcast before. In fact, my guest for this episode, Ryan Roberts will be hosting a round table, and I am also going to be hosting a round table about efficiency and fostering efficiency. That's the FLOW Event in Los Angeles, February 24th.
Daniel Jester:
Okay. This intro was getting too long. Without further ado, let's jump in. This is the E-commerce Content Creation Podcast, I am your host, Daniel Jester, and joining me, a very special guest for me for this episode of the show, my friend and former colleague, when we are at CONVRY STUDIOS together, Ryan Roberts. Ryan, welcome to the show, man.
Ryan Roberts:
Thank you, thank you, Daniel. It's really great to be here, and I appreciate you inviting me on. It's been a while, in the last two years, I haven't seen you besides video chats.
Daniel Jester:
Yeah. You and I basically hightailed it out of the studio in the Arts District in LA on about March 15th of 2020, and have not seen each other since then. A lot has happened.
Ryan Roberts:
Yes. Yes. My office in my house has moved to different rooms, at least three of them now.
Daniel Jester:
Yeah. Just trying to find out what works. Yeah, I get that for sure. Ryan, our paths are like interestingly intertwined. It was a little serendipitous, the way that we met, I happened to be working in the same building, is CONVYR, and CONVYR was in the market for a particular type of production manager, and we got to work in 2019 for CONVYR, doing a lot of good work for them. And then, we were on track for a pretty incredible 2020 before COVID took the wind out of those sales and changed directions for both of us. And now here I am, I call it my day job, but I work for Creative Force and I host this podcast as part of that. And you work, now as... I want to make sure we get your title, right, so I'm going to let you say it, but you work now for Creative Forces' sister company, Pixelz.
Ryan Roberts:
Yes.
Daniel Jester:
Tell me a little bit about your title and your role at Pixelz.
Ryan Roberts:
I am the Customer Success Director, and I was brought on about three months ago. And basically, I am in charge of making sure that the team is highly functioning, that we are meeting the goals which have been set, as far as retention and lack of churn, which means basically keeping all of our customers happy. I'll go into further detail about exactly what that means in a little bit, but... And then, one of the things I've been tasked with is also building out our success team. We have some very aggressive growth goals over the next coming years, and it's one thing to make the sale, but it's another to retain those customers that you sell to. One of my main goals is to make sure that we have the appropriate team to support those growth goals.
Daniel Jester:
Excellent. Great rundown. There's none of our listeners who don't know, at this point, who Pixelz is, but just in case they're listening out there, Pixelz is a retouching service, a web-based retouching service, handles some of the biggest brands in the world, and really is more the type of company that wants to partner with you, and wants to make sure that you are successful. And you might remember if you're a listener to this show, from way in the beginning, we had Brian Guidry, who I believe his title now is Chief Growth Officer. I just listened to his-
Ryan Roberts:
Chief Growth Officer.
Daniel Jester:
Yeah. I just listened to his episode with a Square shot guys, the Square Talk Podcast that he was just a guest on, a great episode. And what we're here to talk about with you Ryan, is customer success. And you mentioned that you're growing your team, I want to put a pin in that for our listeners. Ryan at Pixelz has some roles open, which will link into the show notes. And the other thing I wanted to mention about Pixelz is, Pixelz is invested as a company, in not just doing business with customers in that transactional relationship, but being good stewards of the industry in a similar way that we want to at Creative Force.
Daniel Jester:
Pixelz has already hosted several great events, the last one being the FLOW Event in Berlin. And there's actually another FLOW Event in LA, where Ryan, you, and I, will finally get to reunite in person, big hugs for both of us, because we're both actually speaking at that event. We're handling... We got a couple of different topics, but we'll both be at that event. For the listeners, towards the end of the episode, we'll talk a little bit more about what that event's going to look like, but for now, Ryan, let's talk about customer success.
Ryan Roberts:
What is customer success?
Daniel Jester:
What is customer success? That's a great place to start.
Ryan Roberts:
I mean, seriously, Daniel, when I'm trying to figure something out, I just like to break it down to the basics core elements and taking customer success, taking those two words and consulting Merriam-Webster, customer is defined as one that purchases a commodity or a service. I mean, most of us know what customers are, because we're customers of something. Success, now that's the one that's really interesting and open to interpretation, because it's the correct or desired result of an attempt. And so, that's much more ambiguous than customer is. When I think about success based on that definition, I picture accomplishing a task in an efficient manner where I'm exceeding my goals. Efficiency is hugely important for me in my professional and personal life, but not at the expense of reaching any expectations. I want to do it in an efficient manner, but still exceed my expectations. But, it's all based on priorities, because what my success may be, might not be yours. I mean, I'm curious to know what does success mean to you?
Daniel Jester:
Okay. I have an anecdote here to help illustrate this a little bit, because you are the one and only guest so far that I have crashed on your couch and watched you cook dinner. And so-
Ryan Roberts:
Oh, yeah. On the way to Austin.
Daniel Jester:
And so, when you mention your efficiency being a goal, like I said, I've watched you cook dinner, I've watched you move around a kitchen. And success for you might be something like cooking a great meal while also keeping a tidy space and not having a bunch of dishes to do at the end of the meal, because you've cleaned as you've gone, and you've been organized and you stayed that way. Whereas, success in cooking for me, might just be the meal. And I don't really care about having a crazy kitchen to clean up after the fact. But to illustrate your point, you're right to ask me what success means to me, and the truth of the answer for me, is that it varies even from situation to situation. I have layers of success where I would like this top tier result to happen, but I'll be satisfied if any of these lower tier results happen, whereas that might be different for everybody, and even within an individual different at different times.
Ryan Roberts:
Absolutely. That's really what a customer success department does, is uncover what that is, for all of our different partners. At Pixelz, we do not view ourselves as a vendor, we view ourselves as a partnership. We go above and beyond the post-production where if we can help out and consult on some things that can be taken care of in production, we're happy to do so. I mean, at the end of the day, customer success is all about finding out what success is for each individual partner of ours. I don't know if you know the historical background of customer success, but the term originated around the time that Salesforce was experiencing its initial rise. And around that time, a lot of softwares were moving to the cloud, also known as SaaS, the SaaS services were moving to the clouds. And one of the early Salesforce events, they were celebrating an amazing year of sales, and their Chief Operating Officer put a little gloom over the party whenever he talked about the churn rate.
Ryan Roberts:
There was this realization that sales are great, but if you have churn, which is the polarity of closing the deal, you've got people leaving on the other side, then eventually, a company would run out of prospects. And so then, they started really paying attention to, "How do we retain customers? How do we keep them happy? How do we keep adding value to them? How do we keep evolving?" And that's what customers success departments are, they are the pulse. We read the pulse of our clients. We speak directly to our clients. We help them out any way that we can, as far as finding additional ways to add value to their company. It's closely tied to the SaaS industry and software industry. But the truth of the matter is, any subscription or any contract business really should be thinking about customer success, and really should be investing resources and making sure that they are providing success for their customers, because at the end of the day, subscriptions and contracts have renewals. And so, you're always in the sales position with those types of businesses.
Daniel Jester:
I want to break it down into a couple of phases. I believe that this is true of how Pixelz brings on a new customer, it's certainly true of how Creative Force brings on a new customer, that there is multiple touchpoints that a customer success team or individual might handle a customer, let's call the first part of it the onboarding phase, and the important part of that onboarding phase is... You brought this up in a conversation that we had previously, that, that is really an introduction to the logic of the software, if you're talking about a SaaS service or even... I think of Pixelz as a little bit of a hybrid, there's a little bit of SaaS, and there's a little bit of hands on service. It's a very complex company with a lot of different ways that it can service a customer. But there's this introduction to the logic, and that's a really important part because of what software can do these days.
Daniel Jester:
And then, there is the back end of check-ins with customers that are humming along. "Hey, we released a new feature. We think this might make things more efficient for you." Coming to them with not only just the upsale from a business standpoint, but a... "We released a feature that you have access to today and it will make your job easier, let's talk about it." Stepping back, let's focus on the introduction to the logic and the onboarding of a new customer. Why is this such an important part of customer success?
Ryan Roberts:
I mean, what is logic? Again, let's refer to the dictionary. Logic's definition is, a particular way of thinking about something. That particular way of thinking about something may make sense for those who are thinking about it in that way, but doesn't necessarily make sense to the outside world, so to speak. And so with our platform, there is a foundational logic that everything's been built upon. And then, every new development follows some form of logic. What we try to do in the onboarding phase is, pull out what the customers need, try to understand exactly... The needs are relatively subjective if you look at them loosely. What Pixelz has really been amazing at doing over the last 10 years, is defining how to objectify this hugely subjective process. That's through a lot of questions. We have onboarding team, but then the customer success gets in towards the later portion of the onboarding end of the sales process. And we help bring them in for the landing, is the way I like to view it.
Daniel Jester:
This is a lesson that you and I... This onboarding process, Ryan is a lesson that you and I learned very quickly at CONVYR, which is that, we had to take our time with a new customer. We had to ask the right questions so that we can make sure that we understood their expectations, and that we were able to meet or exceed them, and that there weren't any uncovered expectations when we got into the process. We figured out really quickly that we needed to have post-production involved in pre-production conversations. Even in sales conversations, when we were absolutely having initial contacts with some customers, we brought our post-production lead in. And to make sure that we were asking the right questions up front, because all of those things impacted cost, all of those things impacted the customer's expectations. In a way, a lot of the introduction to... We talked about this a little bit, the onboarding is like the introduction to the logic. It's also a little bit of, are we asking the exact right questions to make sure that we can meet or exceed this customer's expectations?
Ryan Roberts:
A hundred percent. And also, do we know what the expectations will evolve into? Customer success is really about asking questions. It's about not being bashful. We listen, we ask more questions. The favorite question is, 'why?', and it's not because we want to be challenging, but we want to just keep digging until we uncover the root cause for the ask.
Daniel Jester:
Yeah. A lot of it is root cause analysis. That happens all the time, where customers are asking a question that is clearly... It may be their biggest headache at the moment, but it's symptomatic of some other problem that they're may be unaware of. And so, root cause analysis is a great skill in the customer success team, being able to ask those pointed questions and digging into it.
Ryan Roberts:
As an example, I mean, when you think about how much photography and technology has evolved in the last 15, 20 years. I mean, think about all the band-aids, all the workarounds. You and I talked about this at the studio. All the band-aids, all the workarounds that you do, and you just get into this pattern of doing those. And I was guilty of it in my personal shooting. I've seen all the studios guilty of it. And that's where the constant asking of 'why?', until you finally get down to what the goal is of that directive that you're being told is so important, because then you start to uncover things like, "Well, but you don't have to do that anymore." Technology has evolved so that you don't have to do that. It wasn't until very long ago that I was using actions that I built years and years ago, and Photoshop now has better versions of those, built into the software.
Daniel Jester:
One click tools that work every time as expected, which is not true of actions, always.
Ryan Roberts:
No way. No way. And actually, speaking of Photoshop, when I think about customer success, I really wish that when I was starting out in Photoshop, that I had access to a customer success department to help me understand the logic of Photoshop. Back then, and I don't want to sound old, I mean, but back then there wasn't all the YouTube videos, there wasn't all the access to the knowledge that is out there today. But for example, I remember when somebody explained to me the logic of layers, and just what an epiphany that was in like, "Oh my goodness gracious, this is what they mean by non-destructive editing?" And then, that slowly built into the ability to do composites. And then you just... You think about, wow, that's the importance of understanding the logic of a platform or a SaaS that you're working with. And that's what the customer success' main goal is, is making sure that the customer is aware of the capabilities and how to utilize them towards their needs.
Daniel Jester:
I actually think about this all the time, that what if Adobe back in the day had the live chat customer support, that your service has, and that my company has, because I think about it and I'm like, "I would never go ask Adobe why isn't this Content-Aware working the way that I expect it to?" There's something about Photoshop that, that relationship doesn't really exist, but then, I flip that and I think, "How awesome would it be if it did exist that way? What if they could bring them in? And they could show me, "Oh, well, this is exactly how Content-Aware works. If you exclude this little bit right here, the reason it's looking weird is because you got to exclude this bit, or that bit, or whatever." And it really does make me think about how awesome would it be if some of the legacy companies adopted this kind of customer success model, where you could jump in and you could... Didn't just need to ask them, "Did I set this up wrong, or am I doing the software wrong?" But, "Why is this software behaving the way that it is now?"
Daniel Jester:
I want to pivot a little bit, though, and I want to talk about... We talked about expectations, we talked a little bit about the logic, and I want to come back to that, because part of the expectations conversation, and part of the introduction to the logic of a system or a service is, we certainly want our customers to know what our software, what our service is capable of, but what about the things that we can't do that they want us to do? And this comes up all the time in the creative production industry. Every studio operates a little bit differently. They want to use these new tools, but they want to continue working in the way that they've been working. And sometimes we can do it, and sometimes we can't. What about the things that we're not capable of doing? How do we handle those conversations? And how do we explain to the customers how to weigh the benefits of what they're getting, versus the things maybe they have to sacrifice?
Ryan Roberts:
I think that really gets to the base of leveling expectations, but it also... We don't have to be an entire solution. The way that we utilized our post-production partners with CONVYR was a hybrid. And we realized where we could leverage, and then we realized what we needed to handle in house. And I think that there's creating conversations about, that's a possibility. And then, as you continue doing that sort of work with a client, is figuring out, "Well, how do we continue to add value into their process?" I mean, we do this quite often where we'll bring somebody in, and we'll start with a set of skills. And then, as we learn more about how they're doing, and again, the root causes of why that initial ask, we start to realize that, no, actually we can go much further in this.
Ryan Roberts:
We just had this the other day, where we had a really large client asking us to update some templates for paths. And the way that they needed the templates updated was a little bit strange. And so, strange enough to throw a flag up where I invited the client on a call, and I said, "Well, why are you asking for the path exactly like this?" And her response was, "Well, because I end up masking all this hair out, and then putting the models on different colored backgrounds. And whenever the path has any background in it, it's harder for me to subtract from a path, versus to add to a path." And so as a result, if there was any background in the hair, they wanted us to path inside of that. What we uncovered there was that she had masking needs, and Pixelz does amazing jobs at masking hair.
Ryan Roberts:
Just through asking the questions of why we uncovered an additional need, and now this happens fairly often with clients that have been with us for a longer period of time, is we are developing new capabilities so quickly, but a lot of those clients don't necessarily know that. That's another part of our job, is to keep the clients aware of what our new capabilities are, and how that would add value to them. Once we just finished running some masking test, and she was absolutely blown away by our masking, we've now scratched the pathing and gone to masking on those templates, which will save her days, days of her own time working on the back end over the course of a year. That's pretty amazing when you think of it. It gets back to the efficiency thing that I like to harp on.
Daniel Jester:
Right. Totally. And that's the second phase of the customer success part. And there's a vigilance that you need to have as somebody who works in customer success, to be aware when your customer is asking for something, but they don't know that they're asking for it, in some ways.
Daniel Jester:
I want to pivot, I want to use that segue as an opportunity to pivot over to... You mentioned growing your team, you've got some roles open at Pixelz, and I know that customer success, like we talked about earlier, is a relatively new term, and a new thought process, and a new way of handling our relationships with our customers, not new like yesterday, but new within the last five to 10 years. Similar to creative production, we're just now getting to the point where we have professionals who've been in customer success for five years, but there's still a lot of people who can make that pivot. And you shared with me the last time we spoke, that you're less interested for growing your team in people with specific experience as you are in people having the right kind of mindset. Can you walk me through-
Ryan Roberts:
Sure.
Daniel Jester:
... first, your open role, go ahead and plug your open role, and then tell me, what mindset are you looking for to be the best possible customer success employee for Pixelz?
Ryan Roberts:
The open role is, we have customer success manager positions available. Those are members of my team that deal directly with our enterprise clients. And I think something that's worth noting to say, is that we have an amazing customer support team. Now, we are the customer success team, so what's the difference? The customer support team is... They are the ones to handle the day to day, "Something's broke, we need to fix it." The goal for my team and the goal for the customer success manager is to be constantly thinking about, "Well, things are going well, but how can they be better?" It's a proactive approach versus a reactive approach. The positions that we have open right now are customer success managers, and that's basically what they do now.
Ryan Roberts:
I told you, mindset is the most important thing to me. I think that with software and technology companies, there's going to be a steep learning curve for any new employee, because even if they were users of the product prior to coming in and being hired, they've only seen the front end, they don't know the back end. And the back end is where all the complexity is. I mean, the goal of a good front end is to have it very user friendly and you wouldn't have to understand the complexity that's occurring. No matter what technology company, anyone you bring in, you're going to have to teach. That's why to me, mindset is way more important. Some of the things that I look for is, first and foremost, they have to be a learner. You know what I mean by that, because I know you're a learner, just constantly interested in acquiring knowledge, seeking it out, YouTube videos, books, whatever. Just never satisfied with the amount of knowledge that they have.
Ryan Roberts:
I need somebody that is just very comfortable with asking, 'why?'. And just asking it over and over again, until... As we were talking about earlier, the root cause. And then, obviously with Pixelz, and I'm sure with Creative Force, somebody who thinks about automation, who thinks about scripts and understands. I mean, you and I were like this at CONVYR, where we were trying to figure out how could we reduce the amount of human touches on something. Not to eliminate human touches, but simply to reduce the amount of, because human touches equals human error. Somebody who's constantly thinking in a problem solving manner of, "Well, how can we script this? How can we automate it?" I was raised that there's never enough 'please and thank yous', genuine, 'please and thank yous'. People react to that in such a positive manner. And I've had a number of conversations about communicating through any sort of text, whether it be email, text messages, it opens so much up to the interpretation of the reader. Just the importance of understanding 'please and thank yous' in professional correspondence.
Ryan Roberts:
And as with any production, post-production, there's going to be tough days. I love the mindset of people who can smile and laugh during the tough days, because there's always going to be tough days, no matter what you do, you just have to deal with them in the right way.
Ryan Roberts:
And then, one of the things that my dad always told me, and you've actually said, that I love, you guys both had shared this with me, is a mentality of figuring out how to do it right. Then figuring how to speed it up. I mean, I think that's great. Don't rush into it, figure out how to truly do it right, and then make it more efficient. I think that's a mindset that is just super important.
Ryan Roberts:
And then last, but certainly not least, is a patient listener, someone who truly wants to understand a situation before prematurely offering solutions. I think in this day and age, a lot of people can jump the gun. I find myself, whenever I'm going into a new opportunity, I'm pretty quiet, and you know me, I'm not really the quiet type, but I just sit, and I listen, and I absorb like a sponge, because I want to understand something before I start offering solutions, because I just think that it's much more valuable to take a little bit more time upfront, to understand it, than to start going down paths that have already been thought out. What I find really interesting about the creative production industry, is there's a lot of entrepreneurs in it. People who have gone out on their own, whether they're photographers, makeup stylist, hair, they've gone out on their own, they've had their name on a product. And as a result, a lot of them have this mentality, because they just can't survive otherwise.
Daniel Jester:
The last thing I want to touch on... We just have a couple of minutes left before we wrap up the episode, you and I are both slated to speak at the Pixelz's FLOW Event in Los Angeles, and I want to make sure that I get the date right. I believe it is February 24th, 2022?
Ryan Roberts:
Yes. FLOW is February, 24th.
Daniel Jester:
This is going to be in Los Angeles. It's going to be similar to past FLOW Events that Pixelz has put on. I'm going to be hosting a round table on efficiency, but not just efficiency, that's way too broad of a topic, but the idea that a lot of companies like Pixelz, companies like Creative Force, there's a ton of companies out there who offer tools to help you be more efficient, but it really is incumbent on middle and senior managers of a studio to foster the ability to build an efficient process in an efficient studio. I'm going to be hosting a round table on that. Ryan, have you guys solidified what your topic is going to be that you're going to be sharing on?
Ryan Roberts:
Yes, we're going to be speaking about... Or I'm going to be speaking about something near and dear to my heart, and that's building partnerships and teams for studios, with the experience that I had with you in previous studios in New York, I'm really excited about this discussion. We've got some really great guests in the round table from some major brands, we're still working to finalize those folks, so I can't really say any names right now, but it's going to be really interesting to hear the different insights, because there's a variety of different types of studios, from actual brands to remote service provider studios. It'll be fascinating to hear the different approaches and just be able to pick their brains.
Daniel Jester:
And just so that our listeners are aware, Pixelz who is hosting the event, is of course paying close attention to COVID situation in the local area. We want people to be aware that we are taking safety precautions and all options are on the table to keeping our attendees safe for this event. Stay tuned, we'll definitely link to the FLOW Event page, and all of the information that you need there. And Ryan, I'm really looking forward to getting to see you again in person-
Ryan Roberts:
I know.
Daniel Jester:
... after two years of leaving that day and maybe not realizing it was going to be this long, or what it was going to be like, but. And anyway, it was wonderful to have you on the show. Congratulations on your role at Pixelz, based on everything I know about you and the conversation we just had, I'm sure that you will be successful at Pixelz-
Ryan Roberts:
Well thank you.
Daniel Jester:
... and helping your customers be successful.
Ryan Roberts:
Well, I really appreciate that Daniel. And thanks for having me on, and I'm looking forward to getting a big bear hug.
Daniel Jester:
Yeah, there you go. Slow motion in the rain, running towards each other.
Ryan Roberts:
Running across the room.
Daniel Jester:
Yeah.
Daniel Jester:
That's it for this episode, please be sure to check out and register for the FLOW Event in February, hosted by Pixelz. You can learn more about it and you can register for your place at pixelz.com/events. That's P-I-X-E-L-Z, Pixelz with a z, .com/events.
Daniel Jester:
Many thanks to Ryan Roberts. And thanks to you for listening. The show is produced by Creative Force, edited by Calvin Lanz. Special thanks to my close dear friend, Sean O'Meara. I'm your host Daniel Jester, until next time my friends.
About the host

Chief evangelist at Creative Force
Daniel Jester is an experienced creative production professional who has managed production teams, built and launched new studios, and produced large-scale projects. He's currently the Chief Evangelist at Creative Force but has a breadth of experience in a variety of studio environments - working in-house at brands like Amazon, Nordstrom, and Farfetch as well as commercial studios like CONVYR. Creative-minded, while able to effectively plan for and manage a complex project, he bridges the gap between spreadsheets and creative talent.