Back to list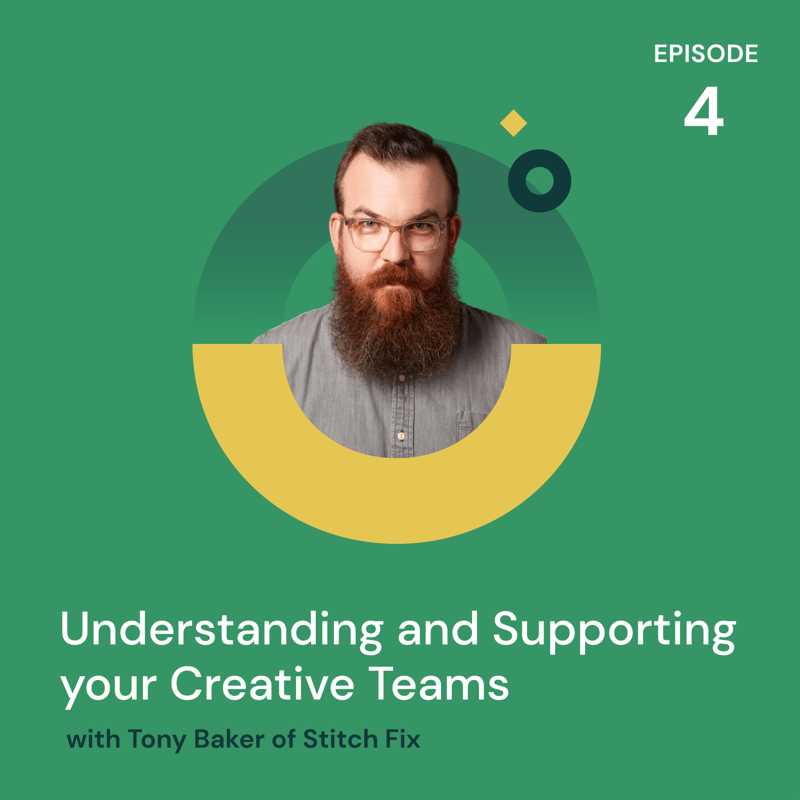 Episode 4 - April 13, 2021
Understanding and Supporting your Creative Teams with Tony Baker of Stitch Fix
Summary
Tony Baker, Director of Product Imaging at Stitch Fix joins Daniel in this episode of The Ecommerce Content Creation Podcast. We discuss his short tenure with Stitch Fix before the COVID-19 pandemic shut down most creative production in the United States, how he supported his teams through the uncertainty of the pandemic, and how he leverages lessons and tools from his time at Amazon, Nike, and Stitch Fix to understand his teams, who they are, and what drives them. Once the picture of his team begins to focus, you can begin finding and creating opportunities for your creative teams.
Key Takeaways
Engage your teams one on one. You need to learn who they are, so you can support their passion.
Data can help you understand and encourage your team when collected and used well.
Positioning your high-volume production studio as a way to allow creatives to learn techniques can be a great way to balance asset needs with team growth.
"Simple done well" is one of the hardest things to master.
Links & Resources
Full transcript of the episode
Daniel Jester:
From Creative Force, I'm Daniel Jester, and this is the E-commerce Content Creation Podcast. My guest for this episode is Tony Baker, Director of Product Imaging at Stitch Fix. I first met Tony when I was working for Conveyor in Los Angeles. I was struck by the heist movie style of efficiency that his team operated with. Each person on his team knew their job and did it well. I knew I wanted to discuss with him his thoughts on leadership and supporting creative teams.

Tony Baker:
In these larger corporate studio environments, it's really important to engage your contributors one-on-one at every level, if at all possible of that, whether it be a junior photographer or kind of the bread and butter photographer or senior-level folks, and really get to know them because what you want to hear from them is what drives them. And then as leadership, what you hope for is that you want to be able to take their talent and their passion and direct it in a way that's beneficial to the company, and in the absolute best case, somewhere that we already know the company wants to go, and that aligns with where the contributor's passion lies too.

Daniel Jester:
I can't say it better than that, so let's get into this one. Welcome to this episode of the E-commerce Content Creation Podcast. I'm your host, Daniel Jester. And my guest today is Tony Baker. Tony, thank you so much for coming on the show.

Tony Baker:
Oh, thanks for having me.

Daniel Jester:
Absolutely. Why don't you give our audience the job interview version of your background so we can give a little bit of context here, and then we've got a great conversation we're going to get into.

Tony Baker:
Sure. Do I have to be as nervous as I have been in job interviews? I hope not.

Daniel Jester:
You could be as nervous as you want.

Tony Baker:
Yeah. Well, my name is Tony Baker. I'm currently the Director of Product Imaging for Stitch Fix in the Bay Area in California. Gosh, the cliffnotes version. You know, for better or worse, I got into the photography career really early. I was one of those folks that knew what they wanted to do right off the bat. I was really fortunate we had a commercial art class in my high school.

Daniel Jester:
Mm-hmm (affirmative).

Tony Baker:
Tried to go to college for a year, and college wasn't really for me so I jumped straight into assistant commercial photographers. I was able to climb the ladder through assisting originally from Nashville, Tennessee, and worked my way up through the photographers there. And went on to shoot a lot of commercial things for advertising and fashion in the entertainment industry. And after about 15 years of that, a friend said, "I just joined Amazon. They've given me carte blanche to open up a fashion studio in Brooklyn. Do you want to come be the lead photographer?" And so, that was my first foray into the corporate world.

Daniel Jester:
Yeah.

Tony Baker:
What was really interesting about the proposition to join a corporate e-com studio was, I think a good year as a commercial photographer even as a busy commercial photographer, I think there were probably anywhere between 50 to 100 images a year that I would create that I really cared about. And then, certainly, I shot a lot for Stock as well and that was a few thousand images a year. But opening up the Amazon Fashion Studio, the reality was, I was then accountable for close to half a million images per year. And how can I translate this love of photography? Even shooting product on white, that's an opportunity to do the most simple thing very, very well.

Daniel Jester:
Right.

Tony Baker:
And a lot of the listeners here will know that simple done well is absolutely the hardest thing to do. After Amazon, I took a break for a bit because it's a really intense company.

Daniel Jester:
Mm-hmm (affirmative).

Tony Baker:
Took a break for a little while and then followed some folks that I had worked with at Amazon over to Nike and helped them prepare for and build their Icon Studio in Los Angeles and sort of get down some basics for them. And then once that was up and running, just consulted around for a bit. And then like this industry is a friend of a friend, ended up at Stitch Fix. And I love it. It's fantastic.

Daniel Jester:
Tony, when you came to visit us at Conveyor in LA, my impression and what I think about all the time of you and your team was that you kind of swooped in like this, almost like a heist team. You guys were so tight and you had a plan and you knew exactly what... Everybody had their part. And you kind of stood in the corner a little bit with sort of your arms folded, very contemplative about what was going on. Every single individual in your team was speaking for themselves, contributing to the goal, contributing to the collection of this data for this project that you guys were working on. It was just so impressive to me. It really was like watching a heist team in a movie in a lot of ways.

Daniel Jester:
I wanted to explore with you a little bit about just your management philosophy, I guess, and the way that you manage your teams to encourage that kind of fervent engagement in the projects that they're working on and developing that sense of curiosity in your team. I know this is a big ask for me, but can you speak to that a little bit because I think a lot of people would really benefit from your style of managing a creative team like this.

Tony Baker:
Sure. Thank you for the heist. I wish I could live up to that. It certainly doesn't feel like that. But yeah, at Stitch Fix, it's really interesting that we came down and visited you to test out that particular piece of technology because we are curious and we had certainly prepared. We were talking about workflows, physical and digital workflows, and if this piece of gear would work for us. That's something that at Stitch Fix, we're really proud of. I mean, part of the core of the company is it's largely a tech company and we happen to provide this great service. But in being somewhat of a tech company, we also are always trying to innovate, right?

Tony Baker:
And with COVID-19 hitting... Again, we were down visiting you from San Francisco, they're in Los Angeles, right before the pandemic hit. And so, a lot of the things that we were trying to get into, we didn't get a chance to get into. I think we completed that test, the heist, at your place. We knew where we wanted to go. And then suddenly it was the middle of March and the world was shutting down. So the past year, and here we are in spring 2021 when we're recording this, largely we haven't been able to move into a lot of the workflows that we had anticipated in a lot of the testing and a lot of the changes that we wanted to make. There's a really well known Dutch track coach, he has a saying and I'm paraphrasing, "Do the least amount necessary, not all that is possible." And that sort of the mode that we had to go into. And while that can sound a bit of a pejorative, it's not really.

Daniel Jester:
Right.

Tony Baker:
It's I think anyone listening who kept their studios up and running, oftentimes, you would hear, "Oh" especially a couple of months in is, "We're just in survival mode." And I wouldn't go as far as to say that, but certainly we collected ourselves. We went back in, we listened to our team about what was really important to them and how could we help guard their health and safety and mental and physical wellbeing. And so, we've kind of pulled back to a skeleton crew like most places did.

Daniel Jester:
Mm-hmm (affirmative).

Tony Baker:
We're starting to see maybe a light at the end of the tunnel now. It's been a really challenging year for us. In that, we haven't got a chance to implement a lot of the things that we were really looking forward to implementing had this not happened.

Daniel Jester:
Sure. Yeah.

Tony Baker:
And you asked about the philosophy, through the whole thing, that I think ties into the philosophy because it being sort of a much smaller, very curated crew that we took the care to make sure that it was the same crew in the same studio locations day after day after day as much as possible to limit exposure, it was really important to dive in with each of the individual contributors, both full-time and freelance and talk to them about how they're doing. "How are you feeling about everything in general? Let's talk about your career. How are we actually going to move you forward in this really challenging sort of potentially limiting time, or certainly it feels really limiting. How can we not limit you in some way and make sure that you're on a good path to growth?

Tony Baker:
In these larger corporate studio environments, it's really important to engage your contributors one-on-one at every level, if at all possible of that, whether it be a junior photographer or kind of the bread and butter photographer or senior level folks, and really get to know them, because what you want to hear from them is what drives them. And then as leadership, what you hope for is that you want to be able to take their talent and their passion and direct it in a way that's beneficial to the company, and in the absolute best case, somewhere that we already know the company wants to go, and that aligns with where the contributor's passion lies too.

Tony Baker:
And so I've often said, this is incredibly selfish for me because if I can put a creative person in a position to be really successful and they experienced that success, there's a thrill in that, right? There's a fulfillment in that. There's personal fulfillment in that. And quite selfishly, when they feel that and we're able to celebrate that, I feel that too.

Daniel Jester:
Amazing.

Tony Baker:
And you can never really get enough of that. So if I can put people in positions to be continually successful, they feel that and they want more of that, and being, hopefully, so close to my team members, I can feel that too.

Daniel Jester:
Right.

Tony Baker:
Certainly, there's a lot of selfishness that goes into my leadership style.

Daniel Jester:
Absolutely. And one of the things that I think is really interesting is you and I have had prior conversations around there's a couple of ways that you can gain some of these insights into your team. Obviously, yes, absolutely I agree 100% that engaging your team one-on-one, having those opportunities in creating a safe space for feedback and to share ideas. And some of the best managers I've ever had in my life just really indulged me in our one-on-ones, just let me kind of run with the conversation and then used that against me but in a positive way.

Daniel Jester:
I had a conversation recently with an industry colleague and now, coworker of mine, Adam Parker, about KPIs. We talked a little bit about the idea of metrics and what we can do with them and the power that they wield. They really are like this sort of superhero movie idea of a powerful object, right? They can be weaponized and create a lot of fear and uncertainty in your teams, or you can use them to empower your teams. I think it's really a two-pronged approach, that sort of management style that you're describing, which is that you want to get to know your teams personally and you want to gain these ideas of where they want their career to go.

Daniel Jester:
And then on the back end of that, you have metrics and KPIs and data that you can collect to support. Is this fit correct for this person? And you definitely see and I've seen it with photographers that I've managed, when you put someone on a set that they don't jive with very well, the KPIs reflect that. And then if you put them on a set where they really excel, the KPIs also reflect that. So, I can't imagine that at a company like Stitch Fix that this isn't how you're approaching your teams, that you're engaging them in conversation, you're getting to know them as people and you're caring about them as people. And then you're backing up some of the decisions that you're making and the opportunities that you're giving them the chance to experience with, "Does the data support this? How do we find that right balance of passion in productivity so that everybody is happy and the company is growing and having the opportunity to do some incredible things above and beyond the standard production stuff?"

Tony Baker:
There's a lot of different philosophies about how to use KPIs in a creative environment. In previous conversations and maybe even in this one, we've talked about weaponizing the data that you're able to collect off KPIs. I don't know that my approach is the best, but it's worked for me and the teams that I've been involved with before, and that it goes back to again, hiring well, building the team that you believe is best for the goals that any studio has.

Tony Baker:
Because my philosophy is let's take a photographer or a stylist, for instance, bringing them into these larger, very high paced, very high volume commercial studios, you bring these folks in on their first day and you say, "Okay, here's why we've hired you. Here's where we see the real benefit of having you on board. But what we're going to do is we're going to put you on this really boring set for one or two or three days so that you can learn the system." It's like sort of really simple imaging, really simple widgets on white kind of thing, because what we want you to do is to learn the capture process in our internal system.

Tony Baker:
And then, once you're up to speed and we see that you've got this down and we know it's going to be really boring and you're going to have this by lunch, but we want you to really get the muscle memory for this. Because when we put you over on let's say if it's a more fashion-oriented studio and we brought somebody in because they do women's swimwear really well, or we know they do dresses really well, or they do men's higher price point things really well, when we put that creative contributor whether it be a photographer or stylist or other roles, we want them to have the muscle memory down for the system so that they concentrate on doing their best work, right?

Daniel Jester:
Mm-hmm (affirmative).

Tony Baker:
The goal is always to get that creative contributor who has mad skills exactly where we need them to be.

Daniel Jester:
Right.

Tony Baker:
Now with the KPIs, of course, we're tracking KPIs and a lot of other information and even down to which teams were together so that we know, "Oh, this team works really well. This one wasn't as good as we had hoped." But what we can do is come back to these creative contributors on a regular basis with the KPIs and say, "Hey, actually, you know what? We thought that we were going to see the best results putting you on this type of set, but it turns out you excelled over here on this type of set, actually with these two or three other contributors. What do you think about that?" And so, it becomes this opportunity for feedback between leadership and the contributors to make sure that they are in a place where they feel fulfilled, but they're also doing the work that the company needs them to.

Daniel Jester:
Right.

Tony Baker:
That's the role of leadership, is to get that balance. And listen, this is just my approach. I'm not saying it's the right approach, but it is the approach that resonates with me and it is coming from deep down inside. I am a creative person. I want to live with and encourage creative people.

Daniel Jester:
Right.

Tony Baker:
It just so happens that I'm part of creative leadership in larger companies, right? And so, certainly when I joined Amazon, I like to joke that I went from working cameras and lights all the time to just being a spreadsheet guy.

Daniel Jester:
Yeah.

Tony Baker:
But there's power in that information and all those spreadsheets and all of these workflow tools and the data that it can give you back. As a creative leader, you have to know how to use that data to continually encourage your team, which will continue to give you better work, which you hope brings the company more success.

Daniel Jester:
So Tony, I would love to hear from you a success story from one of your teams in the past around helping somebody find something that maybe wasn't on their radar, as something that they would be really good at or even feel passionately about, but through the process of learning about them and trying some things that they ended up finding something that really works for them.

Tony Baker:
You know, coming into at least at Amazon and we were there in Williamsburg, Brooklyn, and it was just about to crack open, right? I think we signed the lease on the place like six months before Williamsburg became a global destination. We had high expectations about the photographers and stylists and hair and makeup folks that we were trying to hire in New York city where day rates were really high anyway. And we were coming in sort of paying industry standard, if not, a little bit below. And so, when we would reach out to these creative contributors at a really high level, they would scoff at us and like, "What? You want us to come in and work for how much? That's a fraction of my day rate." And it's like, "Okay, well, that's fine."

Tony Baker:
So being the lead photographer there in Williamsburg at Amazon, we were trying to attract really amazing talent. The photographers that we got in, it took a little while, but we ended up getting this set of photographers in that was just incredible. Some of them are names that if you're around the fashion industry, you would probably know their names. But we would bring them in, and we really focused on making a different experience for them from what they were expecting in this shooting models on white. And what ended up being for a couple of photographers there and we joked about it later was, the Beatles had their Hamburg experiences, right?

Daniel Jester:
Mm-hmm (affirmative).

Tony Baker:
Where they just did the cover songs and they banged out song after song, night after night after night. Certainly, I'm paraphrasing for the Beatles here [inaudible 00:17:34], but they got to really focus on their musicianship. And here was the thing that we joke about was, this was somewhat akin to that, shooting "boring" e-com photography on the white. What these really seasoned photographers and I like to think, the stylist and hair and makeup artists as well, is that these were really tight parameters. And so, they were able to focus on really specific things day after day.

Daniel Jester:
Right.

Tony Baker:
The photographers and stylists and I'm thinking about is, "Oh, okay. You know what? Today we're going to focus on shoulders." Within this rack of 80 garments that we have to photograph with this model, not only do we have to keep the energy level up when it needs to be up, do we need to keep it up over the troughs after lunch and all of that. But oftentimes, e-commerce clothes, it's a struggle to make them look good from time to time.

Daniel Jester:
Yeah.

Tony Baker:
But here, we set up the system so these contributors work fully supported and we wanted them to concentrate on making the best images possible. And so, these contributors is like, "Okay. Yeah, I'm going to focus on how the hips lay today. I'm on this high price point dress set and I've got this great model in, but their shoulders are a little more narrow than they need to be. How can we get past that? How can we go through not only keeping the energy up, but how can we go through the poses and make sure that we're really nailing this? How are we bringing this product to its highest visual potential given these really tight parameters?" And the joke that we had amongst the photographers and myself was like, "Oh yeah? Watch this. You think I can't make a beautiful image of this model on white? Watch what happens now."

Daniel Jester:
Right.

Tony Baker:
And it was that. It was fostering that sort of environment. As studio leadership, you have to find that. Within your contributors, what is it that they're wanting? And so, the success story is that these photographers, it was almost this sanctuary where they could come in and not only were they getting paid, but they could really focus on these super minuit factors that made their photography better. And just the sheer fact that day after day hour after hour or photographing things, it got into their muscle memory, and "Oh, this is good. Keep doing that. This is not so good. Try to avoid that in the future."

Daniel Jester:
So many of the decision points in a creative production e-commerce studio are removed and taken off of the photographer stylists plate, right? When you're in a situation like you're describing, the photographers not making major adjustments to lighting or changes to their set, they obviously need to react to the product that's on their set and the model that's on their set. But you're absolutely right. That's definitely something I had not considered it with regards to on-figure photography. I'm sort of a still life guy, but I definitely trained my photographers throughout my career to look at those opportunities to say like, "Today, I'm going to get really good at reflective products."

Tony Baker:
Exactly.

Daniel Jester:
"Today, I'm going to get really good at white products on white."

Tony Baker:
Yep.

Daniel Jester:
And when I was shooting at Amazon, when I opened our Hard Goods Studio here in Southern California for Amazon, I was managing a team, but I was also on set a lot. We were a small... There was four creative team members in our studio and we scaled up to three or four times, that many with freelancers. And so, I found myself onset often. I called it batting cleanup where I would just swoop through. Every set that there wasn't a full days worth of product on, I would just shoot it to get it off our books. I spent a ton of time shooting commercial toilet fixtures that were reflective and circular and had curved surfaces. It was a nightmare and I got really good at it. The result was when Ember, the heated mug technology company came to me to shoot their new golden silver mugs on reflective curved mugs on a reflective surface, I knew exactly how to do that immediately. And the first shot of the day was like 90% of the way there. And then it became about refining it.

Daniel Jester:
And so, I say this all the time and I feel like it can be people will roll their eyes at me, but there's a lot of value in getting that kind of practice and getting paid for it in this type of environment because what you're able to do is subsidize work that you can be really proud of. I'm not going to share those commercial toilet fixtures on my website, but that job for Ember could get me future campaign imagery because of how well it was executed. And I feel like I'm bragging now so I'm going to stop that. But-

Tony Baker:
No, but it is right. You want to get to a point where you know as a photographer or a stylist or a hair and makeup artist, or any of the creative contributors that are on a set, you just want to get better at your craft. And again, simple done well is absolutely the hardest thing to do because there's nothing to hide behind. It either works really well or it falls apart. There's rarely anything in between.

Daniel Jester:
Hey Tony, thank you so much for being on the show today. This has been a fantastic conversation and I really think our listeners are going to be able to glean some great information. Is there a way for listeners of the show to connect with you somewhere or any way that they can kind of find out what you're up to?

Tony Baker:
Daniel, this has been great. It's not often in this day and age that you can actually sit and talk about something that you're really passionate about. So thank you. And regarding getting in touch with me, you know it's actually perfect timing. Stitch Fix were just about to open a new large studio in Atlanta, Georgia here in late March, 2021. We just posted this week, the job listings that we're looking to hire for in Atlanta. So probably the best way to reach me is through LinkedIn, it's Tony Baker at Stitch Fix. That tends to be a lot of the way that I keep up with folks in the industry, yourself included. So yeah, take a look at those job listings. We're looking to hire the kind of team that we've been talking about.

Daniel Jester:
Right.

Tony Baker:
With all of the passions and the talent, to present talented, passionate people with new opportunities.

Daniel Jester:
Amazing. That's Tony Baker find him on LinkedIn. At the time that this episode will go live, it's totally possible that there will be roles still available. Yeah, Tony, just thanks again, man. It was a great conversation and I hope to get a chance to revisit with you after some time when your new Atlanta studio has kind of taken hold and we can see how things are going, have a little check-in.

Tony Baker:
Absolutely. Thank you guys so much.

Daniel Jester:
That's it for this episode of the E-commerce Content Creation Podcast. We'll include some links in the show notes so you can learn more about Stitch Fix's new studio in Atlanta. And I hope you take the opportunity to reflect on this conversation and consider how you can use curiosity to foster growth in your own teams.

Daniel Jester:
The E-commerce Content Creation Podcast is produced by Creative Force. I am your host, Daniel Jester. Until next time my friends.
Subscribe to the eCommerce
Content Creation Podcast
About the host

Chief evangelist at Creative Force
Daniel Jester is an experienced creative production professional who has managed production teams, built and launched new studios, and produced large-scale projects. He's currently the Chief Evangelist at Creative Force but has a breadth of experience in a variety of studio environments - working in-house at brands like Amazon, Nordstrom, and Farfetch as well as commercial studios like CONVYR. Creative-minded, while able to effectively plan for and manage a complex project, he bridges the gap between spreadsheets and creative talent.