Back to list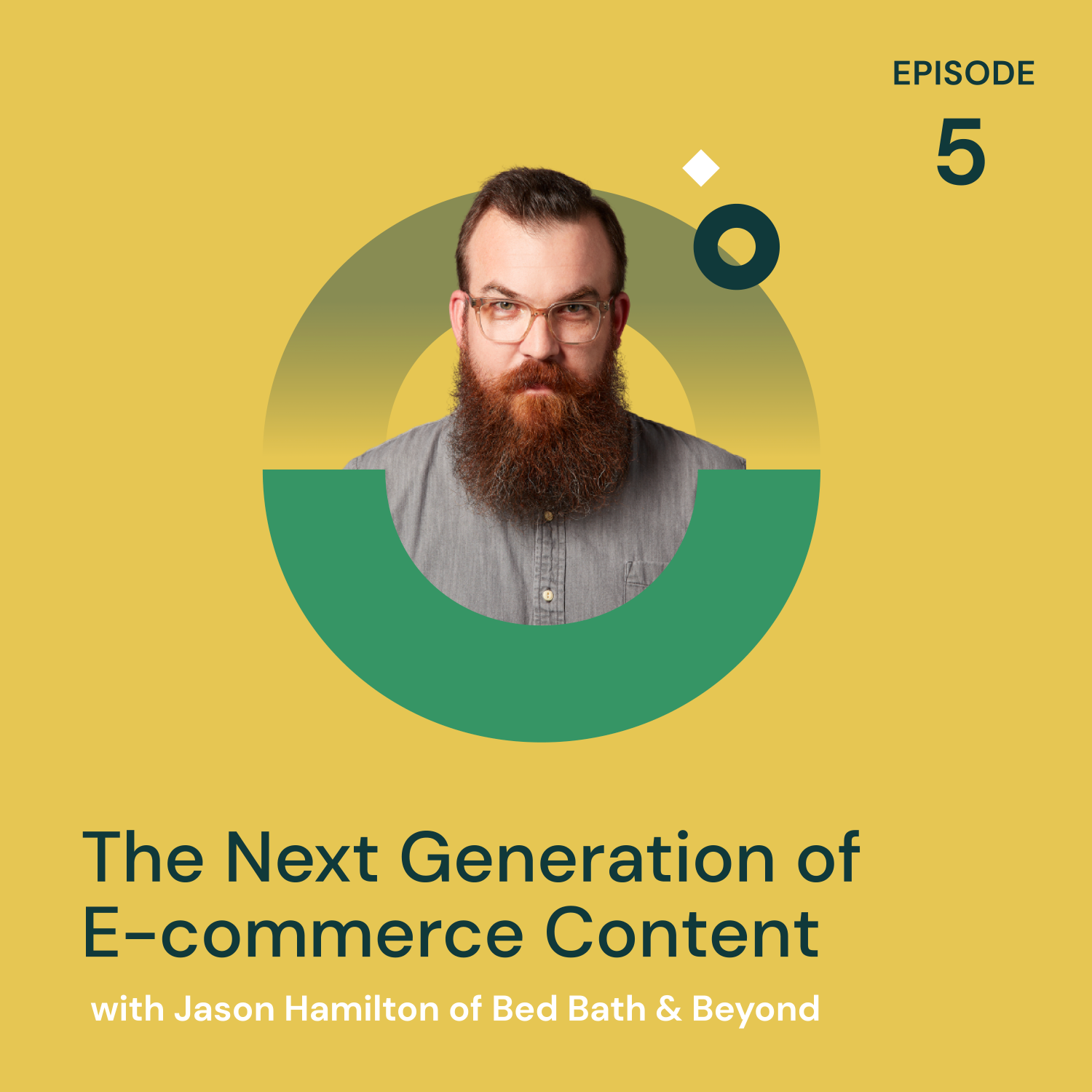 Episode 5 - April 20, 2021
The Next Generation of E-commerce Content with Jason Hamilton
Summary
Jason Hamilton of Bed Bath and Beyond joins Daniel to discuss what the future of e-commerce content could look like. We discuss the early days of product rendering, its evolution, and how today's creative teams likely fit into this new generation of content.
Key Takeaways
Computer renderings have the potential to overtake traditional e-commerce imagery as the process gets cheaper and faster
Retailers in home goods and other traditionally large items are using renderings already to save costs associated with photographing huge products
The process for creating rendered product images can look a lot like a traditional photography process, except virtual
Current photographers, stylists, and other studio teams can provide invaluable input to help aid rendered imagery. We expect today's studio teams to play a big role in the future of rendered imagery
Links & Resources
Glossary
CGI: Computer-Generated Imagery
Rendering: The process involved in the generation of a two-dimensional or three-dimensional image from a model by means of application programs
Full episode transcript
Daniel Jester:
From Creative Force, my name is Daniel jester and this is the E-commerce Content Creation Podcast.

Daniel Jester:
Joining me on the show today is Jason Hamilton, of Bed Bath & Beyond. Jason's background is in photography, both in photo journalism and an e-commerce. As his career progressed in e-commerce, he found himself in the leadership role in his studio and fascinated by what the future of e-commerce imagery might look like. We talk a bit about the early days of rendering imagery and how far it's come in a relatively short amount of time.

Jason Hamilton:
Things that have a lot of texture were really hard for renderers to do. And now it's gotten to the point where they just pull a texture file and say, "Okay, I'm going to use the rug number 1011 and throw it on the floor," and it makes this beautiful rug. They just have to put the patent on it then.

Daniel Jester:
In this episode, we attempt to take a peek inside the e-commerce crystal ball to imagine what the product imagery teams might look like in the future and why you should be optimistic about the roles that today's creative talent will have in shaping it.

Daniel Jester:
This is the E-commerce Content Creation Podcast. I'm your host, Daniel Jester and joining me today on the show, Jason Hamilton. Jason, thank you so much for being with us.

Jason Hamilton:
You're welcome. I'm glad that I could jump in and chat about some stuff that I'm passionate about.

Daniel Jester:
Yeah, absolutely. We asked you to be on the show today to talk a little bit about the future of content creation and full disclosure for our listeners. This is a little bit of personal experience from you and observations for me. And it's a little bit maybe crystal ball, like where we think it could go. But first, I'd love for our listeners to know a little bit more about you and set the stage for your area of expertise and then we can start talking about what we think the future beyond the traditional photo studio looks like.

Jason Hamilton:
My background is in photography. I was a photographer for probably 15 plus years on set, did some photo journalism, did some product photography, moved into sort of room sets and lifestyle photography, and then started managing a team and slowly but surely got taken away from the camera and more into a managerial role. So in that role, I kind of started looking at everything that most photo ops managers look at, like data efficiency samples in and out of studios, how to kind of get the best out of your team, how to create those teams.

Daniel Jester:
Right. All of the extremely exciting behind the scenes machinations of the creative studio.

Jason Hamilton:
Yeah. Yeah. All the things that you don't really think happen when you go into a career of photography and then all of a sudden it's like, well, somebody needs to do that.

Daniel Jester:
Absolutely and at some point you started to develop an interest in some of the places that we think the future of product photography, and to use that term in its broadest possible sense, but product imagery, you developed an interest in what we think the future of that might look like. And I don't think it's a secret to anybody, certainly not in the industry and probably not to anyone listening to this episode that renderings, computer renderings of products, have been here for some time for certain segments of the industry and certain retail categories. And it stands to reason that that's going to be a future for a lot of categories coming down the line as we get faster at it and as the cost of producing rendered imagery comes down and it's a very interesting topic. It's something that you shared with me that you're very interested in have spent some time in.

Daniel Jester:
And the other thing I want to touch on is that what we think this means for the future of our studio teams, because there certainly is a tendency towards sometimes fear around the advancement of technology when it changes the nature of people's roles, but the last time that you and I spoke, you shared a great perspective that there isn't much to fear here, but a lot to learn and a lot to gain for the individual. So going back though, tell me a little bit about when that happened for you when that spark kind of ignited, and then we can jump into why we think this future is more exciting than some people might think.

Jason Hamilton:
It probably started around maybe 2012, 2013. I think at the time I was working at One Kings Lane, you know that's pretty common knowledge if you want to find that out, it's easy to find. But, I was working One Kings Lane. There was a real interest in doing 360 spins and that's almost where it started. I knew that there was this emerging technology back then. And I think previous to that, there was a period of my life that I did get into gaming. So I kind of knew that there was these worlds being created in 3D or in kind of augmented reality or things like that.

Daniel Jester:
The unsung hero of video gaming or those environments, right? Like you'd tend to pass through them without taking a moment to realize somebody spent a lot of time on that room that you just walked through.

Jason Hamilton:
Yeah and an interesting thing that we'll kind of probably touch on a little later is that when I was in those games, sometimes I would actually stop and look around and I would look at things like a desk with those secret things that you needed to collect or whatever those things were that were kind of in the game. So the 360 Spin thing became a really big thing for One Kings Lane. I spent months researching all the companies that were doing it kind of worldwide, who you could get the robots from, who was doing it as a service. who you could send your products to, who would give us the robots to actually utilize. We were really close to signing a deal and getting a robot that had a 12 foot turntable on it so we could shoot all of our sectionals and all of the furniture and things like that on it.

Jason Hamilton:
And then I think there was a slight shift in the direction of the company, but also there was a slight shift in like people started showing the executive team these renderings, and everybody kind of stopped and went, Well, if you don't need that thing and we can get these renderings done by, let's call it a computer. Why don't we look at that?" So that's kind of where I started looking at that component of I guess, imaging outside of a studio, imaging outside of a camera. And that's kind of where my interest, I guess, started to kind of peak. And I got involved in looking at companies that were doing it, looking at how well people were doing it. And then I guess now it's been seven years of kind of continued poking around at it.

Daniel Jester:
Have you spent any time in the weeds creating your own renderings from, I don't know what you use as a source file, a flat CAD drawing? I know Photoshop prompted me the other day to extrude a 3D thing from a path that I had drawn and I was like, "I wonder what that is?"

Jason Hamilton:
Yeah, not personally. I have though, been involved in sending images that have been photographed in studio or on-set or in a home to have people render it to either give us the ability to use that environment, an empty shell of a room let's call it, to put product in or also just to kind of see their functionality and their capabilities. So, there's a couple of examples of the early period that we started doing it probably in 2015 or 2016, where it's still a little balloony. It looks like a game. It looks like a game room in terms of what gaming looked like back then.

Daniel Jester:
Has just sort of a, you can't really put your finger on the quality that makes it feel that way sometimes, but it just doesn't quite feel right. It's like I remember this period where you would spot a rendering in the wild and you're like, "I think that's a rendering because there's, I can't put my finger on exactly what's not right here, but there's something about the physics of this room is not quite the way that it should be."

Jason Hamilton:
After kind of playing around with it and working with guys that do rendering or guys that kind of take the rendering, I guess, in some ways you would call them, I don't know, an art director. Or I'm not sure what their official title would be in that kind of 3D image creation world. I've worked with those guys a lot actually. And some of the things that I've realized over the years is that if it's too perfect, your brain goes straight to it and says, "That's a rendering. Well, that's not a photograph or that's not real." I think back then as well, plants were always tricky. Soft goods always looked like a bedding rendering at that time. I always used to call them out on it and say, "It looks like poured concrete. It looks like an inverted mold of a bed."

Daniel Jester:
It's too smooth. There's just no natural movement to the materials or things that would be considered if you're looking at it objectively from the point of a computer drawn environment, it's too perfect. The lines are too straight. There's no even very high end bedding is going to have inconsistencies in the thickness of the filling of a duvet cover or something like that. And that's going to lead to some movement and ripples in the material. That's actually a great way to put it is that it looks like somebody poured some silicone into a mold of a bed and it's just too perfect.

Jason Hamilton:
And often things like the room sets that we were kind of playing around with, whether it was a bedroom set or whether it was a, let's say a lounge room or dining room or something like that. Whenever there was a piece of soft goods, like a decorative pillow or something like that, it looked like it was inflated. It looked like a Jeff Koons version of a pillow instead of being shiny chrome colored, if you know his kind of balloons work. It looked like a decorative pillow, but it was overinflated and there was no crease in it. There was no kind of ripple in it. And as soon as those guys started doing that, and I think gaming's also gone that direction as well, there's thousands more textures available now than there were back then. We kind of played around back then with creating a rug and the only rugs that actually looked like they were real were ones with a flat wave that didn't have any pile in it.

Jason Hamilton:
So things like fur and rugs and things that had a lot of texture in a small area, there's probably some way to measure texture per square inch like there is pixels, but things that have a lot of texture were really hard for renderers to do. And now it's gone to the point where they just pull a texture file and say, "Okay, I'm going to use the rug number 1011 and throw it on the floor," and it makes this beautiful rug. They just have to put the patent on it then. So there's all these kinds of components that have actually over the last year made those renderings so photorealistic that it's getting to the point now where it's really hard to tell whether it's rendered or not. And that, that for me is what is really exciting about kind of what's happening in the industry.

Jason Hamilton:
I think that there's a couple of areas that haven't really gone that way. I mean, there's, Looklet for fashion, there's those kinds of programs and processes and equipment that you can use to kind of photograph fashion, not on a model and then drop it on a model or photograph product and have it rendered a background or something like that. But I think we're at the point now where you can take a CAD of a product and you have the ability to change that CAD to the extent where you can add inches, feet, whatever you need to, to make it a different iteration of that product. You can add texture, you can add color, you can add infinite amount of details to a single product. And I'm speaking more in hard goods, really, because that's kind of the easiest thing at the moment.

Jason Hamilton:
But you can take that product in its thousands of iterations, put it in a room that's been rendered. What would take you months, years to photograph can now be done so quickly and so efficiently and that may seem really scary to a lot of people out there. But I think if you look at the model that a lot of the companies that are doing that are using now, it's that they're creating those artificial rooms, they're rendering them, they're dropping product in and out seasonality, whatever you need to change. So there's a cost savings there for the companies. There's efficiency in that you create that room set, let's call it once and then you can switch those products in and out.

Jason Hamilton:
The staffing that they're using though is really interesting because you have this person at the start of the line, that's creating this room, their building a wire frame of room whether it's that same person that's putting the products and furniture and whatever it is in that room, creating the wire frames around that, tweaking those wire frames with textures so that it becomes more realistic, adding the patterns and the color and everything to everything kind of skinning it all.

Jason Hamilton:
But then what companies are also doing now is they're relying on stylists. They're relying on art directors, they're relying on photographers or directors or people that have lighting experience and set dresses and all of these people to then come into this and I'm going to call it an image, but it's not really, once you kind of grasp the concept of it, but they're all coming in with their input. And they're saying, this stylist is saying, that throw or that blanket or that cushion needs to be roughed up a little, let's say. The photographer is saying, "Your lighting's really weird. What's happening? Where are you lights coming from? What have you got?"

Jason Hamilton:
There's an art director that's kind of choosing the angle. Conceptually, if you think about it, it's, you're working in a room that is 2D on your screen. But if you think about it in a 3D sense, you can still move everything around. So we talked about this when we had the initial conversation, there was a bedroom that I saw rendered and it was at the point where the textures were looking good. The lighting was, it was okay, but it was a little odd. So it was kind of like, "Okay, what's happening in this room?"

Daniel Jester:
This is you talking to the person who built the environment?

Jason Hamilton:
Yeah, so were doing a screen share and he was kind of showing me the rendering, but could also make live adjustments. So, it was like what's happening in this room? Tell me what's this space like, so I can visualize what's around me. And he was like, "Well, it's just these two walls," and I was like, "Where's the wall on the right? And is there a wall behind me?" And he's like, "no." and I was like, "Well, why didn't you build a room? Like I need to have light kicking back from that wall that would be behind me." So I'm kind of looking at this rendering of this room, which it's got a window in it. So there's some window light coming in, but then there's kind of like all this light coming in from behind where the camera would be. And it is a camera, you know?

Daniel Jester:
Right. It's a perspective, which is at the end of the day, what a camera is, it's a fixed perspective.

Jason Hamilton:
Yeah, so from behind the camera, there's all this light. And I was like, "It's not soft enough,". and he was like, "Well, I'll just make it bigger. I'll just make this light source bigger." And I was like, "No, just put a wall there."And so as soon as he put a wall there behind the camera and to the right, you had that natural fill that you get when you're actually in a room looking at the way that light comes in through a window and you have a big reflector behind you, which is usually a wall. So that kind of helped that. And he was like, "Oh right." And sometimes you say in those old gaming scenarios or in those kinds of old renderings, it would be multiple light sources and you don't really want a light like that. You know, you don't often see film lighting that has 17 different shadows coming in from every direction or even photographic lighting.

Daniel Jester:
Yeah, I mean as photographers, we spend so much of our time trying to hide the fact that we're lighting anything. It's like when you're lighting a room, you're shooting on location, you're usually just trying to enhance the ambient light that's already there without giving yourself away. So it's interesting when you think about being in a digital environment and being able to say, "I can literally put the sun exactly where I need it to be, to get the best possible light for this room. And then I can even construct the room in a way that maximizes that light."

Jason Hamilton:
And also maximizes your product.

Daniel Jester:
Right.

Jason Hamilton:
Because we wouldn't be here if we weren't trying to either inform somebody about the way that a product works or to try and have them convert and buy one.

Daniel Jester:
I love that story because I think it's really interesting. I want to touch really quickly on, it's easy to kind of think through the upside, to this workflow of the future, so to speak for a company and we can touch on some of it. I mean, the obvious benefit of this from a business standpoint is you're taking supply chain out of the equation. I mean, how many times have we been involved in a shoot where samples aren't there, samples aren't going to be available? The shoot gets delayed, or there are certain colorways aren't available for the shoot. And so when you're talking about working in this way, from a business standpoint, you can do everything without the need of physical samples, which eliminates a ton of overhead issues that every studio has, space in your studio to store samples, all of that stuff, maybe there's some, and you can speak more to this than I can.

Daniel Jester:
You know, maybe there's some initial work that needs to be done, actually photographing physical samples to get some of the information that you need, but let's say, looking to the future, I imagine it, and you can correct me if I'm off base here. I imagine it, if you're a furniture company, you're getting a CAD file from a designer, that's just getting passed to somebody who then is creating the renderings. They know the pattern information and they know the color information. They need the structural information of the product itself.

Daniel Jester:
And then you've got somebody who's building an environment and there's no more, I don't want to say who this was a few years ago for a personal experience of mine. But I will say that I was interviewing for a studio job with a direct to consumer furniture company and the senior leadership of that company handed their new studio manager, the keys to this new studio and they were very excited to give it to him. And this guy had come from another furniture company and he got there on the day. And everybody's so excited and say, "Check out this new space. We're so excited to do this for you." And then the first things out of his mouth is, "This is not nearly enough room."

Daniel Jester:
And by the time I got there to interview, he took me out to the back of the studio parking lot area and showed me something like 10 or 12 shipping containers, full of assembled product that were just waiting to get moved into the studio to be shot because it's one of those things that not a lot to be able to think about is the space involved. And obviously it's very simple math here, but the bigger the product, the more space you need to store it up.

Daniel Jester:
And the upside to this workflow is you can do so, so, so much more without ever needing a single stick of product. And then when you start to look at the upside to the people, the teams that are doing the work, one of the things that you mentioned that I want to point out to our listeners is that you were art directing a shoot from wherever you were with the person who was doing the work wherever they were. I mean, what we're really talking about is the nature of the relationships not changing. The relationships between the person who has the eye for the light and the person has the eye for the style and the art direction and the set dressing and all of that stuff. Those people also need to be involved in this process. It's just really a matter of is your photo assistant physically moving lights around, or do you have a computer designer who's physically manipulating the environment like it's the movie Inception or something?

Jason Hamilton:
That's what I think is part of what, you know, don't get me wrong, when I started looking into it, I was like, whoa, is this the end of we went from, well, I personally went from film to digital to now like no photography.

Daniel Jester:
Right? Yeah. What's after digital, it's like virtual, I guess?

Jason Hamilton:
Initially I was concerned about where this was going. And then after playing with it, looking at it, seeing what people were doing, I guess it's kind of not the doomsday that a lot of people would be thinking about it in the sense that there's still, like you say, there's still teams of people working on it. Often the people that are doing the renderings for these rooms are the same people, or, you know, similar groups of people that are doing gaming. So that's at the moment, a lot of that's coming out of the Ukraine. So there's guys doing that work there, you can work with art director somewhere else who has the ability to manipulate those files. They could be in Europe, they could be in Asia, they could be in the same time zone. You could be sitting next to them on a desk.

Jason Hamilton:
And then you need those people to look at it. And second guess it and say, "Why does this not look right?" You know? And that was kind of my philosophy going into it. Every time I saw a rendering, I was like, "What is it about this thing that is telling me that it's a rendering?" And you know, those components that I used to be able to pull apart are getting better with all those texture files and things like that. There is thousands of texture files for plants now. You can look up a species of plant and if it's a plant that somebody has in the home its generally got a texture file associated with it, and also that maps the color within the leaves and things like that. So I think that sort of stuff is getting really amazing. It's exciting.

Jason Hamilton:
But I think the teams of people that still need to be involved are sure you kind of are losing some of that, I guess, production support or warehouse support and things like that. But there's no lack of a need of having people with a skillset in imaging to kind of take this forward and move it to the next level and get it to look better. The more people that have photographic kind of onset experience, the better those images are going to get, because somebody is going to be able to say, can you imagine a softgood stylist, the amount of hours of prep that they do to shoot bedding shots, almost outweighs how many images you can get out of a day just by the amount of prep. But I imagine that person just kind of looking at this rendering and being on a call with somebody and sort of saying, "Hey, just make that ripple a little deeper. And can you just like push this over here a little bit," and you can flex and shift things in the rendering like that. It's almost like the smudge tool in Photoshop.

Daniel Jester:
Jason, thank you so much for your insight. I find it quite encouraging to dissect and think about what the future might look like when things are rapidly and it can be kind of unknown. And I know we both know that we've worked with teams that this is something that's on people's minds. The bottom line here, I think is that you can basically be a part of shaping the future of what this looks like, or you can be afraid of it. And I don't think there's a lot of good reasons to be afraid of it. I think there's a lot of opportunities to learn and gain some new perspective and some new skills and be party to shaping it. Thank you so much for being on the show and thank you for your time today and for sharing with us.

Jason Hamilton:
Thank you. I appreciate the opportunity to just to kind of chat about what I'm passionate about in the industry.

Daniel Jester:
My sincere thanks to Jason for taking the time to share with us his insight. I'm curious to know from our listeners, what do you imagine the future of product rendering might look like? Let me know on Twitter @danieltjester or via email at danielatcreativeforce.io. That's it for this one. This show is produced by Creative Force. I'm your host, Daniel T Jester. Until next time friends.
Subscribe to the eCommerce
Content Creation Podcast
About the host

Chief evangelist at Creative Force
Daniel Jester is an experienced creative production professional who has managed production teams, built and launched new studios, and produced large-scale projects. He's currently the Chief Evangelist at Creative Force but has a breadth of experience in a variety of studio environments - working in-house at brands like Amazon, Nordstrom, and Farfetch as well as commercial studios like CONVYR. Creative-minded, while able to effectively plan for and manage a complex project, he bridges the gap between spreadsheets and creative talent.