Back to list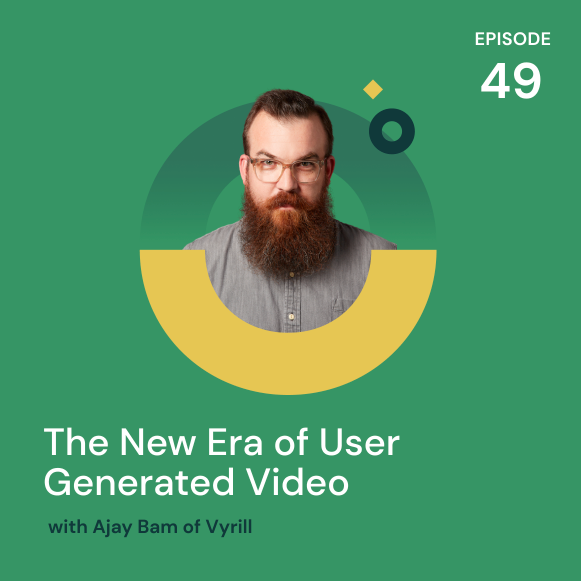 Episode 49 - February 22, 2022
The New Era of User Generated Video with Ajay Bam of Vyrill
Full episode transcript
Daniel Jester:
From Creative Force, I'm Daniel jester, and this is The E-Commerce Content Creation Podcast.
Daniel Jester:
User generated content probably isn't going away, certainly not after it became a critical part of a content strategy for many retailers in the pandemic era. The current state of gathering, processing, reviewing, and approving user generated content is manual, slow, and comes with risks sometimes. Vyrill aims to change that. Ajay Bam, CEO and co-founder of Vyrill, joins the show today to talk about the platform they've developed, that uses in video search to tag user generated videos with the content that's in them, making the videos easily searchable for almost any enterprise or customer facing application. Vyrill delivers key insights into the content and disposition of user videos, allowing you to do things like find the best review videos that are safe for your brand.
Ajay Bam:
Now, the third is brand safety. Most brands will want to make sure that the video is brand safe, right? It's very contextual, but brand safety means it could be, you could use the F word, but in the context of a happy card, when you are gifted something and that surprise, it could be fine. Our job at Vyrill is really to tag everything and not make judgements on the content. It's up to the brand to decide what is relevant and what's not relevant for them.
Daniel Jester:
I genuinely believe this technology could be revolutionary for the world we find ourselves in today, which is wholeheartedly embracing videos. One of the key ways that we communicate online. Now, let's get down to business with Ajay Bam.
Daniel Jester:
This is The E-commerce Content Creation Podcast. I am your host, Daniel Jester, and joining me for this episode, Ajay Bam of Vyrill. Ajay, welcome to the show.
Ajay Bam:
Thanks for having me and looking forward to this conversation here.
Daniel Jester:
I am looking forward to it as well. We spoke a little bit last week about your company, Vyrill, and what you guys do, and I'm going to let you explain to our listeners because I don't think I can do it. It's very interesting, very video centric. I was very excited when we met last week to have this conversation. Tell us a little bit about Vyrill and what you do. Then I think we're going to have a really interesting conversation about video content for our listeners.
Ajay Bam:
Yeah, absolutely. Again, thanks so much for having me. Essentially what Vyrill does, is we help brands and retailers increase revenue and find new customers by leveraging authentic video content, such as reviews, unboxing videos, how to videos, and more, along with their branded content for insights, dimension, and content marketing. At a very high level, we're building Google for commerce video and we're also one of the few companies in the world that can Google inside the video as well to enable insights in e-commerce.
Ajay Bam:
Essentially the problem we're solving is, let's say we're both buying a car and you are interested in a car that features child seats. That's an important feature for you. For me, it's really the car acceleration and I'm looking for a car that accelerates and gives me the speed that I'm looking for. With Vyrill, we make all the video content searchable and useful. Essentially, you can instantly search inside the videos with our apps, and you can find the feature that you're looking for, which is in your case, it was child. We can take you inside the video where they're talking about child seats and you can watch that portion of the video and it can help you with your purchase decision.
Ajay Bam:
How do you really make video searchable, is really the key problem that we are focused on and that we have solved at Vyrill. At a very high level, we're capturing videos from multiple platforms, posted by your fans. We're also tracking if you have posted your videos, branded videos, as of social, we're also tracking those videos as well and how they're doing. Essentially, we capture videos from multiple platforms. We then help brand marketers rate and rank all those video content in nine dimensions. Those dimensions include everything from sentiment analysis of the audio, to analyzing all the people in the videos with computer vision, with age and gender, language, country. We also flag the video for brand safety as well. If there's nudity or foul language or minors in the video, we can essentially flag the video from that. Also, look at scene analysis, 600 scenes and landmarks. We capture engagement. We can also analyze, what are the topics being discussed in the video? Is it a review or an unboxing video?
Ajay Bam:
For videos that come from social, we can also predict whether the creator of that content is an expert or fan or celebrity and so on by looking at their past content that they've posted as well. It's the first of its kind system for rating and ranking videos. Then we capture the email addresses of creators as well, so brands can license videos through the platform.
Ajay Bam:
Most recently, we launch our first e-commerce Vyrill video app for Shopify. Essentially what the app does, is it helps brands publish videos to their product pages. The big difference is, we offer in video search or shoppers on the product pages. We deliver a very interactive and fun and engaging experience on product pages for shoppers. They can play with the videos, watch videos, search inside the video, and quickly make their shopping decision. Really, the bottom line is, helping brands drive the two KPIs, which is revenue and new customers.
Daniel Jester:
I mean, this technology is amazing and has a lot of implications because user generated content has been around for a few years now. A lot of brands leverage it and do it pretty well. The pandemic, we saw that concept explode as studios were closing and it was like, "Well, let's send our product out there to people and have them post influencer type videos and things like that." Now with this ability to search in the video, to disposition the videos, to leverage things like AI and machine learning, the thing that you touched on that I would love to dig a little deeper on, is the sentiment analysis. It goes from being a transactional relationship, "We'd love to use your content on our site and we're going to give you this thing for free or whatever," to multifaceted multidimensional key insights into this content that allows you to actually leverage it against a true marketing plan and not just have it as a widget on your website.
Ajay Bam:
There's a couple of things that are very important for brand market use. First the sentiment analysis, really understanding positive and negative things that shoppers or fans are saying about their product and brand. That's very important. The second is demographic, which is understanding who's making the video and is it their target demographic or is it outside their target demographic? The third is brand safety. Most brands will want to make sure that the video is brand safe, right? It's very contextual what brand safety means. It could be, you could use the F word, but in the context of a happy card, when you are gifted something and that surprise, it could be fine. Our job at Vyrill is really to tag everything and not make judgments on the content. It's up to the brand to decide what is relevant and what's not relevant for them. Of course the fourth parameter is really most important thing, is engagement. If the video is coming from social, how are shoppers and fans engaging with that video content? Those are some of the most important things. Absolutely think it leads with sentiment.
Daniel Jester:
What have you learned so far along the journey of, the last few years of developing this technology with Vyrill, about shopper's habits when it comes to video? What led to thinking, "We need to be able to get into these videos deeper?"
Ajay Bam:
Yeah. Really the story behind starting Vyrill was very simple. Video is massive now on social media. Of course this revolution started a long time ago when YouTube was first formed and created, but it has really accelerated in the last two years. I've heard a stat that there was more content, 30 years of content, produced in the last two years alone than before, right? That's massive amounts of content. Just to give you a sense, 700 hours of video is uploaded every minute on YouTube and 5 billion videos are watched every day, right?
Daniel Jester:
Right.
Ajay Bam:
That's a lot of content. If you look at TikTok, which essentially was a breakout platform in 2020 and 2021, TikTok reached 1 billion plus users in 18 months, what probably took Facebook and YouTube over 10 years or more to get there, right?
Daniel Jester:
Right.
Ajay Bam:
That actually talks to the popularity of the video. Really the bottom line is, video is fun. It's engaging, it's visual. You can see the person, you can see the emotions. If they're talking about a product, you can see the product in action as well. Whether someone is making a fun, entertaining video or a spoof video or making a review of product or an unboxing video. The fact that you can see the product, it actually increases the confidence of purchase decision for a lot of shoppers. When you watch a how to video, when you watch an unboxing video, you're actually seeing the product in action. What really matters at the end of the day is authenticity and experience and emotions, right? You see that in the video. Videos tend to increase brand trust by 20 X. Brand engagement has a huge influence on making your purchase decisions. A lot of these platforms now, the YouTube and Instagram and TikTok, they've all become more or less a product discovery platform, right?
Daniel Jester:
Right.
Ajay Bam:
You get to experience the product. Especially for, at the moment, right now when a lot of shoppers are shopping online because of COVID versus going in store, what helps you when you're making an online purchase, is you want to see the product in multiple dimensions, right? Video really helps you sort of solve that problem. The trends we're seeing is also, one is, customers are watching a lot of video content and that leads into customers also interested in instantly finding, instant gratification is a big deal.
Daniel Jester:
Totally.
Ajay Bam:
No matter what you do in life.
Daniel Jester:
Yeah.
Ajay Bam:
The ability to actually be able to find instantly what you're looking for, both looking for the video and looking inside the video, right? I mean, these are two very important problems that customers, when they search, they're looking for, right?
Daniel Jester:
Right.
Ajay Bam:
We're seeing more and more content because it's short form, generally content that's less than three minutes and that grabs the customer's attention very quickly in six to eight seconds, really works. That's why I think one of the reasons that Google became a big trillion dollar search company, and at Vyrill we're also focusing on in video search, is because it offers that instant gratification for you to find what you're looking for among millions of pages with Google or millions of videos with Vyrill, right?
Daniel Jester:
Right. Absolutely.
Ajay Bam:
It solves the problem of gratification in helping you find the answers you're looking for.
Daniel Jester:
That's a really interesting part of it for me because, like most people, this is my life now. I am planning for an upcoming trip. I realize that I need... You and I had this conversation last week so you're probably going to laugh at this. I mentioned that I'm a bag guy. I've mentioned it on this podcast, ad nauseam, I'm a bag guy, backpacks, camera bags, what have you. They're all very technical. They all have features that are specific for different use cases. I had honed in on one particular backpack that I was really interested in. They had a product video from the brand itself where the guy did a really good job, great job explaining the bag and its features and stuff. I then later watched another video from a guy who backpacked for 18 months across Europe with that backpack. His video was so much more helpful to me. I think this is the thing that we recognize about at least user generated content, is that you've got somebody who's presumably a fan of the product. Sometimes they consider themselves professional YouTube reviewers-
Ajay Bam:
Yeah.
Daniel Jester:
... and not everything is always positive, but you have somebody who's used it in a real world use case. The guy at bag brand X has probably used it, loves his company that he works for, loves his brand, but didn't backpack across Europe for 18 months before recording his video. There's a ton of value in getting those real world use cases. Then also, I'm looking for the backpack that has an inside pocket that's the right size to fit this one thing that's super important to me-
Ajay Bam:
Exactly.
Daniel Jester:
... and their brand is not going to talk about that.
Ajay Bam:
Also, how do you find that video, right? If there are 20 videos on a product page on YouTube, there are 200 videos. How do you know which video actually is talking about that pocket-
Daniel Jester:
Right.
Ajay Bam:
... that you're looking for and perhaps referencing that, right? Also, I think you brought up a very good example, which is, especially with products, wear and tear is important, like just to see the product in action. Being able to actually see that this backpack survived 18, whatever, 18 days of travel.
Daniel Jester:
Yeah.
Ajay Bam:
Right? Can really help you when you're like, "Yeah, okay. This can last."
Daniel Jester:
Right.
Ajay Bam:
Right. That's the thing, you can actually see that, right? In fact, there's so many videos, before and after videos, right? Before backpack and after backpack. It's actually quite interesting to see the durability of the product with some of this content. UGC content, I mean at bottom line is, it's authenticity that matters and UGC delivers on that. That's why, even at Vyrill, we focus on, we help brands essentially find millions of videos and we're able to match millions of videos from YouTube, for example, to the entire L'Oreal product catalog-
Daniel Jester:
Right.
Ajay Bam:
... or the Nike product catalog by product, category, brand, competitor, keyword, and hashtag.
Daniel Jester:
Right.
Ajay Bam:
Being able to sort of hone down on what you're looking for as a shopper, is really the key problem we want to solve and we solved that.
Daniel Jester:
I'm glad you brought that up, because this is exactly where I wanted to go next with the conversation. There's a couple of elements to this company and who you're servicing. There's an element where end users get an opportunity to search through videos. Then there's also an element where you can go out on behalf of a brand or a customer of yours and find these videos and disposition them and say, "Of the 50 videos of your products that are out there, these 10, according to our algorithms, are brand safe according to your guidelines." Again, you mentioned you're not passing any judgements. You're just kind of making factual statements about this person like this product, even though they use the F word three times.
Ajay Bam:
Yeah.
Daniel Jester:
They're just excited about it. That was another interesting dynamic I thought you mentioned about language, because I'm someone who will definitely drop a holy shit when I think something is cool.
Ajay Bam:
Yeah. Right.
Daniel Jester:
Not in every culture or in every context is that a positive response.
Ajay Bam:
Right.
Daniel Jester:
I want to talk, I think right now, about the brand side of it. Do I have that right, you can go out there and you can find these videos on behalf of the brand? They're not having to have somebody who's just scrolling YouTube, looking for every time their product was mentioned.
Ajay Bam:
Yeah. I'll give you just a little bit of context to this question, just to tell you how big the content universe is. Nike has over 28 million videos on YouTube. Porsche has over 35 million videos. L'Oreal probably has more than 15 million videos among their 60 brands. When you have so much content, how do you know which content is relevant for what product? If you have 200 videos, how do you know which videos are what? That's really the problem that we solved. What we have discovered is that for most brands, there's different types of content that people post and create. There's different types of content that ultimately drives insights and conversion. For example, in the beauty category, there's generally three types of videos, reviews, unboxing videos, and how to videos that ultimately help drive conversion.
Ajay Bam:
No with UGC content also, there's a lot of noise. How do you really find, when you have 200 videos, how do you find the top 10 reviews or the top 10 unboxing videos or the worst 10 reviews and the worst 10 unboxing videos, right? That's the problem we're solving at Vyrill, is how do you rate and rank content? You can not only do this for your brand, but you can also do this for your competitors as well, right? Competitive intelligence is as important why particular product is succeeding really well and what their fans are saying and why a product is feeling, as well as why people have made negative comments in the video. The platform can be leveraged for finding your data, finding competitor, but also finding missing data, right? We had a brand who actually came to us and they used our platform to find all the missing videos for their products. They use that mechanism to then identify all the products that they should be making videos for or making videos or licensing UGC content, right?
Daniel Jester:
Interesting.
Ajay Bam:
If you know that there's three types of videos that drive conversion on every product page, it is important to do that. Also, I think the other thing that's happening now is Amazon is the big elephant in the room. Amazon has amassed more than 215 million video reviews on their platform.
Daniel Jester:
Wow.
Ajay Bam:
If you open up any Amazon product page, if you go on top of the page, it now leads with a video and images.
Daniel Jester:
Right.
Ajay Bam:
If you click on any of those videos now, Amazon actually opens up the headline video and it will show you all the UGC content that people have uploaded for that product and brand, right? What's happening now, is I think customers will expect videos now-
Daniel Jester:
Right.
Ajay Bam:
... in their e-commerce journeys, as they expect everything else, right? Images and reviews and text reviews and all that, right?
Daniel Jester:
Right.
Ajay Bam:
I mean, almost people will not buy if there's no text reviews on the page, right?
Daniel Jester:
Yeah. I definitely shy away from it.
Ajay Bam:
Yeah. We all do, right? I mean, I think we want to see what other people are saying. What's happening now, is I think video is becoming more of a must have versus nice to have-
Daniel Jester:
Yeah.
Ajay Bam:
... as these journeys are evolving. I think more so for the gen Z and the millennials generation, right?
Daniel Jester:
Yeah.
Ajay Bam:
We're all living right now on short form video on YouTube and other platforms and TikTok. They're coming to expect when they even arrive on a product page, to be led by video, right? I mean, how many times have you and I discovered videos now on our Instagram feed of new products on Instagram feeds, whether it's coming from a video and image, right?
Daniel Jester:
Yeah.
Ajay Bam:
When you see something visual, you're likely to click for it and search for more similar products or similar videos for that product. You might click on a video to take you to that brand from the Instagram or the TikTok page or YouTube page, right?
Daniel Jester:
Right.
Ajay Bam:
Product discovery is, now even that we're seeing more and more driven with video. Essentially, you're going from the video to the brand page.
Daniel Jester:
It's an incredible service. I'm sitting here thinking about it from the perspective of the social media manager or the brand manager, a big part of their job or at least one of their assistant job is, "Go out there and see who's tagging us. If the video's any good, let's see if we can use it or something." Being able to pull all of that to you and just be that much farther ahead on your marketing plan and strategy for video, is incredible. Then all of the other dimensions that you get with it, it's a really incredible service. It's exciting to think about, from a business standpoint, of being able to pull that in. What about the user side of it? If I'm a shopper, what do you envision it looks like for me, if I'm looking for child seats that fit three across in the back row?
Ajay Bam:
From a shopper perspective, right? There's a couple of things that are top of shopper's mind. First is, there's probably one or two features that you're searching for in the product that will help you with your purchase decision, right? It could be the size of the product if it's fashion, right?
Daniel Jester:
Mm-hmm (affirmative).
Ajay Bam:
It could be the fit, right? "How does it fit me if I'm six, two and lean," or otherwise, or whatever your shape and style is, right? What matters for the shopper is, "How do I get to my answers to make my purchase decision or make a no purchase decision," right?
Daniel Jester:
Mm-hmm (affirmative).
Ajay Bam:
What we've done now, is we've actually just launched a new Shopify app on the Shopify platform, the e-commerce platform. It's a Vyrill video app for Shopify. What it does, is it delivers video experience and interactive video experience for shoppers on the brands or the retailers Shopify store, right?
Ajay Bam:
It solves three key problems. First, brands can now publish videos, both their branded content and their fan content via have this app on their product pages. We make all that content searchable. First problem we have solved is in video search, we offer more than 30 filters and a capability to search inside the video. That helps shoppers with making a fast decision and find the answers they're looking for. The bottom line is, no one has the time to watch long videos, right? That's really-
Daniel Jester:
Right.
Ajay Bam:
... the crux of this problem, why in video search is very important, right? That's number one. Second is, we're also looking to do personalization as well. When customers arrive on a page and you're thinking of buying a product, the most important thing is, you're interested in a review and you're interested in review from a customer who looks like you, right? Video delivers that, right? What we're also doing, is we're personalizing the video shopping experience. If I know that the 19 year old female who loves red color is visiting my beauty brand, I can perhaps deliver video on the product page of a person that looks like them when they open the page. Personalization is the second most important feature of the app that we deliver. The third is, we also want to solve the SEO problem. Today, Google has a big problem when it hits videos on a page, right. When they're indexing pages, at the moment there's a video, Google doesn't know what's in the video. It's very hard for Google to bring that video surface, that video app on their search results, because they're really afraid of brand safety.
Daniel Jester:
Sure.
Ajay Bam:
What if they pulled the wrong video-
Daniel Jester:
Right.
Ajay Bam:
... in front of the wrong shopper at the wrong time or in the wrong country, right?
Daniel Jester:
Right.
Ajay Bam:
I mean, something that might be relevant in US might not be, for example, a bikini swimsuit is perfectly okay in Western cultures, but might not be the right thing if you're in Malaysia, right?
Daniel Jester:
Right.
Ajay Bam:
Today, the ability to read a video, it still doesn't exist and so we're building that capability. When we put videos up on the product pages, we're adding the transcript and we're adding all the AI tag. We generate 50 tags of what's in the video, right? Now if the search engine is indexing the video, they now know that this video is brand safe. It has a very high positive sentiment for this product. It features a 19 year old female. This video is coming from United States. If it's an outdoor scene, if it's sunscreen, this video is actually demonstrating that it's an outdoor video, right?
Daniel Jester:
Interesting. Yeah.
Ajay Bam:
And so on, right? Essentially, we're making the video content searchable and useful for search engines as well, right?
Daniel Jester:
Right.
Ajay Bam:
It all leads ultimately to a great experience for both the brands and for the shoppers as well, right?
Daniel Jester:
Yeah.
Ajay Bam:
As a shopper, I want to just get to the top 10 reviews or the best and the worst of the content. By solving the SEO problem, we're able to now help brands serve their best content, on top of search results and in the process, help brands drive more traffic to their site and also help customers with a shopping decision. I's a win-win for everyone.
Daniel Jester:
Yeah. A brand with a ton of videos that engages with your service, you guys crawl all of the videos, generate all the tags, generate all the transcripts. That's like an SEO injection right into the arm.
Ajay Bam:
Yeah.
Daniel Jester:
Now all of a sudden you're really doubling down on your ability to get crawled in this way, because you've had all these videos that previously were just taking up space, in terms of-
Ajay Bam:
Yeah.
Daniel Jester:
... what Google could see.
Ajay Bam:
Absolutely. Daniel, we not only crawl videos, but we also have a mechanism for brands to upload their own videos. Many brands have anywhere from a hundred videos to 10,000 videos that they've produced. Those videos are probably sitting in a folder. Now we have Vyrill. If we are able to ingest all those 10,000 videos-
Daniel Jester:
Got it.
Ajay Bam:
... then we can process those videos and make all of them useful and searchable, both on their brand dashboard but the brands can now repurpose all this video and make them searchable on their e-commerce sites, right?
Daniel Jester:
It's brilliant.
Ajay Bam:
Ultimately, it's not just a fan content that we're tracking, we're doing both fan and brand content and putting it all together. We're building a tool where brands can really, essentially, it's a central repository for all the content. We can in the long term, push videos, both capture videos and publish videos to multiple platforms. Hopefully all different channels, from Shopify to Amazon product page to social media product pages and more, right? Our goal ultimately is to create a central engagement platform. I mean, we believe that the future of commerce is video.
Daniel Jester:
Yeah.
Ajay Bam:
It'll start with video and it will end with video. How can we help brands sort of aggregate, rate, and leverage all the content? Right. That's really what we are as a tool and a company.
Daniel Jester:
That's amazing information. I have two random questions that didn't really fit anywhere in the conversation that I really want to ask you about as we get ready to wrap up this episode. The first one is, do you currently have any clients or have you given any thought to any clients that are travel bureaus of a company who can pull user generated? Let's say like Amsterdam, like the tourist bureau of Amsterdam is like, "Let's find the most recent videos from 2020 so far, of 10 things to do that are relevant to what's open and closed right now, and pull those up on our website." That's the first question I'll ask.
Ajay Bam:
We are in conversations with some of the big travel brands.
Daniel Jester:
Okay.
Ajay Bam:
I think you hit the nail, so absolutely. I mean, UGC content is massive in the travel category, right?
Daniel Jester:
Totally.
Ajay Bam:
Imagine you're designing a destination on kayak, Barcelona versus Madrid or Santiago, Chile. Before you know, you're actually seeing videos pop up from the festivals from Barcelona that were posted, UGC content that was posted recently from Barcelona or from Chile. Maybe it's the video from the Sagrada in Barcelona, the Gaudi cathedral, right?
Daniel Jester:
Yeah.
Ajay Bam:
The point is absolutely. I mean, I think that UGC is a big category in the travel space. I see the future where you will see video content to help you make your destination decisions or your experience decisions, as you choose your ticketing.
Daniel Jester:
As somebody who's planning some travel, I was up later than I'm willing to admit last night, watching videos of various places I was going to be visiting.
Ajay Bam:
Yeah.
Daniel Jester:
It's always like, "Okay, what's the most recent one? Because with COVID and everything, restrictions changed, so what's the most recent relevant information?" The second question that I had that I wanted to ask you is, at one point you touched on, it's from the retailer side. At one point you just kind of mentioned in passing, a lot of companies being online, but some are still brick and mortar. Do you have any brick and mortar customers? Have you seen this out there where a company in their brick and mortar store, has a kiosk or a display that is playing UGC, user generated content, for a product that's sitting there on the shelf in front of you?
Ajay Bam:
I haven't seen kiosk yet, but what I am beginning to see, and this is something also we enable on the Vyrill app as well for brands and retailers, is the integration of QR code.
Daniel Jester:
Right.
Ajay Bam:
Right. Essentially what we're seeing is, for example, Nike has made an announcement that they'll have QR codes on all the products and packaging, right? Imagine you're in a Nike store or you're buying a Nike shoe in store and you can now scan the packaging or the QR code on the shoe. While I can open up the video reviews or perhaps there's how to videos about size and perhaps even the durability of the shoe and the sport, perhaps it's actually showing some videos, the sport that you should be playing with the shoes and more. I think what we're seeing now more is QR codes, enabling in-store shopping experiences as well.
Daniel Jester:
Right.
Ajay Bam:
Actually, we've done that with our app as well. Our app is integrated with QR codes. When someone scans a QR code on a product, it actually opens up the video experience for that. Essentially what we have also found, is that anytime you create an interactive video experience, the completion rates of watching a video go up by 90%. The reason is, people are watching the video and respond perhaps to a like or dislike for that video, or when they're searching inside the video, they're more likely to watch what they're searching for inside the video as well. It's important not just to put a video up, but to have some sort of an engagement or an action on top of the video. Either offer a search or pose a question about something in the vide so customers can respond, or have a mechanism for them to comment on the video and more.
Ajay Bam:
Yeah. Actually, we're seeing that. I think in the long term, it's going to be both, videos should be enabled and is being enabled now with QR codes in store. It can also be enabled online as well, on your mobile and on your desktop. Also with video, mobile is key. I think 75% of all video watching is now happening on mobile.
Daniel Jester:
Yeah, for sure.
Ajay Bam:
It's also for something for marketers to keep in mind, is a mobile experience.
Daniel Jester:
It sounds like a slam dunk, especially if you have Vyrill powering the video collection on the backend that you can, any global company can throw QR codes that can pull up culturally specific videos that you pull for wherever. It's very exciting technology, Ajay. I sound like I'm very excited about it. I should also mention that you didn't pay us to do this episode with you. I just genuinely think it's amazing technology. Thank you so much for coming on the show and for having this conversation with me. I hope for our listeners, you mentioned it in there, and it was a question that I was going to ask you, but for all of our listeners out there, technology in the video space is moving so quickly. It is no longer a nice to have. It really needs to be a part of your marketing and your content strategy as soon as possible. I'm looking forward, Ajay, to seeing what happens with Vyrill in the near future and long term as some of these technologies develop and get out there.
Ajay Bam:
Yeah. Thank you again for the opportunity. I think that the journey of delivering video is just, we're still at the beginning of that experience. I think the future is going to be amazing. I mean, I think we're just starting out with two dimensional or three dimensional videos, however you want to call it. Imagine a day when you can immerse yourself in the video review with AR and VR, right? The future of commerce, the future of video, I think it's very strong and it's coming and it's already here, if you will, right? Yeah, I think that we're just very happy to be focusing on an important problem and we are able to solve that problem with in video search for shopping for both brands and consumers.
Daniel Jester:
Absolutely.
Ajay Bam:
Thanks again for giving me a chance and for the opportunity to be on the podcast.
Daniel Jester:
Yeah, sure. If any of our listeners want to learn more about Ajay and his company, it's Vyrill but it's not spelled like you might think, it's V-Y-R-I-L-L.com. You can learn all about it on their website. It's very interesting technology. My gut is telling me it's going to make a significant difference in the very near future on how we interact with and handle videos from a content creation side. Thanks for coming on the show. Thanks for giving us this insight and just a great conversation, man. Appreciate it so much.
Ajay Bam:
Yeah. Thank you. Thanks so much. Cheers.
Daniel Jester:
That's it for this episode of the show. Many thanks to our guest, Ajay Bam, and thanks to you for listening. The show is produced by Creative Force, edited by Calvin Lanz. Special thanks to Sean O'Meara. I'm your host, Daniel Jester, until next time friends.
About the host

Chief evangelist at Creative Force
Daniel Jester is an experienced creative production professional who has managed production teams, built and launched new studios, and produced large-scale projects. He's currently the Chief Evangelist at Creative Force but has a breadth of experience in a variety of studio environments - working in-house at brands like Amazon, Nordstrom, and Farfetch as well as commercial studios like CONVYR. Creative-minded, while able to effectively plan for and manage a complex project, he bridges the gap between spreadsheets and creative talent.