Back to list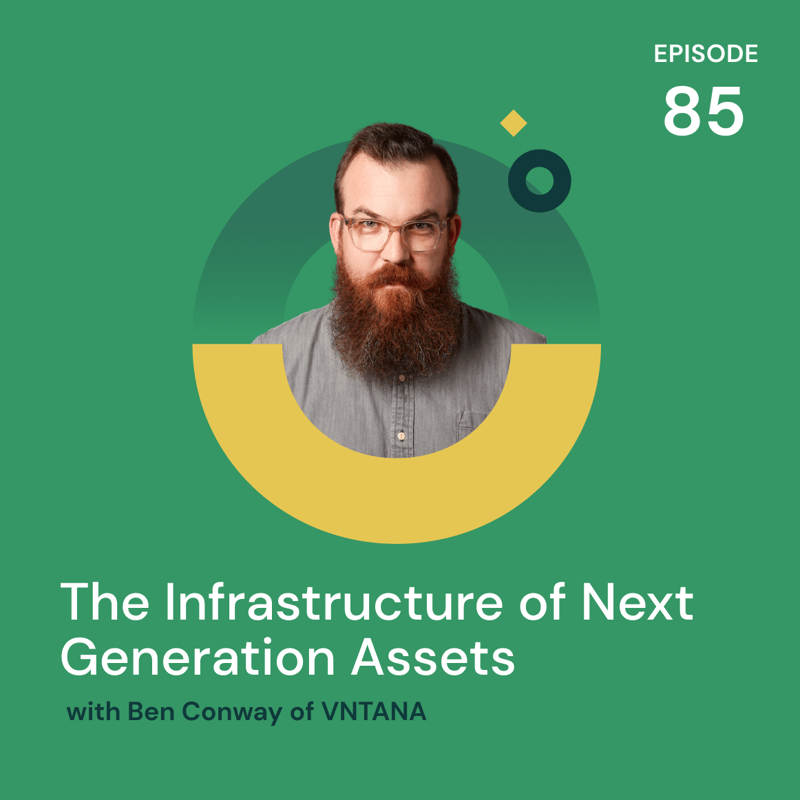 Episode 85 - November 1, 2022
The Infrastructure of Next Generation Assets with Ben Conway of VNTANA
Summary
As we draw ever closer to the next big thing in e-commerce, the fog of what exactly its going to be starts to thin out a little bit. I feel comfortable saying with some amount of certainty that regardless of what becomes of virtual environments such as the metaverse, 3D interactions will become part of the e-commerce experience. My evidence of that is Ben Conway of VNTANA. VNTANA is a 3D infrastructure platform that enables management, optimization and distribution of 3D assets, both for the purposes of internal product development and design, and consumer facing applications such as 3D models of products they want to buy.
Key Takeaways
VNTANA is a 3D infrastructure platform. VNTANA enables 3D capabilities across the entire lifecycle of the product or asset.
VNTANA works in three primary areas of 3D asset creation: Management, Optimization, Distribution
The platform allows users to work with 3D files across locations and workflows, and can even distribute those assets in customer facing e-commerce use cases
VNTANA can compress 3D assets by 90% or more, to enable better management of those workflows.
Many VNTANA customers are fashion brands, and they use the tool for multiple internal and external touch points.
VNTANA started on the end consumer side of the business and found that they may have been too early for that, but their customers were getting a lot of value upstream.
VNTANA has customer who saw return rates in some categories go from 25% to 8% thanks to the ability of the customer to understand scale in a more meaningful way.
Ben sees a future where virtual shoe try on is everywhere, virtual clothing try on is available but largely for entertainment, but applying physics of fabric characteristics is used to help aid virtual try on and adds value in some ways.
Full episode transcript
Daniel Jester:
From Creative Force, I'm Daniel Jester, and this is the E-commerce Content Creation Podcast.
As we draw ever closer to the next big thing in e-commerce, the fog of what exactly that's going to be starts to thin out a little bit. I feel comfortable saying with some amount of certainty that regardless of what becomes of the virtual environment such as the Metaverse, 3D interactions will become a regular part of the e-commerce experience. My evidence for that is Ben Conway of VNTANA, my guest for today's podcast. VNTANA, is a 3D infrastructure platform that enables management, optimization and distribution of 3D assets, both for the purposes of internal product development and design and consumer facing applications such as 3D models of products they want to buy. It's not exactly the sexy part of 3D, but well, Ben should say it.
Ben Conway:
As far as all things 3D and Metaverse goes like, we're the least sexy because we're like the [inaudible 00:01:08] and shovels. We're like infrastructure, optimization. Yay.
Daniel Jester:
For what it's worth, I think VNTANA is very sexy, but that's mainly because I have a thing for infrastructure, but I digress. Let's get into it with Ben Conway.
This is the e-Commerce Content Creation Podcast. I'm your host, Daniel Jester. Joining me for this episode, co-founder and CEOO of VNTANA, Ben Conway. Ben, welcome to the podcast.
Ben Conway:
Thanks for having me, Daniel.
Daniel Jester:
So our listeners are probably wondering who or what some of them might know who VNTANA is, but for many of them they may not know. So why don't you, Ben, tell us who is VNTANA? What do you guys do and why are we talking today?
Ben Conway:
Yeah, absolutely. So at VNTANA we describe ourselves as a 3D infrastructure platform, and what we're able to do is add 3D capabilities across the entire life cycle of the product. We really kind of categorize ourselves as having three different areas that we work on, management, optimization of 3D content, and then ultimately distribution of 3D content. We do work at various stages throughout the product life cycle.
So if you are a designer who is designing in 3D, but maybe you're working with counterparts that are working in 2D, maybe they've given you even 2D sketches for you to put together in 3D, you might find value in using VNTANA because you're able to share light web viewable versions of your content, get feedback from them, and manage it on the content management system.
If you're in e-commerce and you want to be able to have 3D or augmented reality on your website, you're going to get value because you can use those existing 3D design files, optimize them so they're 99% smaller and then publish them directly on an e-commerce site.
Daniel Jester:
Who is your core customer for VNTANA? I imagine it's a lot of fashion, but I'd be interested to know who else is using VNTANA.
Ben Conway:
Yeah, we're primarily working in the fashion industry. So customers are VF Corp, which is like North Face, Dickies, Timberland, Hugo Boss, Diesel, Wolverine World Wide. That list is growing all the time and we primarily focused on fashion because they are creating tens of thousands of 3D assets a year that's probably in the hundreds of thousands at this point in time. The whole reason that they're started designing in 3D was not so they could put it on e-commerce necessarily as a 3D model, but so they could actually reduce the number of physical prototypes. So there's a really strong value there because it's expensive to prototype, it's extremely wasteful, it takes a long time to get them. So being able to go to market faster, save money, and meet sustainability goals is of enormous value and that's why they started doing it. And so we realized there was a really big opportunity there.
And also to your point of what other industries you work in, their assets are extremely complex. The way that shoes get set up, they're working in multiple programs to create the 3D mesh of the shoe, fabric folds, top stitching on them. There's just all sorts of details that go into it and we realize that if we can successfully optimize these assets, we're going to be able to expand out into some other industries.
So to answer that question, we've worked with some furniture clients. We've done a number of things with Meta and some of their testing of 3D ads, and so we worked with a number of furniture clients doing that. And then we also have worked with customers like Amgen in the past where they were showing 3D visualization of the way that molecules were interacting in drugs. And their files were also huge. 3D is usually just big. And so he is like, Holy cow, I can share this with... No one understands what I do. [inaudible 00:04:46] these videos, but being able to share just a light version with his team was like light bulb moment and super awesome for this designer.
Daniel Jester:
The really interesting thing I think is, and from a standpoint of really solving a problem as opposed to just wanting to do something cool with technology, which is one of the things that I think when we talk about 3D and especially when we talk about the way that it relates to e-com, 360 spins, all of that stuff, sometimes we pursue it as a matter of look at this cool technology that's available without really pursuing it from the standpoint of do our customers want or need or care about this? And what I think is really interesting about VNTANA is seeing an opportunity to build some infrastructure around helping apparel brands iterate better and faster and make their designs in a better and faster way that is more sustainable and then realizing that there are potential customer-facing applications of this technology. Where are you seeing some of your customers now use it on or your customers using it on their customer-facing side? So the end consumer side, where are you seeing those uses happen?
Ben Conway:
There's a couple comments. So to your point, we actually thought we were all about those end use cases in the beginning. We're like, that's how people are going to use this. We need to optimize for these end use cases. And then we found that it was still kind of early on, many of them and that customers were actually getting value upstream and we're like, oh, okay, great. And so we built out some more features and functionalities on that side of things, but we are starting to see customers use 3D and augmented reality in many more selling contexts.
Probably the number one is actually B2B. So we've got an integration with JOOR, they're one of the largest wholesale platforms for fashion where basically your content can be linked from VNTANA. So if you've got a product and you might be selling into a major retailer, they're browsing through your catalog on JOOR, they're now going to have an option to see those files in 3D as well.
A lot of it is really centered on those B2B selling conversations, on follow up after they might have a meeting with a buyer of here, look at this 3D version of it in case you forgot what it looks like or you want to interact with it a little bit more deeply. And then we're starting to see much more on the e-commerce side of things.
So we're seeing some brands, Diesel's done a number of things with 3D and AR on their e-com site, got some other customers that are starting to do it. And then obviously everyone's starting to dabble in those metaverse quote, unquote metaverse applications, looking to really get it in front of different games where people are meeting socially and having kind of more organic experiences. We're seeing a big demand on that side of things. That being said, I think there's still a lot of work to do there and I think we're going to continue to see more things like 3D on e-commerce.
AR try on for footwear has been really successful for a lot of people and Amazon announced they're doing AR try on for footwear. So I think we're going to just see many more just places where they're already selling. So thinking Amazon or thinking advertising on Google who's also starting to support 3D and AR ads and organic search, we're going to see a move there first and it makes perfect sense because basically it's just a better version in some cases. Maybe not like you said for every single category of things, but in many times it's a more experiential or immersive way to visualize products.
Daniel Jester:
It's really interesting to think about that end consumer. It was interesting to learn from you, Ben, that you started there and then realized there's all these internal ways that companies were using it and then kind of come back to the conversation of how it affects the end customer. And one of the things I want to ask about is you had a case study on the VNTANA website that talks specifically about return rates. A particular customer of VNTANAs saw a reduction, I think the numbers were something like 25% down to 8% return rate once they introduced 3D for some of their products. Can you speak to that a little bit? Because that is substantial. Those numbers speak directly to the heart of the CFO of any brand, big or small, 25 to 8% is huge.
Ben Conway:
The client was STAUD and it was specifically, I think it was their handbags that they had done with us in 3D. They 3D scanned some handbags, uploaded them into VNTANA, optimized them, and then deployed them on their e-com site. And it's not even the 3D as much as probably the AR side of things. So being able to actually view it in your space, because accessories, like bags in general for any brand that sells them, returns for size are the number one reason for returns.
Daniel Jester:
For sure.
Ben Conway:
[inaudible 00:09:29] in the way. And so if there's a really quick, easy experience where you are literally just setting it next to the bag that you already own and you can understand does this, hey is we're terrible with, we don't know what 12 inches is. We know how big our item is. That's it. And so I think that's why we saw that. I mean it's not across all categories.
We've had customers that have said, you know what, didn't affect the return rate, but actually we saw average transaction value go up massively. Weird. It's super category specific. And the other thing I would say is it's very specific to the way that a customer might deploy it. So we'll do webinars and things like that on what we think are some of the best practices. Because we've had customers be like, "Hey, it didn't move the needle." And then we'll go and look at it and we're like, "Where is it?" And they're like, "Oh yeah, you got to go to carousel image six." And we're like, okay, well this totally makes sense now. Pressing the new here.
Daniel Jester:
I love that. I just want to put kind of a fine point on that for our listeners because you said some things that I think really resonate with a lot of listeners of this podcast and it certainly resonated with me in handbags in particular, are a really unique category in the sense of trying to understand scale is a huge challenge. One of the things that's really missing from the online shopping experience that is really hard to replicate, is walking into a store and seeing the relationship between all of these products and being able to immediately absorb that information subconsciously.
You can't go to a website and look at a whole list of bags and our audience knows that I'm a bag guy, I have so many, I have more camera bags than I have cameras themselves because I'm addicted to buying bags. But it's so hard to do online as opposed to walking into your favorite camera store and just looking at a rack and just immediately getting a sense of, okay, this is small bag, small kit, this is huge bag, there's all these different shapes and you sort of as a shopper, you subconsciously absorb all this information and it allows you to focus to the area that you want to pay attention to where when you're doing that online, you're immediately sort of bombarded with everything sort of being presented as equal in a way in terms of size.
And that really is the unique situation with handbags. And it makes total sense to me that any handbag brand, and for any of our listeners who handbags are a big part of their collection, think about this 25 to 8% return rate on bags because I totally believe you, Ben, I don't know the data off the top of my head, but I believe when you say that the number one reason for returning a handbag from an online purchase is absolutely related to size because yeah, we're super bad at that. It just makes total sense to me that you can really solve some really unique shopping problems for specific categories like handbags by leveraging 3D technology, allowing you to get a sense of the relational size of these things. And then just directing your customers attention specifically to the things that they want without you even knowing what they are. You're just giving them context.
One of the things that really, and this is a very specific thing, but one of the things that really stood out to me when I was researching VNTANA, I was watching you guys have an excellent 90 second explainer video that goes over who VNTANA is, what you do and what some of those things look like. One thing that was really striking to me was the side by side load times of the 3D assets. Because obviously that's huge. We expect things... Very few of us remember what it was like in 2003 and just waiting for an image to load. But it was awful. At the time, it was awful and we didn't even know how good it would get. We have no patience for waiting for things to load. So that was really compelling.
But the thing that really jumped out at me as a photographer was this, you call it the 3D line sheet. And to give a sense of what that is to our listeners, imagine a contact sheet, but every single one of the assets on that contact sheet is a 3D rendering that you're able to interact with and you're in there in sort of a document kind of view. It looks just like a contact sheet, but you can click into each asset, spin it around, zoom in, do whatever you want with it and review all of these images in that way. It was like, I don't know, Minority Report or something. It was super futuristic looking. It was really cool. Tell me a little bit about
Ben Conway:
That. Yeah, so I mean that was actually a funny feature for us because it was like it wasn't totally... It just kind of kept coming up of I just need to see multi these models on the same page. If you built a website you could do it. So we're like, all right, let's create some sort of line sheet sort of deal. And we didn't think it was going to be that important at the time, honestly, but it has been for a lot of our customers.
And that goes back to those internal use cases because, yeah, you don't have patience when you're shopping or loading on your own time, but people don't have patience in meetings. So being able to go, "Okay, so here's this colorway and then here's this colorway, and then we think these pants would look good with this top," and you're clicking to multiple tabs or whatever else. It's just kind of a nightmare.
So like you said, basically what you're able to do is use the metadata that you already have associated with the products. So you might have MSRP, colorway, season, whatever else is important to you, gender for the product. And you can search through that data and then you can basically click add to a line sheet and you'll be able to view a bunch of products at the same time. And then all of those are 3D models that can be interacted with and will also display the metadata underneath it. So it's been good for people. It's like it's so funny because everyone's talking about the metaverse and all the crazy stuff and we're like, yeah, here's all your models in 3D on a line sheet.
Daniel Jester:
Imagine printing it up as a PDF, but a 3D prints a little model for you and you can just pick it up and look it around. Really cool. Another question I wanted to ask you related to this, from your perspective, and I'm interested in your personal perspective and also your customers as well, what is the most important feature of VNTANA? And you can be as specific or as broad as you want, I'm just curious to know.
Ben Conway:
I think it's a hundred percent our optimization. So that algorithm we've been working on for years from the ground up and what's really unique about it is kind of the intelligence behind it. So when you are optimizing a 3D model, most other solutions, number one, they were manual and required an artist who knew what they were doing to be able to wield them. But if you said, so just real aside, 3D models are basically made up of a mesh. So think about a mesh that a topiary would grow on. And then they've got textures which are basically just images that are pasted on there like you're wrapping a present. The denser your mesh, called those polygons, the heavier your model, the slower it's going to load, the less performant it will be. And so there are tools, there have been tools out there that you could say, this is a million polygons and I want you to make it 50,000 polygons and it'll make it 50,000 polygons.
But it may really start to distort the shape. They're just not smart enough to necessarily know where to remove them and it's also not smart enough to know maybe when to stop. Because in certain cases you could ask it to do that, but that might just be too much, right? You just can't get what you need out of it in the same way that you can down res an image from 4K to 2K or 4K to 1K, but no matter what you do, it's not going to look the same. You've lost a lot of data there.
Daniel Jester:
If I may, it sounds a little bit like an imagery touching when you're trying to smooth skin of an individual. That there are areas where you can get really broad and use a big stroke and brush all those areas. But then when you get into some areas that are detailed, you need to be be more detailed and you need to start taking smaller chunks. And Photoshop doesn't understand this, but the human retoucher does. And it kind of sounds like that's what you're describing is that your algorithm at least is able to identify the areas where it's like we're going to lose too much detail. So we don't want to paint with a broad brush here, but here's the other areas where we can really condense the information.
Ben Conway:
Yeah, that's a really good analogy. I appreciate that. So yes, that's exactly what's happening. And what we'll do is we'll also stop. So we give you the ability to override it. If you've got, maybe you need to deliver to Snapchat or Meta or something like that where they just have hard specs and you're going to lose quality because that's what it takes to get it in there. In the same way that a lot of images on ads are going to be of a much lower quality than maybe what you have on e-com. And so what we'll do though is we'll stop. So it allows you to upload thousands of files and know that you are going to get highly optimized models, but you don't have to individually QA all of them many times for many use cases because the algorithm's smart enough to do the heavy lifting for you.
So I'd say that's probably the most important feature. But the way that we've built kind of the entire architecture is that it's all API first. So yes, there's a user interface. Yes, we're doing more and more to make that easier for lay people to understand and even 3D artists. But we want to be able to integrate as many places as possible. That includes the optimization. We understand that we're not going to be a one size fits all that 3D's super complex and it's going to have multiple stakeholders, legacy technology from existing brands, et cetera. And so I think the way that we've kind of put it all together of having this content management layer that has everything you need to communicate with other systems along with optimization and multiple ways to deploy these things and scale them is really unique in and of itself because it's extensible. That's why we started calling ourselves 3D infrastructure is because that's really what it is. We're bolting on, oftentimes, to many existing systems in addition to users that are accessing just the VNTANA platform.
Daniel Jester:
Very cool. Very interesting. In the last few minutes of the conversation, Ben, I'd love to know from you whatever you can share about whatever you want, near, midterm, long term future of VNTANA looks like. I mean if you want to go crystal ball, what does shopping look like in seven years? But also, what does VNTANA think about that based on what you're hearing from your customers?
Ben Conway:
One of the things that we've done is, I'd say as far as all things 3D and metaverse goes, we're the least sexy because we're the [inaudible 00:19:58] and shovels. We're like infrastructure, optimization. Yay.
Daniel Jester:
Again, that means mature. This is now went from being playful to being serious. What we talked about last time is that, again, I was unaware that there were companies that did this specific part of it because you're not wrong. The sexy part is the people who get to make the assets and that part of it. But this is a vitally important part to actually making this functional, which I think is super interesting.
Ben Conway:
So basically what we personally like about it is that we don't have to pick a winner on a lot of this stuff. There's going to be like when you see the debris that will come out of some of the investing that's happened.
Daniel Jester:
For sure.
Ben Conway:
Over the last couple years. A lot of the companies that will die off will just be, they had an idea for an app the same way people have had the ideas for dating apps or social media networks or whatever else of what the future of interactive 3D will look like. And people basically have been like, yeah, no, not for me. And so we don't have to necessarily bet on what that is.
I could talk about some stuff that I know people are really interested. You were mentioning before we started talking about, I posted a video on some try on stuff cause we get asked about it a few times a week. Footwear try on is there and it's going to get better and better and it's going to be kind of everywhere. Whether or not that's true to size, I think that is a solvable problem with technology and I think we'll see better tools there over the next few years. I think you'll see a lot better of, ooh, this does fit this. I'm getting more information other than, ooh, cool sneakers overlaid on my socks or my existing shoes. I think apparel try ons. There's going to be cool things out there, but they're going to be highly entertainment focused. I don't think people are going to be standing in front of mirrors and being, great, this sweatshirt fits. I'm going to buy it.
Daniel Jester:
Right, yeah. Exactly. I actually think, and I'd be curious to know, cause this is again, maybe it's something that VNTANA support, but it was an earlier podcast episode where we were talking about this idea. I think it might have been our episode with Jessica Lopez for the longer term listeners of this podcast. But I agree with you. I think a virtual apparel try on feels like it's just going to be, I don't know that the value is there, but what's interesting to think is that a future where you are not trying on a piece of apparel that exists yet, but you are saying that your brand or whatever, whatever apparel brand puts you in front of a mirror in their dressing room and says, "Here's what this could look like on you." And instead of them bringing you a ready made garment, that garment is made for you based on those scans of your physical body. And now you have a bespoke garment that was generated from the experience of shopping in a typical department store.
Ben Conway:
Yeah, I mean there's some interesting... There's been a huge amount of investment in being able to make customized stuff. Nike has made crazy investments in being able to do that. I think that where we might see try on happen is everyone's talking about avatars and things like that. When we talk about the metaverse, it's not just this vision of a 3D experience that's social and you can be in any world or any environment that you want to be in. I think NVIDIA talks about this a lot and it's really smart and really interesting about being able to replicate things that happen in the real world. But you have this superpower of being able to predict, like knowing physics of things and being able to look back in time. If you're basically bringing in all the properties of the real world into the metaverse, you can run simulations.
And it's a little bit of an aside, but what I'm getting to is imagine having a body scan of yourself and we're doing it in maybe some sort of safe way. And I don't know if that's necessarily happening in a home, but you've got a body scan of yourself and then you've got simulation that's good enough. Because that's essentially how our apparel customers work, is they have these programs, they develop pattern pieces and then the program simulates how that fabric will work based on the physics properties of the fabric. So really you could live in a world where you are not trying it on, but your virtual avatar is running physical simulations of those materials and that could be something that actually is pretty accurate. And that's when you talk about seven years, I'm like, I could totally see that actually happening. I think it's interesting.
Daniel Jester:
And then again, it feels like that's something that VNTANA would be able to support, it's just that sort of the information pipeline is a little bit inverted. It's taking information from the customer, going back to manufacturing potentially. And then you're taking maybe the scan and the information related to the physics or the characteristics of that material and then feeding that back to your customers who are making patterns based on, it won't be pattern based. It'll be some kind of an automated robot that just cuts bits of fabric based on whatever those measurements are. And I think that that's really insightful. And again, not sexy, but from a business standpoint, very smart. I think that makes a lot of sense. And you said it really well, Ben, that you don't have to pick a winner. You're here to support whoever's creating things in 3D, whatever that looks like.
Ben Conway:
Yeah, exactly.
Daniel Jester:
Very cool. That's about all the time we have, Ben, and thank you so much for your time and your insight. It was really a pleasure to talk to you about this. I've gone on the record quite a bit on this podcast as being pretty skeptical of some of the concepts around the metaverse and it was really nice to talk to you because you brought up some good points about, I think there's a little bit of coming down from what is possible and what actually adds value and you really made some great points about things that will actually add value to people that I think is really exciting and we should care about.
Ben Conway:
Yeah. Well thanks for having me, Daniel. I really enjoyed it.
Daniel Jester:
That's it for this episode. Many thanks to our guest, Ben Conway of VNTANA, and thanks to you for listening. The show is produced by Creative Force, edited by Calvin Lanz. Special thanks to Sean O'Meara. I'm your host, Daniel Jester. Until next time, my friends.
Hi Ian.
Subscribe to the eCommerce
Content Creation Podcast
About the host

Chief evangelist at Creative Force
Daniel Jester is an experienced creative production professional who has managed production teams, built and launched new studios, and produced large-scale projects. He's currently the Chief Evangelist at Creative Force but has a breadth of experience in a variety of studio environments - working in-house at brands like Amazon, Nordstrom, and Farfetch as well as commercial studios like CONVYR. Creative-minded, while able to effectively plan for and manage a complex project, he bridges the gap between spreadsheets and creative talent.