Back to list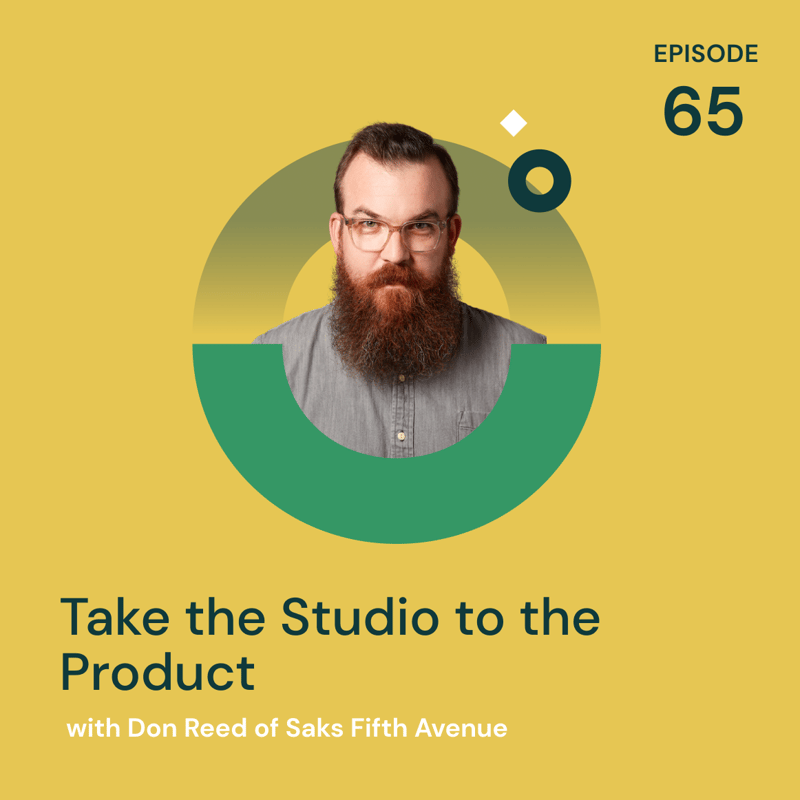 Episode 65 - June 14, 2022
Take the Studio to the Product with Don Reed of Saks Fifth Avenue
Summary
We talk a lot on this podcast about the current state of e-commerce product photography. In particular, the studio process, where we control everything. All or most variables are accounted for and we have all the tools we may need to get the job done. Sometimes though, we have to take the show on the road. While most of us creative production professionals are no stranger to the location shoot, taking a dialed in studio process on the road is a bit different. Guest Don Reed of Saks 5th Avenue and Daniel each have stories of situations where they needed to take the show on the road in order to get the job done.
Links & Resources
Full episode transcript
Daniel Jester:
From Creative Force, I'm Daniel Jester, and this is The E-commerce Content Creation Podcast.
Daniel Jester:
We talk a lot on this podcast about the current state of E-commerce product photography, in particular the studio process, where we control everything. All or most variables are accounted for, and we have all of the tools that we may need to get the job done. Sometimes, though, we have to take the show on the road. While most of us creative production professionals are no stranger to the location shoot, taking a dialed in studio process on the road is a little bit different. My guest, Don Reed of Saks Fifth Avenue and I each have stories of situations where we needed to take the show on the road, take our studio process to capture product photography in maybe less than ideal conditions in order to get the job done.
Don Reed:
I went and pulled the numbers right before this so I'd remembered.
Daniel Jester:
My kind of guy, Don.
Don Reed:
Yeah. Over that time we shot around 600 items at $2.8 million in value in inventory.
Daniel Jester:
Holy smokes.
Don Reed:
That would've been shot eventually, but keep in mind this was beginning of November leading into Black Friday, leading into the holiday season, it was more a timing thing was important.
Daniel Jester:
I got to meet Don in New York during the Henry Stewart Photo Studio Operations event, it was a pleasure to have him on the podcast, and now let's jump in, take a listen.
Daniel Jester:
This is The E-commerce Content Creation Podcast, I am your host Daniel Jester, and joining me for this episode of the podcast is Senior Manager of Photo Studio Don Reed for Saks Fifth Avenue. Hi Don.
Don Reed:
Hi, thanks for having me.
Daniel Jester:
It is my pleasure. You have been a listener of the show for a while, you reached out to us sometime last summer after some of our video centric episodes to ask some questions, which I thought was cool. For the rest of the listeners out there, we ask all the time for you to let us know that you listen, let's turn this into a community, Don so far is the only one. Looking at you, the rest of you out there.
Don Reed:
You're putting me on the spot.
Daniel Jester:
That's not true, we have had people reach out to us occasionally. But we got together, Don, and we were just chatting about things to talk about for the podcast, some of it was just getting to know each other a little bit, and this is going to be a little bit of an unusual, not an unusual topic, but an atypical approach to this episode, I guess, because Don and I both have similar experiences with, for me it's a past employer, Don, I think you were probably with Saks for this story that we're talking about.
Don Reed:
Oh, yeah, yeah.
Daniel Jester:
But basically what we're talking about is we work in E-com product photography studios for brands, for me it was when I was with Amazon, for Don it was with Saks Fifth Avenue, and things come up, there are problems. In my particular case Amazon really wanted to get into home goods. So the year was 2018, only two years ago in my brain still, because my ability to comprehend time stopped in 2020, so in my mind it was still only two years ago. But for Amazon, they really wanted to get into home furnishings. Joybird, by this point, had proven that you could have a successful business selling furniture to people online, and there's a real logistical challenge, especially for a huge company like Amazon, on getting that product.
Daniel Jester:
When you're a retailer, when you're not Joybird and it's not a brand where that stuff is manufactured for you, when you're a retailer, getting that stuff from the brands, getting that photography done, getting it online, and one of the solutions was to send teams of photographers, stylists, assistants, and digitechs to Las Vegas while there was a huge Home Goods convention, there's one there like every year, there's basically semi-permanent showrooms for all these brands set up there. And so we went there while the show was happening. We were there to shoot their product specifically, because they were all in one place and we could go from booth to booth and shoot their stuff, and we needed to solve all of the logistical challenges of doing not only a location shoot, but making sure that we were feeding those assets into the proper workflow and we were still meeting the same criteria that we were expected to meet in the studio.
Daniel Jester:
Don, why don't you share your specific effort that you guys were working on that was similar, but a little bit different.
Don Reed:
So last year Saks.com saw a pretty significant amount of growth over the year, which meant we were going to have a pretty busy holiday season, busier than we were used to. So part of that in other parts of the company was that they needed more resources to do fulfillment for orders, and things like that. So Saks actually partnered with a third party logistics company called GXO and opened up another distribution center about a little over an hour away from the studio. And while that was going on, I guess during the startup of it they had a hard time figuring out how to outbound products to the studio while keeping the inventory in check, it had something to do with the internal transfers that wasn't quite sorted out yet. That on top of I think they were short staffed at the time, as a lot of places were, and probably still are. So they were trying to juggle shipping out customer orders, but also getting us new product to shoot to list online to sell.
Don Reed:
I was just talking to a friend of mine in sample, and she was filling me in on this, and I was like, oh. I was thinking, oh, this is going to suck. Once they figure all this out, it's just going to come hit us like a tidal wave of stuff, and then we're going to be super far behind. But then I was like, I wish we could just take a set down there, since it's only an hour away, and just shoot, shoot the product on site. And knowing it was a third party logistics and we didn't own the building I just didn't really think it was possible, but then I ended up asking leadership if it was, and the following day I was connected on a call with our people on the ground, at the fulfillment center and pretty much organizing how we were going to set up a remote studio there.
Don Reed:
And we actually took a lot of what we learned during COVID, because we did a shoot from home program during that time in people's houses, so it was basically just a scaled back version of our typical photography. But yeah, we had level set meetings with, I believe the buyers, saying we weren't going to double back to product that didn't get all of its shots, it was either get it shot under these circumstances and get it ready for the holidays, or you're going to have to wait X amount of weeks until they could get it to the actual studio to shoot. We level set that up front too, which was good. But yeah, a couple meetings later we got the okay. We had to get electric installed at the place because they didn't have any electrical drops where they were going to put us, because it was just an empty warehouse, and they got that installed for us within a week or two, and then we made an equipment list, drove it down in a box truck, and yeah, pretty much set up and got going.
Daniel Jester:
It's interesting, part of the reason that we wanted to share these stories as a topic on the podcast is because we've talked a lot on this show about institutionalizing some of the things that we've learned throughout COVID, and my story is pre-COVID, but there was a lot of learnings from that Las Vegas shoot that we did that informed the way that Amazon built their studio in LA. And I think that that's a really smart way to go about those things is we do this thing this one time to solve a specific need, that's not exactly the way that we advocate to do things always in the studio, and we talk a lot about building processes that are repeatable, and using lean values and things to improve your process.
Daniel Jester:
But sometimes at the end of the day you still need to load up a box truck with a bunch of equipment and go somewhere and get some of that stuff done. Occasionally, the 80/20 law, that's not what that's called, but if 80% takes place in the studio, 20%, who's to say it doesn't take place at the very north end of the strip in Las Vegas for two weeks during August? Yes, that's true, listener, two weeks in Las Vegas in August, which is 10 days longer than anybody should ever be in Vegas for any reason, I don't care what their reason is.
Daniel Jester:
We're entering a period right now, and it's not really a secret to anybody that we're going into another period of uncertainty here. Every day there have been companies that have been announcing layoffs, there's grumblings and rumblings about the economy, know that something is going to happen. Those of us that were around for 2008, our fingers are crossed that it doesn't get that bad, but companies are already responding to what they see as potential issues with the economy, unfortunately in the form of a lot of layoffs, which I will, for the listener out there, we will do our best on this show to highlight opportunities, job opportunities, both on LinkedIn and on this show, for people who find themselves out of work as a result of what's going on. But we also wanted to share some of these stories because we're going to enter a period where we need to do things pretty lean, and get crazy to solve these problems, because it turns out the standard for our lives in 2022 is uncertainty, that's just the term, I think that's going to describe the entire decade of the twenties.
Don Reed:
Sure is.
Daniel Jester:
I'll mention, for my part of it, I was not as involved in the planning phase of the Las Vegas shoot that we participated in, but it basically shaped out like this. We had a producer, great guy, good friend of mine, who came up with this idea and put it all together, and he figured out that they would need basically two photography units. And so each unit was made up of a photographer, a digitech, an assistant, and a stylist. And there were two of those groups, and then there was a handful of support people, and we all went to Vegas for two weeks.
Daniel Jester:
And the first day that we were actually shooting the show was actually going on, and I can't remember what the name of the show is, it's something... I don't know, it has a name. But the show is actually going on, and there one funny story that I remembered today as I was thinking about this. We had a few minutes to kill before we got settled at each of our first booths, so we were going into the showroom for some of these companies and finding a corner and setting up white seamless and shooting these things.
Daniel Jester:
But we had some time to kill and so we were visiting one of the booths, me and my team, we were just walking through one of the booths looking at some of the furniture, and we all had badges for the show, because we were there, we were supposed to be there, so we all had badges that said who we were and what company we worked for, and the guy at this booth came over to us and he saw, he looked at our badge and was like, "Amazon?" And I said, "Yeah." And like, "What are you doing here?" And I said, "We're here for a specific reason, but we're just killing some time looking through the booth," and he says, "Maybe you could kill time in another booth." And I was like, "I'm sorry, are you kicking us out?" And then he was like, "You feel free to walk through on your way out, you can look at things.
Daniel Jester:
And I didn't know what, like if this guy had some issue with Amazon. I mean, look, for a lot of small businesses there are some feelings about Amazon, but this was one of the first times that I'd ever had an experience like this where I literally got kicked out of this guy's booth and I was like, I'm just here to take pictures, man. I feel like I'm usually a company guy when I work for a company, but I don't blame you for having some weird feelings about Amazon.
Daniel Jester:
That was pretty crazy, but it was really wild to be like, I remember we were shooting patio furniture, and I was literally, had barely enough room. My sweep was coming partially into the walkway, and then I had to move my camera to the other side of the walkway, while people are trying to cut deals and meet with these guys, and I'm shooting entire huge modular patio furniture sets in this space and then just would have to wait to get my next shot because a bunch of people were walking by, or they were coming in for a meeting, or whatever. It was a really crazy experience shooting that way.
Don Reed:
It's funny, like Amazon's a bad word.
Daniel Jester:
Don, what kinds of things did you learn from just, not so much the logistics side of it, but from the tech side of it? Building out the setup and making sure that you were getting the images into the pipeline, I mean, a lot of times it's a matter of internet connection, but I know we definitely touched on this, that you need to make sure that you've... One thing not a lot of organizations or areas think about is we care about upload speed. Anybody who works in this business, we care a lot about upload speed. Most people when they sign up for internet do not care at all what upload speed looks like. But tell me a little bit about the digital side, how'd you solve for some of those things?
Don Reed:
Yeah, so that was definitely a, we had a list of questions right off the bat, electricity was one, internet was one, and in those initial meetings they ensured us on the ground that all that stuff was there, and surprisingly internet wasn't the issue at all. But we only had enough resources to take two sets with us, because we still were operational in our studio space, so we were taking resources away from here, and also team members away from here, to go shoot down there, so we were conscious of like that juggling act in case things got busier on our end here too. So we decided to take two tabletop sets that were convertible into slant sets for pinups. It just gave us the most flexibility.
Don Reed:
On the technical side of it, it actually wasn't bad once we got everything set up and put in place, it was actually, it was really the communication between the fulfillment center and our team getting the product physically back to the space we were shooting, because what they would do is they would be sent a pick list of items that needed to be shot, they would pick them, and they would bring them back on a pallet and drop them off, and then we would go through the bins. My team was actually running the whole life cycle, so we had someone opening the packages, scanning the tags, taking copy points, steaming, prepping, all of that, and we had someone shooting, running the spreadsheets to make sure we were checking everything off, and then uploading to our image edit team via Box. And after that then we had to pack everything back up and then put it in an outbound area, so we had two pallet areas, an inbound and an outbound.
Don Reed:
And it was cool to see everybody, it was like a truncated version of an item life cycle that we do in our studio here, but with the whole studio team being a lot more hands on and involved with it, and it was really cool to see everybody band together, because it started out as just this, oh here's this idea, maybe we could get ahead of it and do this, and then everybody really got into it. And I think, I tried to keep the team to people that lived closer to that area so it cut down on their commute time, but throughout the process I think almost everyone on the team ended up going down there to visit at least once, because they wanted to see it in action and help out.
Daniel Jester:
How long did you guys end up staying there to work through this product?
Don Reed:
It was about a month and a half.
Daniel Jester:
Oh wow.
Don Reed:
It was like beginning of November until mid-December. Yeah.
Daniel Jester:
In general do you have a sense of what impact that had on other key metrics that you'd normally see in the studio? I mean, you were just jumping the supply chain a little bit to try to get, did it result in things getting online a little bit faster?
Don Reed:
Right, yeah, definitely. I went and pulled the numbers right before this so I'd remember.
Daniel Jester:
Nice, my kind of guy, Don.
Don Reed:
Yeah. Over that time we shot around 600 items at like $2.8 million in value in inventory.
Daniel Jester:
Holy smokes
Don Reed:
That would've been shot eventually, but keep in mind this was beginning of November leading into Black Friday, leading into the holiday season, it was more a timing thing was more important.
Daniel Jester:
Totally, yeah.
Don Reed:
Yeah.
Daniel Jester:
Once you worked backwards from Black Friday and you realized it couldn't have happened waiting for the logistics side to get their part squared, because the other thing is your supply chains are very stressed at this time.
Don Reed:
Exactly.
Daniel Jester:
At same time that you're trying to shoot that stuff, so are your suppliers and your logistics teams trying to get that stuff where it needs to be to be ready to support Black Friday.
Don Reed:
Yeah, I remember we'd walk through there, and they had inbound sections that they hadn't even checked in yet, and it was just mountains of boxes and I was like, how is anybody going to organize this and get through it?
Daniel Jester:
Man, I'm having such crazy flashbacks to working in a warehouse-based studio during Christmas season, and how, for one thing, where I was here in southern, oh yeah, I guess I was here in southern California for Amazon when we did the Las Vegas thing. But I was going to bring this up also because this is the experiment that I was running at my studio for Amazon in southern California. We were in a distribution center across the street from a fulfillment center, and for anybody who's listening, who is unaware of the distinction, every company uses their own terms to define these, but at Amazon fulfillment was where employees of Amazon picked your order and put it into a box and then it got shipped to you from that fulfillment center.
Daniel Jester:
Where I worked, my studio was based in a distribution center, and so we were accepting product from third party sellers and vendors, everybody who sent their stuff to be sold on Amazon came to our building, and those truckloads of PlayStations, or whatever, were split up and put on different trucks to go feed the different fulfillment centers. And the idea of our studio was to do exactly what you guys did on that short term basis, Don, which is to jump one step up in the supply chain. Theoretically by the time that truckload of PlayStations hit the fulfillment center and were stocked and ready to be sold and then picked, we had already shot it and those images were already online. So the idea was get these things shot, get them online, and by the time that truck hits the fulfillment center and we can actually sell it, the images are already there.
Don Reed:
Exactly.
Daniel Jester:
And this is one of the core metrics of any E-commerce business is you can't have a bunch of products sitting on shelves taking up valuable real estate in your fulfillment center if you cannot sell it because there's no image online. That's egregious waste for an E-commerce business. My particular story was for a different reason though, and this was about the logistics of getting huge pieces of furniture all to a studio where we could shoot it. For one thing, Amazon did not have a studio big enough to accept all of the furniture pieces that we were going to shoot. The only real solution was to go to the vendor and shoot them, and it just so happened that we had this brilliant producer who was like, "Well wait a minute, there's a huge home goods show where 60% of the vendors that we want to buy from anyway are all going to be there with the products that we're going to sell."
Daniel Jester:
The craziest thing that we shot while we were there that was one of the entire days that we were there, and I'm going to go on Amazon right now and see if you can still buy it, was a company that sold grandfather clocks. And this company actually makes tons of clocks, not just grandfather clocks, I literally think I shot probably 250 clocks. It's Howard Miller, is the name of the company, and it looks like, some of these look familiar to me, that you probably still can go on Amazon today and you can actually buy a multi-thousand dollars grandfather clock and I guess they'll ship it to you? I'm not exactly sure about this.
Don Reed:
Yeah, how that show to your house?
Daniel Jester:
Thankfully by this point the show had concluded and so we were not competing for space, it was just our team in the Howard Miller showroom, which was one of the bigger, they had a permanent showroom in this building and it was one of the bigger rooms. And we also had the benefit, being on location with them, of their staff being there who could help us move these grandfather clocks. These are machines that are highly tuned and need to be moved very carefully, and so to have their team there to move them on and off set for us was great. The problem that we had was, one thing, for the listener, if you're unfamiliar with the grandfather clock, in your head you might be picturing something that's mostly wood, but you also need to remember that large, freestanding grandfather clocks have metallic faces, metallic cylindrical counterweights, and huge convex pendulums that are basically mirror finish.
Daniel Jester:
And so you have the worst possible situation of lots of reflective metal that is rounded and reflects everything in the room around you, and every photographer listening to this is having PTSD sweats because this is, let alone when it's something small on a tabletop that you can surround with something, we had it, it was the size of a person. And so we had to build basically an entire cove that covered three walls in just white paper, like I did a double sweep that looked like a big boat, and then I did another double sweep, and then we cut that part off so that we could actually get the clock in there.
Daniel Jester:
One of the problems we had though was moving the clocks when we were on set. It was like we were ripping up the paper on the ground every time we tried to, they were heavy, my assistant couldn't move it on their own, and so we had to all hands on deck just to shift it. And we said, we can't do this, there's like 70 of these things that we need to shoot between the two sets.
Daniel Jester:
And so we came up with the idea that somebody was going to run out to Harbor Freight and bought furniture dollies, and some full sheets of plywood, and we covered the full sheets of plywood with white paper, we made, I think, three of these things, and then screwed the plywood to the furniture dollies. And the plan was that these two guys that worked for Howard Miller were going to get the clocks onto these platforms, wheel the whole thing onto set, and the paper covered top of this platform became the floor of the set, and then we could just rotate the entire platform, because it was on wheels, to get the different shots that we need and the different positions.
Don Reed:
Smart.
Daniel Jester:
Yeah, I mean, in the time it seemed really basic, and as I'm saying it now I'm like, man, that was pretty brilliant.
Don Reed:
Yeah.
Daniel Jester:
But the important thing is is that ended up informing, when they built their home good studio for Amazon in Vernon here in southern California, some really smart person, I actually know who the really smart person was, I think Terence Mahone, past guest on this podcast, who I just mentioned in the episode we recorded earlier today, he comes up a lot. Him and Dua Lipa are my two most mentioned people on this podcast. I did it again, another Dua Lipa reference. I told myself I wasn't going to do it, but here we are.
Daniel Jester:
But he may have been the one responsible for this, if not I apologize for giving you credit, Terence, for something that you didn't do, but somebody said, we're going to take this data point from this photo shoot that they did, and we're going to use that as the business case to say we need a large, heavy duty rotating platform in our studio so that we can easily rotate large pieces of furniture, because we can't be short staffed one day and putting all this pressure on our creative team to be picking up a huge sofa. Or one of the things that we had to shoot were slate top bars, free standing bar units, and those were even heavier than the grandfather clocks.
Daniel Jester:
And they ended up doing that, I believe they ended up buying a turntable that was like the one that was designed for cars, so it had a sloped edge that you could drive up and drive the car onto. This is kind of the crux of this conversation a little bit is in those crazy, for lack of a better analogy, battlefield problem solving moments you can come up with an idea that has a lot of value for your studio that you're going to build, and that's what we've been talking about a lot on the podcast, is institutionalizing some of these agility moves that we've learned over the course of COVID, over the course of having to work with a reduced staff, and all of that stuff, that we can just use to make our process better across the board.
Don Reed:
Yeah.
Daniel Jester:
Your response, Don.
Don Reed:
Yeah, definitely. It's great when you can take the process and just break it down into individual pieces and realize not everything needs to be done the exact same way every time. Like yeah, it makes it easier and streamlined when we're in studio and we're all under ideal circumstances, but we can take everything we've learned from the day to day work, from COVID and everything, and put it into practice at something else. Usually when we hire people here one of the things I tell them, because being totally transparent it's like, the work we're going to do here isn't the most creative, it's repetitive, that's just, it is what it is, it's E-commerce, but the creativity lies in how we approach each thing. How we get from point A to point B is really up to us, and that was a good example of taking all of the pieces we already had here and organizing it in a different way that made sense for the moment.
Daniel Jester:
Yeah, absolutely, I agree wholeheartedly with that. I think I've said it before on this show that there's a little bit of equating the creativity part with the decision making, and that's where people, I think, come up with the idea. And it's not exactly wrong, I just think I'm shifting my perspective on it, that the product photo studio feels less creative because so many of those decisions have been made for you, how the things get shot, the angles, and all of the art direction decisions are made and they're set in stone, and that's a part of the process that people assign a lot of the creativity too.
Daniel Jester:
But you're exactly right, at the end of the day you are creating an image from a physical object, and still making something that didn't exist before and having to solve for certain problems, and some of those problems are really simple, and some of them you need to get really creative in how you solve them. And I think, no hard feelings to anybody who its just not for them, I understand that, I've worked with photographers who the day in day out product studio is just not for them. I liked it, I enjoyed shooting tabletop product for the hundreds of thousands of products that I've shot in my career. That's not a brag, I guess I am kind of bragging, but I thought about it one day, I did the math and I was like, I think I'm in the six figures.
Don Reed:
If I could piggyback off that, I come from a video production background, so in school and my first five or six years out of school I did a lot of video editing, and those projects drag on for so long, and there's so many changes, so many minute updates. And when I started here, I actually started on the retouching team, and there was something so satisfying about opening a file, doing the thing, and then closing the file, and it's like-
Daniel Jester:
And you're done.
Don Reed:
That's it. And you could just crank through stuff, you get in a good zone, and yeah. I mean, I just like to level set the creative stuff because we get a lot of people just out of school and I don't want them to think this is something it's not, but it is a really good place to learn fundamentals, learn how to problem solve, essentially.
Daniel Jester:
Absolutely, I've said the same things that I'm sure you've said in team meetings, little pep talk to your photographers and your stylist like, "Look, some of these shots may or may not actually end up in your portfolio, maybe they will, maybe they absolutely will. You could shoot that sink faucet fixture the best of your entire career and maybe it doesn't end up in your portfolio, but you're absolutely right, you have tons of time and opportunity to flex those muscles and learn problem solving skills that absolutely will inform whatever the end goal of your career looks like." And the thing for us to do as leaders in the studio is help shape that perspective a little bit, but then give them that understanding that this may not be the phase of their career that they want to spend a lot of time in.
Don Reed:
Sure.
Daniel Jester:
We all, as studio managers, we all would love to have that handful of full-timer freelance photographers that you can count on for years and years, it doesn't work out that way.
Don Reed:
Yeah. If I could give some props to my team that helped with the Middletown shooting, yeah, it was basically like, I pulled everybody together and said, "Here's the objective that we have to do, here's all the steps I know we need to hit," we need to figure out how to scan all the product in, we have to get a sheet together to track all the things, we have to get at least one steamer down there and enough prep things, and all of this with a smaller group of people. It was really great just watching everyone understand the objective without being told exactly what to do, because I'm like, I don't care how we do this, just so it gets from point A to point B, and everybody, they were figuring out ways to organize, the products were coming in in bins and they were organizing by product type and set type, and it sounds like common sense, but also nobody said to do that. So it's just them taking the objective and creating a workflow out of it that worked in the moment, and it was really cool to watch them come up with all of that too, everybody did such a great job.
Daniel Jester:
Very cool, and I think that's a great place to end this conversation. Don, thank you so much for your time and for coming on the show, it was really great. We got a chance to meet in New York at the Henry Stewart event, Saks Fifth Avenue had quite a show of force at that event, and then it was really great to meet you and the team and to hear that you guys are fans of the podcast, it meant a lot to me sincerely, I really appreciate that.
Don Reed:
Yeah, I was starstruck.
Daniel Jester:
I'm blushing now.
Daniel Jester:
That's it for this episode of The E-commerce Content Creation Podcast. Many thanks to our guest, Don Reed, and thanks to you, the listener, for listening. This show is produced by Creative Force, edited by Calvin Lanz. Special thanks to Sean O'Meara. I'm your host Daniel Jester, until next time, my friends.
Subscribe to the eCommerce
Content Creation Podcast
About the host

Chief evangelist at Creative Force
Daniel Jester is an experienced creative production professional who has managed production teams, built and launched new studios, and produced large-scale projects. He's currently the Chief Evangelist at Creative Force but has a breadth of experience in a variety of studio environments - working in-house at brands like Amazon, Nordstrom, and Farfetch as well as commercial studios like CONVYR. Creative-minded, while able to effectively plan for and manage a complex project, he bridges the gap between spreadsheets and creative talent.