Back to list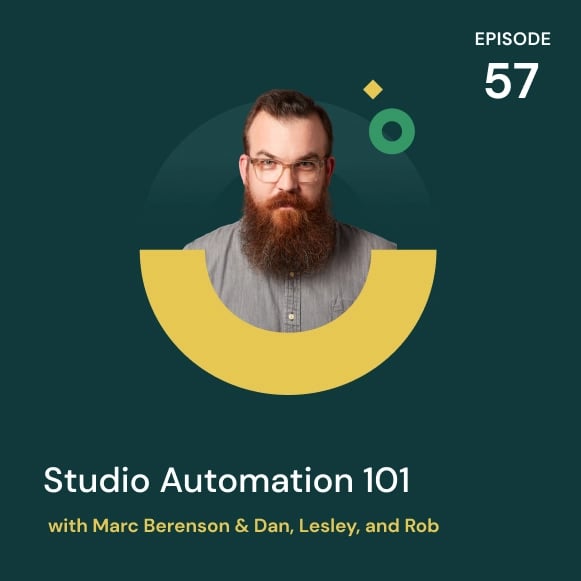 Episode 57 - April 19, 2022
Studio Automation 101 with Marc, Dan, Lesley, and Rob
Summary
Last week our episode featured some high level discussion about automation in the studio with Marc Berenson. This week Marc is back and he brought friends! In a first for this show we had 4 guests, the team at Stanley Black and Decker that Marc worked with to find ways to automate their repetitive tasks, and save time and effort. As Dan Berzak, head of this efficiency team, tells us, it's about leveling not only the playing field, but your own expectations on what you can do.
Key Takeaways
Building off of episode 56, we talk to the team that built a useful and accessible automation system.
One of the keys to success this team learned is to make scripts and actions as modular as possible.
Level the playing field, find the lowest common denominator. Don't get too specific.
If you can get 100 assets 50% of the way to completion with automation, thats better than getting 1 asset 100% of the way.
Leveraging tools the studio had already, the team was able to improve accessibility to images, speed up the review process, and provide updates in real time.
The team learned not to overuse tools in each platform, so as not to bake in to many changes.
Thinking of the entire process as additive is a great way to prevent overcooking your images.
Marc theorizes that the future of Photoshop actions may be actions that are triggered by keywords or other metadata.
Links & Resources
Full episode transcript
Daniel Jester:
From Creative Force, I'm Daniel Jester, and this is the E-commerce Content Creation Podcast. Last week, our episode featured some high-level discussion about automation in the studio with Marc Berenson. This week, Marc is back, and he brought friends. In a first for this show, we had four guests, the team at Stanley Black & Decker that Marc worked with to find ways to automate their repetitive tasks and save time and effort. As Dan Birzak, head of this efficiency team, tells us, it's about leveling not only the playing field for your imagery, but your own expectations on what you can do.
Daniel Jester:
Before we jump in, it's time to remind you of some upcoming industry events. First up, the Henry Stewart Photo Studio Ops Forum 2022 in New York City on May 4th. We, the E-commerce Content Creation Podcast, will be recording a live episode of the show during this event. I'm very excited to see you there. You can take a hundred dollars off your registration fee with our discount code, contentpod100, C-O-N-T-E-N-T-P-O-D-100.
Daniel Jester:
Then the following day, on May 5th, also in New York City, is the Pixelz FLOW event. I will be moderating a round table discussion at that event. Two events back to back in the Big Apple, New York City. Hope to see you there. Let's dig in with Marc and company.
Daniel Jester:
This is the E-commerce Content Creation Podcast. I am your host, Daniel Jester, and very happy to announce, I guess, that I've got a full house in the studio today. Rejoining us for a round two of our conversation on studio automation is Marc Berenson. Say hi, Marc. And then I'll introduce the rest of this crew that you've brought.
Marc Berenson:
We have Dan Birzak, who leads the efficiency team at Stanley Black & Decker. Working with him is Rob Ouellette. He's really sort of the scripts and the brains behind connecting technology. And then the esteemed Lesley Rivera. She's our lead senior retoucher. She was the one that helped us craft how the presets should be put together.
Daniel Jester:
Amazing. Welcome to the show, everybody. Rob, Dan, Lesley, it's so nice to have you all.
Dan Birzak:
Thanks for having us.
Lesley Rivera:
Yeah, thanks for having us.
Daniel Jester:
So, last week, Marc, we talked a little bit about studio automation, and we framed the conversation around, it can sound like a big project, it can sound like a huge enterprise-level task to bring automation to a studio. That's not really true. We can start with the tools that we're already using. There are features in some of these tools that we're already using. There are a lot of ways of just thinking about automating tasks that any studio out there can use regardless of whether they're a huge enterprise studio, they may benefit from some of these ideas, all the way down to the individual, the guy who runs his own studio. Anybody can use these things. Often, you're using these tools already.
Daniel Jester:
So, thinking of last week's conversation, Marc, I'd like to use that as a jumping off point for our listeners. You can go back and listen to the conversation with Marc around the philosophy and thinking about using the tools that you have for automation. But I guess, Rob, we're going to throw it to you to ask this question. Talk me through what you guys did at Stanley Black & Decker, how this idea and this journey of automating your process got started.
Robert Ouellette:
A few years ago, Marc, he approached me and was like, "Hey, I want to come up with the ways to speed up the way that I work." And so Marc and I started working together on some ideas. At the time, I had a very basic understanding of scripting. I mean, I was faking it till I made it all the way. YouTube, Google, Adobe forums, anything I could get my hands on to even get a grasp of what I was doing is what I needed to do. We started making a little bit of progress on a couple of ideas that Marc had, and then other business needs got in the way and our side project was put on hold.
Robert Ouellette:
So then fast forward a few years, and I had a new role working with Dan. The whole point of the entire role was to basically automate our processes across our studio teams. Now, with much more knowledge, I was ready to come back to Marc and I said, "Hey, let's revisit what we were doing." So we started talking and as COVID started to loosen up, we started meeting back together in the studio once a week. And then we started looking at Marc's process, Lesley's process, and Dan was looking at the whole process from a very high-level view from the whole life cycle of a photo. But I really was focusing on what we were doing specifically in Photoshop.
Robert Ouellette:
The way that Marc used to work was all these actions, and so we basically formulated a process that would take not one action, but multiple actions, and iterate them. We designed a script that would basically do what Photoshop's built-in batch process would do, but better. And so we tried to make something that was, I guess, modular is the best way to describe it. Once we were done with making it, we didn't need to do anything afterwards, scripting-wise.
Daniel Jester:
Rob, I definitely want to get into some of the specifics around layering and building these actions and that kind of thing. But I want to pivot to Dan really quick. Dan, it sounds like you were zoomed out and looking at the process from beginning to end. And that seems like a key part of evaluating where things can be automated. I want to ask you specifically about, there's a lot of things that you can leverage and automate with the tools that a studio is using today. Almost every studio is using some kind of a capture software. Virtually every studio is using Photoshop. I don't know. I personally don't know of any that are using anything other than Photoshop. What were some of the things that you looked at in those existing tools that you could start to leverage for automating and removing some of these repeatable tasks?
Dan Birzak:
So, really just standardizing your settings, don't get too specific with it, level that playing field. If you can get a hundred assets 50% of the way there, that's better than getting one asset 100% of the way there with automation. There are a lot of out-of-the-box integrations that you should really be exploring. Understanding how your software and the technologies work so that you can get them to actually work together.
Dan Birzak:
For example, when we started with Marc, we set up Capture One to actually shoot to our cloud storage system. And then we linked our cloud storage system to our project management tool. It enhanced the visibility to the assets that were being shot. It led to faster reviews. It increased accessibility. You didn't have to be on site or part of the photo shoot to actually see the results once we built that integration.
Marc Berenson:
I was just going to add in, one of the things Dan did was he made a hot folder, and from C1 Pro, if you wanted to show team members an image, we'd output from C1 Pro into that hot folder, and then we'd set up that folder so it would alert those team members. People could see in real time when updates came, then they could give us feedback either through that cloud platform or through other ways. But it was helping so much that we weren't outputting, sending an email, "What do you think?" It just went straight into that folder. And that's something that it was just thinking differently with C1 Pro and our cloud server, which, in our case was Box.com.
Daniel Jester:
This is one of the features of Capture One that my personal experience, I think, maybe is underutilized in some ways, or maybe people are using some other tools, but being able to have multiple process recipes that output to multiple places. And you can even dynamically create locations out of Capture One to put images. I know for my personal, my solo one-man operation studio here, I do something similar. I output to Dropbox, which cloud syncs, and I use document name tokens to create folders based on the Capture One session, so I have a whole folder structure in Dropbox that's outlined by client and year and that kind of thing.
Daniel Jester:
I'm bragging about my own workflow to ask you this question. What are some of the other features that you think may be underutilized by studios today in something like Capture One? Capture One is packed full of features, and my experience is that most studios are using less than half of them.
Marc Berenson:
One of the things we found was that in C1 Pro, we could make all sorts of settings that would really be helpful in Photoshop, but where, and this is where Lesley really was involved, is that we saw you could go too far. So what we said is, okay, let's keep it to baseline adjustments, much more with the tonality. Something that could be in every single image. It would never go too far. And so we specifically didn't use too much in C1 Pro knowing Photoshop could make it so it was scalable. It could be adjustable. The risk is that you don't ever want to go too far, so we kept it really to tonality. And that's what served us really well.
Daniel Jester:
I think that's a good segue from what Marc was just saying into going back and talking about some of these sort of layered and modular actions that you were talking about, Rob. Maybe this is something that you and Lesley can answer together, but I want to talk about, describe to me what you mean by this idea of like modular actions.
Daniel Jester:
I think a lot of our listeners out there, we know we have a lot of listeners in retouching and in post production. Every great retoucher I've ever worked with has used Photoshop actions, and there's kind of a love-hate relationship with them. They can go off the rails. It can be hard to recover from that. I'd love to hear from you, Rob, how you were describing this idea of modular actions and scripting in Photoshop, and from you, Lesley, what that means on your end of the workflow and your contribution to that process.
Robert Ouellette:
Any of the scripts that you write, you'll find out that there's maintenance that has to happen with it. Something goes wrong, and so you get brought back into the fold to fix it. I really didn't want that to be the case. Basically, I designed something that would just run a series of actions, and then if anything was there, if there's ever a problem with that, you just fix the actions. And so where we ended up landing is a complex system that takes a list of actions and then runs them. That's where we had the conversations, Lesley and Marc and I, about making those actions as simplistic as possible. And Lesley can talk on that more.
Lesley Rivera:
Yeah. Marc and I had talked about these actions initially because there's nothing worse than when you are given a file and you, especially an export from Capture One, and you have edits baked into it that are too heavy handed and you can't... It's more complicated to undo them. So I like looking at Photoshop as more of an additive process where we can make smaller actions that are all stackable and build upon one another. And I think it'll be easier to make additional edits from there rather than turning off our layers and trying to figure out what layer is causing a problem and making the file look over edited.
Daniel Jester:
It's interesting to me, and I'm just having kind of a random thought, I apologize for coming out of left field in this, but doesn't it feel overdue for Capture One to be able to output some of the adjustments from the image into an adjustment layer in Photoshop? I mean, my phone and MacBook can copy and paste stuff without me ever doing anything. The technology that exists today is unbelievable, and it seems like somebody out there, and I'm sure somebody from Capture One listens to this. I doubt anybody from Adobe does. But I would love to see the ability to output from Capture One adjustments as Photoshop layers in Photoshop files. I think that that would be a pretty killer integration that people would go insane for.
Lesley Rivera:
Agreed.
Marc Berenson:
Absolutely. The thing is everybody owns their own proprietary rights to things, so it's hard for people to go outside of it. But just yesterday, Dan and I were talking about, there will be a day that automation is going to be to such a point that when you put in keywords in C1 Pro, those keywords will get actions to go in Photoshop. That's the next thing. That's the next place we're going to. It's going to be that you're going to put a code. It's going to be ABC_1, and that's going to mean when it goes to Photoshop, ABC_1 triggers these things that we just built today that we're... We're like the caveman era when you think about what's coming down the pike. It's incredible.
Marc Berenson:
This has opened us our eyes and the discussion has gone so big of what it's going to be. And believe it or not, we think Creative Force, the software, is really going to be a central figure in this next era because it's going to take data from the beginning, and it's going to push it forward. And we leave it to the team at Creative Force to figure that out, but we're happy to support it.
Daniel Jester:
I'm unfamiliar with Creative Force. Can you describe it to me in detail and tell me all the things that you love about it? No, I'm just kidding. Creative Force, for the record for our listeners, is the company that I work for, and they produce this podcast, so there you go. It's at the top of every episode for our listeners.
Daniel Jester:
I will also say regarding the Capture One Adobe integration, I think, Marc, I think you're really onto something with this idea of using a bunch of things that exist today to trigger automations, like keywords. I think that's a very insightful thing to look at. But I will also say that if Sony and Marvel can make three killer Spider Man movies, I think almost any relationship is possible at this point, including Adobe and Capture One. But who knows? I could be wrong on that.
Daniel Jester:
Lesley, tell me a little bit about your philosophy on some of these things. Go a little bit deeper for us on this idea of not going too far. And I loved what you were saying about there's a lot of time wasted clicking through layers, trying to figure out where something went wrong. Describe to me your ideal file to receive that includes these automations. What's the perfect file for you to work on?
Lesley Rivera:
Something that Marc and I had worked on, and I think Rob had also touched on this, was we kind of used Photoshop as a batch processor, which has been really helpful. The file is almost 50% of the way there before it even gets to the retoucher. Usually, we'll actually send it out to a vendor for clipping, and then they also handle some light cleanup and retouching as well. And then we've automated some curves adjustments, and then Photoshop has really great abilities with their layer masks and automating them, so we have a curve for shadows, midtones, and highlights. They populate around 60 or 70% opacity, which is great. Again, they don't get too heavy handed. On top of that, we'll have our color edit, so I believe the layers we normally use are selective color, hue saturation, gradient maps, and then we also populate the swatch of the color build that we're trying to match to.
Daniel Jester:
Marc shared some of this with me in our pre-production meeting. And as I've been thinking about it, I sort of describe it to myself as priming a canvas for doing the real work. It's just getting everything ready to actually do the retouching. It's not the retouching itself. You're not automating that part of the process. You need a talented retoucher with the right eye to make decisions, but there's a lot of prep work.
Daniel Jester:
It's like taping off your living room before you paint it. I'm going to throw all the painting analogies I possibly can at this idea. But that sounds like what you're describing. It's just about getting the file ready. There's a ton of repeatable processes, repeatable tasks, I should say, because in the context of our conversation, actions means something specific, but repeatable tasks that you can automate that are akin to getting your canvas ready to do your work.
Marc Berenson:
Yeah. When I was talking the other day with the team, I said, "When a heart surgeon comes in, he's not prepping the patient. He's not doing the stitches afterwards. He comes in, he does the open heart surgery, he leaves." We're trying to have it so that the retouchers who are expert at the work we need to do, they're the ones doing it. We're not wasting their time doing the heavy lifting.
Daniel Jester:
Absolutely. And you heard it here, folks, first from Marc Berenson, that a good retoucher is as good as a heart surgeon, and I will stand by that. This is really a mission, obviously, at Creative Force, this is a mission of ours, that you get photographers who end up becoming bogged down in process and have to spend a bunch of time in spreadsheets and doing things that are not typically at the core of their passion. I don't know any very talented retoucher who's super passionate about setting up layer structures the same way every time. The real work is when you get into the situations where you have to make decisions given the image you're looking at. Everything else can and should be automated.
Marc Berenson:
Yeah. And the thing is, studios will change in the future because what's going to happen is the retouchers aren't just in a bubble of retouching, meaning, we want them to be isolated in that. But just, you can then take on people who can go from being a digitech one day to prepping and doing quality control at the first stages of pre-production, and then passing the images on.
Marc Berenson:
I was at a studio once, a big E-com studio, and I remember, it was like my first month or two, managing it. We were waiting on product, and so a bunch of photographers, digitechs, were available and the retouching team was swamped. I said, "Oh, let's take the photographers and digitechs and see if they can help." "Oh no, no. They can't help us. We're the retouching team. They're the photography team." And I think as this agile automation comes in, you start training and leading people in a direction that you could be helping out in many of these other areas besides your specific specialization.
Daniel Jester:
You mentioned the word du jour, for the last year, turns out, on this podcast, but agility and scalability. I'd love to talk a little bit about that. And I think the first part of this question is going to go to Rob, who we haven't heard from in a few minutes. This is my first time, guys, juggling this many guests. It's overwhelming in here. So, let's talk about agility when you're thinking about building some of these things. Rob, can you describe to me what agile means to you when you're thinking about building a system of actions intended to get the canvas ready for us?
Robert Ouellette:
For that, I would say that agility means being able to make something on a Monday, and by Monday afternoon, someone else can do the exact same thing not where you are. That's what we tried to focus on. We wanted to build something that, like we talked about, modular. If I make something, if I make an action so that we are changing our colors and we're going to start working in a new process, somebody else can also use the exact same thing with very little training. It's just plug and play, and we're going to do the same thing.
Daniel Jester:
Dan, how do we take this amazing modular, agile scripting, and now scale it? What are we looking for? That seems like it's one of the hangups. Let's get it to work everywhere every time for every person. Your thoughts on that.
Dan Birzak:
In my opinion, that really just comes down to where you're saving these things. If it's saved locally on somebody's desktop, then they're working off local files and you have local variations. If you're able to centralize, and what we did was post and host all of our files in our cloud, everybody's running everything from the same source files.
Dan Birzak:
I'm running the same things, like Rob said, everybody's running the same. It doesn't matter. You can have access to those files. It doesn't matter whether you're in the states, if you're overseas. You're running the same files. So, making sure that everybody uses the same source, your updates become easy because you're pushing updates to one location. And it just makes it very easy to manage. You're managing one copy of something. You're not managing it across multiple studios.
Daniel Jester:
For a studio that maybe is unfamiliar, this sounds like it's something that like, "Oh, I'm going to have to get IT involved in this, and it's going to be a whole thing, and there's going to be all these problems." Any studio really can do this. Your Photoshop and Capture One pulls information, pulls templates all the time from a centralized location. It's a matter of learning where those locations are and saving the configuration in a place where everybody can get to it.
Dan Birzak:
Exactly.
Marc Berenson:
And the thing is going back to what Rob was saying for agile, is Rob came up with a simple premise that when you're going to make an update to one of the presets, you name it the same thing, you put it into the folder where they all live. It replaces it, so your structure has stayed the same within the script, so he's not required. You're just replacing what was there. Instead of calling it 5 and then calling it 5A, you just call it 5 again, put it in, and then you just alert everyone, "Hi, we made updates." Next time you log on, it's automatically going to be uploaded to the community working on it.
Daniel Jester:
And again, any studio of any size with limited resources can do this.
Marc Berenson:
Yep.
Daniel Jester:
Promise you, there's somebody on your team who is futzing around with automations and things of that nature.
Daniel Jester:
I want to close this out. First of all, thank you guys all so much. I know it's been a little bit of a juggle with a group of this size, but it's been great conversation. I think really insightful. I want to leave our listeners with a takeaway. And so if anybody has anything like this, I'm going to explain in a moment, but if anybody has anything like this, let's close out with this. I'm going to share my favorite little home brew automation that people may be unaware of. My personal favorite when I was working for the commercial studio in LA was Mac's built-in automator tool. I built myself a script that created all of the folder structure that I needed when we onboarded a new client.
Daniel Jester:
Guys, I got to be very clear about this. I have very, very little patience for technology. So if I can do this, I think almost anybody can. We'd onboard a new client, they'd be assigned a client code, my script would ask me what the code is, I'd enter it, and it created all of the folders on our server that I needed to be able to put things for that client. Does anybody else have any home brew automation tips, whether related to this or anything else that you want to throw out there? Any little features or tools that you love?
Marc Berenson:
Sure, I can throw one out. Adobe comes with something called Image Processor. They used to make Image Processor Pro. It's not supported by Adobe, but it still works in Photoshop 22. I used it many years ago, couldn't find it, couldn't find it. I tracked down Russell Brown, Dr. Brown from Adobe, one of the early pioneers of Photoshop. If people start using Image Processor Pro, what that can do for outputting files, multiple things at the same time, that's expensive scripting free, right in your software.
Dan Birzak:
You want to talk about Keyboard Maestro?
Robert Ouellette:
Yeah. You have to buy a license for it, but it's basically like Automator. There's a tool called Keyboard Maestro, which allows you to do some very complex tasks with your computer in an automated sense. You can have it watch folders and then kick off scripts and shoot to different programs. We were able to do some pretty cool stuff with it. I highly suggest it. There's lots of forums of people who talk about like, "I do it for this. Every day it makes folders for this, and it'll add these photos to it." So, very similar to the Automator thing. It will do that, just the little price tag in front of it.
Daniel Jester:
Well, thank you guys so much for your time and for coming on the show and sharing with us. I really love the conversation. I think that automation can be for any studio of any size. It's a matter of thinking about it, leveraging the tools that you have. Maybe it's buying a little script dealy here and there. But thank you so much for your time and for sharing with us. I think our listeners will get a lot out of it.
Marc Berenson:
Thank you very much.
Lesley Rivera:
Thanks.
Robert Ouellette:
Thank you for having me.
Daniel Jester:
That's it for this episode. A reminder again to check out those events coming up in New York City. You've got a little bit of time to think about it still. If you were on the fence, though, this is me telling you, you should go. I'd love to see you there, and there's a great lineup of speakers on both days at both events.
Daniel Jester:
Many thanks to our guests, Marc, Dan, Rob, and Lesley. And thanks to you for listening. The show is produced by Creative Force, edited by Calvin Lanz. Special thanks to my friend, Sean O'Meara. I'm your host, Daniel Jester, signing off until next time, my friends.
Subscribe to the eCommerce
Content Creation Podcast
About the host

Chief evangelist at Creative Force
Daniel Jester is an experienced creative production professional who has managed production teams, built and launched new studios, and produced large-scale projects. He's currently the Chief Evangelist at Creative Force but has a breadth of experience in a variety of studio environments - working in-house at brands like Amazon, Nordstrom, and Farfetch as well as commercial studios like CONVYR. Creative-minded, while able to effectively plan for and manage a complex project, he bridges the gap between spreadsheets and creative talent.

Photography Operations Manager
Mark Berenson is a versatile studio operations professional committed to helping creative teams become more deliberate in how they build workflows to align goals and resources. He's a strong collaborator who encourages learning cultures, principled post-production practices, and holistic studio thinking.
Connect with him on LinkedIn.