Back to list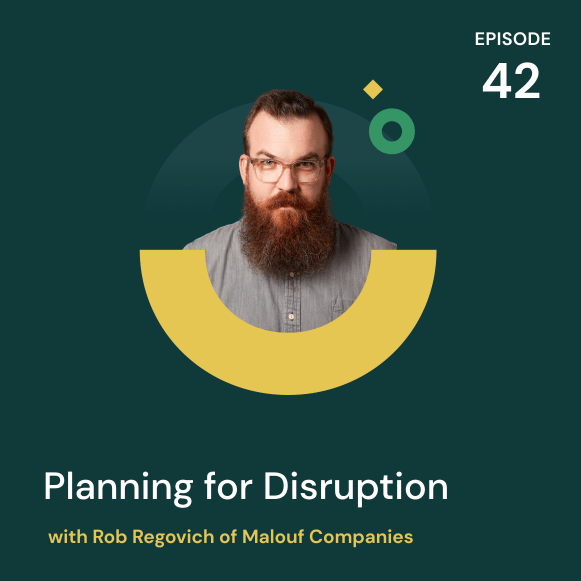 Episode 42 - January 4, 2022
Planning for Disruption with Rob Regovich of Malouf Companies
Summary
Rob Regovich of Malouf Companies joins Daniel to take on the topic of planning for your studio in the face of disruption. We touch on the core challenges of planning for any studio, how your team and studio size impact the planning process, on how data and analytics play a role in this.
Key Takeaways
The single biggest planning problem for a studio is getting the sample in the studio. Before any other factors caused further delays, simply knowing when the sample would be received was already difficult.
Studio size also has an impact on planning. How much capacity does a studio have, how much can a studio produce.
Balancing a full-time team, with the ability to expand with freelance talent can have an impact on planning and timing.
Consider your samples teams the lynchpin of your studio. Effective sample or merchandise coordinators must be fluent in the languages of all stakeholders involved in getting samples to the studio.
Experienced sample teams can get way ahead of problems before the issue hits the creative teams.
Data collection and planning are critical to planning. And you need GOOD data, that spans long periods because outliers in production often have an outsized impact.
Links & Resources
Full episode transcript
Daniel Jester:
From Creative Force, I'm Daniel Jester and this is the E-commerce Content Creation podcast. Rob Regovich of Malouf Companies joins the show to take on the topic of planning for your studio in the face of disruption. We touch on the core challenges of planning for any studio, how your team and studio size impact the planning process and how data and analytics plays a role in this. Unfortunately, we don't solve the puzzle of planning for your studio but we do touch on the importance of culture in enabling quick pivots to help ease the pain when something doesn't go according to plan.
Rob Regovich:
I have a tendency to think of almost every major problem like the supply chain problem, that the answer is some combination of culture and process and procedure. And if you can build the culture of continuous improvement which to me is the culture of acknowledging what maybe could be done better and trying something out and seeing if you can do it better. And what comes along with that is a mindset of continuous adjustment.
Daniel Jester:
You're going to hear in this episode, a lot of concepts that have been touched on quite a bit in the past on this podcast. And I think at this point, it should be pretty clear. Communication, agility and resilience are the keys to unlocking a successful process in almost all parts of your studio. Let's dig into this one with Rob Regovich. This is the E-commerce Content Creation podcast. I'm your host, Daniel Jester. And joining me for this episode of the show, Rob Regovich of Malouf Companies. Welcome to the show, Rob.
Rob Regovich:
Good morning. I'm thrilled to be here. I'm flattered to be in the company of the other guests that you've had on this show.
Daniel Jester:
You and I met recently for the first time and we got to talking about studio planning which everybody who's listening to this episode, cringed and shivered a little bit when we said studio planning. Because it's one of those areas that has historically has been quite a challenge and if we've learned anything over the last couple of years, we didn't even understand the extent to which those challenges can be exacerbated by different business disruptions, everything from the pandemic to ship getting stuck in the Suez Canal to now labor challenges, getting your studio staffed even has become more of an issue. And we got to talking about ways that we can become more agile and improve our planning or at least think about ways to start solving this problem. Let's set the context a little bit or our audience largely is aware of this but what is it that you think made planning so difficult for a studio before COVID, before we realized all of these external forces that could impact us?
Rob Regovich:
Well, I've joked for a really long time particularly, to people outside our direct circle of the content creation that the single biggest thing that has always held photography up of course, is literally getting the sample. That's been the problem I've been in this industry more than 30 years, that has always been the single biggest planning problem. We can put together sets, we can put together teams, we can put together creative plans and if we don't actually, have the thing we're supposed to shoot, we have a pretty significant problem. And so knowing where and when the sample is going to arrive has historically just absolutely, been the largest problem. I think the second largest problem has in regard to planning, relates to how big should our studio be? What is the right staff size for us to be, when are we going to be busy, are we going to be busy April to August? Are we going to be busy September to November?
Rob Regovich:
And how should we staff the studio around a knowledge that we're going to be slower in certain periods, busier in other periods, what's the right level of staff, what's the right balance of staff, is the work coming in, going to require more stylist than photographers, that kind of thing? And you can say, well, it's the same problem that everybody in every industry has which is the inability to really predict the future. But the problems in planning have always in my opinion, come down to balancing those particular issues. Where is the sample, when are we going to have it and then are we appropriately staffed when we're going to have the sample and have a bunch of other samples and be super busy?
Daniel Jester:
Absolutely. How do we decide the right balance of team for our studio for long term? What percentage full time staff, what percentage freelance staff, your ability to staff freelance is largely going to be predicated on the labor market in your area. Is there a pool of freelancers that are qualified that you can reach into to bring some team on? I've been part of studios that have gone both ways, studios with huge teams where this time of year mid-December, you've got a lot of photographers and stylists without a lot to do but when we've ramped up you have the capacity to handle whatever samples show up at your door that day.
Rob Regovich:
And that's a weird issue that varies so significantly from organization to organization, I've certainly been aware of organizations where the... I guess, for lack of a better word, the HR culture is that they don't understand what a freelancer is. And so they become so opposed to the idea of freelancer that they would rather push the photo and video studios to be overstaffed 70 or 80% of the time than bring in a freelancer for a couple of weeks here and there. And I've also seen the other end of it where studios have managed themselves essentially as freelance places that there might be a manager, there might be one or two staff people but the entire rest of the staff is freelance which of course, allows them to match their staff to the workload in any given day in any given week. But they're on the other end of it, losing some consistency and probably, costing themselves money.
Daniel Jester:
Moving away from the staffing specific conversation, you really put it perfectly which is that the issue has always been, where is the sample, when will we have it? Also, will it be what we expect it to be when it arrives? That was an issue that I ran into a lot at Amazon which is, I may think I'm getting a box full of garments but if what shows up is a box full of auto parts, I've completely staffed the wrong way. I learned my lesson, the hard way that I was not going to book my team until I had actual eyes on the product. That leads me to, we know that communication is important in this but it still seems to be a problem sometimes when it comes to planning for a studio. So when we talk about communication and setting expectations with studio stakeholders or other teams merchandising or wherever the samples are coming from, how can we really make sure to reinforce that relationship when we're talking about this idea and the future of these unexpected disruptions coming up and really affecting our ability to produce?
Rob Regovich:
You pointed, I think in the right direction. And that to me is that now that I'm fully in house and completely understanding this world a little bit better but even when I was for so many years in an independent studio, the parts of it that we cannot control we obviously, cannot accept responsibility for. But we have to accept responsibility for communicating and keeping those relationships with all of those stakeholders solid so that they have an understanding of what the situation is. And those stakeholders to me are not just the people who require the content, it's not just the marketing directors and the people who are graphic designers, et cetera. Our relationships and our stakeholders need to be all the people who we touch. So those relationships also need to include our shipping and receiving department, it needs to include all of the people along in the supply chain so that we can reach out and ask those questions.
Rob Regovich:
We can have relationships that aren't blame related but are literally, asking question relationships because we're the people who connect those dots. In my experience, very often the people who have asked for something to be photographed don't have a direct line of sight to when the product's going to get here. And if we are the people who are connecting those dots, we're only going to do that if we have solid relationships and solid lines of communication to all of the fingers of that. I recently did our annual reviews and our merchandise coordinator, his review literally, says linchpin of the studio.
Rob Regovich:
Because of his many talents, it's not just organization but his ability to communicate both with the supply chain people and with literally, the people who take stuff off the truck and check it in and with the people I've asked for stuff, makes the difference for us between success and failure, his ability, literally to communicate with the doc people and say, "Hey, we're on such a tight schedule for this particular piece of furniture. When it comes off the truck, I need to know now. I can't wait an hour or two hours. I'll come get it but let me know now." And so of his many talents, it's connecting those dots and keeping those relationships with all of the stakeholders. And again, as a very broad view as to who is a stakeholder in our process, that makes the difference between accepting responsibility for something that isn't our fault and accepting responsibility for communication.
Daniel Jester:
I couldn't agree more Rob with that assessment of merchandising or sample coordinators in the studio. It does touch on a theme that has come up a lot on this podcast which is the tangible skill that you need to really be the most effective at that job is the ability to translate your needs to the different stakeholders because they all speak different languages. Your studio team speaks a slightly different language than your merchandising teams or whoever the samples are coming from and you're right absolutely, the logistics teams are involved in that. And thinking back to my time especially, at Amazon, especially at studios that are largely based in fulfillment centers, your merchandise coordinators have to be fluent in warehouse speak which is an entirely different world from most other organizations within your company.
Rob Regovich:
And when that job is done particularly well, that person also speaks fluent creative. If we look at that as its own language and can anticipate and really head off significant problems as much as I am completely enamored of the gentleman who does that here at Malouf in my previous life, I can think of multiple examples of our merchandise coordinator literally, knowing things about creative before the creatives did just because he sees the sample first, he's been around long enough to understand maybe there's a deficiency in the sample that we're going to have problems. His ability to immediately raise the red flag saved enumerable hours on set. He didn't necessarily plug everything in to make sure that it worked but if he knew that something was wrong, he was going to prevent us from getting it on set and having four or five people standing around who can't do their jobs because we didn't know about a problem.
Daniel Jester:
Let's pivot really quickly and I want to ask a difficult question. I admit that this is going to be a difficult question. And we probably, won't have concrete answers because this is a problem that literally, every studio faces. But as we've seen over the course of the last couple of years, there are a lot of things that can impact global supply chains. And most companies in the world now are involved in some way in a very global supply chain and even if they aren't, they're still impacted by that in a lot of ways.
Daniel Jester:
Smaller companies unable to get container space because bigger companies are backed up and all of these things that can impact this. All of this has a ripple effect on everything else, staffing, planning, delivery, dates, your own studio SLAs. So is there anything that we can do, is it possible to plan for this kind of disruption or figure out, identify the delay and then communicate a backup plan? I want to talk it through with you and in the most idealistic environment, admittedly it never actually, shakes out like this in reality. But the beautiful thing about this podcast is we can talk about the perfect studio with the perfect team, with the perfect communication. How can we overcome these things?
Rob Regovich:
I use the words, process and procedure so much that I feel like I sound like it's my religion [inaudible 00:13:30].
Daniel Jester:
You wouldn't be the first person I've spoken to on this podcast who feels that way.
Rob Regovich:
Right. But to me, and people will talk about continuous improvement, they talk about lean and those are the kinds of principles that allow us to adjust to change. And so I have a tendency to think of almost every major problem like the supply chain problem, that the answer is some kind of combination of culture and process and procedure. And if you can build the culture of continuous improvement which to me is the culture of acknowledging what maybe could be done better and trying something out and seeing if you can do it better. And what comes along with that is a mindset of continuous adjustment, you have to build a culture where everybody on the team understands that we may just have to pivot. Our processes have to be built to be appropriate and flexible. They have to be live and able to be changed but the staff also has to be flexible and able to change.
Rob Regovich:
And certainly, there's some staff that's more amenable to that than others but I believe that you can create a culture where people embrace the idea that one of the ways we can help the organization is by being able to pivot. One of the ways we help the organization is by being able to reprioritize and to say, "Okay, well, we can't do what we were thinking we were going to get done today. We're going to do something else and that's where we're going to go." Obviously, we cannot plan for some stuff in the world right now but we can adjust our mindset to do what we can do and once we're communicating that nobody really seems to have a problem.
Daniel Jester:
I think what you're describing is, it starts to unlock some ideas around other creative solutions to get where we need to be. So an example of that would be, I've been a part of organizations in the past who have some, I guess, the diplomatic term around it would be sort of ideals around how the imagery is created and the idea that we want to shoot everything. We don't want to rely on technologies and things like that. And I think you have to be willing to be open to the idea of, we got this club chair in brown and thankfully we got it in brown because our retouchers can make it any other color that we offer and all of those colors are stuck in the port right now.
Daniel Jester:
So the lean and the continuous improvement and just the idea of having tools in the toolbox even if it's not your preferred method of getting the imagery, that's sort of the definition I guess, of agility in a way and being able to pivot to say, "We don't normally want to have to do color switches, take one product and do color changes in post to get the other things that we need but we have that tool. We have the tool maybe to accept a vendor imagery." I've been thinking a lot about this idea of having a system that allows you to accept maybe vendor images in case of an actual emergency.
Daniel Jester:
And this is something that we talked about with our friend Colleen at REI which is you want to be protective of your brand, you want to have images that everybody is happy with but in some cases, maybe the only option you have is to say, "Vendor, if you have images and we're not going to get the samples but we need to get these online. Maybe we can take what you have and put it into our system," and having a way to do that in a plan for that even if it's not the first option, I think is really important. And some ways we're talking about, I guess, actually planning for these issues, not so much planning in terms of the traditional idea of bringing products into the studio and how and when are we going to shoot it but saying, "Okay, what's the plan if we don't get them, can we accept vendor imagery? Can we do color changes, what's our contingencies?"
Rob Regovich:
And from there, I also think it's triaging or prioritizing what our options are. You mentioned vendor images, another legitimate route to go is if we have something to work off of, let the 3D department render it. If we end up in a situation where a bunch of samples, all of a sudden are in the studio, we cannot possibly get all of the stuff done, we need to have the conversation about the lost opportunity cost. Most of what we do we definitely, know the benefits from being photographed in an environment. But it takes a little bit longer to build a set and style it and get the environment stuff done. If it's a lost opportunity and we just need to get listings up, let's just knock out 20 or 30 things on white, we'll get the listings up and then two or three weeks later, we can come back with all of the environment stuff and vendor images could be a part of that too.
Rob Regovich:
If the vendor images are what are required to get us up and running and that buys us two or three weeks, that's great. We will do a better job, we will do a job that is more in line with our brand, et cetera. But in the meantime, we won't have lost the opportunity of not having the listing up. I mean, everybody knows there's no photo, there's no sale but we have to look at, can it be any photo? There are definitely, times when the vendor imagery is really pretty terrible or you get vendor imagery and it's 80 pixels by 80 pixels.
Daniel Jester:
I've seen it, you've seen it too.
Rob Regovich:
Right. And so it just becomes an issue of prioritizing our need and deciding if, when in the scale are we going to get there?
Daniel Jester:
That's another great point, Rob, which is that agility also means having systems in place that says that we can use things as a stop, gap, measure. I've been a part of some companies where it's like, "Oh, well, can we just re shoot this when we get the correct sample? And we can update the image because the change isn't significant enough to not shoot it now." And it turns out that for some reason, the E-comm platform that they're using, once the images are in they're locked in and in order to undo it... So it really is engaging in the conversations around agility in a lot of different places.
Rob Regovich:
Yeah. And that E-comm issue has to be part of the discussion. And part of our prioritization and re prioritization of our effort every day. As a photo studio manager if I fully embrace the manager part of that title, really the way that we handle an inability to plan is to literally, manage. To-
Daniel Jester:
Well said.
Rob Regovich:
... look at what's going on and if we have to reprioritize and move some things around, balance the amount of disruption that reprioritizing is going to involve and literally, manage our situation.
Daniel Jester:
I want to talk with you a little bit about data collection and metrics in the importance of that in planning. You mentioned earlier that the studio is really connected to a lot of stakeholders and needs to be able to communicate the situation as sort of a key juncture in the process of identifying a product that you want to sell and bringing it to market. What exacerbates that a little bit is that even today, the studio is still often thought of in the broader organization as a little bit of a black hole.
Daniel Jester:
It can be a little bit of a mystery sometimes to your merchandising teams and your E-comm teams about what happens in the studio. Things go in, images come out but we don't really know how all of that works and it turns out that it's quite complicated while taking a picture sounds easy, it's actually, quite complicated. What are some things that we can look at in terms of data and metrics, what should we be collecting to help us understand this? And how important is it to communicating effectively to our stakeholders, having this information in actual, tangible data that we can share?
Rob Regovich:
Yeah. And it's the data and to think that I tend to put a lot of focus on. It starts literally, though with a very practical question which is in regard to the photo studio, what data can we collect on the retail end, they're collecting just fabulous data. They're collecting all of this information on which images they'll run A/B tests, which images are more powerful and get more response. And those people are collecting wonderful, fantastic gobs of data which certainly, helps inform what we do. But on our end, what data can we collect? Our studio is probably, like most in that we have the Apple's income quads problem. For instance, shots per day is in our studio like many others, a very difficult number to really use for any particular value. Some things are much harder to shoot than other things.
Rob Regovich:
It's not the same. If you're shooting on white, you get more done than you're shooting in a room and these kinds of things. So we need to look at what numbers matter and then even what numbers are we capable of collecting. If we're not capable of collecting effort against any particular job, if we don't have a method of recording hours, we've got to move on or help our company find a method. But the other part of data collection that's really important to me and relates back to the shots per day issue is taking the big picture and how long do we need to collect it before it starts to become important. Of errors that I've seen over time that really drive me crazy are people who want to sample a studio for a day or sample a studio for a week and make observations about that.
Rob Regovich:
And it's like, "You may have gotten this on a slow week. You may have gotten this on a week that we were doing easy stuff, hard stuff, who knows the balance." I really think it's important to gather data over a long enough time period, that the studio's gone through some of the ebbs and flows that it's going to go through before you start evaluating how we're doing on certain accounts, how we're doing on certain types of work, where gains can be made, where we're probably, really losing out, which photographers are faster, which photographers are slower, et cetera.
Rob Regovich:
And related to that is the final issue of who's going to process that data and how are they going to process that data and what's the end goal? The things that always occur to me are the data in relationship to the management end and with the continuous improvement end. So thoughts that people have, "Okay, this photographer can actually, work with two stylists. He can bounce between a couple of things at once." That information may not exhibit itself directly in the data but we need to find ways to understand that impact. And it does take a little bit of insight into what the data is before you start really processing that information all the way out.
Daniel Jester:
That's about all of the time that we have for this episode. Rob, thank you so much for sitting down and having this conversation with me. It was truly a pleasure.
Rob Regovich:
Yeah. I was happy to do it. I will talk about studio stuff all day.
Daniel Jester:
You got it. We'll find a charity and do a 24 hour podcast athon and see how long we can go and how many times we say communication.
Rob Regovich:
Right. Or process or procedure or lean.
Daniel Jester:
Or lean, yeah. Well, thanks so much, Rob. Until next time, it was great to have you.
Rob Regovich:
Great. Thank you very much.
Daniel Jester:
That's it for this episode of the E-commerce Content Creation podcast. I am so grateful to my guest, Rob Regovich for being a guest on the show and grateful to you for listening. The show is produced by Creative Force edited by Calvin Lands, a special thanks to my friend, Sean OMeara. I'm your host, Daniel Jester. Until next time my friends.
Subscribe to the eCommerce
Content Creation Podcast
About the host

Chief evangelist at Creative Force
Daniel Jester is an experienced creative production professional who has managed production teams, built and launched new studios, and produced large-scale projects. He's currently the Chief Evangelist at Creative Force but has a breadth of experience in a variety of studio environments - working in-house at brands like Amazon, Nordstrom, and Farfetch as well as commercial studios like CONVYR. Creative-minded, while able to effectively plan for and manage a complex project, he bridges the gap between spreadsheets and creative talent.