Back to list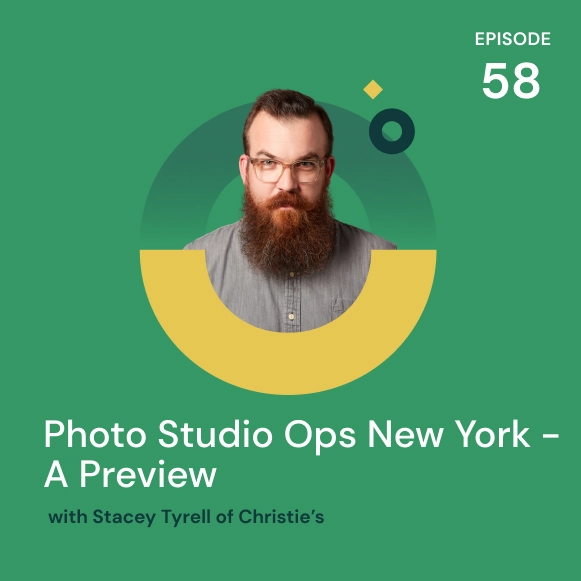 Episode 58 - April 26, 2022
Photo Studio Ops New York - A Preview with Stacey Tyrell
Summary
This episode features an event preview with Stacey Tyrell discussing her session at the Henry Stewart Photo Studio Operations 2022. Daniel runs down some select highlights in the agenda and then interviews Stacey about her session which will kick off the event.
Full episode transcript
Daniel Jester:
From Creative Force, I'm Daniel Jester. And this is the eCommerce Content Creation Podcast. As of the release date of this episode, the Henry Stewart Photo Studio Ops Forum 2022 in New York City is next week. As a media partner for that event, we are going to spend this episode giving you a brief rundown of what to expect from the various speakers. And I had the opportunity to connect with Stacey Tyrell, who will be kicking things off as the first session of the day, getting with the times, evolving Legacy Studios. As of the release of this episode, you can still register for the event and even save yourself a bit of money by using our discount code, CONTENTPOD100, C-O-N-T-E-N-T-P-O-D100. We will be recording a live episode of the eCommerce Content Creation Podcast during this event, and I'm so excited to see you all there. Check the show notes for a link to register. Now let's get to it.
Daniel Jester:
May 4th, 2022 at the New York Hilton Midtown hotel, that's where it's all going to go down. The Henry Stewart Photo Studio Operations, New York, 2022, tons of speakers, many, many speakers that you have heard on this podcast before, old friend of the show, Claire Carter-Ginn is chairing this conference. She's a partner at the Forecast Agency. And if you attended or listened to our recap of the Photo Studio Ops Forum Webinar virtual event that Henry Stewart did last October, you know Claire already, she does a phenomenal job, moderating discussions, keeping things moving. It's going to be a really great day with lots of great speakers, everything from our preview guest today, Stacey Tyrell, getting with the times, evolving Legacy Studios. There's other topics as well, navigating conflicting business and creative objectives, that's definitely something we've talked about on this podcast. And that's our old friend, Allie McLeod of Sax Fifth Avenue, giving that presentation.
Daniel Jester:
Colleen Moore from REI will be hosting a session. I should say, she'll be speaking a session, Great Culture Drives Great Results, Secrets to Shaping Change in your Organization. I am really looking forward to getting to see Colleen, it's actually been 2019, summer of 2019 was the last time that I saw Colleen in person at an old IEN event. So it'll be nice to reconnect with her. The Content Creation Studio from Tactical to Strategic, moderated again by Claire Carter-Ginn, with great panelists, some names you recognize, Lindsay Di Ruscio of Trove will be part of this panel as will Jason Hamilton. One of the earlier episodes of this podcast who is Senior Director of Imaging Operations at Bed Bath & Beyond. And my old friend, Ryan Roberts, my old pal, now working at Pixels, him and I worked together at the commercial studio in Los Angeles. Now working with Pixelx as North American Customer Success Director.
Daniel Jester:
I don't know if it's actually qualified as North American anymore, maybe he's just director. I'm not sure about that, Ryan, I apologize if I got your title wrong, but he's going to be talking about the importance of onboarding. I don't know ahead of time what Ryan is going to talk about exactly. But onboarding could mean from a Pixelx perspective, onboarding a new client, doing that due diligence, doing all of that stuff. But I think it could also mean onboarding anybody. We've talked about onboarding new talent for a studio and having a plan when you hire new people. Ryan is very good at due diligence with a background in commercial real estate, coming into commercial photography, us working at the studio together. Ryan thinks of everything and he asks all the questions upfront. I think he's going to be a great person to speak on this exact topic.
Daniel Jester:
And then Mark Berenson, who was just on a few episodes of this podcast. I think I'm not exactly sure of the release order, but I believe this is the next episode that will get released after two episodes, featuring Mark, who's going to be talking about intelligent automation and the impact in the photo studio. Mark is going to be there at the event. So that's a quick rundown of a handful, a select handful of the sessions that will be at the event. Of course, we will be recording a live episode of the eCommerce Content Creation Podcast. Our session kicks off at 10:25 AM. We do not want to confirm the guest yet. We are close. We have a good idea of who we're going to be bringing on, but these things tend to stay pretty fluid until almost until you're in the room. We've got a great guest lined up.
Daniel Jester:
We've got great backup guests. I'm not prepared to say who it's going to be. It might end up being a day of kind of thing, but suffice it to say, we have some good ideas on who we want to bring in for that live episode of our show. Today, for this episode, I'm doing a lot of talking up front. I know that I recorded. I had an opportunity to sit down with Stacey Tyrell, who is kicking off the conference with her session, Getting With the Times Evolving Legacy Studios. Stacy, just, I can't thank her enough for being such a good sport. We had not met before. We had not even spoken before. We were able to secure a meeting with her and said, "Hey, can we just record a session with you really quick? We just want to do a preview of what you're going to be talking about."
Daniel Jester:
So Stacey walks us through her background and some of the things that they're going to touch on with her topic. We didn't want to overshare because we want people to come and get a lot out of her session. But we spent a few minutes talking to Stacey. I'm going to go ahead and stop talking and we're going to get into our preview with Stacey Tyrell of her topic at the Henry Stewart Photo Studio Ops New York 2022, Getting With the Times Evolving Legacy Studios, let's go.
Daniel Jester:
This is the eCommerce Content Creation Podcast. I'm your host, Daniel Jester and joining me today for this episode, we have a little bit of a preview, I'm joined by Stacey Tyrell, one of the speakers at the upcoming Henry Stewart Photo Studio Operations Conference in New York City. Stacey, welcome to the podcast.
Stacey Tyrell:
Thanks for having me.
Daniel Jester:
We invited you on to do a little preview of the topic that you're going to be speaking to, which is, Getting With the Times Evolving Legacy Studios, which is, I'm sure a topic that a lot of our listeners are going to be very interested in. There are a lot of companies, very historied companies that have, in some cases, hundreds of years of history who are still around and adapting to the internet age that comes with some changes that need to happen in content production. Content production has changed a lot just in the last 10 years, so I think this is a really timely topic. Stacey, can you share a little bit with our listeners, who you are and your background, and then we'll jump into kind of previewing your topic a little bit.
Stacey Tyrell:
So little bit about me. I started off as a photo assistant and then started managing and running production companies and equipment where we would provide onsite electricity and things like that. Eventually I ended up helping manage the photo studio at Martha Stewart Living, which is another business that had been around for about 25, 30 years. When I was there, just really at a pivotal point in its history, where it had all of these magazines, but then it was also transitioning into more of a digital format to get with the times. I was there for 10 years, and now I currently work for Industrial Color who were contracted to run the photo studios at Christie's Auction House here in New York City at their North American headquarters.
Daniel Jester:
Incredible. Christie's, you mentioned, just before we started recording, 200 plus year old company, they have been auctioning off items for a very long time. They have been shooting items that they need to auction before the internet age. I'm sure it was physical print catalogs. And so this is sort of a prime place to explore this topic of how we can evolve some of these legacy studios. So can you take us a little bit through a preview of what your session's going to look like at the Henry Stewart event and some of the things that you're going to touch on?
Stacey Tyrell:
So first and foremost, I think it's really important to sort of be respectful of the history of any given company. So sort of taking into consideration how they ran things before, where they're at right now and then where they sort of want to evolve it into the future. So I've been here at Christie's for almost three years in this photo studio, about two years into a transition that's been happening. And like you said, starting from a primarily catalog driven print based workflow and evolving that into not only online components, but then also taking aspects of eCommerce production and then applying it to a company that has, I think it's about 80 different categories that we sell luxury goods and fine art items for. And then also trying to bring in, even in the past year and a half, things like NFTs and augmented reality and sort of creating a different experience for the client base for the company.
Daniel Jester:
Wow. That's really interesting. And I hadn't considered the employment of AR technology in this space, but you're talking about selling one of a kind items and often probably pretty expensive items. And so you really, it becomes quite important to give your customers as much information about that thing that they're going to buy as possible. I really hadn't considered AR but one of the things I was thinking about before we got into this conversation is with an auction house. It's a lot less like an eCommerce brand or retailer, and more like somebody like Trove, who we've interviewed for this podcast before where those items come in and they're one of a kind, and there just is you have to treat everything individually. Can you speak to some of the challenges around operating a studio in that environment?
Stacey Tyrell:
There's also a number of factors. So because our client base basically it's anybody that lives in any part of the world, a lot of the items are then shipped to a location in person so that they can be inspected. But now the pandemic is actually a perfect example of how just like any other business, we were forced to evolve and become a lot more flexible in how we sort of did things in terms of whether it was a painting, traditionally creating it up and then shipping it over to Hong Kong for someone to look at or a piece of porcelain, we would photograph it as we normally do.
Stacey Tyrell:
And for what it is that we do, especially any of the marks that are sort of true to the providence of the item, because we have to be able to verify that in order to successfully sell items, but then also trying to get those key details and just sort of the nuances of the items, because sometimes it's, they'll come into New York, but then they're shipped off to London to be sold. And sorry, the other thing I wanted to mention is that also, even though these items might be owned by a particular individual, the families of the artists that produce them say, even Matisse or [inaudible 00:11:35] or the Herring Foundation, they also do have a say sometimes, or a lot of the time, in how these items are photographed or what are the necessary details that need to be captured and how they'd like them to be captured.
Daniel Jester:
I'll be honest with you in my naivete around auction houses and that sort of thing, I kind of had forgotten that this stuff is not owned necessarily by Christie's. And that is interesting because really what you're operating is a commercial studio where every client probably has one item or a small collection of items that you have to shoot for them and you have all of the challenges that come with running a commercial studio with a lot of inputs from various stakeholders and an end goal of giving ultimately the buyer, the best information they can get on what that item is. And you mentioned about the provenance of the item, that's obviously very important to people who want to make sure that they're getting the thing that they think they're getting and capturing those details. Man, I had not considered that. That's got to be a pretty challenging environment to work in sometimes.
Stacey Tyrell:
Yeah. And then definitely also to sort of throw into the mix is the fact that every department sort of has their own aesthetic and how they like to present their pieces of property. And then on top of that, is staying true to the photographic quality and consistency, as well as all of these other factors. And then depending on for the particular sale that they're involved in, also what the aesthetic they would like to stick to or the story that they would like to tell for that sale. So that was also another thing that when Industrial Color took over the photo studio operations, was just even bringing in that consistency because when the department was run as its own in house department, unfortunately there were certain things that were just kind of getting lost with the communication between the photographers and the other departments. And then just being able to produce a very high quality, consistent product.
Daniel Jester:
Wow. There's so much more layers to this than I had considered coming in, which I feel like is the story of my life on this podcast, because I've only ever one time, have I ever photographed a piece of artwork for an artist friend of mine who wanted to sell the original of something that he had produced. And I learned very quickly that it turns out that's really hard to do. It's really hard to photograph artwork in a way that shows the true fidelity of the colors of that art, the medium that they used impacts the way that the light interacts. And you can't have any kind of weird reflections because you're then taking away from the piece itself, but at the same time, what you're describing is there's art direction still, and there's somebody who's making a decision about the story of the collection. You now have a lot of competing needs that are really sometimes at odds with each other.
Stacey Tyrell:
Obviously I'm not doing it by myself. I'm a small component in all of it. I work with a team of producers that Industrial Color also provides that they sort of liaise with the different departments and we all have these relationships that we've developed. And then also, there's a layer of quality control that needs to happen. So that even as these items are photographed and then ingested into the system, we're the first point of contact with the property a lot of the times. And then even where you have the retouchers that then work on the items. They don't necessarily get to see everything before they have to work on these images. So it's very important that we kind of get it right the first time in order that further down the pipe, everything sort of follows through.
Daniel Jester:
Not a small task for even the most talented of studio teams, but I'm on Christie's site right now. I'm previewing some auctions. I love this, the Old Man's Boat thing here, but I don't have $2 million to spare to buy this painting, unfortunately, but I do really like it. Yeah. I know. It turns out podcasting doesn't make you independently wealthy, but we do have a lot of fun on this show. I am very excited, Stacey, to hear from you. And I'm very excited to attend the event. I stay very excited too much on this show. I realize that. I'm sorry-
Stacey Tyrell:
It's good to be very excited though.
Daniel Jester:
Yeah. I need some new adjectives or is that an adjective? I'm not good at grammar either. I was curious though, who are you interested in hearing from? Are there any other speakers at the event, any other sessions that you're really interested to hear from? There's some pretty heavy hitters in this agenda.
Stacey Tyrell:
The one thing I will say is that Henry Stewart, they always deliver on just the type of talent that they attract and the information that you get from the talks. So for me, I wish that I could split myself into four different people and see all of the talks all at once and everything. But, there's only so much time of the day. But to be honest, there isn't anybody in particular necessarily. I just love just being there and the energy and just having all of these people together, that we're all very passionate about the industry that we find ourselves in. And it's just really good to sort of get in a room and sort of exchange ideas and just sit back and listen to how other people do their thing.
Daniel Jester:
I couldn't agree with you more. It is a little bit for one thing about Henry Stewart, delivering quality. I agree. I was blown away. My first Henry Stewart event was last October and it was the virtual event and a virtual events, I'm sorry, they're just not good. To do an analog to a true conference, it's hard to do. And I thought they exceeded my expectations last October on how that felt pretty close to the kind of thing that you want to get in person. But it also, there's a little bit of the music festival thing to it. You have to make some tough decisions. There's a lot of stuff on the creative op side, the broader side of the event that I'd love to hear from, but my heart and soul lives with photo studio operations. So it conflicts me a little bit.
Daniel Jester:
But I'm excited, very excited even, to see, we had a lot of past podcast guests, Ali McLeod will be speaking. Colleen Moore of REI. Obviously Claire Carter-Ginn has been chairing the event and has been a guest several times in the past. And now Stacey Tyrell has been a guest on the show and we're previewing the thing here. So Stacey, thank you so much for your time. And I'm really looking forward to hearing you speak at the event and I hope as many of our listeners as possible get a chance to attend the event and hear from you as well.
Stacey Tyrell:
Yeah. Thanks so much for having me. This has been great and I cannot wait to see everybody in New York City. And if you have a chance, stop by Christie's, we're only a couple blocks away from where it's being held at the Hilton. So I definitely want to see you guys here.
Daniel Jester:
Can I tell you a secret Stacey?
Stacey Tyrell:
Yep, tell me.
Daniel Jester:
This will be my first time in New York City. I've never been to New York City before.
Stacey Tyrell:
Oh my God. That's amazing.
Daniel Jester:
I'm almost embarrassed to say that. I'm not even going to be able to spend any extra time. I'm already going to be traveling, so I have to come back to the United States just for the couple of events and it's going to be kind of a whirlwind. I'm a little disappointed, but yeah, I don't know. It's one of those, we all have those weird blind spots. I've just never, I've been to New Jersey a bunch. I just never have visited New York City, but I'm excited to see what little bit I get to see.
Stacey Tyrell:
Excellent. Good to hear.
Daniel Jester:
That's it for this episode of the show. Again, check our show notes to be able to register for this event and use, if you haven't registered and you want to register and save yourself a little bit of money, use our discount code CONTENTPOD100, C-O-N-T-E-N-T-P-O-D100. You'll save yourself 100 bucks off of the cost of registration. I really hope to see you there. I'm very much looking forward to meeting a lot of people that I haven't been able to see over the last few years. And I think it's going to be a great event, many thanks to our guest, Stacey Tyrell and thanks to you for listening. The show is produced by Creative Force, edited by the incomparable Calvin Lanz. Special thanks to Sean O'Meara. I'm your host, Daniel Jester. Until next time, my friends.
Subscribe to the eCommerce
Content Creation Podcast
About the host

Chief evangelist at Creative Force
Daniel Jester is an experienced creative production professional who has managed production teams, built and launched new studios, and produced large-scale projects. He's currently the Chief Evangelist at Creative Force but has a breadth of experience in a variety of studio environments - working in-house at brands like Amazon, Nordstrom, and Farfetch as well as commercial studios like CONVYR. Creative-minded, while able to effectively plan for and manage a complex project, he bridges the gap between spreadsheets and creative talent.