Back to list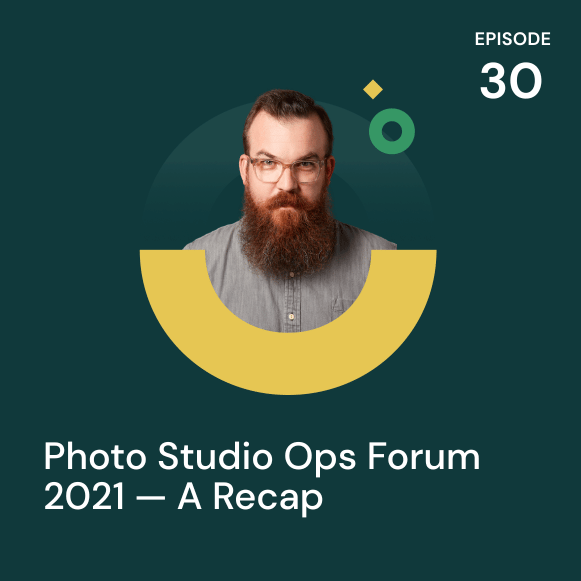 Episode 30 - October 12, 2021
Photo Studio Ops Forum 2021 - A Recap
Summary
In this episode, Daniel discusses some take-aways and ideas following the Henry Stewart Photo Studio Ops Forum event that took place on October 5, 2021.
Key Takeaways
Put more focus on hiring the right team, then focus on retention.
The idea that creative full-time roles only stick around for 1-2 years doesn't HAVE to be reality, find ways to keep your team on board.
Employee turnover is waste, and training to backfill doesn't add value
When it comes to process and workflow, our physical space has an impact. Use something like a spaghetti map to review this.
Unnecessary movements are also waste, and physical studio layouts should also employ lean ideas to improve workflow.
We need to institutionalize our learnings from COVID. Business interruptions will happen again, whether it's another pandemic or increasingly adverse weather due to climate change.
Links & Resources
Full episode transcript
Daniel Jester:
From Creative Force, I'm Daniel jester, and this is the E-commerce Content Creation Podcast. On October 5th, 2021, about a week ago at the time this episode is released, our friends at Henry Stewart Events hosted the Photo Studio Ops Forum 2021 which was co-located with their festival of creative ops and design ops symposium.
Daniel Jester:
Henry Stewart pulled together a diverse slate of speakers and topics from all corners of e-commerce, retail, and content production. Many of the speakers featured have been guests on this podcast. If you're a regular listener to the show, we did a sort of speaker preview in episode 28 where we pulled together clips from past episodes featuring speakers at the event.
Daniel Jester:
I sat in on each session during the event and producer Sean O'Meara and I decided to put together this recap episode to talk about some of the things we heard during the event and some of the ideas that sparked. This is the E-commerce Content Creation Podcast. I'm your host Daniel Jester. And for the first time in this episode 30 of the podcast, I am flying solo.
Daniel Jester:
And the reason for that is this past week at the time this episode is released back on October 5th, 2021, our friends at Henry Stewart hosted the Photo Studio Ops Forum. Me and several of my colleagues at Creative Force had the opportunity to sit in on some of the sessions. Full disclosure, Creative Force was a sponsor of the event, but we sat in on all of the sessions and wanted to kind of like digest some of the information and talk about some of the things that we learned about and touch on some of the topics that we heard and there's some ideas that kind of got sparked out of this.
Daniel Jester:
But to open the show for this first part of the episode, I want to talk a little bit about just the overall quality of the conference. Henry Stewart did a fantastic job with this conference between their organization of the conference, as well as the platform that they used to host it. Now, it still wasn't an in person conference.
Daniel Jester:
You can't mimic that energy of having everybody in the room, but I will say that as far as virtual conferences go and virtual meetings and that sort of thing, this was one of the better ways between the platform and Henry Stewart's organization of the event, one of the better ways to put on a virtual conference. They had in between sessions, they had the opportunity to sit in on lounges and you could see who was sort of like virtually grouped in a lounge and jump in and have a seat at a virtual couch and sit in with other people and get to meet people.
Daniel Jester:
And we actually did. I'd sat into some of the lounges and met some people that I've been aware of in the industry but had not met before, as well as meeting some totally new people that I didn't know and that weren't on my radar. And as a matter of fact, we have hopefully some future podcast guests coming out of that.
Daniel Jester:
But the ability to have some kind of virtual way to pop in and say hi to people, former colleagues, former coworkers, people that you haven't seen in a while, it was really nice. It can be hard sometimes to catch people and have time, put time on their calendar to just meet one on one virtually. Am I looking forward to in-person events? Absolutely. There's a lot that a virtual event leaves to be desired.
Daniel Jester:
But if you're going to do a virtual event, I would say that Henry Stewart has figured out exactly how to do the virtual event and to do it pretty well. My only critique would be that I could have used maybe five extra minutes between sessions. They had the opportunity to sit in the lounge with the speaker or the panel of speakers following their sessions.
Daniel Jester:
So in order to keep to the schedule, they maybe didn't have time to answer every question that came up in the session. So they said, "Hey, step out into the lounge, you can meet the speaker, you can ask your question." And I think I wanted to selfishly, I guess I wanted to ask some of those questions and get to talk to the speakers, but also not miss any of the next sessions. So I know maybe from a timing perspective, that can be kind of difficult, but I think just five more minutes between sessions would've been great.
Daniel Jester:
The first session that I'd like to dig into is the opening session after our friend, Clair Carter-Ginn did her opening remarks for the forum with Carrie Crow and Bill Weiss, who Bill Weiss is now with another company, but Carrie Crow and Bill Weiss were colleagues at HelloFresh. And you've heard from Carrie Crow on this show back in episode 10.
Daniel Jester:
Their session was titled something roughly along the lines of leading a dream team through hyper growth. And one of the really interesting things about HelloFresh is their explosive growth and their ability to handle the additional creative requests that come with that growth and scale up very quickly. And they touched a little bit on some of that was physical space.
Daniel Jester:
So they showed some pictures and shared some stories about tearing down an old kitchen and rebuilding a new studio that was better for them, some of this happening through the course of the pandemic, early on in the pandemic. The thing that I think I really want to unpack from their session though, was around their ideas of retaining talent for their team. It was really interesting to me how much they talked about not only hiring the right team, but then concerning themselves with retention.
Daniel Jester:
I think we have a tendency to think of the life cycle of a creative team member in a production studio as being relatively short and we don't really dig into it any deeper than that. We just accept that a photographer, a stylist, various other members of the crew may only be with a company in a full-time capacity for 18 months to two years or something along those lines.
Daniel Jester:
And it was in a weird way, a little bit eye-opening to kind of think like we don't have to just accept that, we can do things and we can invest in our team in a way that helps build retention. And that led me down this path of thinking of turnover in our teams as a type of waste. When we think about lean philosophies and continuous improvement and all of these things, we talk a lot about waste and processes, we talk a lot about waste in physical movement of the studio, which we're going to touch a little bit on later in this episode.
Daniel Jester:
But I don't know, and I'm sure there are people out there who've had these conversations and connected these dots, but I haven't really thought of it this way about thinking about waste that is created as the result of poor retention of our team. And we need to apply some of the ways that we think about waste to our recruitment process. Is the cost, time and resource consumption of training a new team member truly a value add for our customer if we're doing it to replace a team member who was already up to speed and producing for us and having an impact on the business?
Daniel Jester:
Would our customers realize more value from our brands if we invested more in employee retention than taking the position that a creative team member life cycle is what it is? I also think that maybe we should think about our ability to recruit top talent if we concern ourselves more with retention. And so some of the things that we talked about on the show, but also Carrie and Bill talked about in their session is creating these opportunities to help creatively fulfill your team members.
Daniel Jester:
And this is something that we all know is sort of a challenge sometimes in a production studio, that it feels like a grind and the fun parts of the job can start to sort of evaporate after a little while. One of the things that we can do is we can build in some opportunities to do that kind of thing. And one of the things that I thought was really insightful that Carrie and Bill shared was they have this list of what they called projects on tap and things that they could fill their time with.
Daniel Jester:
And that served a couple of different purposes. One of those things is it could just be something fun and creative for your team members to do when they had the opportunity to do it. And I think that that kind of thing is really important to helping the creative outlet of some of your team members and feel like they have an opportunity for some of the decision making.
Daniel Jester:
I think that's what we miss sometimes in the grind of continuous content production, is the decision making on where to take something, the serendipity that can happen on set when you are creating something that you maybe hadn't specked. And so they have this ability to say like we could even out some of these peaks and valleys of these requests by back filling with more creative and interesting things that our team members like to do, and as a result, we may be strengthening the brand.
Daniel Jester:
This stuff can become content for social media. You have so many channels now to push out some of these things and to test some of these ideas and to see what's going to resonate with your customers, and what's going to support the brand and you can engage your full-time studio teams to do those things. The result of some of this is going to be better retention with your creative teams. They're going to feel more engaged and be willing to stay with the company longer than what we consider the typical two years.
Daniel Jester:
Also consider the recruiting implications that some of these investments in your team can have. You can go to potential candidates and explain to them some of the benefits of some of these creative projects and what that could mean for their growth and their ability to really feel like they have an impact on the business. When I was in the interview process for Amazon, I discovered something that they have called COST which stands for creative offset time.
Daniel Jester:
The idea was that because Amazon required photographers and stylists and other creative team members to submit a portfolio twice a year, one of the benefits they offered was the ability to take company paid time to work on creative projects. Every year we got six days that we could take paid to do creative projects to contribute to the portfolio that we were expected to submit once in the middle of the year and once at the end of the year.
Daniel Jester:
This was not a small part of my decision to join the team at Amazon because up to that point, I had not worked for a company that was regularly reviewing the creative output of its team members not only just work that we were doing for the business, but also seeming to have a vested interest in the creative growth of their team members. Consider some of these investments as a potential recruiting tool, but also as a way to reduce waste through increased retention of your creative team.
Daniel Jester:
The next section that I'd like to talk about was Curren Calhoun of Gap Inc.'s session. You heard from Curren in a previous episode, one of my favorite episodes actually around applying some lean principles to adopting new technology in your studio. That was back in episode 15 of this podcast. I'm going to admittedly kind of focus on a very small part of what Curren said in his session where he mentions the idea of spaghetti maps.
Daniel Jester:
The spaghetti map, if you're unaware is a way of mapping out the physical flow of products through your studio. I've done this a couple of times for studios that I've stood up that were brand new studios that we were building out. And the idea is that you really want to apply, again, lean principles and reduction of waste to the physical movement of samples through your studio.
Daniel Jester:
You can have a very streamlined digital workflow, an excellent digital workflow but you have to remember that the physical movement of samples and the way that product is moving through your systems physically in your studio space can create bottlenecks even on the digital side. I'm going to give you a for instance here. Let's say you have a system, a technology solution in your studio that really supports the idea of flow production.
Daniel Jester:
And by flow production, I mean things move along in the process automatically and quickly. There's no waiting for anything to happen, unless it's a task that needs to happen to move to the next process, but things aren't artificially stacking up. You're not sitting on a bunch of images until the end of the shoot and then moving them on in the process. So let's say that your system allows your photography teams on set to shoot a product, create those assets and those automatically get moved to the next step in the process. And let's say the next step in that process is a QC step with a digit tech that sits in your studio.
Daniel Jester:
If part of that digit tech's process is also to review the physical sample itself along with the images, but that physical sample isn't moving along with the images, your physical flow is creating a bottleneck that impacts your digital assets. So let me kind of give you a more specific example on that.
Daniel Jester:
Let's say the way that product flows onto set is with a rack. Let's say you have a baker's rack with shelves and you've got bins of product. Maybe we're talking about a hard, good studio that has product, or even in fashion, it could be shoes, but you have a very familiar site to a lot of people who work in studios, which is a rolling rack with shelves and two dozen pairs of shoes on it.
Daniel Jester:
The photographer may not move that rack of shoes and that product to the next step of the process until they've shot everything. So in that case, it doesn't really matter that your digital assets move on to the next step in the process if that next step can't be completed until the physical product moves there as well. So the only point that I'm trying to illustrate, paying attention to the physical flow of samples can really help us realize and understand potential bottlenecks that impact the physical and the digital side of basically our sort of supply chain.
Daniel Jester:
This is illustrated very, very well in the book, The Phoenix Project. And the characters in The Phoenix Project, they take a look at a high level, they actually get on a catwalk and they look at the production process of an actual like production warehouse where they're actually making a product in that warehouse. And they can very easily see from that bird's eye view how things flow and where those potential bottlenecks are.
Daniel Jester:
I haven't ever been in a photography studio that has a catwalk where you can physically get up and see that. But using things like a spaghetti map, things like a heat map can help you understand the flow of physical products through your studio. Another quick anecdote on this idea, when I was building out our studio with the team at Amazon when I moved back to California and we were building a brand new studio, we quickly realized that we may have a problem with the flow of products through our studio.
Daniel Jester:
We had one production type, we'll call it, that about 65% of everything that came through the studio went through that production type. But we realized that the way that the physical samples were coming through the studio, those products traveled the furthest out of everybody because of where we staffed, where we placed things.
Daniel Jester:
And we were thinking that the vast majority of products coming through our studio going through this particular production type, we probably should try to streamline this as much as possible so that those physical products are traveling the shortest distance and we're trying to capture as much of the product coming through the studio as possible traveling the shortest distance and reducing waste in that way.
Daniel Jester:
Because again, this is waste. These are non-value add steps. Having to walk rack from one end of the studio to the other is not value add for our customer. This is waste. And we can think about ways to lay out the physical process of our studio to reduce some of that waste. And the way that we do that is by evaluating things with something like a spaghetti map.
Daniel Jester:
Let's pivot over to another session that I want to talk about, and this was the panel discussion which I really enjoyed that was moderated by our friend, Clair Carter-Ginn. And the panelists were David Brint, the CEO of SpinMe, Colleen Moore of REI and Ali McLeod of Saks Fifth Avenue whom you've heard on this podcast and Mark Stocker who is the senior creative manager of The Very Group.
Daniel Jester:
And the overall topic was growth, agility and flexibility for the photo studio of tomorrow. And they'd covered a lot of different things that are very interesting to think about, one of them being diversity initiatives at various companies and representing different marginalized groups in the creative content that we produce for these various companies. That's the topic that I am very excited to dig in on this podcast and I'm going to kind of set it aside because I'd like to dedicate at least one whole episode to that.
Daniel Jester:
They did also talk about things that they all learned respectively as a result of COVID and having to move to a largely remote workforce and just change the way that we were working. And it really got me thinking about future business disruption and the kinds of things that we really need to watch out for, and also institutionalize some of the learnings that we have developed over COVID.
Daniel Jester:
Because the truth is that as e-commerce grows and it's growing faster than we expected in part thanks to the pandemic, growing pains are going to happen. We're starting to see now it's October 2021, and we're just now starting to hear and see that there are some pretty serious supply chain issues that we're seeing that have impacted not only our industry, but even just our ability to shop and to get the things that we want.
Daniel Jester:
Future business disruption may not be global and affect everyone the way that COVID did. It might be local and affect only part of the supply chain or process. It could be a container ship that gets stuck in the Suez Canal. It could be weather related phenomena. We just saw a news report where Italy got record amounts of rainfall, something like two feet of rainfall. If that happens in areas where your company sources products or materials for those products, that could severely impact your ability to produce goods.
Daniel Jester:
If we practice continuous improvement or any kind of lean philosophy, we need to be learning lessons from these types of business disruption. The pandemic right now we call it once in a lifetime once every hundred years, but we don't know what the next major business disruption can be, but we are seeing significant disruptions due to weather and that sort of thing.
Daniel Jester:
And so I think it's very important for us to start thinking of long term ways to decentralize supply chains both for physical samples and also for our digital assets in order to protect against some of these things and really applying these principles of continuous improvement and learning these lessons and implementing solutions and root cause analysis in all of these things to protect against some of these possible business disruptions in the future.
Daniel Jester:
To tie it back to Carrie Crow's panel, they talked a lot about moving work between their Colorado and New York studios. And if there's a blizzard in Colorado, that means they can pivot things to New York to be able to produce the content and hopefully reduce the disruption of some of these things can have. That's certainly been the case when I lived in Kentucky and was shooting for Amazon. We didn't get blizzards generally, but it would get very cold.
Daniel Jester:
And the infrastructure in that particular part of the country wasn't always the best for very, very cold weather. And so freezing pipes was a thing and the studio could be down for a day or multiple days because of just simply very cold or unusually cold weather. It's important that we start to invest in some of these things and really think of it as an investment to protect against climate change especially related business disruption and not so much think about it as like a thing that could happen every once in a while, but really start to learn and build systems that protect against some of that.
Daniel Jester:
Some other things that they just mentioned in that panel with that group that I thought was really interesting, I believe it was David Brint of SpinMe, I apologize if it wasn't him that said this. But he talked about people buy pictures. When we think about e-commerce, we think about people buying pictures. And one of the things that we've talked a lot about this show is moving the studio from this perception of being a cost center to being a more strategic part of the business and maybe more aligned with the way that you handle like a profit center and overall raising the value perception of the studio.
Daniel Jester:
The truth is if you're talking about especially a 100% e-commerce run business, people are buying your content, they're buying your pictures. The product will come and they'll either be happy with it, or they won't based on the pictures and the videos and the things that they use to make their decision to purchase. But they really are buying that photo first and foremost.
Daniel Jester:
And so my message, I guess, for this section of the podcast, talking directly to like C-suite senior leadership is that you need to shift your thinking away from the studio being a cost center and move it into a very strategic and competitive part of your business and one that actually generates profits. Yes, it generates those profits in conjunction with marketing and other sales strategies that you may have, but at the end of the day, if somebody's buying a physical good, they're buying it based on the photograph that they're seeing.
Daniel Jester:
In closing, I'd like to just, again, commend the team at Henry Stewart for a great event. I really encourage you to attend future not only virtual events, but Henry Stewart also announced that they are scheduling some live events for the spring in 2022. I found the virtual event to be about probably the best that you can get in terms of virtual event. I really enjoyed the lounge areas and being able to pop in and say hi to people and meet some new people.
Daniel Jester:
I loved that we were able to chat during the sessions. There was a chat window, but there was also a question window that you could submit questions that the moderators could ask on your behalf. It felt very well organized, it ran on time. Clair Carter-Ginn was phenomenal as chair for the conference. And you guys know because she's been on multiple episodes of the podcast, she's great.
Daniel Jester:
It was a really great event. I look forward to the next one and I absolutely am looking forward to future in-person events that are hosted by Henry Stewart. Hopefully you got something out of this recap if you weren't able to attend. I did unpack things that were only briefly mentioned in the event, but I highly, highly encourage the listening audience of this podcast to seek out some future events and learn some of these things.
Daniel Jester:
As David Iscove put on his episode of this podcast, we are all experiencing the same problems and it makes sense that we should share information and learn how to solve these problems. Because at the end of the day, our competitive edge is in the way that we treat our customers and the quality of the creative, not how it's made or the processes or the technology that we use.
Daniel Jester:
We can share that information, we can build a community and we can still remain competitive in a kind of healthy way. So with that, that'll be the end of this episode. Thank you for listening. I apologize if you didn't enjoy listening to me talk for the past 25 minutes. I apologize I didn't have a guest and we will get back to guests next week. But thank you for listening and that's it for this episode.
Daniel Jester:
That's it for this episode of the E-commerce Content Creation Podcast. Thank you so much for taking the time to listen. Many thanks to our friends at Henry Stewart for putting together a great virtual conference. And again, thanks to you for listening. The show is produced by Creative Force, edited by Calvin Lanz. Special thanks to producer Sean O'Meara. I'm your host, Daniel Jester. Until next time friends.
Subscribe to the eCommerce
Content Creation Podcast
About the host

Chief evangelist at Creative Force
Daniel Jester is an experienced creative production professional who has managed production teams, built and launched new studios, and produced large-scale projects. He's currently the Chief Evangelist at Creative Force but has a breadth of experience in a variety of studio environments - working in-house at brands like Amazon, Nordstrom, and Farfetch as well as commercial studios like CONVYR. Creative-minded, while able to effectively plan for and manage a complex project, he bridges the gap between spreadsheets and creative talent.