Back to list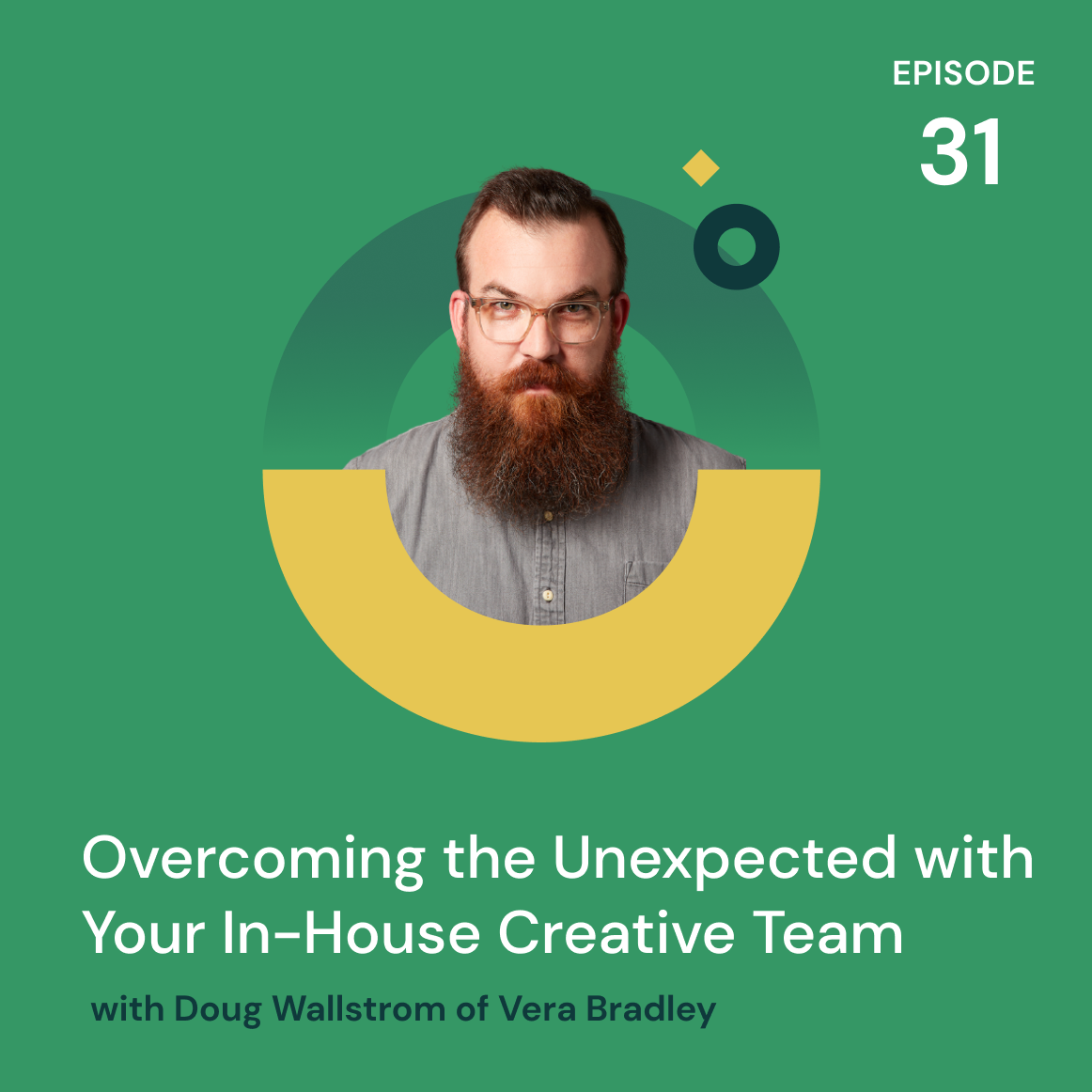 Episode 31 - October 19, 2021
Overcoming the Unexpected with your In-House Creative Team
Summary
Doug Wallstrom of Vera Bradley joins Daniel in this episode to share some stories that highlight the unique ability of the in-house editorial team to overcome the unexpected and get the shots they need to move the business forward.
Key Takeaways
Agency relationships are quite important to businesses big and small. Similarly, the in-house team has its own strengths that can help a business achieve its content goals.
The ability to pivot creative, try new things, test an idea to have something to show the C-Suite, are all things the in-house team can help with.
Being able to decentralize production, specifically spreading out key elements of a production to overcome adverse weather, can help institutionalize some of our industry learnings from the pandemic.
Doug pleaded guilty to the studio crime of changing the playlist mid-shoot. Since he changed it to The Clash, he was lightly sentenced to time served.
Links & Resources
Full episode transcript
Daniel Jester:
From Creative Force, I'm Daniel Jester. And this is The E-commerce Content Creation Podcast. Joining me for this episode of the show is Doug Wallstrom of Vera Bradley. Doug has been photography director at Vera Bradley since 2015, and has watched the team transition from exclusively product photography to working as an in-house editorial team to help advance the business creatively. One of the key benefits for his team is to help art directors' late night ideas come to life.

Doug Wallstrom:
We want to have a graphic designer or an art director, creative director, that had a dream, came in the next morning, first thing they do is run to the studio and say, "I don't know if this is crazy or not, but what do you think?"

Daniel Jester:
We hear from Doug about how COVID has redefined what it means to be in-house, and a few anecdotes about leveraging the full-time editorial team to overcome obstacles that could have ended a production.

Daniel Jester:
I'm your host, Daniel Jester. Welcome to this episode of It Happened in the Equipment Room, the only true crime podcast focusing exclusively on photo studio crime. Today, we solve the mystery of who changed the Spotify playlist mid-production, and my guest is Doug Wallstrom of Vera Bradley. Doug, welcome to the show. And how do you respond to these allegations?

Doug Wallstrom:
It was me, I changed it. I had to put on some Clash and get going.

Daniel Jester:
Amazing. Now, this is just a regular e-comm content creation podcast that you're used to, nothing special, no true crime here. But I do have, I was not joking about having Doug Wallstrom from Vera Bradley on the show with me today. We're not going to talk about who changed the Spotify playlist. Although, eventually we're going to have to tackle the topic of music in the photo studio. None of us want to have that conversation, but it's the elephant in the room at this point. Now, today we're going to talk about ways to think about our in-house creative team and the potential for the outsize impact that they can have on the strategy for the business. We've been talking a lot about moving the production studio and the in-house team from being considered a cost center for the business to being something that's truly a strategic part.

Daniel Jester:
And there are some real benefits that your in-house creative team has, to being able to contribute to that. And a lot of that is around their inherent agility in the way that they operate. So, Doug, I don't know, where do you want to start on this conversation? We had a really interesting conversation about a week ago, I think, or so. Maybe it was earlier this week, who can even remember because time doesn't matter.

Doug Wallstrom:
It doesn't matter anymore.

Daniel Jester:
But we had a really interesting conversation around sort of... We touched a little bit on the differences of working with your in-house team versus working with an agency. And there are pros and cons for both, but we do want to really turn those pros on the in-house team into something that more resembles a strategy for our content.

Doug Wallstrom:
Yeah. Yeah, that was a great conversation we were having. When I came to Vera Bradley six years ago, it was strictly a PDP studio. All we did was the photography for the website and then we slowly started getting more editorial jobs. And what, I think, we quickly learned is our ability to adjust quickly, and to change, and to test and get things across the executives team's table before we actually went into production, was a huge, not only creative asset to be able to play around, but it was a big cost savings as well. There's very little reshooting at that point, and getting involved early enough into the conversation, we have the ability to test, we have the ability to run it on the site, do some A/B testing and see what's really working, and then implement. And it's really built into the day-to-day cost of running the studio. And it's something that we really enjoy doing. It's great for our photographers and our stylist to feel like they're a part of the actual creative process. And to be able to take things to unexpected place, it's always the third alternative when you find the magic.

Daniel Jester:
Yeah. I definitely want to touch on the creative fulfillment of our crew and being part of that decision making process, which is not really something that you get to see on the PDP side. And also, the nature of the photo shoot, where things happen. Images occur that you weren't planning for and that end up being the cover for your catalog, or on the homepage or in an email. But one thing that you touched on there that I think really can't be overstated, is being able to show something, to do those tests and to show something to the people who have control over the checkbook, because that's how you get sign off on stuff. It's very hard to take a concept to somebody who's maybe not very creative or has a hard time visualizing some things, especially if you want to go in a direction that isn't typical for your organization.

Daniel Jester:
We talked about this a little bit with Heather Johnson of Rent The Runway in a previous episode, where she was able to, with her team in-house, test some creative changes because they had some time to do it, and take those with a pitch to say, "If we change our creative, here's what it looks like. Here's the impact to our production and our teams." She was talking about product photography in that case, by the way. But she was able to take images, actual images that had run through the process, with not only visuals to show the team, but also data around the impact that it has to their workflow.

Doug Wallstrom:
And that is the key. If you can show where you're going to get a cost savings on this and an added benefit of expanded creativity, everybody's going to jump on board. It gets people excited. They want to participate. Our biggest hope out of everything, and we say it all the time, is we want to have a graphic designer, an art director, creative director that had a dream, came in the next morning, first thing they do is run to the studio and say, "I don't know if this is crazy or not, but what do you think?" That to us is the ultimate joy of collaboration. Language is a really tricky thing. How many times have we all heard, "Well, we want it moody," or, "We want it happy." There's these innocuous terms. And then somebody said they know exactly what that means, where somebody says moody to me, I'm thinking film noir. And they're thinking, "No, really happy movie."

Daniel Jester:
Yeah. Right. Yeah. I'm thinking film noir and they were thinking a slightly darker shade of taupe for the background.

Doug Wallstrom:
Right. Exactly, exactly. And when you're on set, those are difficult conversations to have when you're going in the wrong direction, everybody gets tense. The whole hope, I guess the whole goal of it is to reduce anxiety, to allow people to feel comfortable, that we know where we're going. Now let's take it to another level, can we tweak things here and there? We know our sandbox that we have to play in, which then allows us to be creative.

Daniel Jester:
You mentioned a lot in there about having a designer come in and other members of the larger marketing team, which is, again, in line with a lot of the things that we talked about on this show, where we need to stop thinking about the studio as a silo and being a part of the larger marketing team when it comes to editorial content. The purpose of this conversation is not to validate in-house versus agency relationships. Agency relationships are important. They certainly have their place within an organization, big and small. Even teams that have in-house editorial creatives still will need those agency relationships from time to time. But one of the challenges with that is that that's point in time, you have to have a lot of decisions already made and you don't have this ability to test. And that's kind of what I think you're talking about, is being able to build some synergies, build some lines of communication between designers, layout artists. I'm talking a lot about print catalogs like that's still super relevant.

Doug Wallstrom:
I just finished one. I just finished one last week.

Daniel Jester:
I mean, the print catalog... I shouldn't say that. The print catalog has its place. I find it delightful when I get my Patagonia catalog in the mail.

Doug Wallstrom:
Right. And I think one of the aspects of that too, is... By no means am I saying that everything should be in-house. There's still a very strong need for outside influence. We still hire outside agencies to go do shoots us, hire outside photographers, but we can help drive what that look is going to be before they go invest all that money. And it gives a sense of confidence to the in-house team and to the leadership that they see a $250,000 budget going out the door. They would like to have a general idea of what they're going to get back.

Daniel Jester:
Right. Absolutely.

Doug Wallstrom:
So we're hybrid, we'll help anybody. And I think one of the things we talked about in our last conversation was, what's the role of the photo studio in the company and the relationships outside of it? And one of my big things is I just want to be a facilitator. My job is to listen to what everybody's saying, figure out a way to best represent that and meet everybody's needs. And then, to do it in a cost-effective manner. But we've just started this next season. All of our products designed here in-house. So our prints, all of our bags, accessories. So when we do our PDP photography even, we're now setting up time with the actual designers of the product. They can come down, they can show us the product before the season starts. They can walk us through and say, "This is where I really was paying attention. And this is what I think is special."

Daniel Jester:
That's super important. That's a very important piece of information for your studio team to have, because for one thing, at that moment that the designer is sharing that information with the studio team, the studio team is now getting excited because they're seeing the designer's thought process, and they're feeling that energy. I love that you guys do that.

Doug Wallstrom:
Yeah. And it's fun. Again, that's what brings that spark of curiosity. It can get really boring on what we all do every day, if you let it. But if you find curiosity and interest, there's all sorts of fun that you can have every single day.

Daniel Jester:
Absolutely. Yeah. We did that when I was with the commercial studio just before COVID. We said that a lot to our clients, we said, "When you have a new collection and you do your big season presentation to your organization, we would love to get a copy of the slide deck or even be included in, if it's a virtual meeting, because we want to be as excited about the new things in your collection as you guys are. And we want to feel that energy and bring that to the photography." Even though we were shooting PDP, we were shooting very prescribed product images of some jewelry over and over again. But we wanted to know like, "Hey, this stone that we're using in this piece is very interesting and we think very beautiful because of these characteristics." And then we can start to bring those out in the images.

Doug Wallstrom:
And you might spend an extra two minutes to make sure that it's... all the facets are reflecting and refracting the light exactly the way you want, because you have an investment in it.

Daniel Jester:
Exactly. Yeah. That emotional investment is hard to quantify, but also kind of hard to overstate, isn't it? Having that level of engagement with it.

Doug Wallstrom:
Yeah. In our conversation last week as well, one of the things when I said, was talking about what our studio's trying to achieve by no means are we there, it's a work in progress, but you made a comment that kind of caught me off guard and makes a lot of sense. You said, "Wow, you're asking a lot of the art directors," because normally you do. You go hire a company that's going to shoot all your PDPs and they tell you what it's going to be and you get it back. And they hire that person because of the look that they have, and that's what they get.

Daniel Jester:
Right.

Doug Wallstrom:
And that's probably been the hardest relationships to build, and it's taken a long time to build that confidence that, "No, we're here to facilitate your ideas. We're not here to tell you what you should be doing. We're here to bring that vision to life. And how can we assist you?" And a little bit of information along the way is really going to allow our team to have that aha moment to go, "Okay. Now I really see what the storyline here is and what the important aspect is that we're actually photographing."

Daniel Jester:
Right.

Doug Wallstrom:
It's been really fun. And I have to say in the last month, it's really turning a corner. People are getting really excited. We have had so far a few people that have come running down saying, "Hey, I got this great idea. I want to do an underwater shoot, can we do that?"

Daniel Jester:
Yeah. Doug has a pool. Let's do it.

Doug Wallstrom:
Let's do it. I was actually looking at a 150 gallon fish tanks yesterday.

Daniel Jester:
Yeah. Very nice. One of the things that's really special about what we do is the creative problem solving. And we've talked a lot on the podcast and in my sort of day job at Creative Force, we talk a lot about the differences between the e-comm PDP images and how the nature of that... And that that needs to be a sort of prescribed process because you're looking for consistency. Whereas editorial, you need to have so much flexibility to be able to truly take advantage of all of the things that can happen, all of the variables that you have no control over. That's one of the really special things about that experience, is the really creative problem solving. And that's one of the really fun things that your crew gets to be involved in, is like, "We didn't think this was going to happen and now we have to figure it out," and we pull it off and we have an image. And you shared with me a story when we met a while back that I would love to hear you tell it again, here on the podcast, about an unexpected rainstorm and how you were able to solve for that with your creative teams once you got everybody's heads together.

Doug Wallstrom:
Some of the fun parts, for us that is the fun, the actual photography aspect is 5%, 10% of the work. And the creative problem solving, and I love working in a budget, I think it's absolutely fantastic. It drives other people crazy, but I look at it as a challenge and we were asked to go do a campaign out in the Great Lakes region at the sand dunes. And it rained, we got washed out. We ended up turning it into a studio shoot. We rebuilt sand dunes in the studio, got some grass from up in Michigan. And actually, now know the guy in Michigan, if you ever need seagrass, I know the guy.

Daniel Jester:
You know the seagrass guy?

Doug Wallstrom:
I got my sea grass guy, really nice guy. And we came back into the studio and shot it in the studio with a very natural looking light and then went back, photographed the surroundings where we really wanted it, merged them together and ended up saving tens of thousands of dollars in crew time, travel expense. And we're really trying to leverage how can we... And I think that is a lot of the post-COVID, to be honest. In COVID you had to learn to be as clever as you possibly could with the dollars that you had.

Daniel Jester:
Absolutely.

Doug Wallstrom:
And the amount of team that you have. I look at it very similar to 2008. I think we've now come under a very large change philosophically, and how we do things and the size teams that we need to do things. Life of an image is so short now and technology is there. So how can we use that as a challenge and a creative way to solve? And we ended up shooting everything, stripping the backgrounds in. Our chief creative officer came down and it took her about 10 minutes to know that's what we did.

Daniel Jester:
That's amazing. That's a great story. And you made the point there that I think is really, really important, especially after this past week, at the time that we're recording this, it's just a few days after this most recent Henry Stewart conference. And one of the things that I realized in sitting in and listening to some of the sessions on that conference is that I really hope that all of our creative teams are institutionalizing a lot of the learnings that we developed over COVID, and maybe redefining the way that we think about our team and the way that we think about our supply chains. And when I say supply chain, I don't just mean physical product, but also digital supply chains as well. Because you're right, you're absolutely right. And I've said it on the podcast before. 2008 was a watershed moment for creative production and really was the birth of e-comm creative production as we know it today.

Daniel Jester:
And this is going to be another one of those. We realize that we can have, if we're very clever and we use the technology available to us, we can have decentralized teams doing the work on some of these things. You could do your shoot in studio with a small team and contract a photographer to go to the location that you need and get the location stuff, and send it to a retoucher, who's halfway around the world, and get it back by the time you wake up the next morning.

Doug Wallstrom:
And I love that. That just makes me smile thinking of that. It just seems fun.

Daniel Jester:
It's really interesting to think about. And again, I just really hope that we are institutionalizing some of these things. And business disruptions are going to come up again. They may not be the pandemic scale that we saw recently, but certainly weather is going to become more and more of a problem in various parts of the country. And that's going to impact either our teams directly or whether or not we're able to get samples in time. We all know the challenges around getting samples, period.

Doug Wallstrom:
Yeah.

Daniel Jester:
Let alone when Italy gets two feet of rain in a few hours or whatever crazy thing that just happened, and if you've got stuff coming from Italy, you can pretty much forget about it.

Doug Wallstrom:
Yeah. That's been a huge challenge for the last six months, is the physical supply chain and the digital supply chain. If hey, you get three quarters of your season of product in, and you're waiting, hoping that the rest of it comes, at what point do you have to ignore your efficiencies and start shooting? I know that that's one of our big things I'm looking at the moment in PDP, is our cost per shot's going up because our efficiency is down. If we have 10 backpacks to shoot or 20 backpacks to shoot, it's great if we have them all. But now we have 12 today, we're going to get 14 in three weeks and it's just spread out. So the natural efficiencies are being eaten away. And it's a great opportunity to go, "Okay, let's rethink how we're doing this." One of the biggest opportunities we had during the initial pandemic was... It's funny, actually, I was out in New York at a conference and I think most of you were there, actually. And it was just the week before everything was being shut down.

Doug Wallstrom:
And we were setting up to do our first launch for a collaboration with Harry Potter. And we had built these beautiful sets, had models flying in. It was going to be a huge launch. Then everything shut down. All of our sets, everything were sitting in trucks in New York and the launch date was getting closer and closer. We kept waiting to see if we'd be able to go shoot on figure. And the big turning point was when they decided, "No, let's just get everything in the trucks, ship it back to Fort Wayne." By the way, we're in Fort Wayne, Indiana. And they turned it into a still sheet. So the importance of still photography and product still photography went through the roof. And the company was fantastic at recognizing that we had an opportunity there. And in the end, it saved a lot of money because we have decided not everything has to be on figure. And we realized that now probably about 80% of the images that are working for selling are still lives.

Doug Wallstrom:
And so it's really given a big boost and a lot of visibility to the team. And it's made them feel very appreciated and a part of the company as a whole. It was a great opportunity for the team and it's really changed the way that they hold their heads up as they walk around the building.

Daniel Jester:
Totally. Yeah. As somebody who considers himself a still life guy, I certainly have shot on figure, but I was tabletop, straight product for a long time and then have done some campaigns, still life shoots for some brands. And there's something that I really love about sitting with a product in my studio, a lot of times by myself, just kind of exploring an object. I love that there's still some relevance there for that and that we have that opportunity. And you're absolutely right. There is something, when you have that really amazing still life image that it's engaging and there's not even a human person in it. That's something to be really proud of.

Doug Wallstrom:
Yeah. No, and we love it. We do on figure quite a bit, but our still life is definitely where our sweet spot is.

Daniel Jester:
And then you can change the Spotify playlist to whatever you want. It doesn't matter.

Doug Wallstrom:
Nobody's in there. [crosstalk 00:21:26]

Daniel Jester:
You can just listen to true crime podcasts.

Doug Wallstrom:
Exactly.

Daniel Jester:
Studio crimes. As we approach closer and closer, hopefully, to becoming a post-pandemic society and industry. I feel like that does kind of mean that in-house is redefined a little bit to mean some different things. What's your opinion on that?

Doug Wallstrom:
I think so. I mean, I think that in-house has an opportunity. Like we were saying earlier, you can get the bread and butter work done. You can do some nice high level work. You don't have to do everything, but you really can be a part of the creative drive and look, if you can be in-house and get ahead of the seasons, participate, build those relationships where people want to brainstorm back and forth. And post pandemic. Yeah, we'll go back to shooting on figure hiring teams to go around and do that. But now we will also have a part in that and we'll help drive it instead of most teams out there, I'm sure. It feels a little like Kinko's sometimes, and it's just much more of a service type of business. And I think now we're being viewed as an asset and we can bring something to the table and they've now realized it.

Daniel Jester:
Doug, that seems like a great final thought for this episode of the podcast. So I'm going to go ahead and call it there. We have absolved you of your studio crimes. You are free to go, sir. Thank you so much for coming on the show and talking to us and indulging my very silly introduction.

Doug Wallstrom:
I appreciate your silly introduction. And I just want to give a shout out to my team. I couldn't do any of this without them. They are the ones that actually do all the work and all of you listening out there, support your teams, give them the support they need and help facilitate.

Daniel Jester:
That's it for this episode of the podcast. I hope you'll not only come back next week for the next episode, but tell a friend about us. Many thanks to our guest, Doug Wallstrom. And thanks to you for listening. The show is produced by Creative Force, edited by Calvin Lantz. Special thanks to Sean O'Meara. I'm your host, Daniel Jester. Until next time my friends.
Subscribe to the eCommerce
Content Creation Podcast
About the host

Chief evangelist at Creative Force
Daniel Jester is an experienced creative production professional who has managed production teams, built and launched new studios, and produced large-scale projects. He's currently the Chief Evangelist at Creative Force but has a breadth of experience in a variety of studio environments - working in-house at brands like Amazon, Nordstrom, and Farfetch as well as commercial studios like CONVYR. Creative-minded, while able to effectively plan for and manage a complex project, he bridges the gap between spreadsheets and creative talent.