Back to list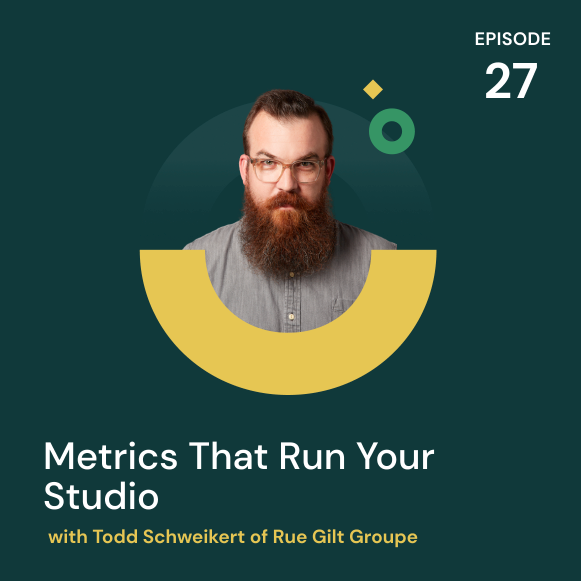 Episode 27 - September 21, 2021
Metrics That Run Your Studio with Todd Schweikert of Rue Gilt Groupe
Summary
This week Daniel is joined by Todd Schweikert, VP of Studio Production for Rue Gilt Groupe to discuss metrics and how to use them to support your team in day-to-day operations. Granular category level data in production can help you plan more accurately, but give you the ability to load balance when bottlenecks arise.
Key Takeaways
Understanding what comes through your studio and how long it takes is invaluable data to run.
Touch bases that rely on this data help keep teams on the same page and prevent silos from developing.
Many of the ways the studio uses data come from the bottom up, ensuring that studio teams understand the information and how it impacts the operation of the studio.
It's not enough to understand the data, but also what goes into it and how it's collected. Context is vital.
Remember that your perspective is limited, and you need to include other perspectives to ensure across-the-board accountability.
Performance metrics are a reflection of employee satisfaction.
Links & Resources
Full episode transcript
Daniel Jester:
From Creative Force, I'm Daniel Jester. And this is the E-commerce Content Creation podcast.

Daniel Jester:
We've discussed metrics on this podcast before, pulling from the wealth of knowledge that is my colleague Adam Parker, who you can catch on episode 1 and 21 of this show. Today, our guest is Todd Schweikert, VP of Studio Production at Rue Gilt group, who shares with us a little about the importance of metrics in making day to day decisions in operating their studio. Todd tells us how his team employs metrics to help support studio staff and keep overtime in check and gives us a few tips on keeping perspective and context when you're deep in the data.

Todd Schweikert:
Sometimes we get too pigeonholed in metrics and think we're driving the bus when all along, we're a rider in that bus. We just need to make sure that everyone that is being held accountable for those metrics have input and can offer their perspective.

Daniel Jester:
For that negative wisdom and more, let's jump into this episode right now. This is the E-commerce Content Creation podcast. I am your host, Daniel Jester. My guest today on the show VP of Studio Production for Rue Gilt group, Todd Schweikert. Todd, welcome to the show.

Todd Schweikert:
Thank you very much.

Daniel Jester:
Yeah. So you are coming to me from your studio in Kentucky. How are things in Kentucky today?

Todd Schweikert:
Things are good. We are on the precipice of holiday. So we're enjoying the weather and then getting ready for the increase in what we anticipate to be a pretty successful holiday season for us.

Daniel Jester:
Yeah, this is the time of the year that things start to get it really busy in the studio. Right before Halloween, product is rolling in and you got to get those images up and online. But we're not here to talk about weather in the Ohio River Valley. We're here to talk about today we're going to have a little conversation around metrics. So you and I spoke last week or the week before, and we were talking a little bit about studio metrics and looking at how important measuring the performance is, and sending our reports up to the leadership chain and within the studio and outside of the studio and all of the stakeholders.

Daniel Jester:
But one of the interesting things that we touched on was the ways that we can use metrics and data internally, and to sort of make tactical decisions about how to operate the studio, looking for bottlenecks, load balancing sets, all of those kinds of things. I'm very excited to have this conversation with you. So we got to figure out where to start to kind of unpack this, but why don't you tell me a little bit about your sort of overarching philosophy around studio metrics, how you share those things with your team. And then we can dig into a little bit it about how some of this information can help you make decisions on a day to day to make sure that your teams are load balanced and everybody's got the work that they need, and nobody's overloaded.

Todd Schweikert:
When we talk about studio metrics, there's two elements. One is how are we working and producing for the benefit of the business? How are we producing for the benefit of our member and what are the metrics we need to look at to accomplish those? The other side of the metrics side is really how are we working within our metrics to support our associates, support their capabilities, support their ambition, to push the envelope? While at the same time, anticipate schedule shifts and factor that in while our schedules are in the process of shifting. So for me, metrics really are those two elements. One side is business reporting. The other side is associate satisfaction.

Daniel Jester:
I think that's a really interesting angle because we think a lot about metrics as measuring performance and without taking that next sort of logical step of performance as a reflection of people's satisfaction in their work or the amount of work they have available to them to do. And one of the really interesting things that you shared with me is this idea of load balancing, seeing work coming in and saying, "Oh, we're going to be heavy on this set. Can we repurpose other things?" And using it to literally make in the moment decisions to make sure that no one team is overloaded and that other teams aren't sitting around maybe with nothing to do.

Todd Schweikert:
It was one of the bigger challenges for any studio with high volume productions. For us, it really came down to measuring a lot of different aspects of our business. When we started looking at this, one of the challenges we had was if we knew how much needed to be produced in a single day, and we knew how much a photographer and a stylist could work through on the day that the product would arrive, the styling may be different, different elements would change, and that day would either become lengthened or shortened. And lengthening the day definitely created issues. We would go into overtime. People would plan their day around obviously work. And so they would run into some personal challenges. And the only way to really compensate for that would be to either stay later or start the next day earlier, or just start to try to get creative on how to still work through all that.

Todd Schweikert:
On the flip side, we would have that same issue, but maybe the day would wrap a half a day early. Really that would come down to you're either paying for freelance that isn't being fully utilized or from a project perspective if we can't anticipate that a team will have a half a day available, we may not put a project in place knowing that team was already associated with a photo set. If we knew that photo set was only going to be a half a day, we could have implemented a project for that team to work on. But because they worked through the product much quicker than anticipated, it would leave the project a bit up in the air. And as a studio that affects our innovation and affects our ability to have some personal projects accomplished as well. So for us measuring, and I know that's always the where do you start to measure?

Todd Schweikert:
How do you measure? That's the big topic. We start at high level. We start measuring at accessories, handbags, footwear. And then from there, you start to break it into categories. Well, what type of footwear? What brands of footwear? We started to really get down to a more granular level. And for business reporting, we report at a higher level. We report at that accessories, footwear, handbag. But for our, what I would call associate satisfaction, that granular reporting became really important for that team. So we do measure the UPH all the way down to at a brand level, across many of our categories. I think when I started, we had 12 categories in general that we measured. And now we're at 3,600 because we are at brands, which seems a bit intense, but it's given us the ability to truly measure a set to say this set should take a team eight hours.

Todd Schweikert:
And it's a very complex combination of brands and product mix. And it gives us that ability to know how that set should be scheduled. What's beneficial is things happen. People call out. Product shows up later than you expect. So when we find ourselves in a situation where when a set was planned to a certain capacity, and if it looks like we're falling off track, we do keep tabs on every hour. The team that's on that set, we can see where they're at. So we can see at a percentage level, how far are they in their day?

Todd Schweikert:
And if we start to see that the team is falling off track, we already know how many styles by which category we need to move off to another set so that we can start to load balance. That started to change how we thought about our day. That started to change how we worked through our product. For Rue Gilt group, we are a flash model business. And so our events change, our timelines are tight and we want to make sure we work through product as fast as possible. So it's really important for us to fill in every gap that we have whenever we're met with some form of possible delay or other challenge.

Daniel Jester:
Right. I was going to mention that it's important context, I think for this conversation, which is that Gilt group encompasses several things, but Gilt primarily is a flash sale site. And one of my earlier jobs was in product photography for HauteLook when... I don't think HauteLook is really operating like it used to anymore. But the timelines and the needs are a little bit different than your typical sort of e-Com brand retailer, because you have stuff going live every day. And it's sort of these small capsules of collections of things, at least the way that HauteLook operated. And so you had to have everything shot for that collection in order for it to be able to go live and unbeknownst to the studio, the merchandising teams were moving flash sales around and all of these different things.

Daniel Jester:
And so you sometimes are, like you mentioned, working on very, very short timeframes and really having that granular level of detail becomes vital to understanding how to operate your studio. And from my I own experience at Farfetch also, right on about getting to know more details beyond the category. For example, at Farfetch, we had certain brands that we knew took twice as long to shoot, even though they were dresses. Category of dresses as a very big category, but we knew if something was coming in this brand, we could not expect our normal sort of work through rate to work for that brand because they were just more involved. The style and considerations were bigger. All of those kinds of things. How does your team respond to this level of detail in their ability to work? It sounds to me like you're approaching it from the aspect of, I want to help my team feel supported. What is your team's general sort of feeling about the way that you guys handle day to day and hour to hour metrics in the studio?

Todd Schweikert:
Well, I think it's received well. I think one of the things that I really appreciate is it wouldn't work without their feedback. This is not a top down approach. This is something that absolutely requires their feedback, their perspective, and when they have feedback on the process and when they're made aware of why it's happening, here's how it works. Then they become part owners in the process and then they care about it as well, especially when they can start to see the benefit of both the feeling of, wow we just worked through a lot of stuff today, as well as the same feeling of, and I didn't have to spend an extra two hours to get that done.

Todd Schweikert:
So I think once you gain in on their personal buy-in, their point of view, then it becomes really powerful. Then you start to have the individuals come to you and say, "I know we have metrics for this category. And we know we have metrics for this brand, but styling has changed. We're seeing more swimwear with items that have to be tied where last season that wasn't the case. Maybe we should adjust this to be more effective." And we've made some upgrades to our tool sets over the last year and a half that give us that ability. But without that feedback and without them caring, we may not.

Todd Schweikert:
And what's been really fascinating is if we make an adjustment to a UPH and although it might, let's say lower the UPH in some regard, we're spending more time on some of this product, but it looks better. And the member has a better experience. Too many times if we try to run all product at a high rate, the team will rush through it and it may not be our best product. So this kind of helps really level set what the team can handle from a volume perspective while at the same time, maintaining quality and putting the member first, making sure that they have the best available product to them.

Daniel Jester:
Is there any feedback loop back to maybe your teams that are putting together these collections in order to let them know hey, there are some categories or some types of things that take a lot longer for us. And so there may need to be some expectation setting on ability to shoot. It flashed in my mind that maybe the merch teams that at Gilt are putting together a collection of gladiator sandals and strappy bathing suits. And they're going to say they need it tomorrow. [crosstalk 00:12:19]. Is there a way for you guys to connect some of your granular data back to estimated realistic timeframes for when that product could be shot and go live on the site?

Todd Schweikert:
Yeah. So we do standard reviews with our merchants. For us, it's kind of a two pronged approach. One is what do they feel they need from a merchant perspective to show, and then how can we facilitate that? And if it means as I like to refer to it as an investment, it's not a cost. I mean, it's an investment. If we're going to spend more time, we're doing that to make some something better. So if there's an investment, we share that with them. If something's going to take longer. Now on the flip side, when they come to us with some ideas, we may come back and say, "Or we could work this way. If you're happy with this result." This actually is a more effective, efficient way of the studio.

Todd Schweikert:
If we do get a last minute, "Hey, here's a massive PO of gladiator sandals that we need it to run tomorrow." In some cases, there are scenarios where we'll say, "Okay, well, we're going to have to add two or three more sets." We're not going to try to get it out of one person. And how do we go about adding those sets? So that's the benefit I think in some regard where we can look at the product mix and know how to break up that product mix so that each set is actually hitting their quote unquote eight hour day versus one being at a six and one at a 10.

Daniel Jester:
That makes so much sense to me to have that level of granularity because from other aspects of the business, all you really need to think about is category. And we had this conversation with Colleen at REI on her podcast episode about the category of backpacks can encompass dramatically different amount of time to work on. A day pack or a laptop backpack that's very simple does not take nearly the level of time were the number of images that a technical hiking backpacker day pack might need. And oftentimes from outside of the studio business partners, all they really care about is the category. But at the studio level, it's like, okay, we're getting a hundred backpacks. Well, hold on. What kind of backpacks? Because a hundred backpacks of this type could be a couple of days. A hundred backpacks of this type could be a couple of weeks if we put it on one set.

Daniel Jester:
So that's how I operated also at Amazon. I would hold off from making specific decisions about staffing and where I was going to put my teams until I could actually lay eyes on the product if I knew it was a category that could come back to bite me. The category would sometimes just be sports and outdoors. Okay. It might be a hundred golf balls. It might be a hundred kayaks. Those are entirely different situations there. So having that level of granularity is an absolute must, I think. And I've often done I think kind of what you're describing too, is taking production data around something like shoes and then saying, "Okay, let's dig into the brand or the style of the shoe and see if there's any significant data differences here." Shoes as a whole took this amount of time to shoot. But then this one is the major outlier and you start to see that kind of repetitive. It's very nerdy, but I find it very exciting and interesting.

Todd Schweikert:
Yes. Well, I think for a lot of individuals in production and creative production, I think that we like to solve puzzles. And I think that when we're met with that ask of, "Hey, it'd be great to shoot it this way." And when we have the data to support the reason to, or to not shoot it that way, what typically happens is, "Okay guys, let's figure this out." How can we change our process? What can we do differently? Do we incorporate a different technology to support the ask at hand? It's not always just scheduling. It's sometimes incorporating different elements within our process so that we can maybe use compositing, something that has added benefit in our studio. So I think that being able to have that granular view of how to schedule just helps support the data analysis to approach multiple angles or improving product imagery. And when that starts to hit to a head, that's where you can start looking at how from a technology standpoint could we think about this differently to support it as well?

Daniel Jester:
One of the things that I think is very exciting about the way that you've operated this and when you mentioned about it being the ground up approach that I always found super satisfying as a studio leader, is when your teams see these things coming themselves and they start to rally around getting the work done. When your teams are involved in passing up this information and it's before even somebody needs to step out and say, "We got to do some load balancing here." You've already got people who have identified the bottleneck and are operating to clear it. I think that's very exciting and it's very satisfying to have built a team and a system of metrics that enables people to respond proactively to something as opposed to just siloed and focused on their own thing. Very satisfying.

Todd Schweikert:
Yeah, no, I agree. I think that is one of the biggest benefits aside from the ability to schedule and have that work out is to see others, to see individuals take ownership of the process, to be invested in the process, to be empowered about the process. Those are the things I feel once they are familiar with those metrics and then all of a sudden they're driving. They're not at the whim of production flow. They're actually driving the production flow, which is super beneficial. It's what we need to be effective.

Daniel Jester:
It's a very small perspective shift, but it's another one. Todd you're full of them, man. It's another slight, I hadn't really thought about it or certainly heard it articulated that way, but it really can often sort of feel like you're being overwhelmed by a river of production when you're in a studio that it doesn't feel like you can kind of control that thing. But if you can shift that perspective, build a few tools and put a few things in place and empower your team, now they're channeling that information and it just feels entirely different. And one of the things that you touched on that I think is also really important is all of this is a way to not just get the work done, but make sure that your teams aren't being or segments of your team isn't being totally overwhelmed or burnt out by the work.

Daniel Jester:
And I think that's a really admirable approach that benefits us all. We do better work when we're happier and we don't feel overwhelmed. And the last few years there's been a lot going on, like we were talking about just before we started recording, there's been a lot going on that we know that everybody's baseline for feeling overwhelmed is much higher than it used to be. So you mentioned earlier around that this is not a top down process. This is a bottom up process. I want to talk about what mechanisms you have in place for collecting that sort of feedback from the studio teams that help guide your decision making about what metrics you're looking at, what things you're considering when you're looking at how to operate the studio. What do you have in place to collect that feedback from those teams and get it out into the broader production organization?

Todd Schweikert:
Well, from a metrics perspective, we use Airtable to manage our process. And what's nice with that it's collaborative, it's online and everyone can see everyone else's progress. We have a studio dashboard where we can see how everyone's performing and what's happening. What's beneficial there is when we have our photo team touch bases and our styling team touch bases, which happen biweekly either in those meetings or in between those meetings, the individuals who are working on those sets will share, "Hey, this seemed right on. This metric seemed right on." Or "This metric seems like we should adjust it." And that's one of the benefits with Airtable is it's really quick to just update and it affects the calendar instantly. So that feedback is huge. The other couple things that we look at aside from just production metrics is we do a weekly hits and misses type of blast to the teams to say, "Hey, here's what looks amazing. And here's some things that could use some work. Or for one other reason, it's a different brand that we got in and we need to approach it maybe differently."

Todd Schweikert:
Weekly those hits are successful in the fact that they look great. The team did a great job. And typically those same hits were in alignment with our metrics. They weren't at a cost. They were on point, which was great. And a lot of times any of the other conversations around how to improve performance, it's happening in our photo team touch base, our styling team touch base, our imaging team touch base. And we do have a consolidated team touch base just because there are things that the imaging team works on that is great feedback for the photo team and vice versa, the photo team with the styling team. And again, it's not siloed. Everyone is working on a single product and it's really important to make sure those teams are all talking.

Daniel Jester:
Not to pry too much for potentially proprietary information, but I'm assuming imaging is not exactly camera onset team, right? There's other ways that you capture data around a product that isn't the traditional photographer and stylist relationship?

Todd Schweikert:
Yeah. Now how do you mean?

Daniel Jester:
So at Amazon, we had imaging devices that were operated by people who were more operation specialists and that was somewhat different from the photography sort of workflow.

Todd Schweikert:
Yeah.

Daniel Jester:
Because you're specifying imaging and photo teams. And I was wondering if that's what you're kind of referring to. There's other ways of capturing the product that is not the traditional photo team.

Todd Schweikert:
I'll be honest. We are a very traditional photo studio. We have a photographer capturing. They're setting the lights, they're running capture one. We have stylists who have prepped and or are styling the product. And then our imaging team is taking the actual image that has been produced and they are cleaning it up. They're-

Daniel Jester:
Oh, so [inaudible 00:22:12] is more a post production team.

Todd Schweikert:
Post production team. That's correct. [crosstalk 00:22:15]. We have post production in house as well as some third party services that we'll utilize. But yeah, what's beneficial with that is as a studio, outside of having metrics and instant feedback from a metrics perspective, we also have instant feedback from if a photographer shot something at 10:00 AM, the imager has it by 11 and they're may be giving feedback to the photographer by noon about, "Hey, this fill card is creating more reflection than we want and maybe we should reshoot it." And that's respected. I think the photographers rely on the imagers. The imagers also rely on the stylists and the photographers. I think once we start to incorporate individual ownership and they look at it as a collective team effort, that's where you really start to see everyone moving in the same direction, which is super beneficial.

Daniel Jester:
So Todd, we're just about at the end of time for this episode, but I kind of want to cap off our conversation with some ideas from you around our data and our metrics. So I'm going to ask you this question to give our listeners maybe something a little bit that you've learned over your time working in this way. What are some things that we should be doing with our data that we may not be doing and what are some things that we shouldn't be doing with our data or metrics? Take it away.

Todd Schweikert:
Ooh, that's a good one. I would say one thing that you absolutely need to do when it comes to metrics is you have to understand what goes into them. You have to understand what makes them, what are the obstacles to them? What could throw them off? I think that's key for a lot of reasons. One, you have to be able to explain to your business partners how to forecast, how to operate, how to set expectations, as well as run your studio, talk to your individuals. If you don't have a full understanding of what goes into those metrics, you're operating at a deficit. On the don't side. That's interesting. I would say don't keep it to yourself. I would say-

Daniel Jester:
Nice.

Todd Schweikert:
When you learn about those, when you start to explore metrics, make sure you share with your team. Sometimes your point of view is limited and you'll need your team's perspective to shine light on that. And so I think sometimes we get too pigeonholed in metrics and think we're driving the bus when all along, we're a rider in that bus. We just need to make sure that everyone that is being held accountable for those metrics have input and can offer their perspective.

Daniel Jester:
Very good insight. And that ties almost directly back to a past episode with my colleague here at Creative Force, Adam Parker, where he talked about being humble with your data. Don't assume that you understand or have the right perspective on it. And I think that's a brilliant key takeaway. Todd, thank you so much for your time today and talking with us. I think that conversation was really insightful and I really loved hearing that added perspective around performance metrics really being a reflection of employee satisfaction. I love that. That's going to be top of the list of key takeaways for the episode for me. But again, thank you for your time and your insight and for joining us on the show today.

Todd Schweikert:
Yeah. Absolutely. My pleasure. Thanks for having me. And I appreciate the podcast and I think it's a valuable asset to everybody that's in our industry. It's great to see. So thank you.

Daniel Jester:
Yeah, no problem. I'm glad to hear. One last thing before we go, do you have anything that you want to plug for Gilt? Any exciting upcoming things, any open roles that you're trying to fill? Anything that we can share to our network?

Todd Schweikert:
We do have some open roles. We are always looking for talented photographers, talented stylists, imagers, as well as management roles. And you can find those on our Rue Gilt group site.

Daniel Jester:
Amazing. Well we'll grab the link and put that in the show notes for the listeners. But Todd, thanks again and hope to have you back some time in the future. We can continue the conversation.

Todd Schweikert:
Absolutely. Thank you so much.

Daniel Jester:
That's all we have for this episode of the E-Commerce Content Creation podcast. Be sure to check out our show notes for links to connect with Todd and see the currently open roles available at Rue Gilt group. Many thanks to our guest Todd Schweikert and thanks to you the listener for listening. The show is produced by Creative Force, edited by Calvin Lands. Special thanks to my friend, Sean O'Mira. I'm your host, Daniel Jester. Until next time my friends.
Subscribe to the eCommerce
Content Creation Podcast
About the host

Chief evangelist at Creative Force
Daniel Jester is an experienced creative production professional who has managed production teams, built and launched new studios, and produced large-scale projects. He's currently the Chief Evangelist at Creative Force but has a breadth of experience in a variety of studio environments - working in-house at brands like Amazon, Nordstrom, and Farfetch as well as commercial studios like CONVYR. Creative-minded, while able to effectively plan for and manage a complex project, he bridges the gap between spreadsheets and creative talent.