Back to list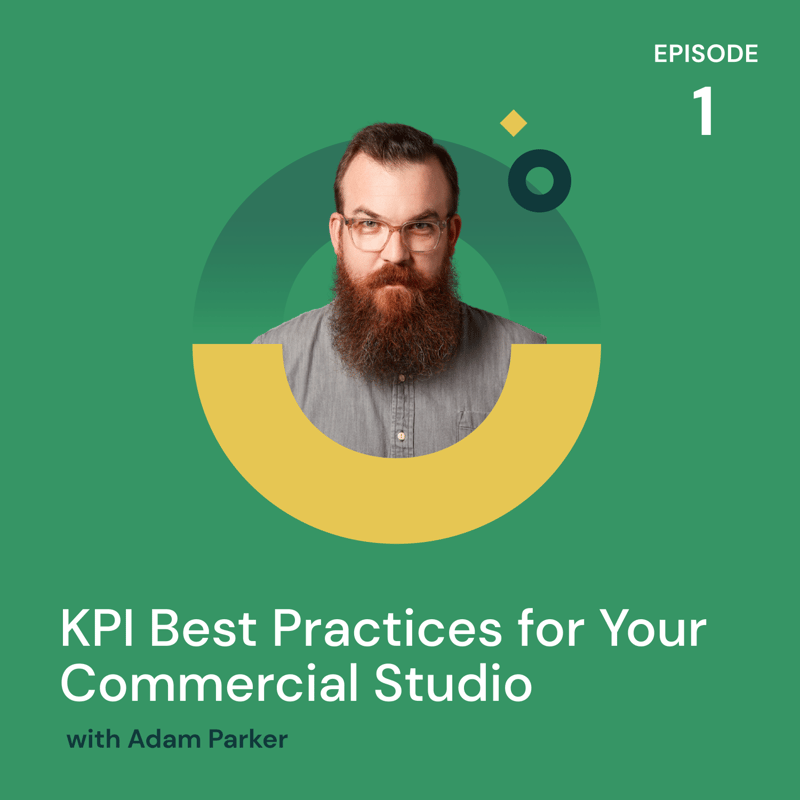 Episode 1 - April 2, 2021
KPI Best Practices for Your Photo Studio (with Adam Parker)
Summary
Adam Parker joins host Daniel Jester to talk about creating effective KPIs for your commercial production studio. We get into do and don'ts, deriving actionable goals from vague mandates, and telling fun stories about our past in studios.
Key Takeaways
Determining which KPIs you need starts with having a goal
It's not useful to know every detail about your studio metrics if they don't support a goal
Beware of weaponizing KPIs and in turn, breeding fear into your teams
Learn how to derive actionable goals from vague mandates
Pizza parties make for sleepy studios
Resources
Full transcript of the episode
Daniel Jester:
From Creative Force, my name is Daniel Jester, and this is the E-commerce Content Creation Podcast. On the show today, I have Adam Parker. Adam has been spending the last few months writing a KPI guide that he says he wished he had when he was managing a studio. How to make KPIs that are actionable, relevant to your goals and support your teams? Here's something that we haven't really spoken about yet that I think is super, super important. At the end of the day, all of these KPIs need to be actionable. We don't want to measure just for the sake of measuring. So all of these different teams, I've seen all of these different reports with all of these different measurements. Now, what are we going to do? What's next? Adam's got a lot of insight into how best to implement KPIs and use them to the benefit of your team. So we'll probably have him back for a future episode, but in the meantime, enjoy this episode of the E-commerce Content Creation Podcast. This is the E-commerce Content Creation Podcast. On the show today, we have Adam Parker. Adam, how are you doing man?

Adam Parker:
Doing fantastic. It's great to be here.

Daniel Jester:
Thank you. Thank you so much for being a guest on the show. I want to talk today with you about studio KPIs, and there's a lot to unpack when we talk about performance metrics for your studio and how you can use them to meet goals for your studio, some of the things that we should avoid doing with KPI, some of the pitfalls, but first, tell me a little bit about just your background. You have a really interesting background in studio operations and leading up to us now working together and you creating this really interesting KPI guide that will be coming out soon. So, or actually maybe out already as this show airs, remains to be seen, but tell us a little bit about your background and then we'll jump into KPI talk.

Adam Parker:
Yeah, absolutely. Absolutely. I, like many people, I feel in the photo industry came into my career through the back entrance or the side door. And I stumbled into a position running a photo studio for an upstart company called American Apparel in Los Angeles back in the late 2000s.

Daniel Jester:
Haven't heard of them.

Adam Parker:
Never heard of them. Yeah. Not many people have. Tiny little company. So they were, like I said, a startup basically at the time. So it was the Wild West and I cut my teeth there in their e-comm studio. And that's really where I got into the industry. Ended up chasing love out to New York and got a fast education and other aspects of the industry out in New York, working with agencies, managing studios for photographers, everything from painting sikes to producing editorial shoots and [inaudible 00:02:48] jobs and fancy bottle shoots and all that kind of fun stuff. So a wide array of jobs from digital tech to staffing full productions. So I think that's one of the things that's defined my career in general is doing a little bit of everything. And I ended up segueing into being a producer, which ended up segueing into studio operations. And I landed in San Francisco at Levi's launching their in-house studio and spent about five years there, running their studio.

Daniel Jester:
So KPIs are something that, and I don't want to keep calling it KPIs like that, but the metrics that we use to track performance, to benchmark our studios, to understand where we're at, how we're performing, how individuals are performing is something that has really become a big part of your career. And this is one of the things that my experience, my personal experience in the various studios that I've been a part of, there can be a lot of wheels spinning and there can be a lot of false starts and there can be a lot of focus on some of the wrong things.

Daniel Jester:
So I really wanted to get your perspective in this episode about how do we decide which KPIs to measure? How do we make sure we're measuring them in the right way? And then maybe we can touch a little bit about how we digest that information in a meaningful way, respecting our teams and their time, respecting the fact that people aren't machines. So I covered a lot of things there. So let's come back to start off with like, how do we decide what the right KPIs are for our studio?

Adam Parker:
I think that's a super important question and the way I would start would be zoom out. And I think that's one of the things that people get caught up in that is the wrong way to do things, which is doing what everyone else is doing. So take, for example, cost per shot. That's a very common KPI people use or shot counts per day. Those are two the most common things that every studio is thinking about or measuring. Now, is that important to your studio? Most likely, yes. We all want things to be cheap and we want to be productive, but you want to zoom out and actually think about what are your goals. And that should inform what KPIs and metrics you're creating and tracking. Different studios are going to have different goals. Some may be trying to produce really highly editorial branded content and maybe fine with shooting eight shots in a day as long as it looks incredibly pretty. Other retailers may want to shoot 150 items in a day. That's a kind of boring and dry example, but my advice would be to zoom out and look at an organizational level.

Adam Parker:
That's something that I think, I've heard people say, who's that? Like Steve Jobs or something, someone said, you hire smart people and have them tell you what to do. You don't hire smart people and tell them what to do. So the only way that works is if you have clear goals in place. If you set those clear goals, you can get smart people in your studio and get them marching towards the right KPIs.

Daniel Jester:
Great point. You can hire smart people, but without a direction to point them in, they're just smart people in a room.

Adam Parker:
Yeah, exactly. Exactly. And then once you have a direction to point them and you can start measuring, and that's where those KPIs come into play.

Daniel Jester:
To illustrate, I think, what you're saying about the right KPIs are really dependent on what your goals as a studio are. And you use the example of like editorial content. It can be really frustrating if the number one KPI for your studio is a productivity number, whatever form that productivity number takes place. And it might be low cost per shot. It might be high volume of shots. And then to step into like, as a photographer or as a photography manager, whose job it is to deliver reviews to photographers and to hit them with a performance review that's looking too heavily at quality.

Adam Parker:
You're pointing out a great point that KPIs could be used almost as a cudgel against a team. And that's the absolute wrong way to do things. And so having multiple KPIs, this is something you and I have discussed previously about why multiple KPIs are important. To use your example, if you have a photographer and you're only judging them on productivity, I mean, let's not kid ourselves, productivity matters, but there needs to be a quality metric as well, something that's going to engage them creatively or excite them creatively, or you're going to become a place that's just burning through people. And who wants to work there?

Daniel Jester:
You made a great point that KPIs, using them as a cudgel can create a culture of fear around metrics in your studio. And if you really want your teams to be engaged and to care about the work that they're doing, they have to crave that information that they get from those metrics and not be afraid of it. I think we can all agree, you and I on the show and our listeners that KPIs, we have to take great care, photography managers, stylist managers, anybody in a leadership position has to take great care to make sure that we're not creating a culture of fear around these metrics. And that comes from a number of things, putting too much emphasis on it. I don't want to believe at this point because we've got a lot of other things to unpack, but the bottom line, I think the point that we're making here is that whatever your goals are, whatever KPIs you have to support that, you need to be aware of, A, what's most important, and B, that you're not weaponizing that information against your team.

Adam Parker:
I think that's a great way of putting it.

Daniel Jester:
So coming back, let's talk about some specific things that we're looking at. So when you're talking about KPIs, Adam, do you think it starts with a goal and then works back to what those metrics are?

Adam Parker:
100%.

Daniel Jester:
Okay. So let's say if your goal is speed to web, what kind of KPIs would you think make the most sense to first benchmark and then push your speed to web faster and faster?

Adam Parker:
So this is where it gets a little bit more complicated and a little bit more interesting where we're looking at data sources, right? To measure speed to web, you're going to have to start looking at your tech stack and how things are measured within your studio. First off, when does this process even start? Is it when a project is briefed? Is it when a sample arrives at a studio? Is it when a capture is taken on your machine? What is the starting point in speed to web? The publishing on the website end point is a little bit easier to nail down.

Adam Parker:
So that's one thing that you have to figure out in this specific instance. This is where having a mature tech stack really does come into play, because if you have a project management system that's integrated with a production system that's also integrated with whatever your DAM and publishing systems are, you can see all of these events and they're being tracked and you can be rolling this up into something like Tableau or Looker or one of these business intelligence systems that can hoover up data from multiple different tech stacks, get it into one place and actually make sense of it. So, if you're looking at speed to web, you're probably looking at data from starting in a project management system hopefully, events taking place within production software if you're using that. And eventually, a date in web publishing or DAM software.

Daniel Jester:
Speed to web would be, I think, an unusual metric to be the number one thing that a studio would be concerned with. Usually, I feel like that's something teams brag about because they've addressed other metrics and they end up achieving a quick speed to web as a by-product of some of the other things.

Adam Parker:
It's also such a strange one. It's a good point of why these things matter so much organizationally, because a smaller brand that was founded as like a DTC brand that's web-first or web-only, it's going to be very easy for them to shoot something and throw it up on their website. And two days, 24 hours, they can do something like this, whereas older wholesaler brands with relationships where they've got to have photography for a product six months before a wholesaler will ever even purchase it, they're going to have a completely different time to market and a completely different process. So to compare Apples to Apples, between those two companies, would just be exercise in futility.

Daniel Jester:
Absolutely. I think a more common metric that you see, at least in the flavor of production studios that I've been in and my background is I would say not dissimilar from yours. I spent quite a bit of time in in-house commercial studios, where it was about production and it was about getting things moved through quickly. And then a little bit of time at some boutique creative studios, where we were doing more advertising work, we still did some e-comm work, but a really common one is productivity. And there are a number of different ways to look at that. When we are measuring things like productivity, my opinion is there are some things we really need to watch out for. And one of which is the process by which we collect the productivity data. It's so cumbersome that it starts to impact that data itself. Can you speak a little bit to that in your experience? I'm sure you've seen some really unusual ways of collecting information from teams on set that ended up having a tangible impact on the data itself.

Adam Parker:
I definitely agree that I've seen times when the measurement itself is taking up more time than the work itself, which is just a horribly stupid position to find yourself in, even though we've all found ourselves there.

Daniel Jester:
A 100%. So stupid and definitely have been there.

Adam Parker:
You're usually probably hunkered over an Excel sheet and when this is happening. And it's the pets, you're crunching data, trying to figure out, say, what's the number of pants that one retailer purchased year over year in this category? And your pivot tabling and this and that and the other thing, and four hours have gone by and you could have actually been doing real work. And again, I think a lot of these things come back to the zoom out idea from the start, which is what's your goal here? Is your goal to know every arbitrary fact about your studio? Or is your goal to make a tangible improvement and step in a certain direction?

Daniel Jester:
So let's flash forward a little bit. We have our KPIs, we have our goals figured out and we have determined which KPIs we can use to support that goal. And now we've benchmarked. We've spent some time, whatever process that might take in our fictitious studio that we're talking about right now, how do we take that benchmark at that information and analyze it in a way that is meaningful so that we can start to move the needle.

Adam Parker:
One thing that I've found useful, even though I don't know that this is the right way of doing things, but as with so many things in our businesses, you figure out what works and you just do it. When I've been saying zoom out and think about your goals first, I like to think of things in two terms, leadership goals and studio goals, and that is maybe flies a little bit in the face of everyone being organizationally aligned. And you're not supposed to think that way, but hear me out on it. I think leadership goals tend to be very done. I think leadership goals tend to be much more broad and much more vague for better, for worse, leadership likes to have goals like improve operational efficiency, like, okay, what the hell does that look like in the real world?

Adam Parker:
So I like to think of things in terms of leadership goals and then studio goals. And so an example of how you could pluck those things apart would be, let's take that example I just used, improve operational efficiency. That's what your marketing department from your brand hands you that on your yearly report. And now this is what you're supposed to do. How do you measure that? I would start by making a more specific studio goal that ladders up into that leadership goal. So if the leadership goal is improve your operational efficiency, what are some studio goals we could put behind that? Here's a goal, let's deliver a 100% of our product photography on time, probably not going to happen, but let's aim for the stars, hit the ceiling or something. Is that the same?

Daniel Jester:
[crosstalk 00:14:33] ceiling. It's something like that.

Adam Parker:
So yeah, you got your leadership goal that's like in super vague marketing speak, improve operational efficiency. Now you've got your studio goal that's actually something you can aim towards, deliver a 100% of my photography on time.

Daniel Jester:
It's something you can benchmark and something you can see what it is now and you can try to figure out how to get there.

Adam Parker:
And that's where you actually finally get down into a KPI. So, all right, what's the KPI? A percentage of total products needing photography that are delivered on or before a deadline. This is where it gets dry, but it's also where we start to talk about things that can actually be measured. What's the percentage of my products that need photography and are delivered on or before their deadline? And now we're getting into something we can work with and we can start to think about, all right, where would I get the data for that information? Well, probably from like a studio management platform or maybe from a CSV or a Google Sheets for your tracking your information, maybe from a combination of your PAM and your assets that are delivered. There's all these different data sources.

Adam Parker:
And in the KPI guide, we cover in depth how to link all of these things and how to find all of your various dimensions and metrics and measurements. But yeah, I think getting those leadership goals, diluting them into a studio goal and then starting to get into these actionable KPIs is tricky, but it's how these things actually start to become useful.

Daniel Jester:
And then it trickles down into hopefully in the right kind of studio that all of us want to work in, it trickles down into photography managers saying to their teams, we've got 5% to get to where we want to go. And so what can I do today to help you get there? What is keeping you from shooting that extra shot at the end of the day? What is on your plate that is keeping you from increasing your output? And the point of this is, and I want to be extremely clear to our listeners about this, the point of this is not to just ask your teams to do more. It is what can we take off your plate that would help you do more?

Adam Parker:
Yeah. And also, you can get into, like you said, when you have that culture of people not being scared of these reports and not using it as a cudgel against your team and a culture of how can we help you do your best work? You can also even get into it being gamified. We were at 4% last season, can we get down to 3% this season of things delivered post-deadline or down to 0%?

Daniel Jester:
And then you give them a pizza party.

Adam Parker:
Yeah. Or bottle of bourbon, depending on your studio.

Daniel Jester:
Guys don't use a piece of RD as an incentive for your teams, just PSA. And pizza parties are not great incentives in 2021.

Adam Parker:
Everyone's going to be asleep two hours later. That's not great.

Daniel Jester:
Oh yeah. Oh yeah. A heavy lunch reward for doing a great job. And then everyone, the whole rest of the day, and now we-

Adam Parker:
Now it's probably someone's birthday later that afternoon, you got cupcakes, and everyone's just like on the floor.

Daniel Jester:
Yeah. Now we actually sound like the worst studio managers who are concerned about feeding their teams the wrong thing.

Adam Parker:
If you're going to pretend that food doesn't matter in a studio, you're lying to yourself.

Daniel Jester:
Oh, absolutely. That's a whole other episode unto itself on how important food matters from making sure it shows up to what is it? Is it too heavy for us? Because we probably don't want to do that.

Adam Parker:
I mean, I can almost tie this back to the previous conversation though, in that I remember working in a situation where it was a very budget conscious studio and the producers were struggling because they had a limit on the catering budget they could use. And the catering that they could afford was terrible. And of course, that's terrible for morale in the studio, but we were able, because we had good, good measurements, we were able to say, look, if you guys can shoot two more outfits a day, that pays for the good caterer. And we came to an agreement with their production manager that if we could shoot 38 outfits instead of 36 outfits in a day, that worked out to an extra, I think, like $800. And the good catering was paid for with this outfit.

Daniel Jester:
It's a lighthearted anecdote, but the truth of it is, and I'm going to do all sorts of witchcraft to pull out a morale to that story, which is that you have to be open and honest about what these KPIs are and what they mean for your team. They have to mean something. Your team is not going to be able to perform if they don't know what the goal is. And if they do know what the goal is, they need to know where they are in relationship to that goal.

Daniel Jester:
So all of this stuff needs to be visible. It needs to be transparent. It needs to be obvious and it should be spoken to in real terms, what does meeting this goal mean for our studio, for our organization and for the company? And hopefully, again, if you're a right-minded management team, you are rewarding the teams that are actually doing the work and with something, food is important, that was all pretty lighthearted about it, but we're talking about meaningful career growth for your teams who are doing the actual work is what we want to see. Adam, I've been dying to ask you this question. What is your favorite KPI?

Adam Parker:
That is the worst question. No, I'm just kidding. I'm going to say that my favorite KPI, because I like challenges and I like to challenge myself, my favorite KPI is my Don Quixote windmill, the KPI of conversion metrics because it's the hardest. No one can do it well. I haven't seen anyone do it well.

Daniel Jester:
Let's dive into it. What if you learned about it? To make it clear for listeners, what we're talking about is customer conversion. So who's buying the stuff? And historically, my opinion has been, I'm going to inject a little bit of my opinion on this topic because I have been one of those people who says all the time, that there are way too many variables to tie this back to the studio. If you read the Creative Force blog post about KPIs, I believe conversion made it into the top 10. And there's a big caveat in there, which is that there are so many things that can impact conversion above and beyond image quality or whatever metric you want to tie it back to at the studio level. That being said, I'm dying to know Adam, what you've learned about conversion, because this has been a personal crusade of yours. And I think it is really interesting. I think it's a very interesting thing to say studio support sales, we know that, we know that good creative support sales. It's really hard to know to what extent it does.

Adam Parker:
And the answer I'm going to give you is going to be an unsatisfying one. But the answer that I've discovered is teams are really disconnected in most brands and in most companies. And so the teams that are doing AB testing on websites are often so far disconnected from the photo studios that drawing that thread between the two so you could get useful information on these things is often near impossible. And so while I don't have some solve all, this is what you should do type piece of advice, which would probably be worthless anyways, since companies are also different. What I can say is that fixing that and getting those teams closer together would be a huge unlock, I think, for so many brands. And it would also be so exciting at a studio level if you could know, like, hey guys, remember how we switched things up last week, we brought in that model that was more expensive. We took a little extra time and we actually impacted sales in this meaningful, measurable way like (beep) pizza party. Let's get some champagne.

Daniel Jester:
You're speaking my love language. Adam, you're speaking my love language. When you said to engage your e-comm teams in the creative process, because this is a thesis that I've been developing for some time that you need to have your web teams involved, you need to have cross-functional meetings that are productive because your e-comm teams right now, hey, listener, your e-comm teams have gripes with your studio that they're not sharing and that could make their lives a 100% better. And I bet you it's something as dumb as image names, because image names in a certain way, can't be sorted a certain way and it's a lot harder for them to do their jobs. Your web teams deserve to be in those meetings and talking about ways that the studio can deliver a better product to its customer, which is the e-comm team. The studios' customer is the team that puts those assets on the web or puts them where they need to go. Oh God, I'm getting fired.

Adam Parker:
Preach. No man. You're absolutely right. And also, if they're not in those meetings, they don't know how much better they could have it from the studio teams, they don't know that they could be receiving assets, like forget the file names that are rich with metadata that's showing up completely sorted into whatever categories they need that'll make their AB testing miles easier. The fact that, like you said, the fact that the customer and the vendor being the studio aren't sitting in the same room so often, it's criminal. Daniel, it's criminal.

Daniel Jester:
It's absurd. It's absolutely absurd. My thesis came out of personal experience, watching this unfold for a client of mine, where they invited their e-comm teams to meet me in their studio. And then all of a sudden, we're solving problems that the e-comm team has been sitting on forever. It solidified it right there as like a tenant of how to run a good organization is you need, and there's a lot of pitfalls with this. These things need to be productive. So if you're a company that's not currently having productive meetings, maybe figure out how to have productive meetings before you start inviting additional stakeholders in the meetings is a good point. Obviously, we're talking about it in a perfect world.

Daniel Jester:
I've made the joke about your favorite KPI. And I have two of them that always makes people cringe. And none other than James Lewis is one of those people who's going to cringe when he gets around to listening to this, I believe in safety as a KPI. James will tell you that safety is culture, and then I'll respond with, it is both of those things because your KPIs can absolutely turn into your teams doing things at the expense of safety in service of a KPI. So if safety is not a culture and a KPI, something that you're talking about at the beginning of every meeting, where you're saying, and safety is a KPI, you're thinking like, what the heck is that?

Adam Parker:
It's the oldest metric in the book. It's the X number of days since our last accident.

Daniel Jester:
That's a metric, baby. That's a KPI. That chalkboard sign in the factory is a KPI, right? If you're not talking about safety and they're not putting it up front, it's out of sight, out of mind with your teams. I wholeheartedly believe that. I've worked in a studio where we put safety first. It was the first thing we talked about in business meetings. And I actually got feedback. This is not a joke. This is not a story that some keynote speaker is trying to tell you, I got feedback from stylists who said, I would rather work here than somewhere else because you guys care about our safety, and a studio is a dangerous place to work. That's the bottom line.

Adam Parker:
That's really interesting. And I have to say I've never heard that from anyone else. So that is really interesting to me. And the part that I will say I do know is that a studio is a dangerous place to work. We all have stories about the frickin power pack exploding and shorting the entire place, there's someone who didn't know how to use the circuit breaker. The studio is the only place where you've got some kid who's like 19 and his last job was at a coffee shop, and he's awesome, don't get me wrong, but he's expected to work insane electrical equipment with like one day of training or two hours that morning. Where else does that fly?

Daniel Jester:
To that same degree, you're often hiring very early career people whose past job may have been in the food service industry. And then you're handing them a machine that turns water into hot steam and saying, hey, use this tool and also don't get burnt, or you're not even saying, don't get burnt. I would say, don't get burnt. And then I said, you know what? That's not good enough. We need to give them tools to not get burnt.

Daniel Jester:
The bottom line is I think we started off talking about KPIs and the function of them and so the technical side of them, but at the end of the day, like a lot of things in good management and management of good teams is that it's a way for us to illuminate what the tools that our teams need are because we have a goal, we have a way to benchmark and we have a way to know if we're improving it. And the way that we improve it is we figure out, do you need tools? Do you need time? Do you need attention? Any of those things, it opens up the door to a conversation about how do we get to this goal? And you have to engage your teams in that.

Adam Parker:
That reminds me of one of the approaches that we took in making this KPI guide was thinking about the different types of teams that we're going to be using it. And so like there's many different groupings of KPIs, groupings of reporting. There's reporting for your CMO, reporting for your higher management people. That's a completely different set of KPIs that they're going to be interested in.

Daniel Jester:
That's a whole other podcast episode on your reporting deck and who it goes to and who needs to see it.

Adam Parker:
Because there's day-to-day metrics, like you were saying, safety is an ongoing evergreen metric. Onset productivity, we all know that one, set A, shot 32 things and set B, shot 17 things with X going on. And you find out that set B, the photographer was hung over. And so it makes sense. But the day-to-day metrics of talent and team performance are one sort of grouping of KPIs. Higher management and reporting to your boss basically is another set of KPIs. Your accountant and your financial reporting is a whole nother group there. Things like flow reporting and seeing like what steps in the process, things are getting bottlenecked and things like that. These are all different groups and different teams that need this information and they want to use this information. It's a whole world of measurements and metrics that you can get lost in, but it's also really, really useful to think about it in an organized way.

Adam Parker:
And I think going back to what you said earlier, how can we help you? Here's something that we haven't really spoken about yet that I think is super, super important. At the end of the day, all of these KPIs need to be actionable. We don't want to measure just for the sake of measuring. So all of these different teams have seen all of these different reports with all of these different measurements. Now, what are we going to do? What's next?

Daniel Jester:
Adam, thank you so much for your time and coming on the show to talk metrics and data with me. I think there's some really great insights in there. And honestly, I think there's probably an opportunity to have you back on the show in the future to dig into some of these other topics. But in the meantime, thank you so much for being a guest on the show. Do you have anything that you want to plug for our listeners? I mean, we've got-

Adam Parker:
Pick up my album, checkout my movie. Just kidding, but do checkout-

Daniel Jester:
Check my SoundCloud.

Adam Parker:
But do checkout the KPI guide. I wrote it basically as the guide that I wish I'd had when I started managing a studio. So check it out. If you're in the field, you probably will find it useful.

Daniel Jester:
My thanks to Adam for taking the time to discuss his thoughts on metrics with me. If you're interested in learning more about the KPI guide that Adam is working on, check the show notes. The guide itself comes out in phases and we'll keep the show notes updated with relevant links. This show is produced by Creative Force. My name is Daniel jester. Until next time, friends.
Subscribe to the eCommerce
Content Creation Podcast
About the host

Chief evangelist at Creative Force
Daniel Jester is an experienced creative production professional who has managed production teams, built and launched new studios, and produced large-scale projects. He's currently the Chief Evangelist at Creative Force but has a breadth of experience in a variety of studio environments - working in-house at brands like Amazon, Nordstrom, and Farfetch as well as commercial studios like CONVYR. Creative-minded, while able to effectively plan for and manage a complex project, he bridges the gap between spreadsheets and creative talent.

Creative Operations Consultant
Adam specializes in creative studio operations with a focus on technology and process. He has a deep background in photography production and has worked for some of the biggest brands in the world.

Currently:
Self-Employed

Previously (In-House):
Levi's, CreativeForce.io, BitTorrent, American Apparel, The North Face, JaegerSloan, Shu Akashi, Ondrea Barbe

Previously (Freelance):
Calvin Klein, DVF, Kenneth Cole, Coach, V Magazine, Hearst, Estee Lauder, Kiehl's, Zales, Tanqueray, Johnny Walker, Diageo, American Express, Clinique, Squarespace, Hornitos, Wylie Dufresne restaurants, Price Waterhouse Cooper. Gray, Mother, Heat, BBDO, McCann
Connect with him on LinkedIn.