Back to list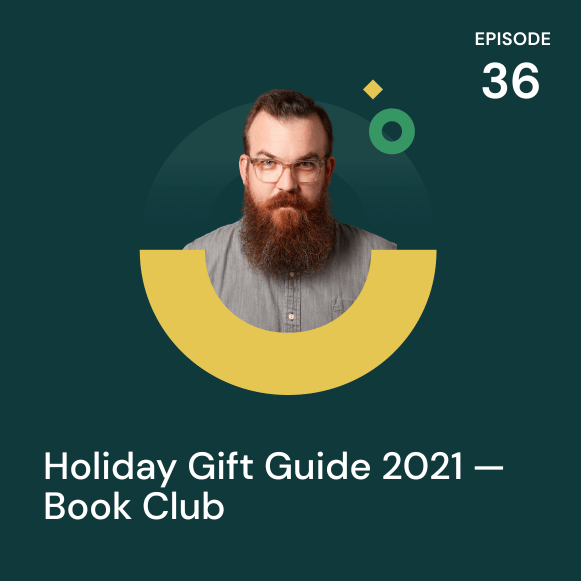 Episode 36 - November 23, 2021
Holiday Gift Guide 2021 - Book Club
Summary
Over the last 35+ episodes of this podcast, we've had a handful of book recommendations come up over the course of an episode. As we approach the holiday shopping season and begin to think about gifts for our family and friends, here are some book recommendations that may be just the thing.
Key Takeaways
Full episode transcript
Daniel Jester:
From Creative Force, I'm Daniel Jester. And this is the E-commerce Content Creation podcast. Over the last 35 plus episodes of this podcast we've had a handful of book recommendations come up over the course of an episode. As we approach the holiday shopping season and begin to think about gifts for our family and friends, I wanted to use this episode to serve as a sort of gift guide for your boss, your team, or anyone in your life that you think might benefit. Books make great gifts. So this guide is going to focus on a few books that have been mentioned in the past on this show, as well as a few of my own recommendations. We will put links to all of these in our show notes. So no need to take your own notes, especially if you're driving or exercising. Please don't do that. You can follow up at creativeforce.io/podcast and find the entire gift guide there.

Daniel Jester:
The first book I want to talk about is Radical Candor by Kim Scott. This book was recommended back in episode 13, with Ali McLeod of Saks Fifth Avenue. Ali mentioned that she's a strong believer in practicing radical candor at work, and that her teams are more communicative and effective as a result. Here's a quick synopsis. Radical Candor is about caring personally and challenging directly, about soliciting criticism to improve your leadership and also providing guidance that helps others grow. It focuses on praise, but doesn't shy away from criticism to help you love your work and the people you work with. The striking thing about this book for me is the amount of practical advice the book gives to implement the philosophy that it espouses. It doesn't just tell you why you should do this or adopt that. It gives very specific examples, anecdotes, and situations that real people are likely to encounter.

Daniel Jester:
The book really is about having better, more meaningful relationships with your team, your boss, and everyone else at work. If you follow Kim Scott on LinkedIn you can start to see a thread develop where practicing radical candor can lead to more meaningful career growth for yourself and your employees. Here's an excerpt that I found particularly useful in illustrating radically candid feedback. "Guidance doesn't just come at work. Every so often a stranger offers some radical candor and it can change your life if you're listening. This happened to me shortly after I adopted a golden retriever puppy named Belvedere. I adored Belvedere and spoiled her utterly. As a result, she was completely out of control. One evening, we were out for a walk and Bellvy began to tug at her leash as we waited a crosswalk, even though cars were speeding by only a few feet in front of us. Come on, sweetie, sit I implored.

Daniel Jester:
The light will be green in a second. Despite my reassurances, she yanked even harder on the leash and tried to lunge into the street. A stranger also waiting to cross, looked over at me and said, I can see you really love your dog. In the two seconds it took him to say those words, he established that he cared and that he wasn't judging me. Next he gave me a really direct challenge. But that dog will die if you don't teach her to sit, direct, almost breathtakingly so. Then without asking for permission, the man bent down to Bellvy, pointed his finger at the sidewalk and said with a loud firm voice, sit. She sat and I gaped in an amazement. He smiled and explained. It's not mean it's clear. The light changed and off he strode leaving me with words to live by." That's Radical Candor by Kim Scott.

Daniel Jester:
The next look on our list is The Four Disciplines of Execution also known as 4DX by Chris McChesney, Sean Covey, and Jim Huling. 4DX is a simple, repeatable and proven formula for executing on your most important strategic priorities in the midst of the whirlwind of day to day operations. By following the four disciplines, focusing on the wildly important, acting on lead measures, keeping a compelling scoreboard, and creating a cadence of accountability, leaders can produce breakthrough results even when executing the strategy requires a significant change in behavior from their teams. I mentioned this book in episode 21 when I spoke to my friend and colleague Adam Parker about KPIs and reporting. There are a lot of good insights in this book, but for me, what stood out the most is keeping a compelling scoreboard. This comes up often in creative production.

Daniel Jester:
Historically in e-com studio needed to achieve a certain level of individual productivity to be considered solvent. And one of the key elements to enabling your teams to win is they need to know the score. While my personal experience is that studio teams tend to shy away from a public display of shoot counts or performance against daily goals, I'm a firm believer in this idea, taken from an excerpt of the book. Great teams know at every moment, whether or not they are winning, they must know. Otherwise, they don't know what they have to do to win. A compelling scoreboard tells the team where they are and where they should be, information essential to team problem solving and decision making. I think this is a really important way to characterize the idea of having a scoreboard in your studio, is that it's about the team performance. It's not highlighting individuals who are underperforming or over performing. It's about understanding where the team sits and how we can collectively achieve our goal by understanding where we are.

Daniel Jester:
Next up is Scrum by Jeff and J.J. Sutherland. Similar to 4DX, Scrum is another sort of management system. And it's one that really resonated with me personally, partially because it made it painfully clear how bad I am at multitasking. And in fact how bad we humans are at multitasking. Here's one of my favorite exercises from early on in the book in chapter five, titled Waste is a Crime, take a piece of paper and a pencil, and you're going to write out three columns. Column one are the numbers one to 10 from top to bottom one, two, three, four through 10. Column two are the Roman numerals one through 10. So I, V, X and so on. And column three is going to be the letters A through J.

Daniel Jester:
First, you're going to time yourself writing out each of those things, but one row at a time. So you start with the number one and then the Roman numeral one. And then the letter A across all three columns and you work your way down from there. When I timed myself, it took me 38 seconds to complete this. Now you repeat the exercise except complete one column at a time, writing out numbers one through 10, then move to the next column and write the Roman numerals one through 10, and then move to the next column and write the letters A through J. This time it took 20 seconds, 30% faster by changing the approach.

Daniel Jester:
The point of this exercise is there is a tremendous amount of time lost to context switching. Your brain is powerful, but it is not all powerful. And it can take time to move from one mental construct to another. This effect is greater and greater with the more projects you attempt to take on at once until you lose so much time to task switching and context switching that you're only getting about 5% of your brain power to actually apply towards the work that you need to do. Scrum for me was one of those books where it was easy to see the practical benefits of a different way of thinking about tackling projects. And with many similarities and shared roots with lean production, you can bet that Scrum has some benefits for your studio as well.

Daniel Jester:
The next book on the list is The Phoenix Project by Gene Kim, Kevin Behr, and George Spafford. The Phoenix Project is a bit of an unusual one. It's the only business book I've ever read that was written as basically narrative fiction. And it's also by far the fastest I've ever read a business book. The book centers on Bill who works in IT for a storied parts company that is having trouble modernizing. Bill has a limited amount of time to course correct their big IT initiative or face his team being outsourced. Throughout the story, he has the help of some of his key team members and a rather mysterious board member who has a way of swooping in when Bill is stumped and dropping some folksy board member wisdom.

Daniel Jester:
If this sounds a little corny, it can be at times, but it is genuinely engaging and served to highlight some of the most common gremlins that can interfere with a project completing on time and on budget. Like any business book, you're going to get out of it, what you will, but I found it fun to read and helpful in looking for the things you need to protect in order to get your work done. These last three books I'm going to mention are more general interest, but I think it can make quite a nice gift for a certain type of person in your life. The first one is The California Field Atlas by Obi Kaufmann. This is an incredible book to have on your shelf and browse through when you're planning your next outdoor adventure. The California Field Atlas serves as a history book, a guidebook, and a reference manual for all things outdoors and natural in California.

Daniel Jester:
Each page is graced with absolutely gorgeous watercolor illustrations of flora and fauna that graced the golden state. It's an incredible book. It's one of my favorite books that I have in my bookshelf. I probably take it off the shelf once a week and flip through and read some of the chapters. It's an amazing piece of art and insight into the nature and the beauty of the golden state. The next book is Medallion Status by John Hodgman. It definitely helps to know who John Hodgman is and his unique brand of comedy in order to make this book easier to read as you kind of need to read it in his voice. But I think any reader will find it insightful and funny. It's a collection of stories about status earned and then lost, and then rediscovered that is easy to read, funny, and heartfelt, which is exactly what makes John Hodgman a treasure.

Daniel Jester:
John also is the host of one of my favorite podcasts, Judge John Hodgman, where he adjudicates bizarre disputes with a seemingly impossible combination of a reverence and insight that makes you laugh and then think hard about what type of person you are in the world. I'm a big fan of John Hodgman and I've read several of his books. And this is one of my favorites. The last book on the list is The Food Lab by J. Kenji Lopez-Alt. And to call this a cookbook would be dramatically underselling it. The Food Lab digs into the science of applying heat to various compounds in order to help you understand how to make exactly the type of scrambled eggs you want. And that's not a joke, there's an entire chapter dedicated specifically to scrambled eggs. I really like to cook and a key to true exploration in the kitchen is knowing what ingredients and parts of the process are key to the final dish and where you can explore flavors and make changes to suit your taste. The Food Lab delivers this knowledge and then some.

Daniel Jester:
That's it for this episode of the E-commerce Content Creation podcast, a short and sweet episode this week for you. Hopefully some of these books sounded good to you and you have somebody in your life that you think they might make a good gift for. That's kind of what we wanted to do here. It's one of the things that I sort of enjoy doing every year around this time, is giving some gift ideas for some people who may be stumped on some of the people in their life. So books are always a great idea. And I think some of these books here might be good for the people, the coworkers, and the family and friends in your life.

Daniel Jester:
At the time that this episode airs, we are in the midst of the holiday season with Thanksgiving here in the United States, and then upcoming looking forward to Christmas and that sort of thing. And I wanted to take this opportunity to say thank you to all of you listeners for listening to the show and downloading the show. Thank you to all of the guests, past guests of the show. A huge thanks to Calvin Lanz, who edits the show for us and to Sean O'Meara who, although it isn't exactly his job to be producer of the show, the work that he does as producer and on behalf of the show is invaluable to me definitely. Thanks also to the team at Creative Force for putting their trust in me to do this show along with some of the other things that I do and my sort of day job for Creative Force.

Daniel Jester:
I would've never dreamed to have this kind of a career pivot, but here I am. And I'm having an amazing time and I'm learning a lot from all of you about it. And so in the spirit of, again, Thanksgiving here in the United States, thank you all so much for your time and for being a fan of the show. The show is produced by creative force, edited by Calvin Lanz. Special thanks to Sean O'Meara. I'm your host, Daniel Jester. Until next time my friends.
Subscribe to the eCommerce
Content Creation Podcast
About the host

Chief evangelist at Creative Force
Daniel Jester is an experienced creative production professional who has managed production teams, built and launched new studios, and produced large-scale projects. He's currently the Chief Evangelist at Creative Force but has a breadth of experience in a variety of studio environments - working in-house at brands like Amazon, Nordstrom, and Farfetch as well as commercial studios like CONVYR. Creative-minded, while able to effectively plan for and manage a complex project, he bridges the gap between spreadsheets and creative talent.