Back to list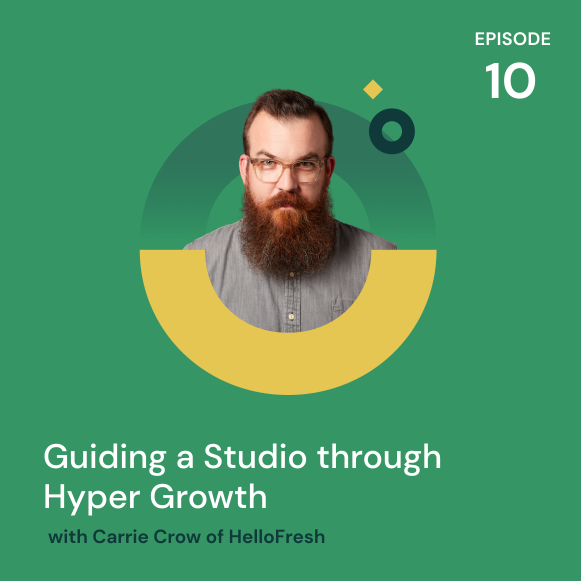 Episode 10 - May 25, 2021
Guiding a Studio Through Hyper Growth with Carrie Crow of Hello Fresh
Summary
Carrie Crow of Hello Fresh joins Daniel to talk about some things she learned when Hello Fresh was acquiring brands and rapidly expanding, along with their content needs. We discuss how it's ok to get it wrong at first, and learning your lessons quickly. Carrie quickly realized that her team and space needed to be modular and nimble, constantly growing its skillset and capability while anticipating what future creative requests might be.
Key Takeaways
It's ok to get it wrong at first, but fail fast and move on. Leverage your learnings and always review or hindsight your work.
Rigid team structures and processes make it almost impossible to adapt when your company grows overnight.
Cross-training teams to make sure that any one creative team member can produce content for any channel is important to agility and business continuity.
Offering the opportunity for your teams to build portfolios is a great way to attract top talent and engage teams.
In NYC, if you need a tiger on set, Carrie can help you out.
When planning is difficult, you can always look at the worst case scenario and determine a plan.
Links & Resources
Glossary
Steve Giralt: Visual Engineer, Director, and Photographer at

The Garage

which is NYC-based content studio that specializes in engineering incredible video content through the use of robotics, AI and human ingenuity.
Full episode transcript
Daniel Jester:
From Creative Force, I'm Daniel Jester. And this is the E-commerce Content Creation Podcast.

Daniel Jester:
My guest today on the show is Carrie Crow of Hello Fresh. When Hello Fresh began acquiring other brands and their growth trajectory was steep and getting steeper, it became clear they needed a way to scale the studio along with it. The key was modularity and skillsets, and anticipating the type of work they might need to produce, and then do it before it gets asked for.

Carrie Crow:
It's really increasing capacity and the skillset of the team, and to making the work for ourselves before we get briefed to do it.

Daniel Jester:
Before we join this conversation, I'd like to ask you, the listener, if you're enjoying this show and aren't subscribed on Apple Podcasts or your favorite podcast app, please do so. And while you're there, if possible, leave us a rating or even write a review. We'd also like you to join in the conversation. So stick around to the end of the episode and I'll tell you how you can do just that. Here's my conversation with Carrie Crow.

Daniel Jester:
This is the E-commerce Content Creation Podcast. I'm your host, Daniel Jester. And my guest on the show today is Carrie Crow from Hello Fresh. Carrie, welcome to the podcast.

Carrie Crow:
Thank you, Daniel. It's wonderful to be here.

Daniel Jester:
So we have you on the show today to talk about managing your teams through hyper growth. And your current employer, Hello Fresh, is unique experiences that give you a lot of expertise in this area because of the incredible growth that they've experienced. But let's take a step back and talk a little bit about you and your background, and then we can jump into the juicy conversation.

Carrie Crow:
Yeah, absolutely. I started out actually as a performer and habited to photography about 10 to 15 years ago. And really loved the medium, and at a certain point realized that my fluency in language of photography was pretty limited. No matter how many things I studied, I was never going to be a Steve Giralt, the great giant visual engineer of my dreams. Really my passion was in managing people to do that work. And so I turned to creative and studio operations about 10 years ago. So I've been managing content for innovation brands for Mars Wrigley, and I joined Hello Fresh about three years ago. Took a year off to work for an emerging rental fashion company called Castle, and then I came back to Hello Fresh last year to build out their studio in Industry City. And so here's where I am, and it's just a fabulous studio environment. I just love it.

Daniel Jester:
Yeah. Incredible. And just as an aside, since you mentioned Steve Giralt, the guests on my show, we're going to go ahead and make a note and put some pressure on him that we'd love to have him as a guest on this podcast. And so when we post this on LinkedIn, maybe we'll tag him and say, hey, you were mentioned in this show, please be a guest.

Carrie Crow:
Well, so he let us do a quick drive by. So he's a neighbor over here, and we did a drive by to his studio and he's such a fabulous character. He is so magnanimous and generous with his time and showing us his face. So I think so highly of him. And when you see someone like that, and the literacy he has and the fluency with visual elements, and AI, and robotics and stuff, I just think like, yeah, I'm going to leave the photography part to other people. I'm going to manage those guys.

Daniel Jester:
Absolutely. Well, speaking of management, that's a great segue into our topic. And as I mentioned, Carrie, the things that we've discussed in the past that we'd love to have you share your expertise for our listeners on, what are some ways that you can help manage your studio, manage your team through hyper-growth? And really what we're talking about here is that when the growth trajectory of the organization is essentially straight up, things are happening so fast, happening so quickly, studio environments are already rapidly changing, whether it's teams, processes, technology, whatever it is, and then add to that the dynamic of the company itself rapidly growing and expanding, and the content needs that it has, and its responses to maybe competitors in the field. So this is a huge topic and we got to try to find a foothold on where to start somewhere. So is there anything that you can share with us about your recent experience building out a new studio to kind of kick off the conversation about when your growth trajectory's straight up, how do you manage that with your team?

Carrie Crow:
Yeah. I think that's a great way of looking at it. So straight up and kind of unpredictable straight up. Unpredictable volumes, unpredictable timelines, unpredictable project types. We just acquired a new brand in the fall factor, and that adds to our portfolio of brands for different brands. And so, to answer your question to back up to our original studio that we launched three years ago, I was actually at Hello Fresh when we launched it. And we had one brand, just Hello Fresh. And within a short period of time, we had two brands. We added Every Plate. Within the first year we added Green Chef. And now we've added Factor. And so what we built in the beginning isn't what we ended up needing. And so I think part of that managing this type of growth is understanding that it's okay to get it wrong. You need to know quickly if you've gotten it wrong, but it's okay to get it wrong.

Carrie Crow:
And what we built that was quote unquote wrong was not an agile system. We had our innovation photographers, our recipe and eComm photographers. Actually I scratched my head a little bit when I saw the title of your program. So I was like, is that what we do, we do eComm? Because we also do all the marketing photography, we do billboards, we do upper funnel content. The only thing we don't do in studio is some live action video. So we built the studio to be pretty rigid. This person shoots innovation, this person shoots recipe. And what we ended up needing was a network of incredibly dynamic, highly skilled, diverse individuals that can really take on anything. And so what we have now is a shared service model. We have our studio here in Brooklyn in Industry City with almost infinite capacity, and we also have our studio in Boulder, which is an amazing team. They can scale up really quickly, really inexpensively.

Carrie Crow:
And we share all of the services and the professionals across the studio. So then what our workflow ends up looking like is just agility, able to move things around sets at the drop of a hat. So that's training, and it's lean process, and all of the ability that you need to stay on your feet and move things around quickly is what we tend to focus on.

Daniel Jester:
Man, I thought I knew the next question that I was going to ask you, and then you dropped a juicy term right in my lap of infinite capability. And I have to know, what does infinite capability look like for a studio?

Carrie Crow:
So maybe that's, I don't want to oversell. When we started off our studio in Midtown, we had the ability to have two sets, three at a stretch. In Industry City we have about probably the space to do 8 to 10 sets if we needed to. What we do is we are constantly in a state of prepping, shooting, or hindsighting the work we just did. And so, what we are constantly asking ourselves, what I put to the team is, what do we not do that we should be doing? What could come down the pike that we're not prepared for? Could that be outdoor grilling? Could that be environmental lifestyle? Do we have the technical capability to have people without masks right now? Indoors or outdoors? Does everyone know how to shoot a billboard if they needed to? Medium format? Can we shoot at 9:00 AM and create that lighting look at noon, at nighttime?

Carrie Crow:
It's really increasing capacity and the skillset of the team, and to making the work for ourselves before we get briefed to do it. Is it infinite? No, it's probably finite. But we continue to build our own capabilities before they're asked of us. And so I think in that way, the projects can move around very nimbly. And if we had to, we could be running 15 sets, covering anything from technical eComm photography to video content.

Daniel Jester:
Amazing. And so what you're describing is really modularity, not only in your studio space and your capabilities within that space, but in your teams as well. And one of the things I'd love to kind of ask you about is, when you're building this modular, and flexible and agile studio, let's touch a little bit on what training looks like, because training is one of the more challenging parts of running a studio with a huge team and there needs to be a standard of quality. My experience has been that the way that studios train their teams really runs the gamut. And I have become a recent proponent, I don't think I've mentioned it on this show, that a position that exists within a studio should be a training manager and that's just what they focus on. Can you share with me a little bit about what and supporting your teams looks like in a modular agile studio?

Carrie Crow:
Yeah. So that's a great question and it kind of goes back to the first topic we talked about. There used to be two photography leads, one in Boulder and one in New York. And we have a photographer here in New York whose really a master. She's a lighting master. In my view, she would probably laugh if she heard me say that. Her name is Emily Dryden. And a master of color. And so to me, she was the clear lead of that department and she had the ability to really train up that team. I think that's where the fundamentals start is with the photography, getting that right in camera. And so what we do is we created an innovation lane together, Emily, me and one of our lead designers. And so anyone can brief us in, anyone in the studio. Our cooks brief in, our stylists brief in, ops briefs in, anyone in the creative team can brief in. And we keep this kind of hot list of ideas that we want to shoot.

Carrie Crow:
And whenever, if we have a shoot that wraps early or if we have a flex day, we'll start tackling the stuff in that brief. And so Emily provides the coaching and the direction on making sure that the skillset is there. And then she has actually portfolios for her team and sort of regularly looks at them with the team, where are their holes, where are their gaps? And this is as much for the individuals to make sure that this is a worthwhile dynamic experience in their careers. I would love for them to leave this time here considering it time well spent, that whatever we do, that they're building their portfolio, their skillset. And it's really, it comes a lot from Emily, and the photographers and the team themselves.

Daniel Jester:
I'm so excited to hear you say that, because I am a huge believer in making portfolio building a part of your photographer's experiences in their studio. This was one of the things that I really loved about working for Amazon. There was definitely people that had love, hate relationships with the way that Amazon handled portfolio building, but they required you and they offered paid time to spend time building a portfolio. That's a whole other topic to discuss and we have other things to talk about. But I'm so happy to hear that Hello Fresh does that as well, because I think it's really helpful to your teams and really helps you attract top tier talent for them to know that, hey, we care about getting great photos from you, but we care about you producing work that you're proud of and would go on to get you other work in the future, whether it's with us or someone else. I think that's amazing.

Daniel Jester:
It's also, I think important to note for our listeners right now that we're talking about a company that works with food. And so all of these things are exacerbated by the fact that this food needs to be prepared in the studio and then styled by somebody who specializes in food styling, which is an extremely special form of styling. Is there anything that you can touch on about how that impacts the dynamics in the studio around just the complexity of working with food?

Carrie Crow:
To me, it's partnerships, that the cooks, the stylists, the photographers are constantly in communication with one another. And we hindsight our week every Friday. They're pretty public. They're pretty transparent. And we work through any kind of issues that happened that week together. And I think it's, to me really critical that those communications take place between cook, stylist, photographer, that they can trust each other, that what's coming out of the kitchen is correct to skew. We want to make sure that what we're representing is what the customer is going to be able to do. Maybe it's slightly more aspirational, but we want it to be a realistic interpretation of what they're going to make for themselves.

Carrie Crow:
And so to me, it's that communication between all three, timing, that it's like being, I think like police officers on the go. Your partner is someone that you trust, and it's about timing, and coverage and making sure that if something's going to die on set, that the photographer is ready and they haven't gone, they're not having technical issues with the equipment. And so that relationship is really important. We do a lot of team building work around that as well.

Daniel Jester:
Yeah. Communication becomes essential. I shared an anecdote on our episode with Linda Wallace about being on set as a photographer, and getting kind of embroiled in a technical issue that was happening on the computer and not letting my stylists know, hey, I need a minute to kind of look into this thing. And they were getting upset with me thinking that I was goofing around or ignoring them, which is totally fair because I didn't tell them anything about what I was doing. And it's occurring to me that when you're working with food, that could really derail. It's one thing when it's a handbag, but working with food, that could entirely derail that shot for that skew if you're addressing an issue and cannot shoot for some reason when the product is ready to go. You're describing sort of these teams as a unit of a photographer, a stylist and a cook. Do you have assignments where that core group of people are always working together as a team? Or do you rotate your teams? I'm just curious about the mechanics of that.

Carrie Crow:
Always rotate. Always. It's so dangerous to not. I think that's the one thing we learned with the contingency planning and risk mitigation of this whole year, never, never keep things static. Always rotating.

Daniel Jester:
It can feel like it's the right thing to do, because if you get a team that really clicks well together, you're like, I don't want to really break that up. But interpersonally it can really cause problems. And out of 10 sets, you're only going to have two or three teams that are super high functioning and everybody else is going to be doing a pretty good job, and then it starts to build animosity for sure. That's been my experience, but I was curious about how you handled it, because the food dynamic, I feel like changes everything for me. Obviously I'm betraying the fact that I have virtually no experience in food photography or working in a studio where there's a kitchen or anything like that. So I'm very curious about some of the more boring parts of how that all works.

Carrie Crow:
You're reminding me why I don't do that professionally, it is really stressful. Now I feel like I want to go, I don't know, give everyone a chocolate bar for getting through the day because it is really stressful. When you're starting out, of course, you cannot be screwing around when the ice cream is on set. You brought up a really good point. I think the thing is when you develop pods where the same three people work together all the time, there's almost too much shorthand. There's almost too much legacy knowledge. So that person gets a 14 day quarantine, which knock on wood, never happened to us, but there goes all that knowledge, all that shorthand, and you're really caught in a bad position. And so from a risk mitigation strategy, we never keep people together like that.

Daniel Jester:
We talked about the ability of Hello Fresh. And I don't know if the subsidiaries are all branded independently or if they're all folded into Hello Fresh, doesn't matter. The point is you guys have tons of content needs, because you've got tons of customers, tons of assets that need to go out there between advertising, recipe cards, all of that kind of thing. And you have this ability in your studio to ramp up from, if you need only a small amount of work to, you said infinite, so we're going to throw it out there, I'm going to throw it right back at you. But all kidding aside, the planners and the analysts that might be listening to this episode are all freaking out right now because they think, okay, so we can do that, but how do we know what's coming, when it's coming?

Daniel Jester:
How do we leverage any information that we can possibly get our hands on to know when we're going to need to ramp up, when do we need to start booking out those sets? Planning, at least on the retail side, which again, like you mentioned about the e-commerce thing, there's obviously a difference between what Hello Fresh does versus what a retail company does. On the retail side, you sometimes know what's coming, you sometimes have no idea what's coming. One thing I can guarantee you is that samples are going to get held up somewhere and not be available when you need them. How do you plan in this incredibly complex environment where your needs are so great and your growth is basically aligned straight up? How do you even start to try to plan for capacity, forecasting for volumes in the studio and to try to help even out some of these peaks and valleys

Carrie Crow:
To me, it's not evening out the peaks and valleys, because you can't do that. It's more about your responsiveness to it. I was thinking about describing this, and thinking about last spring when our now beleaguered Governor Cuomo was rolling out his surgeon flex program. And it's literally how the studio is run. And I don't mean to make light of a global tragedy, but what his program did is how we operate. So you don't know what the volume is going to be. You know that there are some predictable patterns, but then there could be a blight on green beans and we'll end up having a lot of reshoots to make sure that the imagery that the customer has is accurate. And so there's going to be a certain amount of unpredictable variation. And so what the surgeon flex program was, was making more capacity, more hospital beds, workflow that allows the patients to be moved around agnostic of location, agnostic of insurance, and then the training and the skills of the individuals there that you've got the staff that you can respond to who's coming in the door.

Carrie Crow:
And that is what we do. We surge and we flex every week, every two weeks. If we need a little bit more freelance, we can do that. Boulder has a certain type of freelance, they have Johnson and Wales there so they're very chef trained. So they require a different type of onboarding. New York has anyone you can get at a moment's notice. If I needed someone to bring in a tiger tomorrow, I probably could find that person. And so it's not necessarily controlling peaks and valleys, it's controlling your ability to respond to it.

Daniel Jester:
And that's where that modularity comes into play, is setting yourself and your teams up to be flexible and to be bounced wherever you need them, and then obviously being able to expand capacity. And then you also touched on, which is that certainly in my experience when it comes to studio planning, even when it feels hopeless, being able to try to make any sense of what might be coming down the line. If you dig deep enough, you can usually find something to help you. Some kind of a pattern, some kind of a something, even if it's just anecdotal evidence of, hey, when we get this type of product from this vendor, it usually isn't what we're expecting, so maybe let's not staff up based on a number and a forecast before we really know what's going on.

Carrie Crow:
That's a really good point that I didn't bring up. But our recipe photography is that thing. It's only going to be so much. There's only so many slots on the website. So you plan, what would an extreme week look like? Okay. Could we do that in a day? Could we do that in two days? If the hills in Boulder are coming towards us, could we cram out a whole week's worth of shoot in a day? Could we sprint and get that done? And in many cases we've had to do that and just say, we are up against a huge shoot load, can we pull it off? And what would it take to pull it off in two days? And we've been able to do that. But our BAU of bread and butter work is fairly predictable. It's the other acquisition content, or marketing content, or a new brand, or reshoots to ingredient protocols swaps, that's the unpredictable piece.

Daniel Jester:
So speaking on the acquisitions, this is a thing that can really put a lot of stress on a team, because really essentially by the time your average studio employee finds out that an acquisition has occurred, it feels like the growth has happened overnight. Senior leaders are usually in conversations for a very long time, but word doesn't spread and trickle down to the teams until the deal is done. And so that kind of rapid growth is that's the straight up line that we're talking about. It's that we acquired Green Chef and now our business is X percent larger overnight, as far as you, photographer, are concerned. We've talked a lot on this show about managing teams, managing emotions through periods of rapid change. And I don't get sick of having the conversation because everybody's perspective and experiences are different. So Carrie, I want to ask you, how do you help support your teams, their emotional state and their ability to cope with this kind of rapid changes in the studio through these periods of just intense growth?

Carrie Crow:
Hello Fresh has a great culture, but I think studios, if they're handled well, can have a really, really intimate culture. If someone's really suffering, if someone's really struggling, it shows in their demeanor, it shows in their outlook. And so, I think locally we enjoy a really healthy culture. And I invite people to put time on my calendar to talk about anything, anybody who wants to. And there's a place to express how you're feeling. And at the end of that conversation, you can use your one-on-one with me to complain. It can be a full throttle, angry, silent scream. It's never been that way. But at the end of it I'll say, how do we get on board with this? How do we get on board?

Carrie Crow:
I let everybody share their ideas for getting onboard. They're amazing problem solvers. If there's anything in front of us that we think we can't handle, we'll find a way to get it done. And so I think at least making space for the conversation, at least making space for an outlet of frustration where there's no retribution whatsoever, I stay very neutral. I don't swing one way or the other. If I'm hearing someone's experiencing this and the other person's experiencing that, I really try to stay neutral. And so I think it's creating the space for people to freak out for a moment, and then we all dive in and figure it out together.

Daniel Jester:
I've said before on the show that some of the best leaders and managers that I've ever worked for were the ones that would indulge my need to vent to them without there being any kind of actual problem solving tied to it. But the other thing that you brought up that I want to point out is that it's not just those problems that get bubbled up in that one-on-one time that you have with teams, whether it's a direct report, or a skip-level, or whatever the case may be. But there are often solutions in there, and you can start to cultivate with your teams the ability to ... And again, the best managers I ever had let me sit in a room and talk through my problem until I solved it for myself, and they just facilitated that. They just gave me the space to do that.

Daniel Jester:
And I think that's a really great point that you made, that it's not just the problems that we need to get that emotional weight off of us sometimes, but it's then being able to identify when those solutions start to bubble up and start to surface. And we know that when process improvement, and solutions and things come from our teams that are actually doing the work, that they generally are better, easier to implement, and everyone likes them more-

Carrie Crow:
Oh, totally.

Daniel Jester:
... then when some senior level managers just like, we're going to do it this way and that's it, no room for discussion.

Carrie Crow:
Oh, totally. That actually brings up a good point. Another thing that we do, I keep a running docket of our house cleaning. And so anything that two or three people have complained about, I'm like, oh, this is a project. And we send someone from the team, it's a woman, Nancy in our Boulder studio, she for some reason has this demeanor that people will open kimono vent to her. And so I send her as an investigator to interview everybody, get your set of 10 questions and find out what is the problem with this thing? Can you please help me get to the bottom of this? And she synthesizes it. She's a chef. She used to run a restaurant. She's heard everything. And she somehow manages to get everyone to reveal their darkest concerns about a thing, and then we move towards a solution together.

Carrie Crow:
And so I think that it's having that peer that you can talk to where maybe they don't want to complain openly to me, but they can list out a few bullet points about why something isn't working, and then we solve together. And then we do several rounds of, hey guys, what if it looked like this? Spend five minutes with Nancy and share your feedback on that. We've solved probably 10 things that plagued the studio for years with that method. And I think it's just, are you really creating the environment for people to speak freely? If not, how do you get there? Because I think to your point, they're way better problem solvers than I am. There's no way that I can come up with solves for all of this.

Daniel Jester:
We all want, and there's definitely a type of manager out there, studio leadership type person who wants that ground up engagement from their teams. The part of it that they might be missing is that the structure has to exist from the top down. Your senior leadership, everybody involved needs to make it clear to the teams that, hey, we are engaging you as part of the conversation, as part of the problem solving. I don't want to already make this analogy tired, but I love it so much. A farmer can go out and throw seeds on the ground and hope for the best, or they can build a garden bed with the right type of soil and the right type of irrigation, and throw the seeds down and watch those seeds flourish. So the structure for this type of culture and this type of engagement from our teams has to come from the top down. And it's a continuous job. It's not like a structure you build and it just exists. You're continuously farming it.

Daniel Jester:
Well, Carrie, that's about all the time that we have for this episode of the podcast. Thank you so much for being a guest on the show and for sharing your insight with us. And I don't think I'm alone with our listenership in saying that we're always excited, I'm always excited to see what Hello Fresh is doing out there. I'm a big fan of the service. I don't use it as often as I would like to. But I learned a lot about cooking. And to gush a little bit, the recipe cards are gorgeous. The visuals are gorgeous. My kudos to your team for the incredible work that they do. If people want to connect with you anywhere, can we throw out your LinkedIn or anything like that, or just they can maybe follow Hello Fresh?

Carrie Crow:
Oh yeah, absolutely. Reach out to me on LinkedIn anytime.

Daniel Jester:
Awesome. Well, Carrie, thank you so much for joining us on the show. Hope to have you back after you've had a little bit more time with your new studio under your belt, and we can check in and see how things are going.

Carrie Crow:
You got it. Thanks so much for having me, guys.

Daniel Jester:
That's it for this episode. Thank you so much for listening. As I mentioned at the top of the show, we want you to be part of the conversation. So give us your thoughts and tell us your stories. You can reach us via email at podcast@creativeforce.io, or on LinkedIn, I'm very easy to find danieltjester. The show is produced by Creative Force, edited by Calvin Lanz Sound. Special thanks to Sean O'Meara and Carrie Crow. I'm Daniel Jester. Until next time, my friends.
Subscribe to the eCommerce
Content Creation Podcast
About the host

Chief evangelist at Creative Force
Daniel Jester is an experienced creative production professional who has managed production teams, built and launched new studios, and produced large-scale projects. He's currently the Chief Evangelist at Creative Force but has a breadth of experience in a variety of studio environments - working in-house at brands like Amazon, Nordstrom, and Farfetch as well as commercial studios like CONVYR. Creative-minded, while able to effectively plan for and manage a complex project, he bridges the gap between spreadsheets and creative talent.