Back to list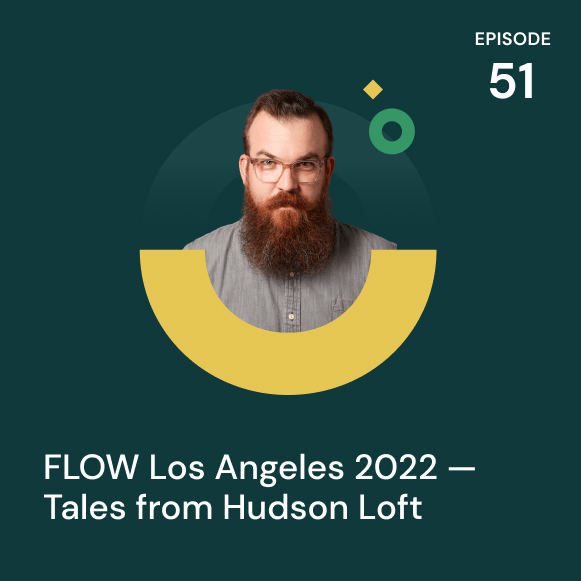 Episode 51 - March 8, 2022
FLOW Los Angeles 2022 - Tales from Hudson Loft
Summary
In this episode Daniel recaps the FLOW Event at Hudson Loft in Los Angeles. Creative Force sister company Pixelz hosted the event and organized an excellent slate of speakers. Daniel takes you through the day and includes brief interviews recorded onsite at the end of the event.
Key Takeaways
Are you using technology for technologies sake, or is it truly adding value?
TROVE believes that people, products, and brands have stories, and stories are culture. Brands can capitalize on this idea as well as billions of dollars in resale revenue by controlling more of the resale of their products.
Sef Mccullough presented on the science of creativity and the effect that viewing imagery has on how our brains organize information. Daniel sat down with Sef for a few minutes after the event.
Benjamin Grimes, past guest of this podcast, presented on new and emerging technologies for the e-commerce studio. Fascinating to hear from Ben what some of the trends have been in equipment purchases over the last few years.
Ryan Roberts of Pixelz moderated an excellent round table discussion on planning from pre-pro to post. Mercedes Castaneda, Erin Pederson, Jason Wheeler contributed.
Full episode transcript
Daniel Jester:
Hello listener. Before we begin this episode, a few words about the unfolding situation in Europe. Our thoughts are with those that are displaced, separated, injured, or killed, and those that are continuing to fight for peace in Ukraine. I encourage the listeners of this show to keep our Ukrainian friends in your thoughts and never consider any gesture of support or solidarity too small. To our listeners in Ukraine I seriously doubt that you're listening to this podcast right now, but if you are know this, we are with you. From Creative Force, I'm Daniel Jester and this is the eCommerce Content Creation Podcast.
Daniel Jester:
It's been a long time since we've all been together in a room here in the US, seeing old friends and colleagues from around the various corners of the industry but on February 24th, we did it. Pixelz hosted their Flow Event at the Hudson Lofts in Downtown Los Angeles. I didn't know what to expect to be honest. I'm not really talking about the content itself, but more about the attendance and how people were going to feel. I knew that I felt ready to attend an in-person event and I assumed others did as well, but I wasn't sure who or how many were going to go for it. Attendance exceeded my expectations. People were ready, they were ready and excited for the content to be sure, but I think people were really ready to feel normal. To be together in a room to smile and engage in small talk, have drinks together, and just feel connected. That isn't to say that the content itself wasn't worthwhile. It absolutely was. And that's what we're going to talk about for this episode. I'm going to give you a rundown of the highlights of Pixelz Flow, Los Angeles, 2022.
Daniel Jester:
The event was hosted at Hudson Loft, which I think was a really nice idea from the Pixelz team. It felt like home for those of us who have spent a lot of time in studios in urban areas. I don't mind a hotel conference room, but put us in a rental studio in downtown LA was perfect. The event started with a warm welcome from the CEO of Pixelz, Thomas Ladefoged. And he laid out the current state of things quite well. A lot has changed in the two plus years since we've had any industry conferences, as we've covered a lot on this podcast. The only real certainty is that everything is continuing to change very fast. Following the welcome message was friend of this show, Curren Calhoun as an industry veteran and senior director of technology for the Gap. Curren's insight is always valuable. His experience spans extreme changes in technology for creative production.
Daniel Jester:
And he's learned a lot of tough lessons. A couple of key takeaways from current session for me were these thoughts... Are you leveraging technology for sake and are you getting a return on your time? Technology for technology's sake can be a tough one to evaluate. How do you know if that's what's happening? It becomes an exercise in identifying value, and then you realize that it's closely related to the second point. Are you getting a return on your time investment? Are you doing more with less time? That seems like a good place to start.
Daniel Jester:
Following current session was another friend of the show and past guest Lindsey Di Ruscio of Trove. She presented a little bit of an overview on how Trove works, who they work with and some of the challenges that presents to creative operations. It's been a little while since we had Lindsey as a guest on the show.
Daniel Jester:
And in that time, there have been some changes at Trove. One of the more striking changes was the brand positioning that Lindsey attributed to their recent hire for VP of marketing. The idea is this, people have stories, products have stories, brands have stories and stories are culture. I love that. I love Trove's mission of keeping goods out of landfills. And it turns out it's really a win-win. The life of a product is extended with Trove and brands get to capitalize on the resale market of their own goods. And it turns out the numbers are pretty staggering. I encourage you to check out Trove, check out Lindsey. They do incredible things at that company.
Daniel Jester:
In the weeks leading up to the event. If you're connected with me on LinkedIn, you may have seen me post about how excited I was for Sef McCullough's session on scaling creativity. I'm very happy to say that his presentation didn't let me down. He took us on a journey through the science of how our brains learn and recognize things and how imagery impacts that. I snagged Sef for a few minutes at the cocktail hour after the event and we chatted a little bit more about that.
Daniel Jester:
Hey Sef
Sef McCullough:
Hey, how are you doing?
Daniel Jester:
How are you?
Sef McCullough:
Doing really good. Thanks.
Daniel Jester:
So we are happy hour. After a few minutes after the Pixelz Flow event, I've had two or three beers really feeling okay.
Sef McCullough:
You've been working hard.
Daniel Jester:
Yeah, I've been working hard. Definitely. I posted about your session on LinkedIn in advance. I was very excited about the topic and I'm very happy to say that you did not let me down. I thought it was so smart and the whole concept of how the science of how imagery shapes the way that we see things, the way that we interpret things, it was very illuminating for me. And it really spoke to a belief that I held from my time managing photography teams to say this isn't the sexiest work all the time, but there are opportunities for creativity.
Sef McCullough:
Good.
Daniel Jester:
And you talked a lot about separating the technical from the creative and sometimes we get wrapped up on my observation. Sometimes we get wrapped up in the technical thinking, that's the creative part and it really isn't.
Sef McCullough:
That's a good point.
Daniel Jester:
And I just want to say first and foremost, I loved it. It was great. I hope people get an opportunity to see it, that weren't here for the event. I wanted to ask you what stood out to you about this event. What did you like to hear? Who did you like to hear from?
Sef McCullough:
Well, I really did like that last panel that we saw with, two out of the three were... We, let's see, we had one retoucher, one hardcore retoucher. Straight up. We had...
Daniel Jester:
That was Mercedes.
Sef McCullough:
Mercedes, exactly. We had the woman from Nasty Gal who came from background in retouching. And then we had my buddy Jason.
Daniel Jester:
Right. Guest on the podcast [crosstalk 00:06:42], previous guest on the podcast.
Sef McCullough:
And we live in the same town. We live in Portland. So he's a Columbia guy. He runs their workflow, basically.
Sef McCullough:
And hearing people talk about... Hearing professionals, talk about real retouching... I just had this moment of epiphany, like any event that I go to is usually focused around photography and retouching considerations from a real studio floor perspective, aren't really foregrounded in those environments. It's usually off to the side. And it's usually more about, I don't know, not the stuff you encounter in real high level pro environments. They're the classic stories of a pain of having to do something to an art director, creative director seems like a quote, small tweak.
Daniel Jester:
Yeah. The basketball analogy she mentioned that...
Sef McCullough:
Was so funny. She was talking about the basketball. I could literally imagine in my mind, the image and the challenges of being like... Yeah, I think we can swap out a basketball from stock. But we're going to have to find one.
Daniel Jester:
Yeah. Or shoot one.
Sef McCullough:
Or I would've absolutely shot.
Daniel Jester:
I would've shot one. Yeah.
Sef McCullough:
Or have CG artists do it, but those, those stories are the ones that, so many of us that carry this work in our bones from doing it for 15 to 20 years. It's almost like a nervous system reaction when you hear some of the stories. And this was the first conference that I've been to where I heard those stories like consecutively and in a concentrated way. That was what was really cool to me.
Daniel Jester:
Yeah. There's a lot of value in focusing on the retouching part of the process. So I mentioned during my panel that I've talked probably ad nauseam on the podcast and various things about it that creative production is unique because you have to have samples people and data people, and photographers and stylists and retouchers and digit techs and all of them...
Sef McCullough:
It's a lot...
Daniel Jester:
Have different skill sets, use different tools. And often their interests are competing a little bit. Mostly you see that between photography and retouching. We can do it faster on set, but it makes it harder for the retouchers or the retouchers can work faster if you give them a miss, but it's harder for the photographers.
Daniel Jester:
And I think, the retouching part of the process, if creative production at a lot of organizations is already a black box of unknowns. Somebody puts in a request and an image comes out. They don't know what happens or how it gets there. Retouching is like the black box within the black box. Send the image, send some instructions and then see what comes out of it.
Sef McCullough:
You know, it's funny, because I was lucky enough to get in right on the end of the old school of retouching of operators. And from that I learned some of the unknown history of retouching itself and where it came from. From the old schoolers who I was lucky enough to just catch, you know, four years of their last years and learn from them and learn pre-press. And I mean, we come from scanner operators.
Sef McCullough:
The, the tradition comes from scanner operation and that is a pure operator thing. They were not expected to be artists back then. They were expected to get the scan out, get it to speck, get it clear, maybe do a few tweaks to make it better. But we come from that tradition, which is very, very clear collar and...
Daniel Jester:
Totally a technical role that you went to a technical school for probably.
Sef McCullough:
I mean, you didn't even go to school for it. What it was is you were lucky enough to work in a company who decided to buy one of the scanner, like the old Cytex machines, these proprietary machines that were scanners. They had a workstation with the scanner to do a certain very limited number of things. Purely technical, purely technical people. so that tradition totally sort of dictates, has dictated where we are today. Which is just now being honestly seen as actual artists. I have always been an advocate for the artist in our work.
Daniel Jester:
Totally. The last thing I want to touch with you on before... I'll let you enjoy your beer is you talked a lot about fluency and being in spaces and visually taking in your space or just looking at images, developed a sense of fluency, about a lot of different things. My mind being very much like an Ecom production studio guy, it got me thinking about, you know, that fluency is achieved with practice is kind of what you were saying. The more you see those things, you talked about the chair that we grow up, we see chairs all the time from different angles, different positions. And we learn to identify that it's a chair, no matter what kind of position it's in or what context we see it and we know what it is. And it occurred to me that you can speed up fluency by creating more opportunities for practice, more opportunities for training.
Sef McCullough:
Intentional.
Daniel Jester:
Yeah, intentional practice, like really focusing people on the things that they need to know and develop that fluency faster as a value add for training your teams in the studio.
Sef McCullough:
These are, I mean, honestly, this is kind of like a new way of working. The traditional notion of the artist is somebody who just creates out of some magical inspiration that happens. I've slowly been coming to this place of, no, you actually can strategically by looking and analyzing and reproducing basically copying other work, because you'll never make it the same. You can train yourself so much faster if you do it intentionally or rather waiting for inspiration to strike you from the heavens.
Daniel Jester:
So I lied, one last thing I remembered I wanted to share with you this story. We kind of talked about it for a moment earlier, but you know, my background is in product photography. I was a still life guy. I really enjoyed working with an object on set, put my headphones in. I loved working with stylist. I loved the relationships in the studio, but like if you asked me what I wanted to do all the time, it would just be, I want to explore an object. And one of the things that I point to all the time when I talk to younger photographers is when I was working at Amazon, we were shooting weird stuff all the time, every day. And there was one day I spent my entire day shooting faucets and those automatic toilet flushers for men's urinals that were all Chrome, all round, super challenging to shoot...
Sef McCullough:
Seems weird at the time, but that seems the best practice.
Daniel Jester:
Right. It seems weird at the times. What I was going to say is that I couldn't possibly have known that some five years in the future, a company that made a mug that was very reflective, very round was going to come to me and say, we want to shoot very sexy, product launch images for this mug. Do you think you can do it? And I said, I spent weeks shooting toilet parts. I absolutely can do it. I have all I know exactly how to approach it. I know how to shoot it. And you know that's the message that I like to send to a lot of younger photographers is really learn to develop a technique on the mundane stuff. Because if you could do the mundane stuff, super-duper well, you're going to get that big job and you're going to fucking nail it.
Sef McCullough:
Totally. I couldn't have put it better myself.
Daniel Jester:
Cheers man.
Sef McCullough:
Cheers buddy.
Daniel Jester:
It was good meeting you.
Sef McCullough:
Yeah, you too, man.
Daniel Jester:
Up next was yet another friend of the show, Benjamin Grimes of Samy's who walked attendees through Samy's unique positioning to support the industry and some of the technological trends he's been seeing in recent years. One thing of note for this podcast host was how much podcasting equipment he's been selling to individuals, companies, anyone and everyone. It's very interesting. And if you don't know Ben, you should get to know him. He's a very smart guy, also past podcast guests. Following Ben was a tough place to be. But this is exactly where I found myself moderating a round table discussion with Mark Duhaime of Orbitvu, Patrik Bluhme of Profoto, who I hadn't met before and David Iscove of Cella. We chatted about vendor ecosystems and each of the panelists shared a bit about how they go above and beyond the transactional relationship and offer themselves as partners for their customers.
Daniel Jester:
Mark Duhaime pulled double duty and also gave a presentation on what Orbitvu is up to in the automation space. Now this is my opinion. We're not sponsored by Orbitvu, but they make a compelling product that shows they understand that sometimes skeptical lens that studios use to look at automated devices. An Orbitvu machine gives you some powerful tools to work very quickly, while still offering the flexibility of working that many photographers and studios appreciate and really cling to. I encourage you also to check out Orbitvu, check out Mark and their product. And again, not in an ad, my opinion. My good friend, Ryan Roberts moderated the second round table of the day, along with panelists Mercedes Castaneda of Fabletics, Erin Pederson of Nasty Gal and another past guest on this show, Jason Wheeler of Columbia. Ryan did a fantastic job leaving the discussion through the ins and outs of planning from pre to post. And I think it was the perfect topic for him because together he and I learned some very valuable lessons about how to plan a production during our time running a boutique studio in Los Angeles.
Daniel Jester:
And the last session before Jakob Østerby gave us an update on what's next for Pixelz was Karli Foster of Hyperblack Studios who gave an excellent presentation on putting teams first and how that leads to true growth. I thought it was wonderful to hear from her on people and growth. And I'm really very sorry. I didn't get a chance to meet her following the event. As I mentioned up top, I think the true highlight of the event was the opportunity to see each other in person after years of living in little tiny zoom boxes. One such moment for me was getting to meet Polly Babcock in person. Polly is director of production for ShowLabs, a commercial studio based in Denver and ShowLabs is a customer of not only Pixelz, but Creative Force and Orbitvu, so this event was basically made for her. I caught up with Polly during the cocktail hour and we chatted about her impression of the event.
Daniel Jester:
Hi Polly
Polly Babcock:
Hi Daniel. How are you?
Daniel Jester:
Good. How are you?
Polly Babcock:
Great, excellent.
Daniel Jester:
We're at happy hour after the Pixelz Flow event here in LA, let's do a little clink and the microphone there. How have you been feeling about the event today?
Polly Babcock:
I've been feeling awakened. I think that's the word that is still resonating with me because I just feel like I have this energy running through me. I feel like my perspective has been opened up meeting really amazing and talented and smart people who I know can help us and make our whole entire workflow more efficient, which is my main goal.
Daniel Jester:
Incredible. What was your favorite session of the day?
Polly Babcock:
Well, I really liked the session that you ran. Mostly because I'm so involved in Creative Force and there was review on there as well, which is another system that we use in the studio. I really liked Sef McCullough as well, He's a retoucher in Oregon I believe. And he was really relating the art of color and painting and old school artwork like Van Gogh to super advanced eCommerce photography and retouching and line work and shadowing. It was really expansive for me to hear that because I get so involved in our editing specs and our templates and it was a great perspective.
Daniel Jester:
Yeah. We're still creating.
Polly Babcock:
We are.
Daniel Jester:
And the point that he made that really resonated with me, I also, I was very much looking forward to his session. I posted that on LinkedIn. He did not disappoint me. What I took away was maybe don't focus on the subject matter so much because that's not the creativity. The creativity is the execution, the painter didn't set out to paint cupcakes. It doesn't matter if that it's cupcakes or anything else on the table. You understand what the painting is and found little moments of creativity. I feel like he said, in so much, a better way, what I've said to photographers that I've hired in the past, which is that this isn't the sexiest thing you're ever going to shoot. But you're going to learn a lot of valuable lessons and there are moments that you can be creative and be very technical and really craft your image. You still ended up taking a picture of a toilet part for Amazon.
Polly Babcock:
An appliance. Yeah.
Daniel Jester:
But you know, I thought that was really powerful. What did you think of Lindsey Di Ruscio from Trove?
Polly Babcock:
Oh my gosh. I definitely sought her out at lunch. I wanted to eat my lunch next to her and talk to her. She was, I mean, her and I what we do, she is so cool. First of all, I love that she talked about how their main goal is to reduce waste from landfills. I was like, wow. That's impactful in any which way or whatever conference you're at. That's great but yeah, she started talking about her photo studio and her production workflow and her styling background. And it was really on point with what I'm working on at our studio, which is workflow and processes and managing teams. And it was a really great conversation to hear how she's solving for some of her problems and finding solutions.
Daniel Jester:
Right. Cheers, Polly thank you so much.
Polly Babcock:
Cheers.
Daniel Jester:
It was so nice to meet Polly in person. I think we all onboarded Polly and the team at ShowLabs during COVID without spending too much time on site. And boy, we are really looking forward to getting back into studios again, and that basically covers the event. I want to express my sincere thanks and appreciation to the entire Pixelz team for putting together such a great event and being so gracious in hosting from beginning to end. Special thanks specifically to Mike Weber. I asked Mike if he knew where there might be some Ibuprofen during the event and he said, oh, I'll get you some. And I'm thinking, he knows where there's a first aid kit that has a little packet of pills. Mike went down the street around the corner to a little market and bought me a bottle of Advil. Above and beyond, Mike, you really didn't need to do that, but you probably saved the day for me.
Daniel Jester:
That's it for this episode. That's my rundown on the Pixelz Flow Event for 2022 in Los Angeles. If you missed this event, you will have an opportunity to attend Flow, New York on May 5th of this year. So it's actually going to be on the back end of a Henry Stewart conference, which will be, I believe on the fourth. May 5th Pixelz will be hosting another Flow Event in New York, many speakers, many great panels. The event is still taking shape. If you attended the event, this event in Los Angeles and you haven't provided feedback to the Pixelz team about what you'd like to see in future events, make sure you get that in because that's still going to shape and craft the event in New York in May. And I really truly hope to see you all there in New York. Many thanks to all of the attendees of Flow, Los Angeles. And thanks to you for listening. The show is produced by Creative Force edited by Calvin Lands. Special thanks to Sean O'Meara. I'm your host, Daniel Jester until next time my friends.
Subscribe to the eCommerce
Content Creation Podcast
About the host

Chief evangelist at Creative Force
Daniel Jester is an experienced creative production professional who has managed production teams, built and launched new studios, and produced large-scale projects. He's currently the Chief Evangelist at Creative Force but has a breadth of experience in a variety of studio environments - working in-house at brands like Amazon, Nordstrom, and Farfetch as well as commercial studios like CONVYR. Creative-minded, while able to effectively plan for and manage a complex project, he bridges the gap between spreadsheets and creative talent.