Back to list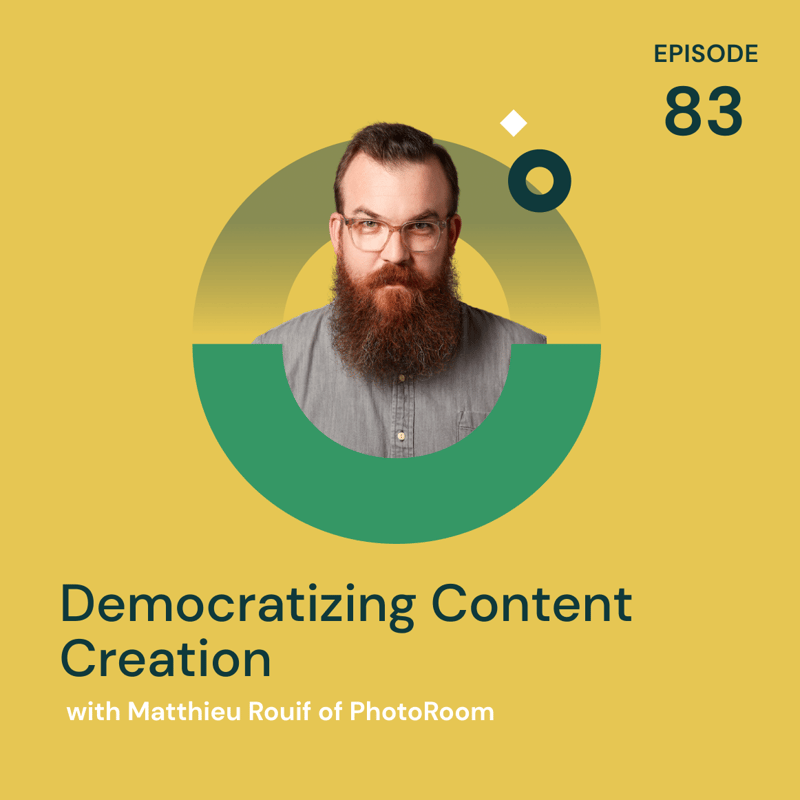 Episode 83 - October 18, 2022
Democratizing Content Creation with Matthieu Rouif of PhotoRoom
Summary
As an elder millennial Daniel still finds himself awestruck at the technology that we have available to us in our phones. Literally at our fingertips. As a career product photographer, Daniel has tried every iphone app that professes to be able to remove the background from an image, and they have always fallen short of being a serious tool. This is actually true of not just apps, but plugins and even some native photoshop features. Photoshop select and mask is still somehow very easily fooled by tones that are too similar. The solution to this problem, for small businesses and independent creators, is pretty expensive. Hiring a retoucher or service increases the cost of producing images and lengthens the lead time exponentially. Matthieu Rouif of PhotoRoom, recognized an opportunity and knew the engineers who could solve this problem. PhotoRoom was born and has taken off very quickly. With close to 40 million downloads, and Matthieu has seen users of all types, from all backgrounds, all over the world, find a solution with PhotoRoom.
Discount Code
Use code ECCP to get your first month of PhotoRoom Pro for free! Thanks to the PhotoRoom team for the generous offer.
Key Takeaways
Matthieu was always interested in light and photography, and focused on the science of light at Stanford University. This was in the earlier days of the iPhone and Matthieu wanted to get into photography in some way, it made more sense to make apps for the iphone that supported photography, then try to develop hardware as well as software.
After some time working for GoPro when they bought the app that Matthieu founded, he worked with some brilliant machine learning engineers to develop and app that could support the creative needs of small brands, independent creators, and other "Businesses Of Passion."
PhotoRoom has grown quickly with a brilliant app that functions much better than most competing apps or features. In Daniel's own tests, PhotoRoom outperformed every other app and the iOS 16 feature
PhotoRoom now has close to 40 million downloads
PhotoRoom uses AI to not only remove the background, but understand what it is you're selling, and help guide you to templates or settings that are optimized for what you're selling, the region you're in, and more.
PhotoRoom has observed many users like to use the app for personal use, and then discover that it is powerful enough to solve problems they have at work.
Full episode transcript
Daniel Jester:
From Creative Force, I'm Daniel Jester and this is the E-commerce Content Creation podcast.
As an elder millennial, I still find myself awestruck at the technology that we have available to us in our phones, literally at our fingertips. As a career product photographer, I've tried probably every iPhone app that professes to be able to remove the background from an image, and they have always fallen short of being a serious useful tool. This is actually true of not just apps, but plug-ins and even some native Photoshop features. Photoshop Select and Mask is still somehow very easily fooled by tones that are too similar. The solution to this problem for small businesses and independent creators is pretty expensive. Hiring a retoucher or service increases the cost of producing images and lengthens the lead time exponentially. Matthieu Rouif of Photo Room recognized the opportunity and knew the engineers who could solve this problem. Photo Room was born and has taken off very quickly. With close to 40 million downloads, Matthieu has seen users of all types, from all backgrounds, all over the world find a solution with Photo Room
Matthieu Rouif:
First, as you say, it's like all kind of businesses. We have a butcher from the north of Brazil to a legal collectionner in Japan. We're really international. To a single mom in South Africa and what they all say is "I use Photo Room to look pro, to look like a big brand and inspire trust." When you have trust, you can sell more and grow your business.
Daniel Jester:
Before we jump into the episode, the Photo Room team has generously set up a promo code. For listeners of this podcast, use code E C C P all capitals to get your first month of Photo Room Pro for free. Matthieu mentioned in the episode needing to redeem the code on their website, so listen towards the end of the episode for some information on that, capital E C C P is that promo code. Without further ado my conversation with Matthieu Rouif, co-founder and CEO of Photo Room.
This is the E-commerce Content Creation podcast. I am your host Daniel Jester, and joining me for this episode, Matthieu Rouif of Photo Room, co-founder and CEO of Photo Room, not just anybody. We got the co-founder and the CEO of Photo Room. Matthieu, welcome to the podcast.
Matthieu Rouif:
Hi Daniel. Thanks for having me.
Daniel Jester:
It really is my pleasure to have you as a guest and thank you for coming on. Matthieu, you were introduced to me by a mutual acquaintance after I downloaded the Photo Room app and was kind of obsessed with it. My coworkers who were with me at the time will attest to this. Everybody was meeting and being productive and I was goofing off on my phone, cutting out my Apple watch using the Photo Room app. I'm going to take just a real quick second Matthieu to explain to our listeners who may not be aware of Photo Room and my experience with it really quick. And then I want to get into your background and what you can tell us about your product and your service. But for our listeners, everybody who listens to this podcast I think knows my background is in product photography and we're all tech geeks a little bit.
Even the most artsy photographer is a little bit part tech geek. That's why they got into photography. And I have downloaded every background removal app that professed to do this with any amount of quality or accuracy. And none of them have worked very well. They always have problems detecting the edges of the product, easily fooled by shadows or too light or too dark of colored backgrounds and that sort of thing. I follow a photographer on Twitter who posted about Photo Room and was like, "This app is unbelievable. It's unlike anything else that you've ever used." So I downloaded it, I was in Spain, in Barcelona, I was there speaking at an event and goofing off at the place that we were staying and like I said, messing around with my Apple watch, setting it down on the table. It was like the middle of the night and it cut it out perfectly on the first try with no trouble whatsoever.
And then did it again and again and again with every object I could put in front of it. And it was just mind blowing to me. At the same time, I downloaded the iOS update for the iPhone where the camera was going to have this ability built in to isolate the subject from the background. So let's do a side by side. Let's see, Apple's technology against Photo Room and Photo Room consistently outperformed it every time, every scenario, no matter how complex the item was. I was just blown away by this. I was raving about it to everybody. I was like, "This is incredible technology in your phone. It's packed with a bunch of other smart features." For some reason my favorite feature. And I feel like Matthieu, you're going to tell me this was an afterthought that some engineer had, but my favorite feature is where it gives you complimentary colors that I think it must be pulling from the product. Once it isolates the product, it'll give you a palette of complimentary colors that you can use to replace the background. The idea I think being for put this object on a nice colored background that compliments the product itself and you can put it on Instagram or use it to share on social, but there's tons of features like that and I'm talking about it too much because I have the co-founder and CEO of Photo Room on my podcast. You can tell us all about it. So Matthieu, I'd love for you to tell our listeners a little bit about you, your background, and then how you got into founding Photo Room. Then we'll go from there.
Matthieu Rouif:
Thanks and thanks for palette motion. I love this feature too, it's dear to me. I'm Matthieu, I'm an engineer by training. I studied physics, especially light, solar, LEDs, everything at Stanford. I was there right at the moment of the beginning of the iPhone and I wanted to start a photo business buying hardware, looking for procurements. And it seems so much simpler 14 years ago just to build software compared to having to buy all these parts to print and edit photos. And that's how I got into building apps. So fast forward, I started two mobile businesses before Photo Room and I joined the third one that was editing the Replay app in 2014. It's been actually eight years now. I've been working really on photo and video apps only. So we did Automatic Memories with the Replay app. I did that for two years and GoPro bought us and I was in charge of the photo and video apps at GoPro between California and France at that time. I stayed two years at GoPro and I was frustrated by a few things like GoPro, it wasn't the best day of its life there. And then I decided to leave and I had two big issues as a product manager. I was using Photoshop a lot and Photoshop is not an easy tool if you don't use it every day. Programming actually got easier, but Photoshop didn't.
Daniel Jester:
I can really attest to that. I could tell you Matthieu, no matter how many times I use a function in Photoshop, it's not enough for it to commit to memory because you're absolutely right. I don't use Photoshop super often and when I do, I find myself having to constantly re-look up the same tutorials because there's something about it just doesn't stick unless you're doing it every single day.
Matthieu Rouif:
Yeah, definitely. Where a part-time designer and sometimes I do to take care of things and it's so powerful. There are so many ways to do the same thing, so it's difficult to stick with you. And two other things, we had an amazing machine learning team, but as a product manager I had trouble shipping new AI features and I realized if you want to build something that's software AI and artificial intelligence first it has to come from a new product. So it was one of the learning from there, this experience. And there was a lot of apps on the app store on the contrary that were super manual background eraser. And at my side you have genius of machine learning doing all these thing that make it work, but it wasn't available democratized to everyone. So I left Photo Room and a partnered with my co-founder Andres with a machine learning genius.
And we really quickly in three weeks did a prototype that we take a photo, we remove the background using state of the art machine learning and put that in the hands of users. And that's how, that was the first version of Photo Room. It wasn't even called Photo Room back then. And so what happened fast forward is that we improved the AI. So the background removal, I really believe it's like if you build that perfectly, it can be the primitive, kind of primitive of your product. We say people want to democratize, people don't have to learn about mask layers, pixels, they just want, if they see a piece of clothing or a plate, just say call it a plate and make it move around. That's how it should be in editing. So we tried to do that, improve the AI and talk to user a lot.
And what kept coming back to us is people using photos for their business, especially resellers on marketplaces like eBay or Poshmark, but even food. And they say, oh the persona, the user that kept coming at us with new feature requests that we're using the product every day. So we decided to focus on them. So we did that for the first six month and that's beginning of 2020. We got massive entrepreneurs like Gary V that saw the product start tweeting about us and got thousands of user because of that. And then one month later Covid happens and people can't go to their photo studio anymore, so there's a high demand for selling online. And we were there with the best background removal videos comparing eBay and Photo Room back then. And that's how we got a lot of traction and first median users.
Daniel Jester:
It's an incredible story, Matthieu and I wasn't planning to talk with you about this, but you said something that was really interesting and I just want to spend a couple of minutes on it about introducing AI and machine learning to products that already exist that maybe it didn't have that before and you found that it was a lot easier just to completely build something new. Why do you think that is? Is it because the product is just not geared around AI and it would take a structural redevelopment of the product? Or do you think that there is some other elements at play with the user base and that kind of thing?
Matthieu Rouif:
Yeah, it's a very good question. I kept fighting against that at GoPro, but the learning is there's a different paradigm. So I think one of the best way to leverage AI and desk script is a good example too, is kind of change the abstraction level for the user as a software product engineer. And for Photo Room it means when you did photos, you edit objects and not layers. And we try to simplify and make democratize this way for this script is you don't edit wave forms when you did audio, you edit words and if you remove a word it removes it from the audio. So AI kind of translates the data pixels for photography to understandable words that the user can grasp. And the second part of is the failure mode of AI is really an internship. And so you have to build an explanation around that. Sometimes it gets it perfectly and sometimes it doesn't get it and it's a full different way of thinking.
Daniel Jester:
It really is. Yeah, you're really right about that. There are some tools that are even in Photoshop like that. I think about content aware fill or anything with content aware and even the select and mask feature built into Photoshop, there is a learning curve to figuring out how to make that do what you want it to do. And it is interacting with an AI in a way that's unusual. I don't know if you're familiar with this term Matthieu, but you don't hear it as much anymore. But learning how to Google things the right way, learning the right search terms to use to get exactly what you want in Google, it's a little bit interacting with that. You have to feed it the right information to get a result that's as close as possible to what you want.
I do want to pivot and talk back again, thank you for answering that question. I know that wasn't something that we had talked about that was just interesting to me. And obviously this is not a product development podcast, although maybe in the future someday, I don't don't know. But one thing that you talked about, and I want to highlight this for our listeners as well, is that Photo Room does try to translate things that are very common and very well understood in the photography and the commercial photography industry to things that the average small business owner would make sense to them. The way that you described it is that when Photo Room isolates the product that you shot, it doesn't call it layer one or give it some placeholder name, it detects what that object is as close as possible and then names it that.
And so when you click on that in the photo, when we click on the product. For our listeners first of all, pause the podcast, download the app. If you're driving, maybe don't do this, but if even you're jogging for all the joggers out there, talk about this, stop running, pause the podcast, download Photo Room, take a picture of the nearest leaf or whatever and you'll see what this does. It creates, it separates the background, it'll drop the background, it'll isolate the subject, it'll name the subject what it is, it's a leaf and then it'll put the background on a separate layer that you can manipulate separately. So it is functioning similar to the way that any retoucher would work in Photoshop. It is creating layers that exist independent of one another that you can manipulate independent of one another. So let's use that as a segue.
Let's use the democratization of this sort of technology or the ability to really produce an image and what we talked about Matthieu when we first met is this philosophy that I have about that great creative can make any brand appear to be as big as their biggest competitor. Any boutique anywhere in the world can look as big as the biggest fashion houses. If they've got great creative, if they've got great design, great photography and technology can really help that. I've said it before on this podcast, it can sort level the playing field in a way that brands will win or lose on the basis of how good their ideas are and not because they didn't have access to this technology or that technology. Let's talk about who the customers are today for Photo Room. It sounds like it's a lot of brands, boutiques, maybe small individual sort of creatives who are putting out a lot of content and need to have this technology at their fingertips. They don't have a huge budget all the time. Is that accurate to say about your main user base? Yeah,
Matthieu Rouif:
Our mission is really to put quality, studio photography in the hands of entrepreneurs who don't afford that today and make them grow. We think of our users as first creators that grow into entrepreneurs and then become small businesses. Actually most of more than half of the sales on Shopify, Amazon are made by teams of less than five people. And what we want to do, as you said, is really give these small teams and these pirates the ability to grow their business and look pro. And that's by using the same result, same end result in photography as the big brands like Ikea or H and M that have actually 3D photography or real studios. They're businesses of passion, we want to equip them and they don't have designer they can hire for now. So we really want to give them access to that.
Daniel Jester:
I really love that I describing them as businesses of passion. That's absolutely right. Anybody who starts, anyone who's going to go through the trouble of selling stuff out of their house or out of their small store is very passionate about what they're doing. They're almost certainly, this is going to sound a little callous, but they're almost certainly not making enough money to be really worth it to them financially. It really becomes about passion and the intersection of that passion and creativity can lead to a lot of frustration because again, there's a lot of skills and technology and things that big brands have access to that smaller individual contributors either don't have access to, don't have the time, don't have the budget for it. I shared this with you Matthieu, and I think I've talked about it on this podcast before that in my home studio I still shoot for small brands who have little to no budget for good photography because I want to help them and I recognize what this can do for them and they wouldn't be able to afford to hire the best photographer on the internet that I want to find.
So I offer up myself as a lame replacement for the best photographer on the internet, but I really admire that mission and I think that this app goes a long way to doing that. Talking about your customer base, because you have other features in the app as well that isn't just geared for people who just want to sell things. There's people who need content of all types and Photo Room can help with that. So what are some of the other use cases that you found for Photo Room for your users?
Matthieu Rouif:
First, as you say, it's all kind of businesses. We have a butcher from the north of Brazil to a legal collectioner in Japan. We're really international. To a single mom in South Africa. And what they all say is "I use Photo Room to look pro, to look like a big brand and it inspire trust. So when you have trust, you can sell more and you can grow your business." And to go back to your point, I think we're close to 40 million downloads now. It's really wide usage. So we have people for fun, people would build memes. There are a lot of profile picture, a lot of Amazon people actually building their profile picks using Photo Room. And the philosophy we have behind that is we don't only use AI to remove the background. We use AI to as we say, understand what is your object. And the goal is once you understand that we do the kind of, we call it internally the mood board, which is a create page in the apps and we will try to find the best template for you and for our users that matches who you are, what country you are in and what kind of products you sell.
It can be cosmetics, can be YouTube covers. We mentioned that it can be your social media, it's kind of this idea of all visuals. If you are selling on Instagram, not only you need to do shots of your product but you also have your profile page. You also need lifestyle photos, trying to provide content and template for all these use cases. And then in terms of features, it goes to all the basic editing features like creating shadows, outline use, adding text. And in terms of ai, we have what we call the magic retouch, which is like if you have a background that you like but you want to remove a defect or if you are doing a real estate photography, removing a pair of sock that's on the shot you took of the sofa in the living room, this is a magic retouch what it'll do. And the last part based on AI is the idea of generating background. We have a webpage that's called an AI background generator from a text prompt generator background. In the app actually we have thousands of templates that don't exist. They were generated using this tech. We plan to develop that even more in the future to have a background that matches the initial photo.
Daniel Jester:
Just speaking of the for fun user, because I think that's probably partially where I fall too. I was showing this app to my wife and my children. Not that long ago, actually a little while ago. My kids are, they don't care what I do for a living, but they're marginally interested in some of the cool technology that I have access to. So my daughter, and Matthieu, I'm not saying this just because you're French, but my daughter has been obsessed with the Eiffel Tower since she was like four years old. She saved her money, her all her birthday money, allowance money, everything for years. We finally got the opportunity to go to France in end of April, beginning of May. It was just the beginning of spring in Europe and it was absolutely beautiful. Saw the Eiffel Tower, it was amazing. She was like absolutely love struck by it. But,he favorite photo of her in front of the Eiffel Tower is not one that I actually took while we were there in France. Her favorite photo of her in front of the Eiffel Tower that I'm about to show you is one that I made in Photo Room.
Matthieu Rouif:
That's funny.
Daniel Jester:
I took this picture of her. And for the audience, I'm showing this on our camera feed so you can't see this but maybe I'll put it in the show notes or something. But I took this photo of my daughter sitting at a cafe in my city where I live and just dropped in the Eiffel Tower in the background from the background generator in Photo Room. It was humid that day. Her hair is frizzy and I honestly think I could trick 80% of people with this photo, I think I could trick 80% of the people out there that this was actually taken in front of the Eiffel Tower on this day. That's how good the quality of isolating my daughter from the background is. It's pretty unbelievable.
Matthieu Rouif:
And I told you I really believe the people start for the personal use case and then bring in the app to the work and then come back and we want Photo Room to be in everyone's life so they can express themselves visually.
Daniel Jester:
And I found that it's really great for doing some layer based. I made a joke, I guess I could share the joke. This is kind of a funny story for the podcast. I guess I can share it. Me and the rest of the Creative Force marketing team were in Barcelona and one of the nights that we had a really nice dinner with one of our partners and then we wanted to go to this rooftop bar and they wouldn't let us in because I had a backpack, I had a backpack I had been out all day, I had been at an event, I was doing a speaking thing, I went someplace else. I hadn't been back to my hotel or anything and they wouldn't let us in. They had a rule against backpacks and I felt really bad cause we'd all been drinking already.
I don't know what time it was, it was late at night. Everybody wanted to have that one last one And I kind of ruined everybody's fun. But as a joke later on we were talking about for Creative Force, when are we going to open up? We all had such a nice time in Barcelona. We said when are we going to open up the Barcelona office? And as a joke, I had a picture of this hotel that I had taken earlier in the night and I wanted to put the Creative Force logo on the hotel and I'm trying to think of which apps I have in my phone that could do that. And I was like, "I bet Photo Room could do that." So I took this picture, made it the background, took our logo and made it the layer and then just moved the logo and resized it so it looked like it was on the side of the building and posted that in our Slack.
And it was funny, now that I've told that whole story, I don't think anyone's going to think it's funny. But for using Photo Room, it turns out it is the best editing app in my phone for doing just goofy stuff like that. When I think of some funny idea that I think will make my coworkers laugh, it ends up being the right one. I want to pivot from this conversation now and talk a little bit about some of the broader support that you have behind Photo Room. And what I mean by that is we're definitely talking about an app that is focused towards sort the individual, but Photo Room does have resources for brands at scale that want to take advantage of this technology. There's an API, I went on the website, I discovered the API information is publicly available. You can integrate the technology that does this stuff with Photo Room into other tools that are out there. Can you share with my listeners what is the most common use case for the API? What are you seeing people use? Anything that you want to share about it because it's not just the app. This technology is available for people at scale that want to use it.
Matthieu Rouif:
For bigger teams and bigger needs in photography, our goal is really to help the workflow photography for commerce. So API sits well with that. I mentioned a collaboration later on, but what we have is all the tech to remove the background is something that's available as a an API. So just can integrate that in your own workflow to remove the background and use why background, transparent background if you need it. White background is needed on a lot of marketplaces or if you want to list what you've done on and advertise on Google, you need a white background. And interestingly we have three, four kind of apps that are using it today. We have a creative apps module that are creating stories like animated story where you could use the Photo Room API. There is some cross-listing tools like list perfectly to cross list on different reselling platform.
We have marketplaces, big marketplaces that want to x-ray the process of listing faster. Some would send to out outsource the process of editing, but Photo Room goes faster so the sellers can have their project testing live and high quality right away. So this is the third kind of user of the API. We also have actually 3D scanning also people creating, they're using 15 image to create a 3D scan and they would also use the API. So it's really different kind of use case. Actually I'm forgetting another one people would create cases and iPhone cases with stickers on top of it you would use on [inaudible 00:24:09].
Daniel Jester:
Oh right.
Matthieu Rouif:
It's just beta for now, but what we are working on, but you can create a template info. You would go from a design and say this product is the one that's replaceable and all the other things like the background, the logo, the frame would stick. And so from this design you can create what we call a template internally and from a template you can create an API.. it means you can use automate the creation of this same template, so let's say a Black Friday template or a white background with your logo or a kind of maybe higher end white background or resizing you created in the Photo Room app on the web and you give it a way to your engineers as a endpoint for the API and you can automate the creation of photos right away.
Daniel Jester:
That's extremely cool. You mentioned something else that I want to talk about. The API is great for some of those scaled things and all of those things that you listed out. But, to go back to the app again, you also mentioned there are collaboration tools that are in the app. I've seen them but I haven't tested or used any of them. But you can invite other team members to work on things. One of the things that I was thinking about is like, "Okay that's interesting because what if I had one of the brands that I shoot for, let's say it got to the point where they were needing more work done than I could do for them. What if she was shooting her tea towels and then I just had access to Photo Room?" Even if all she did was shoot them, don't worry about doing any of the functions in Photo Room.
A Photo Room, as soon as you shoot it will automatically remove the background or isolate the product that doesn't remove the background, but it'll isolate the product and then you can do what you want to do. If she just took pictures of everything and then I had access to her Photo Room collaboration space and I could go in there and I could fine tune everything, basically go in and retouch from anywhere in the world and she's just feeding images into her phone. Is that sort of the way that you see these collaboration tools work?
Matthieu Rouif:
Yeah, we actually, we have a lot of people asking for collaboration and be able to use the same account because they need it for their business. We launched teams features or collaboration feature a few months back and what I see is really kind of a workflow where you have some people in the team usually taking photos and then someone else is going to edit it or review it as you just mentioned. Or maybe there's an assistant taking the photos and we really import that. So you will have this share repository and we all, the only app actually where someone would go on this iPhone and take the photo all under it and then you have the same project rendering that's on the web. Sometimes you know need bigger screen to edit later but you capture during the day. And so it can be the same person, it can be someone else in your team that do it later. And big screen plus small screen for capture are really important especially if you have high quality photos at the end. That's how we've seen people using teams is starting from the camera, someone in the team, then someone does the listing and the editing and someone else would do the marketing. All these people can come together and have the same photo account. We've shared design templates and logos for their chi.
Daniel Jester:
I did mess around with the desktop version as well too just to see because I was thinking for my own studio use, do I shoot all of these images and get them in Dropbox and then bring them in the Photo Room? And it turns out that there's a desktop app that works phenomenally well. While I'm thinking of it for our listeners, I forgot to mention up front there's a batch feature where you can just shoot a bunch of images into your camera roll if you want. Take them out of your camera roll, bring them into Photo Room and to watch it sit there and take 15 images and just drop the background out of all of them and then apply the same template. And the other feature, again because I'm in the weeds all the time with the features that I love.
I loved the object detection, the placement within the frame, being able to create any aspect ratio that you need, portrait landscape one by one, whatever it is, and then click one button to place the subject right in the middle or wherever it is you want it. Being able to build all that template, all of that stuff is super thoughtful and all of it I'm assuming is powered because of this object detection that it has. This machine learning where it knows this is the object, it knows where the confines of it are. And so because you know that information, you can do whatever you want with it automatically at the press of a button. It's pretty amazing.
Matthieu Rouif:
On the batch actually, there's a positioning the same. If You don't edit, you can apply them to everything, to every design you've made. Every product, actually we got users that they took them three hours to at least, I think it was 100 photos, they got it to five minutes. So you can go up to 500 photos on your iPhone, it takes a few minutes and just can explore it. That's super powerful. We really want to give them time back, and for businesses time is money.
Daniel Jester:
What's so stunning to me is that for most, I think creative production professionals like myself that come from this background. Maybe this is my age, maybe this is me getting too old to learn new tricks. But I always have found working in this way on my phone to be kind of clunky a lot of the time too, doing anything at scale. I keep Lightroom on my phone, I keep some of the design programs on my phone for doing quick things with pictures that I took on my phone. But one thing that's really striking about Photo Room is that doing bulk actions and doing real serious work, like you said, 500 something images or whatever it is, it's quick and it's not hard to do. A lot of times some of these apps, it feels really clumsy, whether it's the UI or just how you have to go about doing things.
But all of the bulk stuff works really well. It's really incredible and it doesn't feel strange to sit there on your phone and do it. Although it won't. If you're in a studio some day and you're sitting in your chair and you're on your phone this the CFO might come in and be like, "Are you working?" "Actually, yeah, I am working. I'm in. I just published 500 listings." Thank you. So I put out the call on LinkedIn. I haven't done this before for the podcast, but I thought it'd be interesting cause I was so excited to talk to you, Matthieu. I put out a post on LinkedIn and said, "Hey, I'm talking to this guy Matthieu from Photo Room. If you haven't checked out the app, you should check it out. What should I ask him about?" The person who asked this is a mutual acquaintance of ours, they asked not to be mentioned by name. I guess I don't know their privacy on the pie, I don't know what what's going on there. They wanted me to ask you about, and I think they have some insider knowledge, so you tell me if you're allowed to share about this yet or not about renaming and exporting, which are definitely functions that our enterprise listeners would be really interested in. Is there anything you can share with us about functionality in Photo Room around renaming assets, exporting images, that kind of thing?
Matthieu Rouif:
Yeah, actually it's the next step, but what I can tell you today, there are a lot of Easter eggs, as we say, as software developer in the app. For instance, if you take a photo and you go into original, so it would keep the photo but separate the background from the object. If you move the subject out a bit, it would in paint, fill the hole of your subject so you can actually move it around. And we don't, we don't brag too much about it, but it's pretty cool.
Daniel Jester:
You don't advertise these features. It's like the, it's the Apple thing. I've talked about this I think on the podcast before the Apple thing when I just randomly discovered one day that I could copy something from my MacBook and paste it on my iPhone. Apple never told anybody that you could do that, but it exists in there. One day, it just shows up. Yeah.
Matthieu Rouif:
And so to get back to the feature that the anonymous writer is, if you go in export features, something that comes from our user is when you export, you can rename the products and you can choose to use the camera to rename. We are all photography. And so in renaming you pick come from the camera and then the camera would scan the name of the product that you show to the camera and would just put it as a file name. Then it's easy when you have dozens of picture or meals. If you have a meal that's using lamb and another one using chicken, how do you find back afterwards? But if you could just, the restaurants owners, they would just write it on a paper, it scans it and it's in the file name and you can use it and really trying to get it to come back, yeah.
Speaker 3:
Yeah, that's an incredible feature and super useful for what you're describing. Nowadays, restaurants have a huge need for that. That's been one of the really interesting things that come out of the Pandemic is a business that historically needed some amount of photography. Most restaurants have some of their dishes at least shot. But when everybody shifted to meal delivery, now all of a sudden their entire business is dependent on having good images of their product. This is a world they never lived in before. So that's another group of users for Photo Room that I think is really interesting. I want to close out the episode. We're a little tiny bit long, Matthieu, but I want to close out the episode just what do you see from Photo Room in the future as far out as you want to say, 3, 5, 10 years? I'm always curious to know this is an incredibly powerful technology and I'd love if there's anything you can share about what the future of Photo Room looks like. I think it'd be interesting to know.
Matthieu Rouif:
I think we'll be faithful to our mission, which is empowering the small teams to look as professional and the creators to look as professional as a big corporation. And looking at that, it's always a mouse and cat games where 3D will come, video will come and from a few product for the AI, there are early signals that you can create a orbital video or a 3D scan of your product and put it in a great scenery. That's how I think will evolve, really follow on what the Big Corp can do that look pro. The game of the entrepreneurs will be really put this magic tricks and its magic tool to look for and sell more in the end of the small team so they can really grow their business and sell more. It'll go in a 3D video and actually generating the scenes.
Sometimes when you go in a studio, you also have the props and it's so difficult to look at, you takes so much time to reorganize, find the right props, the right background. And what I've seen professional photographer actually do is actually just take the photo of the product and then create in Blender the background so that they have multiple proposal afterwards. I think you'll be able to do that in a few months in Photo Room. Just put props and backgrounds in there and degenerate your scene and pick the one that's the best for your customer, for your business, or even try advertising on top of it to see what works the best.
Daniel Jester:
I just had a thought just popped in my mind. I just had a vision of the art director of the biggest brand in the world, whoever you want to say. I see the art director using Photo Room during model casting to shoot images of those models during a quick lighting test and then saying, "Okay, what if we shoot this in London? What if we shoot it in Paris? What if we shoot it here?" And swapping out and then having, here's six options for this, here's the model we want to cast. Here's our six locations that we maybe want to put them in. Even for something as simple as mocking up an idea. I think Photo Room could be really powerful for that. Then I think it goes without saying Matthieu, that the technology will get to the point that it will no longer be necessary to fly those people anywhere. As much as it's going to be hard for some of us to let go, wanting to visit other parts of the world. But again, for that small brand, we shot our whole lookbook in Barcelona and didn't go.
Matthieu Rouif:
Movies or the high end brands will always find there's always this small thing and the extra step, extra mile they will do. But that's like the 10, 20% top brand. And I think building a tool that's creative, you say for prototypes, the creatives, we always find ways to impress us if you give them the power of something they can do from just in their pocket. I'm super confident that people mastering photography will create even better result for more customers using Photo Room.
Daniel Jester:
It was so amazing to have you on the podcast. I know I sort of gushed all over you when we first met, but I'm a huge fan of Photo Room. I think it's really cool. I love the mission. I think we share a lot of the same values about trying to empower creatives across the entire spectrum. You have generously offered a discount code for listeners of this podcast to download the app. So for our listeners, if you download the app, there's a monthly cost of the app. I don't remember off the top of my head, Matthieu, maybe you can speak to that. But we have a code, E C C P, all capitals, E C C P, E-commerce Content Creation Podcast. E C C P is the code. And what do you get for that, Matthieu?
Matthieu Rouif:
The code will work if you download the app, but you have to apply the code online on photoroom.com. We have paywall and you get one month for free or the pro plan, you get like the batch mode, you remove the watermark,highyou have j resolution, and you'll be able to invite someone from your team actually in there, two peer goal would be free for one month there.
Daniel Jester:
Extremely cool. So our promo code is E C C P, all capital E C C P. Download the app, apply the promo code, follow the instructions. I'm sure it'll be very clear what you need to do with that promo code. And then you get some of the pro features for free for a month and I think our listeners will be pretty impressed across the board with what this app can do. At the very least, it's a ton of fun to play around with. Matthieu, thank you so much for your time and your expertise. And I don't know, next time you have a major product release reach out to us. We'd love to feature it on the podcast. Anytime you're about to drop a new feature set and you actually want to talk about it instead of just sneaking it in as an Easter egg, let me know and we'll be happy to talk about it on the show.
Matthieu Rouif:
That would be awesome. Thanks Daniel.
Daniel Jester:
Okay. All right, Matthieu, thank you so much for your time.
Matthieu Rouif:
Thank you so much. Have a good day.
Daniel Jester:
That's it for this episode of the e-Commerce Content Creation podcast. I hope you enjoyed listening to that episode with Matthieu. As much as I enjoyed having the conversation and have enjoyed my time playing with his app, it is very, very cool. So again, that promo code E C C P gets you a month of Photo Room Pro for free. So take advantage of that please. Many thanks to our guest about Matthieu Rouif and thanks to you for listening. The show is produced by Creative Force, edited by Calvin Lanz. Special thanks to Sean O'Meara, I'm your host, Daniel Jester. Until next time, friends. Hi Ian.
Subscribe to the eCommerce
Content Creation Podcast
About the host

Chief evangelist at Creative Force
Daniel Jester is an experienced creative production professional who has managed production teams, built and launched new studios, and produced large-scale projects. He's currently the Chief Evangelist at Creative Force but has a breadth of experience in a variety of studio environments - working in-house at brands like Amazon, Nordstrom, and Farfetch as well as commercial studios like CONVYR. Creative-minded, while able to effectively plan for and manage a complex project, he bridges the gap between spreadsheets and creative talent.