Back to list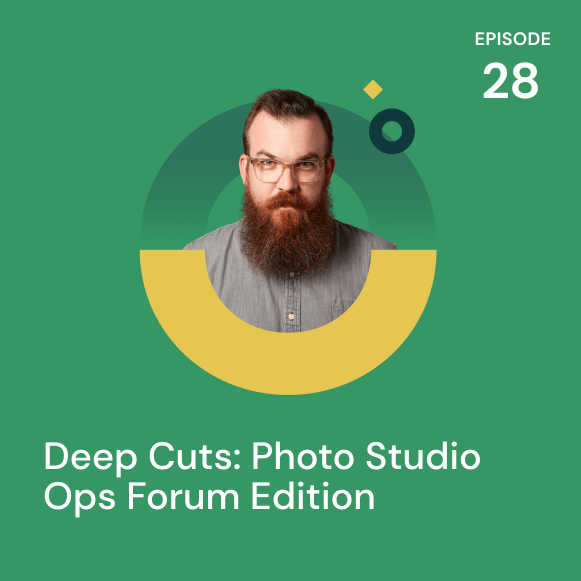 Episode 28 - September 28, 2021
Deep Cuts - Photo Studio Ops Forum Edition
Summary
In this "Deep Cuts" episode of the E-commerce Content Creation Podcast, we're rounding up all of the past guests of this show who will be speaking at the upcoming Henry Stewart Events Photo Studio Ops Forum 2021, on October 5th. No less than 7 past guests of this podcast will be speakers at the event and you can hear from them in this episode where we compiled a selection of clips.
Key Takeaways
Clip 1 is Clair Carter-Ginn from Episode 8, Casting in the New Age of E-commerce
Clips 2 and 3 are Carrie Crow from Episode 10, Guiding a Studio Through Hyper Growth
Clips 4, 5, and 6 are Curren Calhoun from Episode 15, a Lean Approach to Technology in your Studio
Clips 7 and 8 are Colleen Moore from Episode 12, the Adaptable and Agile Studio
Clips 9 and 10 are Ali McLeod from Episode 13, Trust, Transparency, and Fluency
Clip 11 is Brian Guidry from Episode 2, Successful Outsourcing for your Lean Creative Studio
Links & Resources
Full episode transcript
Daniel Jester:
From Creative Force, I'm Daniel Jester. And this is the eCommerce Content Creation Podcast. On October 5th, 2021. Our friends at Henry Stewart Conferences are hosting the Photo Studio Ops Forum, 2021, a virtual event designed for studio operations professionals to hear from speakers on everything from studio optimization and evolution to staffing and resource management.
Daniel Jester:
Seven prior guests of this podcast will be speaking at this event and we thought we'd pull together some clips of past episodes, so you can get to know the speakers a bit and hopefully convince you to register for what will no doubt be an excellent forum full of great insight. Let's jump in. Chai`ring the conference's friend of the show, Claire Carter, gin of forecast.
Daniel Jester:
She's kicking off the conference with an opening message to attendees, and she's been a guest on this show twice. Most recently, just a few weeks ago. This clip is from episode eight, Casting in The New Age of eCommerce. We talked briefly about social media and understanding where you can reach your audience most clearly by knowing where they spend their time.
Claire Carter:
If your audience is on social media more often, you're bound to have more engagement in that type of content. Scott Lucks from Allison Olivia had said on the Creative Forest Podcast that we did back in January, that they were doing more TikTok content than they ever thought that they would. And I thought, "Alison Olivia, that's really interesting, because I think of that as a women's brand that has a lot of legs with basically age 20 to probably age 50," but TikTok interesting.
Claire Carter:
It's just interesting that people see, as they look at their consumer and I think, let's face it, it all goes back to knowing your audience.I think the brands for a long time have always sort of had kind of driven that part of the conversation. And I think now, especially with social, it's a great way to bring your customers into the conversation. What kind of content do they want to see? What are they reacting to? What are they saying is doing well? And I think that some of it is trial and error.
Claire Carter:
I hate to say, we've got to throw stuff at the wall and see what sticks, but in some ways we do now, because that mentality of, "Well, this is the way we've always done it just doesn't float in the same way," because the way we shop has shifted dramatically, if not completely in the last year. So I think understanding what your consumer wants is one of the first things you can do before you try to decide what your content strategy should be.
Daniel Jester:
You can also catch Claire in episode 25, Content Strategy in 2021 and Beyond, where we discuss the shift of content studios from transactional to more strategic parts of business operations. Up next, on the agenda is Carrie Crow of Hello Fresh. If you don't know what Hello Fresh is, they're the number one meal kit company in the United States, and have seen explosive growth over recent years. Carrie Crow joined me in episode 10 to talk about exactly this guiding a studio through hyper growth. We have two clips from Carrie, the first where she describes how they structured their physical space, and team to allow for the ability to tackle any project at any scale they may need.
Carrie Crow:
When we started off our studio in Midtown, we had the ability to have two sets, three at a stretch. In Industry City, we have about probably the space to do eight to 10 sets, if we needed to. What we do is we are constantly in a state of prepping, shooting or hindsight the work we just did. And so what we are constantly asking ourselves, what I put to the team is, "What do we not do that we should be doing? What could come down the pike that we're not prepared for? Could that be outdoor grilling? Could that be environmental lifestyle? Do we have the technical capability to have people without masks right now, indoors or outdoors?
Carrie Crow:
Does everyone know how to shoot a billboard, if they needed to, medium format? Can we shoot at 9:00 AM and create that lighting look at noon at nighttime?" It's really increasing capacity and the skill set of the team, and to making the work for ourselves before we get briefed to do it. Is it infinite? No, it's probably finite, but we continue to build our own capabilities before they're asked of us. And so I think in that way, the projects can move around very nimbly. And if we had to, we could be running 15 sets, covering anything from technical, econ, photography to video content.
Daniel Jester:
Carrie went on to share with me how she keeps her teams engaged and creatively fulfilled, while ensuring her entire team is also capable and has the experience to tackle any project.
Carrie Crow:
There used to be two photography leads, one in Boulder and one in New York. And we have a photographer here in New York who's really a master. She's a lighting master, in my view. She would probably laugh if she heard me say that. Her name is Emily Dryden, but in a master of color. And so, to me, she was the clear lead of that department, and she had the ability to really train up that team. I think that's where the fundamentals start, is with the photography getting that right camera. And so what we do is we created an innovation lane together, Emily, me and one of our lead designers.
Carrie Crow:
And so anyone can brief us in anyone in the studio or cooks brief in our stylists brief in, ops briefs in anyone on the creative team can brief in. And we keep this kind of hot list of ideas that we want to shoot. And if we have a shoot that wraps earlier, or if we have a flex day, we'll start tackling this stuff in that brief. And so Emily provides the coaching the direction on making sure that the skill set is there. And then she has actually portfolios for her team and sort of regularly looks at them with the team.
Carrie Crow:
Where are their holes? Where are their gaps? And this is as much for the individuals to make sure that this is a worthwhile dynamic experience in their careers. I would love for them to leave this time here, considering it time well spent, that whatever we do, that they're building their portfolio, their skillset. And it comes a lot from Emily and the photographers and the team themselves.
Daniel Jester:
Carrie will be delivering the keynote along with Bill Weiss of Beachbody and Openfit, where you can hear more about this exact topic, guiding and supporting your teams through periods of extraordinary growth. In the following session, you can hear from Curren Calhoun, Sr. Director Photo Production & Technology for Gap. And he's going to talk about, you probably guessed it, digital imaging technology back in episode 15, Curren and I discussed his philosophy around technology in a studio environment, and what we called a lean approach to technology in your studio
Curren Calhoun:
Technology to me should be an enhancer. It needs to enhance the process that you're doing, and allow the creatives to focus on creating, using their skill set, and not doing repetitive tasks. Anything that you can automate, you should automate. Automating those tasks, allow the creatives to focus on what it is that you want them to focus on, creating excellent content that engages with your customers and creates that entire brand experience that you're looking to do. When I'm looking at a technology solution, I'm looking for something that doesn't force the team into a specific way of doing things. That it enhances the way that they need to do things based on the business that we have.
Curren Calhoun:
I've been at four organizations and none of them do things the same way because of just their general business model. So if you have a solution that doesn't give you the flexibility to adapt it to the way you need to work, to either interact with your creative team in the way that they need to work or to interact with your eCommerce teams, your digital operations teams for the way that they work and the way their technology stack is built, you're not going to be successful. So you have to have some flexibility in the way your technology enhances what it is that you need to do.
Curren Calhoun:
My job is a translator, it's taking a creative process and creative thoughts and ideas and translating it into a universal language, which is numbers. You're interacting with a variety of different groups. The top ones I can think of are you've got creative teams, finance teams, site general managers that all have different desires. They all have different needs that you need to support. So how do you communicate with each of those groups in a way that they're going to understand what it is you're trying to say to them, and also rally behind you to support what it is that you need to get done?
Daniel Jester:
Following Curren's session, past guests, Colleen Moore, senior manager of Media Studio at REI and Ali McLeod, AVP, of Photo Studios at Saks Fifth Avenue will be panelists discussing growth, agility and flexibility in a discussion moderated by conference chair, Claire Carter Gin. Let's go first to Colleen, who was our guest in episode 12, The Adaptable and Agile Studio. In these clips, we talk about the challenges of shooting a mix of brand imagery, along with other brands they sell as a retailer, as well as the critical role that workflow options and flexibility plays in building an agile process.
Colleen Moore:
I think data is the key to your point. And our brand is co-op brands, really great product. Feel free to check out the Trail Smith collection, just want to make a plug there for my-
Daniel Jester:
Plug, whatever you want. We are REI fans over here, and we will absolutely... We'll collect our payment on the back end, but we'll absolutely plug whatever you want.
Colleen Moore:
Yeah. So to your point, our own brand is co-op brands. We have a wide spectrum of product there, we also carry boats, roof racks for cars, stoves, such a wide range. So it is complex in both how we decide, to your point, does this set of imagery come in to support this product from the vendor, or does our studio produce that if it's co-op brands, we produce that. That's our own brand, so we do produce that. We absolutely have reporting and data as well around efficiency there, but quality and quantity are incredibly high bars for us, particularly around our own brand.
Colleen Moore:
And so we have a unique opportunity to wrap our style guides around the product categories within our own brands and build those style guides out. I like to call them the VIP style guides. So how do we apply the VIP treatment to the products that are own products? Backpacks are a great example. There they range in complexity from a really simple backpack that maybe only has a couple bells and whistles to something that's really complex. And there are details and things you need to see, honestly, in the imagery of that product to know whether it's going to suit your needs for whatever those needs might be.
Colleen Moore:
Are you going on a month long backpacking trip, or do you just need something to grab and take to the gym are obviously two very different use cases? So those use cases, even though that's the same product category, backpacks, require a different set of imagery to support those products. So that to me is where a lot of the complexity comes in. And then there's the complexity as well in terms of coordinating back and forth between the team that is working with the vendors to get their imagery supplied to us, and the studio who's executing the in-studio production shots. And of course everybody's goal in this business is to get the photography executed before that product is sitting in your DC is unavailable to ship out.
Daniel Jester:
Correct.
Colleen Moore:
So sometimes it's both things for us. The idea around agility and how that really I've learned over this last year is more important to studios than it ever was before to be able to respond to those business needs quickly. It's saying we have... One of our producers says often, "I'm wearing tennis shoes, because I'm ready to pivot at any moment." And so building that agility in the process is a huge win for the business as a whole, right? So yes, I too hope we never ever, have a pandemic again at that scale, or that disrupts our business like that.
Colleen Moore:
But when we did, we needed to find a way to cut our budgets, like many other production houses. And one way to do that was to really lean on the content that our vendors are already creating around their products, whether that fit into our style guides or not. And our ultimate goal is to provide a consistent, cohesive experience on our site. And so we may not have been achieving that goal by opening up that pipeline for vendor content even wider, and I think that's the sacrifice that you make when you're being more agile, but we were able to meet the business' needs exactly where they were at when they were at.
Colleen Moore:
And then yeah, it's interesting. I thought of it like a lever, but now I think maybe it's a bit more of a dial that we can dial up and down based on the business needs and, or how that vendor work fits cohesively with our own style, right? So if a vendor is providing a fairly consistent suite of imagery to the suite of imagery that we're producing inside of our studio, so then our members get a consistent experience when they're shopping on the website, whether that was Patagonia that provided those images or REI, that's awesome.
Colleen Moore:
That should be the experience that we hope our members have. And we hope that they know what to expect when they're coming to our site. And I think that was a little bit of the sacrifice that we made by opening that pipeline up, but it was for the greater good of our business, and that is a lever. And I guess a dial now that I'll continue to look for us to turn based on the business needs, based on the category, based on the brand
Daniel Jester:
Now over to Ali McLeod, who joined the podcast in the very next episode, episode 13, where we discussed trust, transparency and fluency when managing your teams.
Ali McLeod:
When someone sees that your behavior, actions, your follow through are all consistent, that's slowly going to build that trust, right? You're proving yourself to them the same way they try and prove themselves to you every day. Hearing people out, open door policy, open office hours. I want to hear from everybody at every level. I want to hear ideas. I want to hear what's working, what's not working. Discussion is always on the table and it's a little bit of empowerment, but also trust. "You're the one doing it every day. Not me. I trust that you know better now. So come and talk to me about it." And it shouldn't be a big, scary thing, jumping levels. And having these conversations, it should be collaborative as much as possible.
Ali McLeod:
So having that really open, honest conversation and discussion and ability to approach people at all levels and then showing consistent behavior and action behind it, I think, really helps build trust over time. I'm really lucky that I have a tight knit management group. We work incredibly well together. We challenge one another. We question one another, regardless of who's in the room, and what level you are, which I think is really important because again, it's that transparency and trust within the group that will help us work better together, solve problems, faster, that kind of thing.
Ali McLeod:
I think as well as a team can run. And as, as close as a team can get, there's always going to be situations where maybe everyone's not getting along. Maybe they think it's about trusting one another. It's not always necessarily about trusting that they know their job or that their professional opinion is valid or correct. It's sometimes more about trusting their way of working and figuring that out, and finding ways to eliminate that or eradicate it as much as you can from the relationships is huge.
Ali McLeod:
So you're almost, at times, acting like a mediator. My team and I practice I'll do a book plug for Kim Scott on radical candor. We practice radical candor. We're very open and honest with each other and in the spaces where they don't feel comfortable doing that, they will use me as the mediator, but they know that I will be honest about the conversations we're having independently to each other. And it's really up to them to come together and figure things out maybe with a little bit of advice or guidance.
Daniel Jester:
Last up, we have Brian Guidry who will be speaking on the topic of implementing a hybrid post production solution, and achieving more agile, creative operations. He came on the show way back in episode two, to talk about building meaningful partnerships with your external service providers.
Brian Guidry:
Number one, for me always, and this goes back, let's say 10, 15 years now working with outsourcing relationships. It does come down to, I think, a partner mindset, right? Of not just looking for the short term or, "Hey, can I find a solution for this season?" Of course, that stuff does come up. "I've got a backlog or a bottleneck, or I need to create some new collection, and I need to find a partner to do that." I get that. If you are going to go down the outsourcing route, I think really taking the right approach and really approaching vendors and evaluating them the right way, it makes all the difference.
Brian Guidry:
So looking for a vendor that you can grow with, right? That can, can essentially be an extension of your team. I think for me, that's fundamental, right? So there's a lot of pieces to that. There's communication, right? There's trust. I think those are kind of the pillars of where the relationship's going to begin. Then of course you get into all the other details of quality, price and speed and things like that. But really, at the beginning, it all comes down, to me, it's about the communication and trust that you're going to build with a vendor from day one.
Daniel Jester:
I haven't yet mentioned David Isco [inaudible 00:18:15]. He was a guest on the show only a few episodes ago. So go back and check out episode 26, A Bird's Eye View of Editorial Production. You can hear more from David during the session, Bridging The Gap Between Marketing and Your Photo Studio. That's it for this episode of the eCommerce Content Creation Podcast. I hope you enjoyed this Roundup of past guests so far in the sort of preview of the upcoming photo studio ops forum on October 5th.
Daniel Jester:
To register for the event, head over to tinyurl.com/photoops2021. That's all lowercase, all one word, photoops2021. And that URL will take you to the Henry Stewart event page, where you can learn more and register for your spot. The show is produced by Creative Force, edited by Calvin Lance. Special thanks to Sean O'Meara and all of the past guests of this podcast, and to you, the listener. I am your host, Daniel Jester. Until next time, my friends.
Subscribe to the eCommerce
Content Creation Podcast
About the host

Chief evangelist at Creative Force
Daniel Jester is an experienced creative production professional who has managed production teams, built and launched new studios, and produced large-scale projects. He's currently the Chief Evangelist at Creative Force but has a breadth of experience in a variety of studio environments - working in-house at brands like Amazon, Nordstrom, and Farfetch as well as commercial studios like CONVYR. Creative-minded, while able to effectively plan for and manage a complex project, he bridges the gap between spreadsheets and creative talent.