Back to list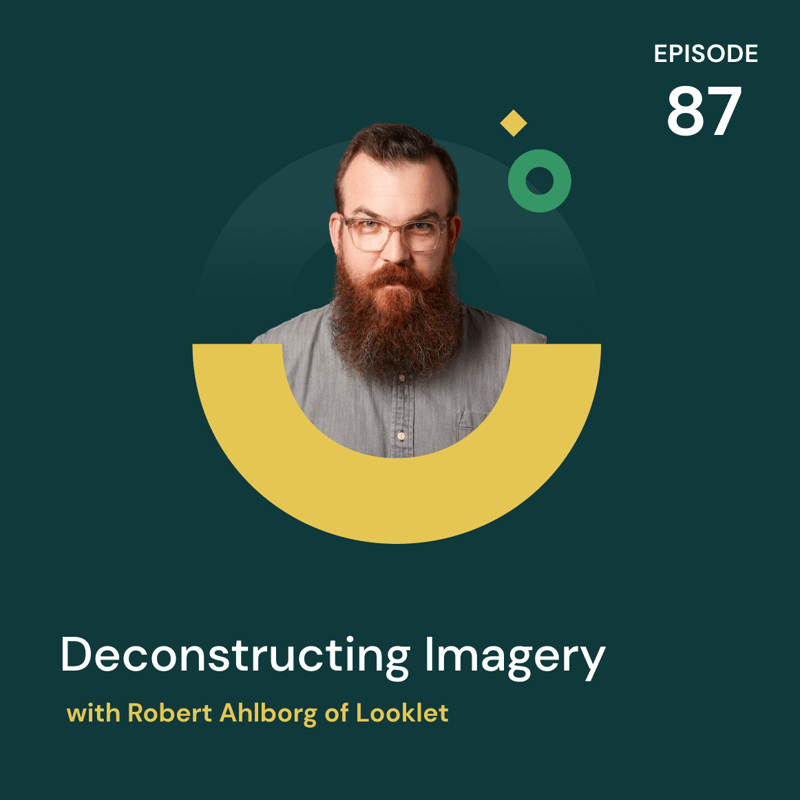 Episode 87 - November 15, 2022
Deconstructing Imagery with Robert Ahlborg of Looklet
Summary
An interesting problem that many creative teams don't think of as a problem is the static nature of the photograph. By their very nature, photographs are snapshots in time and making changes to that snapshot historically has been inconceivable, impossible. Our guest in this episode is Robert Alhborg, former fashion photographer turned co-founder and chief Product Officer of Looklet, a fashion tech company that challenges the idea that fashion imagery is static by nature, and is working to unlock a new world of capabilities and synergies between creative production and e-commerce teams.
Key Takeaways
Looklet was founded 10 years, a fashion tech company that has deconstructed the process of fashion photography for big retailers and brands.
Customers can shoot models and garments separately, even in different parts of the world, and compile those elements into an image that is hard to distinguish from a traditional photo shoot.
These images become dynamic. You can take an image you love and replace the apparel within the image.
Roberts background is as a fashion photographer, his experience taught him that scaling fashion photography is very difficult.
With Looklet, you can maintain a smaller, faster studio and still produce high quality on figure photography.
In this deconstructed style of photography, you can change out articles that maybe are out of stock or no longer for sale, and not have to reshoot because of these reasons.
The main thing for Looklet clients is being able to try new things. A/B testing imagery, Personalization, Regionalization, etc.
Looklet also enables broader options for talent. You no longer have to book the same models everytime you shoot, you can perhaps afford to book a celebrity model and then use those assets for a long time, changing looks as you need them.
One of the challenges are e-commerce websites that are to rigid to allow for regionalization or personalization.
There is a big opportunity for a forward thinking creative team to use a platform to its fullest capability.
Looklet creates a new layer of cross functionality between studio/creative teams and ecomm/web teams.
Looklets biggest challenge in the near future is balancing their own road map with features that clients want, and finding the right clients to take personalization to the next level.
Full episode transcript
Daniel Jester:
From Creative Force, I'm Daniel Jester and this is the E-commerce Content Creation Podcast.
An interesting problem that many creative teams don't think of as a problem is the static nature of the photograph. By their very nature, photographs are snapshots in time and making changes to that snapshot historically has been inconceivable, impossible. Our guest in this episode is Robert Ahlborg, former fashion photographer turned co-founder and chief product officer of Looklet, a fashion tech company that challenges the idea that fashion imagery is static by nature, and is working to unlock a new world of capabilities and synergies between creative production and e-commerce teams.
Robert Ahlborg:
With Looklet, you can just change it. You can just find a similar pair of pants in your library of all the garments we shot for you or you shot in our studio, and then restyle it and you can do it with templates and in batches and all of that. So you can do it with things that are going out of stock for example, you can do it when you go into new season. You can just restyle your evergreens with new models, backgrounds, crops, whatever, output new imagery without going back to the studio.
Daniel Jester:
This is a very interesting conversation, especially when taken into context with all of the advances in imaging and marketing technology that we've seen over the last few years. So let's jump in with Robert from Looklet.
This is the E-commerce Content Creation Podcast. I am your host, Daniel Jester. Joining me for this episode of the show, Robert Ahlborg, co-founder and chief product officer at Looklet. Hi Robert, welcome to the podcast.
Robert Ahlborg:
Hello. Real nice to be here.
Daniel Jester:
Let's start by having you tell our listeners a little bit about who Looklet is and the service that you provide.
Robert Ahlborg:
So Looklet, we founded the company about 10 years ago and basically we are a fashion tech company that has kind of deconstructed the process for creating high end fashion product imagery for big retailers and brands. So we let our clients, give them the tools and the software and the hardware to shoot the garments that they want put online one by one. And then in our softwares, purely digitally style, combine with models, backgrounds, any type of other garments they've already captured. And I'll put really high res product imagery from that. So that's kind of the main thing, the production part of Looklet and we produce thousands of images every day. So it's a really streamlined process both for the client but of course also for us with all the quality control and service and data we capture around the products all the time.
Daniel Jester:
Perfect.
Robert Ahlborg:
So that's kind of the main thing. But then of course as I think we're going to touch on, we also enable a lot of new possibilities and new features by having the images being dynamic actually. So you can change the images afterwards, just re-export and have a new image in just a matter of a minute or two.
Daniel Jester:
Yeah. I want to start by talking about this idea of the deconstructed asset creation process, and then we can definitely dig into what that enables for your customers because it is really interesting. What are you talking about when you say you deconstructed the process?
Robert Ahlborg:
I have a background as a photographer and a creative director for fashion before starting Looklet. And what we saw in the early 2000 when everyone was starting to build and recompress and so on, they needed to put so many products online, which hadn't been a problem before. So basically just a scaling problem was the initial thing that we saw that, "Okay, we need to help these retailers and clients to do it in another way." So what we set out to do and what is the core still is that if you can capture this garment and create a digital version of it, a shirt, a top, a skirt, whatever, and reach it with the data of course in same type of data as you are working with. Then if we can digitally then combine all of those items into an image that the client wants live in the software, that enables a totally different type of both setup of the process. So basically you can shoot the garments directly in your warehouse because you only need the Looklet studio and one or two assistants or styling assistants operating it, no technical knowledge needed.
So that's kind of getting rid of that big team that you're so dependent on in the classic production, and then do the styling somewhere else in your creative department in New York or wherever you are. So that's part of it, deconstructing the process but also, of course, the image. You should be able to change all aspects of the image in the software instead of going back to the studio and doing something else.
Daniel Jester:
And that's the key differentiator I wanted to focus on for this part of the conversation because that's really an interesting and dramatic shift from the way that content is generally produced. You book a photo shoot, get the models, get the product, make the shot, and that shot is frozen in time. And if you have to change something, if you have to redo something, you have to go back. Ideally you figure it out within the same day and you can go back. But if you have to go back a different day, maybe that model isn't there that day, maybe you need to rebook that. It's a big process because you're freezing a moment in time and then it's frozen forever.
And with Looklet, the way that I understand it is you're creating an asset that is still dynamic after it's been created. That you can go into it and make certain adjustments to it, you sell out of a pant, or I imagine that this is a use case and backing up on this, Robert, that your customers experience all the time. They create a look, they shoot it, the top and the pants look great together, they love it. Something happens with their supply chain and they just can't sell those pants anymore. Is that image unusable now? Or they can go back and they can maybe make some changes without having to rebook the model and do the whole process again.
Robert Ahlborg:
With Looklet you can just change it. You can just find a similar pair of pants in your library of all the garments we shot for you or you shot in our studio, and then restyle it and you can do it with templates and in batches and all of that. So you can do it with things that are going out of stock for example, you can do it when you go into new season. You can just restyle your evergreens with new models, backgrounds, crops, whatever, output new imagery without going back to the studio. So I mean there are so many use cases for this just with the one image. And then of course, when it comes into personalization and AB testing and stuff like that, there's totally new opportunities. But I think the main thing here for many of our clients is just being able to try new things and to try new possibilities.
We have the highest respect for the classic production. I mean, as I said, I come from that background and I think that the quality and the image that you can get with the perfect team, with the best model, with all of that in a classic studio production, it's amazing. But I think for the hundreds of thousands of items you need to put online every day and the stakeholders wanting those images to be in certain ways. You have your buyers, you have your e-com marketing people, you have all of these people that they're not in the studio when you're doing the shoot. But with Looklet, they can actually have a say and the buyer can say, "We really want to style this with shorts instead of skirts" for example. And that's a super easy change, just pull it back, re-export and you have that update. So I think it kind of solves a lot of problems that you might not think about because they're unsolvable today because not everyone can be in the studio and look at all of these thousands of images and say that's the right one.
Daniel Jester:
I was going to say, I think this is one of those things that it's a problem that people were unaware of because you don't view it as a problem because again.
Robert Ahlborg:
Exactly.
Daniel Jester:
Production is a frozen point in time and that's how it always been. To change the fundamental nature of that is kind of mind blowing in a lot of ways.
Robert Ahlborg:
Exactly.
Daniel Jester:
There's a couple of things that you mentioned that got me pretty excited. Metadata being one, but I'm always constantly talking about metadata. Personalization is a thing that has come up a lot at a lot of creative operations events. The Henry Stewart Creative Operations Los Angeles a couple of weeks ago I was at, there was a lot of discussions about personalization. And recently talking to our friends at the DAM System Bynder, talking a lot about personalization and some of their customers and what they've seen in terms of ad performance based on different layers of personalization.
Looklet, Like this is a key differentiator for Looklet it feels like, because I'm just thinking and I'm probably even picking the lowest hanging fruit here. But regionalization is big, sensibilities in how models are styled, how they look. That is a huge thing that historically has required separate productions to capture everything. If you're selling in the Asian market, you're probably producing in a studio probably in Asia, and booking the right models and making the right looks. Looklet enables a centralized location to make all of this stuff. And I shouldn't even say centralized because it can still be distributed, which is a whole other aspect of this.
Robert Ahlborg:
Yeah, exactly.
Daniel Jester:
But regionalization and personalization, tell me a little bit about how you enable that, how your customers are using it today, and if you can share, what some of the results that they're seeing. Because I think this is going to be something that a lot of creative teams are going to be looking to in the near future.
Robert Ahlborg:
In the end, our base point with this is today it's a lot of one size fits all when it comes to product imagery. So I mean, as you said, there are companies, global companies, we have some of them that we're working with that have creative operations on different markets for example because just to have the access to models and the styling, that is styling team and creative, team that is relevant for that market. We definitely can remove a big part of that. Of course, you still need the knowledge, you can still have your digital styling on that market with the people who have their finger in the air, knows exactly what is the best for their target group. But as you said, the production is centralized, the models can be shot anywhere at any time, and then you have them in your library, you can switch them out super easily. So just geographical adaptation is like that's one part of it.
Then of course you have your segmentation on customer profiling and that's a lot different between the different clients we have and all the different players. How much do you know? How big part of your customer base is returning customers where you obviously have a lot of data? How can you use that for the creative process? Can you do different styling for different target groups for example? And I would say that we have clients that are using these capabilities to some extent, not fully as we imagine it. That conversation, I've been having it for I would say at least six, seven years with different clients. Now, it's really starting to happen, as you said. They have been talking about personalization for all this time with how you do your list pages, what your landing page looks like, everything around that.
But the product imagery has been kind of a, yeah, they haven't had that possibility. And when they start working with Looklet, I mean our way in with the clients are usually help them to solve their production problems, help them to lower the cost, speed up the time to market, all of that. And then we start talking about these capabilities that they can now use. And then, not to sound too boring, but it's usually a problem that most e-comm platforms, since the need hasn't been there to build technology to handle multiple images for the same product for different markets or different target groups, it's not available usually. So usually we have to start with an IT project together with them to just enable it. And that's something that's happening now a lot. And I think next year, I think it's going to be, we will start to see the real implementations of it on different markets but also for AB testing, which I think is super interesting.
With Looklet, it's really easy to produce three different images for a product, put all of them out there and just show it to the ABC customer, just randomized, see what performs best and then eliminate the two ones that didn't perform best. And then you have your hero image live basically. You can do that and then, of course, that would give back data and styling input to future image creation. So there's a lot of things that can be done, but it's a lot about finding the right people at our clients and also a lot about them having the time and focus. I mean as we are, they're also up to the neck in important interesting projects.
Daniel Jester:
Yeah, the audience couldn't see this, but as soon as you said AB testing, I started nodding vigorously and kind of got goosebumps on my arm because Robert, this is the thing that I've been thinking a lot about. AB testing historically kind of takes place at the marketing side of things. A lot of times it's around messaging, sometimes it's around creative, but even then it's usually around layouts and that kind of thing. Historically, AB testing has not been a big part of the people creating the content itself or even something as granular as product pages on a website. I want to talk more about that because it is really, really interesting that you can enable that. But I also wanted to touch on, it's a similar thing that we experience at Creative Force, which is that Creative Force can do a lot for your overall production, but we have to focus the attention of our studios on the problems that they know they have and how to solve them.
Robert Ahlborg:
Yes.
Daniel Jester:
Because even though there's all these other future things that we can do, it's hard to understand, it's hard to wrap your head around that without, you've got to start with, okay, here's a problem that you understand very clearly and here's how we solve it. And then once you've sorted that out, you've gotten introduced to our platform, now you can start thinking about the really interesting future state stuff. So it sounds like from what you're saying Robert, there's an opportunity for some very forward thinking studio out there to come to Looklet and say, "What's the coolest thing you think we can do with your platform and let's do it together?"
Robert Ahlborg:
Exactly. And I think that's totally true also for any especially new clients that first you solve the problems. That's why they start working with you. That takes time and it is a change, it's a change management, they have to just get that value released. But then they can start looking into the bigger picture. What can we do now that we couldn't do before? And that's the case with any new technology mostly that you start using, you have a need, you start using it and then you discover or someone tells you, imagine what you can do with it. Now you start to understand it, you know you can change all these things digitally. You never have to go back into the studio to do then. And I mean that creative discussion with the right people at the clients are super interesting. It's one of the most enjoyable things in my work when I get into these discussions.
And especially, I mean our main contacts are usually the studio people, the studio managers, the production, head of production, all of that, digital assets management. But if you can also get some people from the buyers, from the marketing, all of that in the room, when you talk about this, they have a different angle and they can see, "Okay, oh, so you mean I can change things that are already put online. Okay, then I can finally do this and that. Or I can try different imagery on different markets for example." So I mean they need to understand the possibilities but then they have all the ideas ready because it's their thing even more than ours. How do you build the best store? How do you build the best e-comm experience?
Daniel Jester:
That's a really interesting sort of intersection of cross-functional teams that I don't know that there's a lot of other software out there that has that level of not integration but touchpoints. Because yes, the studio teams have to be involved with working with Looklet. But it does provide value to product teams, e-comm teams, marketing teams. The one use case that popped into my head was like I buy a great shirt from a website that I like, and then I get an email from them a week later, two weeks later that's like, "Hey, you bought this shirt. Here's six images of a jacket with that shirt, pants with that shirt, shorts with that shirt." And just show me a bunch of outfits and things that you sell and point me to where I can buy that stuff, seems super cool. And also seems to be one of those levels of personalization that doesn't cross the line into weird marketing. You know that I bought this shirt, it makes sense for you to want to put together an outfit for me. It doesn't feel like it's too much personalization.
Robert Ahlborg:
Exactly, exactly. And I mean there's been collage versions of that for a long time where you show an outfit in terms of still life combinations. But it's a totally different thing to see it as an outfit on a model. Ideally a model that looks a little bit like you. I mean we released kind of a first version of a digital dressing room this summer. We have the demo on our webpage if someone wants to look at it. But that's kind of the next level of course of personalization where you can do the combinations yourself in the e-comm experience. While you're browsing shirts, you already put on the pants you bought last week and now I can try all the shirts with those pants. If you're a returning customer, you have your digital wardrobe on the e-comm site and you can try things together and you can try the coat when autumn comes now, you want to buy the coat, then you have your outfit there or things you want to buy and you can try it together.
I think both that the user, enable the user to really try things themselves and kind of try it in their style basically just in a different way than you usually see on e-comm is great. But also as you said, the personal stylist feature where I give you suggestions of complete looks, styling ideas from what you already bought. So I think all of that is super interesting for the e-comm experience separated from just showing different images on the [inaudible 00:18:39] page.
Daniel Jester:
Yeah. The marketing opportunities seem just for the motivated marketing team to really think outside the box, it seems kind of mind blowing. But I realized we touched on the idea of AB testing and then I diverted you a little bit this other marketing kind of thing. So talking about AB testing, do you have customers that are AB testing at the product page or where are they doing their AB testing? And what do you think they're seeing and what are you finding out about this ability within Looklet?
Robert Ahlborg:
We have done it. We don't have anyone who does it all the time, which I think actually is what you should do on different levels of course, but I think you should constantly do some kind of AB testing. But we have done tests with clients both with of course, clients that does it with Looklet and can definitely see differences depending on what model you have, what styling you have and so on. They're quite big differences in click through rate for example, on the list page and so on. And also just having, if you combine, just do one different thing. You have the exactly the same outfit but with different models. Super interesting on different markets.
But then I think the tricky thing is that most people when they see this possibility, when you talk to the creative enthusiast people, they kind of think about the one to one segmentation, the complete personalization where I show you the image where the model is directed to you, the outfits is something you would wear, all of that. That's where we are heading. Then you have so many variables so it's super hard to evaluate and the [inaudible 00:20:14] rate of those images if you generate them with AI or different level of optimization is pretty big.
So I think starting in a kind of, okay today let's try different models, see how they perform. Today, let's try different styling, see how it performs, is super interesting. And also just as we talked about earlier, just evaluating the performance of any image, trying to restyle them and then putting a new image online and see if the performance changes is a ... If you don't have the ability to AB test, you can change your lowest 10% performing images or products and see if you can boost them so that's another way of doing it, of course.
Daniel Jester:
The model thing is interesting to me because many, at least in many American apparel brands, not American Apparel, the brand, but American brands that sell apparel, they often have sort of an identity that sometimes is wrapped around that model, especially in their social campaigns. I'm thinking of, I've posted on LinkedIn before about Buck Mason, they used this one particular model. He's a very striking guy, almost always stops me. The ad almost always stops me. I'm like, wow, he looks great, the image looks great. This would be a great way to figure out not just like I have a lot of trust and a lot of faith in every art director and creative director I've ever worked with. Their job is to understand the brand and understand the customer and know what's going to resonate with them.
But the ability to be able to produce images in this way, in a dynamic way and push that out to your audience and learn directly from your audience. Don't have to internalize and theorize and build personas that you have to try to figure out what this is. But just say we're going to AB test three different models for our Instagram ad campaign and we're going to just check metrics for all of those and we're going to be able to do that super easy because of this process that we have.
Robert Ahlborg:
Yeah. I also have, since my background is as a creative director, I have the highest respect for when you really know your brand. All of that. That's nothing, we are not interfering with that. We just give you some new tools to get faster in the process of evaluating things. And I think also that you can definitely use Looklet to enrich Instagram campaign or enrich any type of campaign by creating so many more images that you couldn't do before. We shoot the model once and you can create any outfit on them. That's amazing. It's just something that enables a richer content. But I think that to be able to do those things in your store where most of your clients have the interaction on every product page, you have your thousands of items. That's really interesting because that's where you ... I mean you can do any campaign, but if I go to your e-comm store and the model doesn't reflect the brand the same way because you couldn't book that high end model for shooting hundreds of outfits a day, of course.
Daniel Jester:
Right. Yeah.
Robert Ahlborg:
You have to find the guy who looked almost like him but he wasn't on the same level and then he got sick and then you had someone else. But if you can use that all the way through your shop, that's super interesting. And I mean we need to shoot a model for one day and then you can use them for a long time forever.
Daniel Jester:
I just had a vision of some brand that's able to book a celebrity model who they then have agreed with to use for all their product images because of Looklet. So like someday you'll see Brad Pitt in some MVMT sunglasses or something because they shot him once for an hour in the studio and they had everything that they need. Robert, one last question for you. This is the first time that I'm asking it in an episode and we want to use this podcast to help learn a little bit more about the industry. So it's a standard question we're going to start asking our guests, what do you see as the main challenge for your team, your processes, your technology, whatever it is over the next 12 months? What is Looklet's biggest challenge over the next 12 months?
Robert Ahlborg:
First of all, 12 months is both ...
Daniel Jester:
Short and long.
Robert Ahlborg:
Super short and really long. I usually work in three years and three to six months. That's kind of my perspective from [inaudible 00:24:15].
Daniel Jester:
No, this is great learnings for me. I can adjust my question, three to six months. Let's do three to six months then, biggest challenge three to six months?
Robert Ahlborg:
It's the same as always for us because we have a fantastic backlog of things that we know we need to do, we know we want to do. And it's a lot about enabling a lot of these things that we talked about, making it easier for our clients to do these things. Of course, building on our APIs and everything to make the integrations faster, simpler and all of that. And also more flexibility in our imagery that we can produce. Our core challenge is prioritization and speed of development, that's what we need to do and listening to our clients but also helping them to ... I mean usually when we talk to our clients, they have really specific things they want us to help them with. We need to figure out the way to solve that problem, but better within our long term product strategy.
And I think that's a lot about being flexible, being agile, but also speed of development, because we have so many good features that I'm especially frustrated of that we don't have them live and available for our clients yet. But soon. It's always like the next six months, it's going to be fantastic. And then in six months, I'm going to say the same thing. We are here, it's great. We added all this value. So that's the internal thing.
Externally, I think it's about driving and also finding the right clients that are willing now to take personalization to the next stage, for example. Kind of start to really change the way they can work with their e-comm store and kind of differentiate it from others because the images are the key thing to selling fashion products online. And I think there's so much more to do. So we need to work with our clients to help them be less afraid of it, of new things and find the right people at our clients that can help us to give them the possibilities and kind of drive that internally. These are big companies and, of course, they have so many big projects going on. So it's a matter of getting ambassadors that can spread the word and say, "We have something fantastic here. We have some amazing new value we can unlock." We can't just go in there and say, "You're going to do this." We can just say, "We can help you to do these new things." So that's something we need to work on the coming year I think.
Daniel Jester:
Absolutely. And very interesting because our episode that launched today that we did with Weekend Creative, we talk about this idea, and this is from the perspective of the external agency working with a big brand or retailer, of having that champion at their customer. And it's the same for software technology. Looklet at any of your customers, it was really helpful for Looklet to have somebody that works for that client who interfaces with the technology, who knows it really well, who's keeping up to date with the features that are coming out and what's going on. And it benefits both parties. Looklet sees better adoption of more features, and then for that person, that champion at the brand, you're solving problems left and right. Left and right, you're solving problems. You get the best of both worlds by helping elevate a tool that you use and elevate your own profile within the company.
Robert, thank you so much for your time and for coming on the podcast. Really excellent and insightful conversation. There's a few things on our list that we didn't get to touch on. I think there's an opportunity for you to come back and we can dig in a little bit deeper, but thank you so much for your time.
Robert Ahlborg:
Yeah, thank you. It was great. Great talking.
Daniel Jester:
That's it for this episode. Many thanks to our guest, Robert Ahlborg, and thanks to you for listening. The show is produced by Creative Force, edited by Calvin Lanz. Special thanks to Sean O'Meara. I'm your host, Daniel Jester. Until next time, my friends.
Subscribe to the eCommerce
Content Creation Podcast
About the host

Chief evangelist at Creative Force
Daniel Jester is an experienced creative production professional who has managed production teams, built and launched new studios, and produced large-scale projects. He's currently the Chief Evangelist at Creative Force but has a breadth of experience in a variety of studio environments - working in-house at brands like Amazon, Nordstrom, and Farfetch as well as commercial studios like CONVYR. Creative-minded, while able to effectively plan for and manage a complex project, he bridges the gap between spreadsheets and creative talent.