Back to list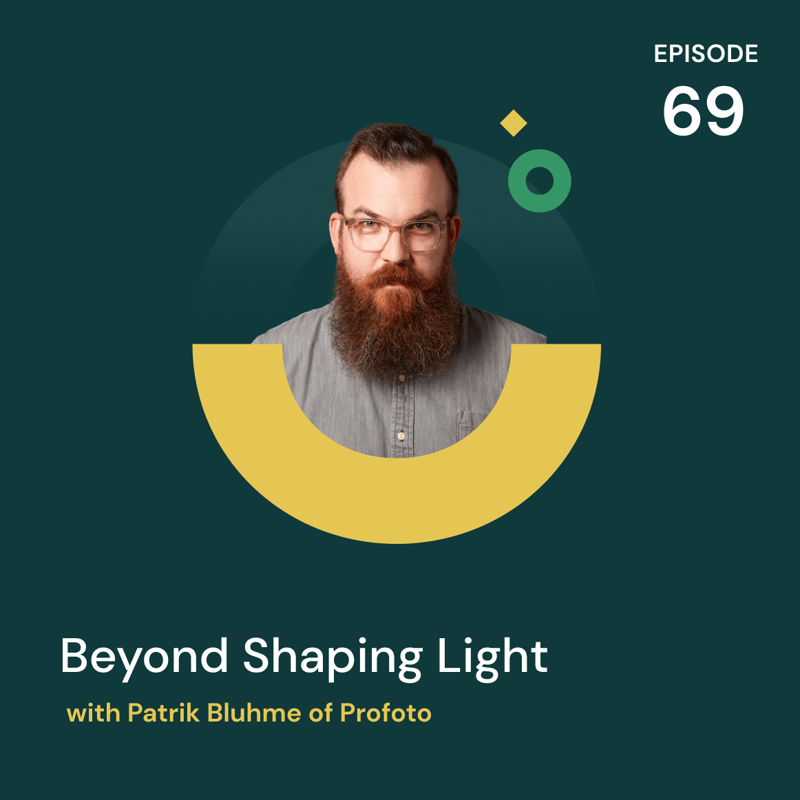 Episode 69 - July 12, 2022
Beyond Shaping Light with Patrik Bluhme of Profoto
Full episode transcript
Daniel Jester:
From Creative Force, I'm Daniel Jester, and this is the eCommerce Content Creation podcast. Patrik Bluhme of Profoto is my guest for this episode 69 of this podcast. About a year ago, Profoto went public with an IPO and as part of that process, explained what their plan for future growth would look like. One area of opportunity that Profoto identified was what they called e-comm workflow solutions. That could mean a lot of things. But we now know that Profoto was interested in moving into the automation space in a big way. It was announced in early April that Profoto had acquired StyleShoots. We invited Patrik to come on the show and talk about not only that, but what else the future holds for the brand.
Patrik Bluhme:
As you said, when we did our IPO, our strategy and message to the market was very clear. We're going to grow our core business, which is light shipping at its core. We actually think that light is much more important than the camera because without light, there's no photos or images. We're going to grow our core business. Then we said, "We're looking into three areas of expansion." One of the areas is what we would call e-comm workflow solutions. The second one is [inaudible 00:01:18]. The third one is mobile photography.
Daniel Jester:
This episode is a bit of a roller coaster, partially because unbeknownst to me, we were recording on launch day for the Profoto A2. It definitely comes up during the episode. Now let's jump in with my friend, Patrik, from Profoto. This is the eCommerce Content Creation Podcast. I am your host, Daniel Jester. Joining me for this episode of the podcast, Patrik Bluhme, of Profoto. I feel like I butchered that Swedish pronunciation of your name. I might take it over again. What do you think, Patrik, how did I do?
Patrik Bluhme:
You did very well. Thank you for having me on board, Daniel. It's a pleasure.
Daniel Jester:
Welcome to the podcast. If 23 year old young photographer Daniel knew that he'd be interviewing the Vice President of Global Sales for Profoto. He would probably be like, "What the heck?" This is a big moment for me, Profoto being an industry-wide leader in lighting. Interestingly, we're not really here to talk only about lighting with Profoto today. I gave you a little bit of a hard time when I saw you for the... We shared the stage for the second time in New York, at the Pixels Flow event in New York. I gave you a little bit of a hard time because the previous time that we had shared the stage in LA for the Pixels Flow event, we had our panel. We talked about a lot of interesting things. I think we gave a lot of good, interesting information to the audience there. But then a few days after that event, Profoto announces that they're buying StyleShoots. I'm sitting at my studio thinking, "Why didn't we talk about that?" That was a big moment in the industry, right?
Patrik Bluhme:
It was. As I told you, Daniel, the plan was that we were going to be able to talk about it. But then a big thing happened in the world on the 24th of February, which changed everything.
Daniel Jester:
Right.
Patrik Bluhme:
That's where it is. But thank you for your kind words.
Daniel Jester:
When you explained that to me, I had a lot of respect for that decision. I remember that very clearly, especially because that was the day that we were in LA for that event.
Patrik Bluhme:
Correct.
Daniel Jester:
It was very strange for all of us to continue on with that event with this big, major world event happening in the background. But it came out, "Profoto has bought StyleShoots." You and I had a chance to catch up about that before we recorded this episode. I don't want to only talk about that. I'd love to hear about everything else that Profoto has going on. But you framed part of it as Profoto, just about a year ago, went public. As part of that process, there's a lot of things. There's a lot of due diligence and road map stuff that has to be part of when a company goes public. Investors don't just give you money and you don't have to tell them what your plans are for the future, right?
Patrik Bluhme:
Correct.
Daniel Jester:
Profoto said, "We have a three-pronged plan for where Profoto's going to go in the future." I'm going to let you explain that. Then we can talk about what that all means for the future of Profoto.
Patrik Bluhme:
Thank you. [inaudible 00:04:34] our vision is great light in every image. As you said, when we did our IPO, our strategy and message to the market was very clear. We're going to grow our core business, which is light shipping at its core. We actually think that light is much more important than the camera because without light, there's no photos or images. We're going to grow our core business. Then we said, "We're looking into three areas of expansion." One of the areas is what we would call e-comm workflow solutions. The second one is continuous lighting. The third one is mobile photography. One of the first steps that we took was to go public with the fact that we acquired StyleShoots as part of developing what we would call a Profoto e-comm studio solution. That was a very important step for us, and it is.
Daniel Jester:
That was one of the ones... I think light for mobile photography, that makes sense. Camera phones are getting better and better. I shared with you the last time that we met, and I'll be honest, I'm going to be very vulnerable with the audience of this podcast right now, I'm a little bit ashamed of this. But when I went to my... I took my family to Europe mid-April. We were there for a few weeks. I took a camera with me. I spent a lot of time, like many photographers do, planning which camera I'm going to take, which camera strap I'm going to take, and all this stuff. I ended up using my phone for about 99% of everything that I shot. Cameras on the phones have come a long way. There's still shortcomings compared to purpose built dedicated, or what some people call pro grade cameras.
Daniel Jester:
But one thing that you said, I definitely agree with you. This is advice that I had given to a lot of young photographers, which is that people get really hung up on what camera body they should use or what lens they should be using. My question always is, "Have you invested anything at all in light?" With excellent light, even the bargain barrel, bottom tier lens, you can produce an image that looks phenomenal if you know what you're doing, you've spent time teaching yourself and learning how to light, and investing in good quality lights. The primary characteristic, in my opinion, of a good quality studio light is consistent color temperature.
Patrik Bluhme:
Correct.
Daniel Jester:
That's one of the things that Profoto is known for. That's one of the things that every [inaudible 00:06:56] in the world is thankful, that Profoto is known for that. mixing colors of light in an image is virtually impossible to fix.
Patrik Bluhme:
Yeah. [inaudible 00:07:07] This is for me, the reason I love to be at Profoto and in this industry. I think you framed it very well. The ability to create amazing images is directly linked to the ability to master light shaping. Just that word, master light shaping, understand how light moves and operates and how you can, with different tools, adjust the settings to create the image or the photography that you want to have, that's in your vision. That's really what [inaudible 00:07:40] is all about.
Daniel Jester:
That's light. Profoto knows light inside and out. When we are on the panel together in New York, the moderator for our panel, Christine, referred to Profoto as the GOAT, greatest of all time when it comes to light. I agree with that. But even so, the acquisition of StyleShoots that came out and it was like, "Whoa." First of all, tell us a little bit about how this came about, whatever you can share. Then what do you think that means? What does the future with this relationship between Profoto and StyleShoots look like?
Patrik Bluhme:
It's all about light and creating fantastic images. At the end of the day, if you look at the market seven, let's call it e-comm studio solutions. We as a company, we're acting in the large and fast changing visual content creation market. We have a very good penetration and good grip of what we would call the high end fashion industry with our Profoto solutions. But we also seen, over the years, how the number of photos taken or visual content creation is just exploding. It got even more so with the pandemic where more and more things went online. The whole thing, to help these kind of businesses deal with what we would call repetitive photography, to produce the content they need to versus at the other end of the spectrum, do what we call more editorial, creative based photography.
Patrik Bluhme:
We wanted to be able to share one solution regardless of automation, or let's call it creative solutions, and also provide one seamless software solution to make that possible. Looking through the market, which we did, we came across StyleShoots. We saw that specifically the software and the user interface they have is very much in the same direction of what we do at Profoto, being ease of use innovation. Also, we saw that they had some really good, innovative ideas. We were also on the track of doing our own software development in terms of being able to control and master the lights from a desktop. The integration there was very, very much there in front of us. It was a very easy decision.
Daniel Jester:
Speaking of controlling lights from the desktop, I don't want to derail too much from the StyleShoots thing, but after we met up in New York, you were generous enough to coordinate sending me a test unit to play around with, a B10. What did you send me, the B10 X? It's the wireless one, right?
Patrik Bluhme:
Yeah.
Daniel Jester:
I know it's the wireless one, but I'm not sure which designation that is, along with the beta application for controlling the light. It dawned on me this morning, while I was thinking about getting ready for recording this episode with you, I was thinking about Profoto packs in the past. I was thinking about this beta application, even on the desktop. It very much has well designed mobile app feel to it. But I was even thinking about any power pack really isn't terribly complicated. You got a few knobs, you got a couple of buttons. You get to know what they do. They all pretty much do the same thing.
Daniel Jester:
I just remember thinking there was something so simplistic and beautiful about the Profoto power pack. Just those couple of knobs, you had a couple of buttons. It was very clear, the markings, what they did and how they worked. The app really reflected that as well. It suddenly dawned on me, I'm like, "Of course, Scandinavian design, Scandinavian company. This is what they're known for." It doesn't need to have a ton of... overload you with information for you to figure out how to work this thing. The main thing, and I shared this with you before, and I don't know... I can cut this out of the show if you need me to, Patrik. But the main thing that I've been very impressed with is the consistency of the Bluetooth connection between the app and the unit itself.
Daniel Jester:
One of the frustrating things about Bluetooth connections is if you pause for a minute, you're not doing something for a minute, or the light unit goes to sleep because you got distracted from something, re-picking up that Bluetooth connection can be difficult. It snaps up every time. It's very impressive.
Patrik Bluhme:
That's good to hear.
Daniel Jester:
Very cool. But back to the StyleShoots thing, when the news first came out, it was surprising in some ways. But once you think it through and to hear you explain it now, I think you're absolutely right. From a business decision, and we're not exactly a business podcast, but absolutely leverage the relationships that you have. Profoto is in virtually every studio that I've ever worked in. I'm not going to point fingers, but even studios that somebody sold a truckload of [inaudible 00:12:34] equipment to, we still had Profoto packs because in some cases, most of the time it was because we needed to use that Profoto ring light, which is just the gold standard of ring lights. But every studio I've ever been in has had Profoto somewhere, in some capacity. Leveraging that...
Patrik Bluhme:
We're very proud of it.
Daniel Jester:
Leveraging that to say, "We have more solutions for you, Studio. We have more things that we can help you do your job faster." That's really exciting for Profoto.
Patrik Bluhme:
It is. We're extremely proud of having that market share in the world that we do have. But one thing that is so important for us, and it was also a key part of making the whole statute acquisition happen, our focus is on the photographer. The photographer, regardless if it's a wedding portrait photographer or in an e-comm studio, and I'm including you in this, Daniel, being a studio photographer, you have to focus all your energy and time on the creation part. You should not be involved in the [inaudible 00:13:39], the plots, and the technology, how it works. That's why we have deliberately kept our user interface with our flashes very analog. As you said, they're knobs. It's very simplistic. We want to reflect the same thing in our software, in the apps. That's, again, what we saw with StyleShoots. That whole philosophy came through. That's a core of anything we do, to make it easier for the photographer so the photographer can be creative in the working process, regardless if it's in the e-comm studio, or as I said, a wedding portrait photographer as an example.
Patrik Bluhme:
That's one of the things we're now, as we're integrating the two companies and looking forward in the roadmaps, obviously, I cannot talk about that here, but some really exciting stuff is happening when you merge two organizations together that have the fundamental, basic idea of innovation and how that's going to drive. As an e-comm studio, we know, having been part of this market for many years now, that the most important thing for them is the flow, the productivity, and as you mentioned, the color consistency, that you get the same color consistency regardless if you're doing it automated or if you do it with a modular setup, with the ability to reduce the post production and get faster time to market.
Daniel Jester:
Absolutely.
Patrik Bluhme:
We also have enough evidence to show that when you use the right and correct light and you have consistency, specifically in the fashion industry, the colors, the fabrics, the textures become more visible. What you see on the screen will be more what you see also when you open the box, the package that you've ordered. Therefore, the returns rate come down, which is a very important key.
Daniel Jester:
It's a great point that you bring up, Patrik, because it's not an uncommon workflow for a lot of apparel companies out there. I can probably rattle off the top of my head five different apparel companies whose image suite for their products online look like this, a front side back shot on model, and then either a ghost mannequin, flats, or whatever off figure apparel imagery in some way. Those are almost always handled in two separate workflows. It's not uncommon for the on-figure shots to be shot on a more traditional set with a photographer, lights, a background sweep, and all of that. Then for the flats or ghost mannequin shots to be handled on something like... It could be a StyleShoots device. The one that we had was almost purpose built for ghost mannequin. But there are plenty of other automated devices that use constant lights for the off-figure part of the thing.
Daniel Jester:
One of the things that you then are introducing is lighting variables, everything from manufacturer to the type of light to the quality of the light between an off-figure and an on-figure shot can really impact the customer's perception of that product. To your point, for me, it's two tier. We've had this conversation a little bit on the podcast around color, and obviously in the industry, at least in the studio, the debate for a long time has been, "How much do we need to worry about this?" But now we know we do because monitors are getting better. Every screen we look at, they're getting closer in quality or rapidly approaching probably 8K on mobile or something. I don't know. This is not my area of expertise. But for me, it's two tier.
Daniel Jester:
The first tier is your images have to match each other. If you're on-figure and you're off-figure colors don't match, now your customer's like, "Which one am I going to get?"
Patrik Bluhme:
Exactly.
Daniel Jester:
Then the second tier of that is, how close can you get your images to match the physical product? Usually you can get pretty close to satisfy a customer. But in some cases, you do get returns. I've shared a story on this podcast before of some tope colored patent leather heels that we shot at Nordstrom that kept getting returned. It turned out, because we looked at the images, they read really pink. People were buying them thinking that they were pink. They weren't pink. They had pink undertones to this tope color. That does have an actual impact. Looking at a world where your automated devices potentially, and I know that this is the low hanging fruit for Profoto and StyleShoots, living in a world where your automated device is outfitted with Profoto light fixtures that for sure will match whatever you're shooting on your other more traditional sets, is amazing. Then obviously, with automation technology software, it goes even beyond that.
Daniel Jester:
I want to pivot the conversation a little bit as we continue talking through some of the roadmap stuff that you mentioned earlier. For some reason, I have a specific memory of the day that I saw the announcement for, I think, one of the first mobile lighting devices that Profoto... I remember there was a buildup to the... This is one thing I would say Profoto does a very good job. When Profoto says, "We're coming out with something in a few days," people pay attention, me included.
Patrik Bluhme:
You know we launched something today, right?
Daniel Jester:
What is launching today? How did I miss that?
Patrik Bluhme:
We just launched the Profoto A2.
Daniel Jester:
Patrik, you got to lead with that.
Patrik Bluhme:
Okay. Sorry, Daniel.
Daniel Jester:
Hold on. No, I'm looking it up. I can't believe I missed this. I guess I was too busy paying attention to capture one for iPad.
Patrik Bluhme:
[crosstalk 00:19:03] just woke up.
Daniel Jester:
That's true. Wow, look at this. The little big off camera flash head, look at that thing, very compact.
Patrik Bluhme:
It is. It's beautiful.
Daniel Jester:
Does this do the same thing that the B10 that you sent me? Does it have constant lights along with strobe and it's just much smaller, or what's the... Tell us about the A2.
Patrik Bluhme:
It's a much, much smaller B10, not as much power as the B10. It's a very, very compact flash for the people on the move.
Daniel Jester:
Holy smokes, it's even smaller than the picture. I was basing my understanding of the size of this off of what I perceive to be the battery size. But reading the copy down here, says that it's about the size of a regular soda can. This can fit in your... You could toss one of these in your camera bag.
Patrik Bluhme:
Absolutely.
Daniel Jester:
That's amazing. Wow.
Patrik Bluhme:
It is.
Daniel Jester:
Very cool.
Patrik Bluhme:
It is cool.
Daniel Jester:
He distracted me sufficiently for a moment. But I [crosstalk 00:20:03] It's okay. I had this whole buildup about how much... I'm so up to speed on all Profoto is offering. Here you blindsided me with your soda can flash. I have this specific memory of when... I think it was the first time that Profoto had moved into the mobile photography light space. It was this little dome light thing. You could put it on the camera, but you could also hold it. It was really interesting and fascinating to me. It's probably no surprise to you, Patrik, that the subset of the internet of photographers can be a toxic place when it comes to some people who think that mobile photography is the bane of the true photographer's existence.
Daniel Jester:
I don't engage in a lot of that kind of thinking because you're either good at what you do or you're not. It doesn't matter the tool that you use. Let's get off of that. Do you see the support, and the lighting support in particular, for mobile photography, do you see this intertwining in the future with other parts of Profoto's business, or do you see it still as mobile... This is just going to be a niche thing, mobile photographers who want high quality lights for the work that they do?
Patrik Bluhme:
It's very clear. Today, all of our products with the exception of one is compatible with an iPhone, meaning that we have, during the years, launched the Profoto camera, an app for your iPhone, as you can use to take high quality photos using our technology. It's been a very good learning process for the last couple of years, working with the companies in the mobile phone industry. Whether we like it or not, the smartphones is the world's most sold camera regardless. As you said, they're getting better and better. Our view is that as a photographer, you should be able to choose and use whatever camera you want with the lights.
Patrik Bluhme:
What has happened is that we developed and launched a technology called AirX, meaning that you can use an iPhone if you want, together with the Profoto camera app, using a pro 11, if that is what you want to do. Some photographers do because they want to have that flexibility. That does not mean they're not using a mirror-less camera or a [inaudible 00:22:24], whatever camera they want to use. But that's our core philosophy, that the photographer should be able to use whatever camera they want in order to create amazing images. Again, we're back to the light being the most important part for creating those images.
Daniel Jester:
I don't spend too much time getting wrapped up in internet discourse about equipment or anything like that. But it makes perfect sense to me. We just had a whole conversation about how important light is and how great light can, in a lot of ways, enhance even the most inexpensive lens or camera body that you might have. Why wouldn't that apply to your phone as well? How many iPhone generations now have had a whole campaign about, "We made an entire movie with this iPhone?" It's because if you've got the support of a company like Profoto, who's developing technology and making equipment that you can use the top tier professional equipment for even your phone photography, there's just no more excuses now. Everybody should be the best photographer in the world.
Patrik Bluhme:
You must remember there was basically in our industry, the photographic industry, remember auto focus, when that whole discussion... It was almost not proper to use auto focus. But if you don't want to use it, shoot manual. It's up to you.
Daniel Jester:
I remember that even with the move to mirror-less too. It's literally the same arguments with every major advancement. I remember this also pretty vividly. I had a friend who told me once, "There's not going to be mirrors anymore. It's going to be electronic view finders. That's going to be the way of the future." I laughed in his face. I was like, "There's no way." Here I am now going on my eighth year as a mirror-less camera user. If there's anything that we know about the industry, it's that technology is going to make advancements. Again, going back to even the conversation on computational photography, cameras like the Lytro came out and were either ahead of their time or maybe they didn't have the clear roadmap of who they were serving and why they were serving them.
Daniel Jester:
But we now know, based on the way that the iPhone is handling a lot of what I'm referring to as computational photography, what I mean are the portrait setting on your iPhone, where it's using a combination of the optics and the available light and technology to create a look that mimics some of the functions of a camera with a bigger sensor, a better lens, or that sort of thing. It's going to get to the point where... Already my iPhone stitches together basically HDR style images that look incredible, automatically at the touch of a button. Whereas, that used to be a process that required a powerful computer and Photoshop a lot of time, and you still usually got it wrong.
Patrik Bluhme:
Again, that's why we at Profoto together with StyleShoots are obsessed by with driving that kind of innovation when it comes to light. In any way, you want to use light for creating high end images for whatever purpose. That's where we want to be. We want to, again, leave it up to the photographer to choose the tool sets they want to use. We want to provide the tool sets so they can do their job.
Daniel Jester:
One evidence of this also, Patrik, is that many of your lights now... For one thing, I'm going to say it again on this podcast. Right now, I'm in the midst of recruiting a guest to talk about this exact thing. But I've said it before, we live in a golden age of LED technology. Sometimes people take for granted that even the cheapest LED fixtures are incredible now, can do so much, can get so bright, and provide so much light for the things that you need. One of the things that Profoto has been moving towards is what traditionally was called the modeling light on a mono light at Profoto, is now in and of itself, a very capable, constant light, an LED light. In fact, the unit that Profoto was kind enough to lend me is a strobe. But that modeling light, I have used... For probably the last three years or so now, I have been shooting most things in my studio almost exclusively with LED light panels.
Daniel Jester:
Part of the reason is that because most customers, even for tabletop product photography, are expecting some amount of video. Most of the people that I still shoot for, and I think I've shared on this podcast before that I have a studio at home and I have a handful of small brands that I continue to shoot product photography for occasionally. Now it's no longer enough for me to take their dish towels and shoot them in my studio. They need a little 15 second video for this brand to share on Instagram or whatever. One of the things that means is that I need to either, if I want to use strobe for the stills, that means I need to then have a new setup for LED light panels.
Daniel Jester:
At some point, LED light panels got bright enough to where I could reasonably shoot the product photos with LED constant lights. Profoto now, it's not just a modeling light. It's a color balanced LED constant light that you can change the output on. In fact, on the B10, I've been definitely testing because I want test the app and I want to test the control and all of that stuff for the strobe part of it. But when I'm just shooting little things on the tabletop, I find myself just using that constant light because now my Profoto's head does everything.
Patrik Bluhme:
You're right. That's the feedback we're getting, that many of our customers out there are using specifically the B10 and B10X for [inaudible 00:27:52] where you need continuous light. The most important thing when we look into this market segment is the ability to leverage our system of light shapers. That's also something that we're picking up from our customers, that per photo, if you're going to take the step in here, you have to make sure that we can use the all various light shapers, again, to be able to be creative. It's not about just throwing more light at it. It's about being able to give the system the ability to use the system of light shapers and triggers so you have full control of what you're doing.
Daniel Jester:
When I was at Amazon, there was a lot of hoops to jump through when we had what we called integrated sets. A lot of the integrated sets we're using for jewelry. By integrated, we meant that you were shooting stills and video on the same set. Because you wanted to shoot stills and video on the same set, and speed was the name of the game, most of those sets were built, and at this point, this was seven or eight years ago, so LED technology has come a long way even since then. But it was usually a hodgepodge of various lights. We had to really enclose those sets with black pipe and draped curtains to make sure that there wasn't any light bleed.
Daniel Jester:
The idea now that you could take these Profoto strobes and use strobe for the stills instead of making a lot of compromises to use the LED light, and then just turn the strobe part off, leave the LED modeling lights on the same... You have all the same ratios of light that you need for shooting your thing. Then shoot your video, and that's it. The beauty of that is that you're not making any compromises for either the stills or the video. You're getting exactly what you need in both of those workflows.
Patrik Bluhme:
Exactly. Again, going back to the StyleShoots, if you look at the life system from StyleShoots, that's a combination of both moving and still images, which we also found very interesting to look at, how you actually automate both the moving part and the still part in one solution to become even more productive in the whole workflow process.
Daniel Jester:
Amazing, Patrik. As we get ready to wrap up this episode, I was going to ask you if you had anything else that you want to share coming from Profoto. But you dropped this day two on me right in the middle of the episode. I don't know. Is there anything else that you can share or even tease for us that's coming from Profoto in the near or far future, as we wrap up this episode?
Patrik Bluhme:
Obviously, I cannot be specific. I can only say just stay tuned. There will be a lot of stuff coming. I hope you realize that we, a couple of weeks ago, launched our new ProConnect, which for the customers that your podcast goes to, enables them to use 100 channels in their e-comm work flow studio. That's it. You can have access to much more channels and you have absolute power settings on the remote as well. That's something that I know that e-comm studios have been asking us for a very long time.
Daniel Jester:
Very cool. I'm looking at it now. Maybe I need to check my... My algorithms aren't feeding me the Profoto news. I got to get back into the swing of things here.
Patrik Bluhme:
[inaudible 00:31:05]
Daniel Jester:
Patrik, it was great to see you again. Thank you so much for sharing your time, your insight, and your information with us. I don't know when we will have the next opportunity to see each other again in-person. I'm pretty sure at this point, the next flow event that Pixels is putting on is in Barcelona, not too far from you. I think I'm going to be there. I don't know if anyone's reached out to you about that yet.
Patrik Bluhme:
Absolutely. We're in deep discussions. I'm looking forward to seeing you there.
Daniel Jester:
Excellent. For the listener, Barcelona's not a bad place to hear a lot of great information from some of the top minds in the industry. We hope to see you there too. I think it's a good excuse for a vacation. Sneak that last bit of travel in before everybody starts cutting budgets.
Patrik Bluhme:
Exactly. That was great catching up with you, Daniel. Thank you so much.
Daniel Jester:
That's it. Another episode in the books for the eCommerce Content Creation Podcast. Many thanks to our guest, Patrik. Thanks to you for listening. The show is produced by Creative Force, edited by Calvin Lanz. Special thanks to Sean O'Meara. I'm your host, Daniel Jester. Until next time, my friends.
About the host

Chief evangelist at Creative Force
Daniel Jester is an experienced creative production professional who has managed production teams, built and launched new studios, and produced large-scale projects. He's currently the Chief Evangelist at Creative Force but has a breadth of experience in a variety of studio environments - working in-house at brands like Amazon, Nordstrom, and Farfetch as well as commercial studios like CONVYR. Creative-minded, while able to effectively plan for and manage a complex project, he bridges the gap between spreadsheets and creative talent.