Back to list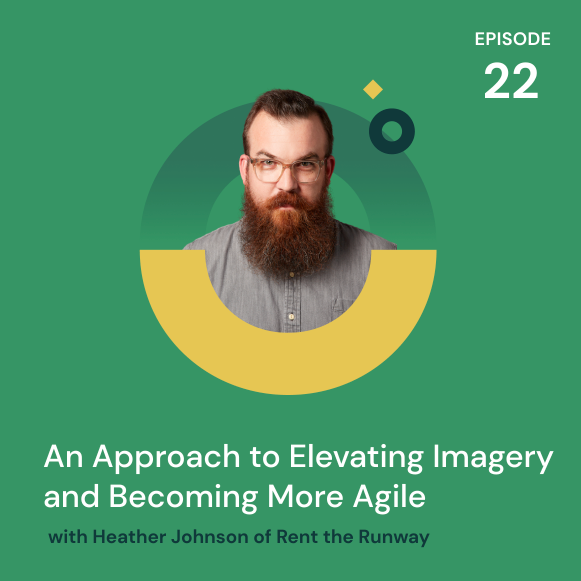 Episode 22 - August 17, 2021
An Approach to Elevating Imagery and Becoming More Agile with Heather Johnson of Rent the Runway
Summary
In this episode of the show, Heather Johnson of Rent the Runway breaks down her approach to elevating the creative for Rent the Runway. They wanted to help their customers understand what Rent the Runway can help them achieve, and slowly started to change the creative direction a little at a time, to help the company's assets become more agile, while resonating more with their customers.
Key Takeaways
Rent the Runway was interested in moving their images from functional to more emotional, bringing the product more to life. They started small by adding some new styling guidelines within the existing art direction.
When shifting to a more dramatic change, they started by setting goals around what the creative should do. Not only what they WANTED to accomplish, but specifying what they AREN'T trying to do.
Rent the Runway recognized that their images are one of the only ways to educate their customers about style and fit.
Once goals were settled, they used free time in the studio to do a test shoot. Using the current studio processes, they were able to illustrate the vision for the new imagery, and understand how it impacts the current state of the studio.
Studio teams, post production, and leadership all had opportunities to provide feedback on the test shoot. They used learnings from this test shoot and feedback process to adjust some lighting and process, with some different backgrounds.
Rent the Runway had a goal of 35% image re-use (using in other channels aside from PDP), they are surpassing that goal, using PDP imagery in email campaigns, on social, etc.
The elevated imagery helped brand partners of RTR feel more comfortable engaging in more strategic campaigns.
Links & Resources
Full episode transcript
Daniel Jester:
From Creative Force, I'm Daniel Jester, and this is the E-Commerce Content Creation podcast. My guest on the show today is Heather Johnson of Rent the Runway. Shortly after Heather joined the Rent the Runway team, they started thinking about how to best educate their customer with imagery, and perhaps that they needed to change in creative for their PDP images. This can be a daunting project, but they broke it down into steps, which started with identifying their goals.

Daniel Jester:
Listening to this episode as Heather takes us from the brainstorming process up through implementation, we discussed the importance of process and relationships when taking on a big shift in how your studio operates and also how this shift in creative allowed them to be more agile with their assets and use them in more places.

Daniel Jester:
This is the E-commerce Content Creation Podcast. This episode today I'm welcoming to the show Heather Johnson of Rent The Runway. Heather, welcome to the podcast, and how are you doing?

Heather Johnson:
Thanks so much for having me. I'm doing really good. I'm really happy to be here.

Daniel Jester:
How is New York this morning?

Heather Johnson:
It is muggy and hot. It's very, very hot out there.

Daniel Jester:
I wish I could, no, I don't wish I could commiserate. It's very lovely in Southern California today, past this initial early summer heat wave and down into the low nineties today.

Heather Johnson:
Yeah, I think it's in the high nineties today.

Daniel Jester:
So what? 50% humidity.

Heather Johnson:
It feels like a hundred percent.

Daniel Jester:
Ugh. Yeah, that's rough. Heather, we did not bring you on the show to talk about regional weather phenomenon. We met last week and talked a little bit about what you've been doing at Rent The Runway and some of the changes to the creative assets since your time at Rent The Runway and how you've been able to become more agile, and I thought that was a really interesting topic that our listeners might want to hear from you on. This is something that I know that every brand, retailer studio has been involved in, which is essentially a creative refresh, after some years you decide maybe you need to take a new direction. So why don't you tell our listeners a little bit about your background and how this kind of process got started for you at Rent The Runway?

Heather Johnson:
Sure, yeah. So I started out as a freelance photo assistant and photographer, and I did that for about seven years before actually joining Gilt Groupe, where I worked in various roles across retouching and creative production, and photography operations. And then in 2017, Gilt was purchased by Hudson's Bay Company and I moved over there to focus on managing operation of a creative photography process for HBC Digital, focusing on editorial across all the banners for the digital channels. And currently, as you said, I'm at Rent The Runway as the director of photography and retouching working across photo retouching and production.

Daniel Jester:
So Heather, you joined the team at Rent The Runway as director of photography and retouching, and at some point like a lot of different brands and retailers you guys decided that maybe you want to go a different direction with your creative. Can you talk a little bit about how that conversation got started with your team?

Heather Johnson:
So our previous direction was your standard product imagery, which while functional it didn't always bring the product to life in the most emotional expressive way. And we did do a small update in 2019 where we introduced some movement and brought the model's hair down, in addition added some minimal makeup for the lip, but it wasn't particularly branded or recognizably RTR.

Daniel Jester:
So for the listener, previously you were on white, cropped face, hair was usually pulled up as it is when you crop below the nose, just to save hair and makeup cost you just kind of pull the hair up. So you slowly incrementally started making some of these changes where now we're bringing the hair down, maybe we're doing a touch or makeup and introducing maybe a little bit of movement, a little bit of flare to some of those images. So it wasn't a dramatic swing right away, just a few small changes.

Heather Johnson:
Correct. Yeah.

Daniel Jester:
And how were those changes received? Did you get positive feedback internally or externally from customers or stakeholders?

Heather Johnson:
Yeah, internally that small changes got positive feedback for sure, but we are already thinking what's next? What's the next step and how can we make that happen?

Daniel Jester:
So after the smaller incremental change was probably relatively easy and straightforward, it wasn't structural changes to your workflow or sort of relatively minor styling changes on set, right?

Heather Johnson:
Right. Yeah, no changes to process, no changes to any workflows, productivity, none of that. Simply just how can we make the models look like they're real people?

Daniel Jester:
Right. Yeah, absolutely. And so moving into you're already thinking about what's next, how did you start to approach the next phase of creative update?

Heather Johnson:
Well, we really wanted to understand what our goals were and what we wanted this to look like. And for us, the goal for this creative direction was to really reflect an elevated and inspiring aesthetic to help enhance the customer experience on site and app. We really want to make sure that we could improve the ability to capture the beauty and movement of the garments and provide a better sense of fit, and educate our customer. So since there isn't really an opportunity for our customers to try our items on in advance as this was a typical shopping experience, it's really important that we help them envision and understand how these pieces will come to life in their wardrobe to the fullest extent possible through imagery.

Daniel Jester:
So you mentioned that you wanted to understand what your goals were, and I think that that's probably a really important part of this because in your director level position you can't only focus on wanting to make interesting creative choices for your assets, you have to be able to sell this to the people who it inevitably is going to impact budget or process in some way, right?

Heather Johnson:
For sure.

Daniel Jester:
So can you tell me a little bit about how did you approach identifying the goals and just the early planning stages of making this change? Where did you start? It started with a goal maybe, but where did you work back from there?

Heather Johnson:
We did a brainstorm session, myself and my boss, the VP of creative and productions. So we did a brainstorm session first where we just gotten a room, closed the door and wrote down white boarded out ideas and what we were trying to accomplish and what weren't we trying to accomplish, and had some swipe and played around a bit with some of that. And so that's really where we started first. Yeah, that's where we started first. It was just brainstorming the ideas and then putting it to paper, a deck that we could present.

Daniel Jester:
So you've had your brainstorming meeting, you've got your deck, you've got your goals, you've got your creative ideas, what's the next step of the process? You've got some people excited about it, it's being presented at this point, what happens next?

Heather Johnson:
Yes. So we have this deck, but the vision of where we want to go, the swipe and the examples that we have are pulled from the internet it's not something that we've produced. And so it was, I think last year, November or December volume was starting to slow down, and we had some free time. So I was like, "You know what? Why don't we do test shoot? Let's show them that we can follow through on what we're promising here, that we can actually produce this content." So we really quickly pulled together a test shoot so that we could show like, "Hey, we can do this."

Heather Johnson:
And I really think these were so helpful in trying to also just determine the different lighting scenarios we wanted. We tried out lots of different options, different backdrops, different lighting really helps us understand what crops do we want, what image views are we going to show. And then we get feedback from both our onset teams and post-production. I funneled all those images through to post-production because I wanted to make sure that from end to end that our SLA wasn't going to be compromised and that I was really setting up the teams for success. So it was feedback not only from the onset teams and the teams on the ground working on this, but then also getting feedback from leadership as well.

Daniel Jester:
Yeah, that's a really important part of I think probably doing the test shoot for you guys, right? Was not only does it help you firm up some of these creative concepts, but also understanding the impact to your team in particular with post-production. To call back to a previous episode with Rob DiCaterino on post-production and when they need to be included in some of these decision-making sometimes is, you can make a really great case for a sort of textured background or like a different type of background that can be come really difficult for the post-production teams to work with. So I think that that was probably an important part of that test shoot was not only firming up these creative ideas, but also how will this impact your teams? You mentioned SLA, can we realistically do this creative with minimal impact to our commitments to our stakeholders? What did you learn from that?Did you end up having to change the way that you approach the creative a little bit to make sure that the impact was minimal?

Heather Johnson:
Yeah, definitely. We had to do some tweaks to our lighting. Definitely first test we had some great feedback specifically also from the retouching team. So we definitely had to go back in and adjust the lighting, even some things out that we had been doing a lot of work on the first test. So we turned around and did another test in January of this year. And for that test we tried a different color background. I had two sets running. I tried a wall and a floor with a horizon line, I tried a neutral background, I tried a black background. So I just wanted to make sure I threw all the options out there before we made a final decision on what direction we wanted to go in.

Daniel Jester:
And for our listener, you should understand and if you didn't figure it out based on what Heather just said, we're talking about dramatically different creative. We're talking about the models are now recognizable, it's full hair and makeup production. Some of the images I've seen I screenshotted because they were gorgeous, they were campaign images that ended up a PDP page. It's remarkable how the creative feels, you've done a really good job, just to throw that little bit of flattery in the middle of the episode there for you, Heather.

Heather Johnson:
Oh, thanks. Appreciate it. Super proud of my team.

Daniel Jester:
But yeah, I got ahead of myself a little bit, I was just very excited about the images. So now you have things that you can show people like, "This is our product." How did you present it? Did you work with the e-comm team, maybe drop it in a wire frame to see how it presents on the page? Tell me a little bit about that part of it.

Heather Johnson:
We did that. Yeah, we dropped it into a wire frame so that we could visualize what that would look like on our product display page, on our product grid, what it would look like in our app, we did all of that. Anything you could think of we did, and we threw it into this presentation deck like, "Hey, this is what we would like to do, this is what we've accomplished." And also even because really the whole point is also to be able to use this content across multiple channels, right? So we even mocked up using this content as our editorial header banner on our site and in a paid ad, and what would this look like on social. So we presented what it would look like and mocked that up across to all channels.

Daniel Jester:
That's really interesting, Heather, that you started looking at some of these assets for things like social. Not to do another episode throwback, but that's something we talked about with Lindsey at the Line Studios about how can we stretch these assets and make them go farther? So that's something that you're actually realizing with this new imagery.

Heather Johnson:
Yeah. I mean, we definitely wanted to make sure that our PDP could be flexible and functional and work harder for our core experience, and the feedback internally has been amazing. We've had a goal to utilize a PDP imagery across 35% of our creative, but we've far surpassed that.

Daniel Jester:
Wow, you have the data around it. I'm impressed, Heather.

Heather Johnson:
Yeah, we're just tracking monthly like, "Where are we using these? How often?" Just to make sure you were meeting that 35% goal.

Daniel Jester:
So you had a goal of 35% and you are actually reusing much more than that you're saying?

Heather Johnson:
Yeah. Yeah. I mean, we consistently are using this content across email, paid ads, social, and additionally, it's a great tool for supporting our content in between larger editorial shoots on-site and in our app, and it also provides improved site app merchandising experience within our carousels, it allows us to celebrate our product and designers in a big way on our designer collective pages. So, yeah. And even response externally has also been really fantastic. We've spent a lot of time building trusted relationships with designers and educating them on the benefits of rental for reaching a new customer base and creating an additive sales channel, but it's still a relatively new channel and a learning curve in many cases. So seeing the new PDP direction has reassured them their product is part of an on-brand fashion forward ecosystem within RTR.

Daniel Jester:
That's a really great point that I think is probably pretty important for a business like yours, is that you definitely want your brand partners to want to be on your website, and beautiful imagery-

Heather Johnson:
Definitely. Yeah.

Daniel Jester:
Right?

Heather Johnson:
Definitely helps.

Daniel Jester:
It's not like I'm dropping bombs here, it's like that's basic common sense. But it's interesting to articulate it because you may not know the reasons that brand X or brand wise declining to become a partner with you, but being a creative content leader in your space makes that conversation quite a bit easier and again, moves the studio from being... I say again, this is a concept for the listener we've been talking a lot about behind the scenes you're going to start hearing the podcast a lot, but moving the studio from this transactional service internal business service to a strategic part of the business unit is now the assets that you're creating improves your overall standing and business strategy on building some of these relationships. That's really interesting.

Heather Johnson:
Yeah, for sure. I think it's so important that our imagery is on par with the quality of the incredible designer inventory that we're renting. So I think that we definitely are showcasing that.

Daniel Jester:
What are some things, Heather, that you learned in the process of testing this idea when you guys did the test shoots and ran it through your process? Did that give you any insight into how you might approach implementing the new creative from a process perspective?

Heather Johnson:
The test shoots definitely were an important jumping off point from a process and workflow standpoint, being able to gather the feedback from the teams, and once we got the approval and the green light we had to... Productivity is a huge factor here, right? So I wanted to make sure that I implemented a phased approach to build up our productivity. So we had some room to work out the kinks and make adjustments and it wasn't just like, "Okay, you need to be producing X number of looks a day." We made sure that it was slowly rolled out so that we did have some room to breathe and some room to work out the kinks. So just to make sure that we could build up and meet our productivity goals, make some adjustments, continuous feedback from everybody so that we can make changes.

Daniel Jester:
So engaging the teams in the process as well and getting their honest opinion about how this impacts the speed at which they can work I think that's really important.

Heather Johnson:
Yeah, for sure. And I even jumped in to shoot here and there just because I'm much more of a let me do it to understand the opportunities we might have, and working out the timing throughout the day with production, how many minutes do I have to shoot versus how many minutes on average do we have to style to get through X number of looks in a day is all stuff that we had to work out. So, yeah.

Daniel Jester:
Yeah. So Heather, obviously when you're working on a project like this there's going to be an impact to the budget in some way, and the people who control the money are usually primarily concerned about that. So how did you go about quantifying the budget impact for this project?

Heather Johnson:
Yeah, so I think it's important to be able to marry the vision with all the possible cost scenarios and comparisons as clearly as possible for the money keepers. That was really important, even down to looking into your magic crystal ball to estimate how much this might cost two plus years from now as the company grows [inaudible 00:17:49] I feel like was really also an important deciding factor. So being able to present a combination of year-over-year cost comparisons and also cost comparisons for what the budget would look like if we kept on course with the standard direction versus elevated direction, and then taking into consideration also any cost savings that you will get in other areas because we're able to utilize the product imagery. That was also a really important factor.

Daniel Jester:
Yeah, that's a really interesting way of thinking about it, which is not only what's the budget impact today, but assuming growth and scaling, how will it scale? And is there parts of the budget that scale as there other areas that we need to rethink about? I think that's a really interesting way projecting forward like that. I have a kind of specific question, but I know that a lot of listeners of this podcast it's going to resonate with them because this is always the question when you start to talk about changing creative for a brand. How did you guys decide how to approach it? The question always ends up being, do we say from this point forward we're shooting everything the new way and we just wait for everything to update? Or do you go back and reshoot everything all at once and incur this huge expense, but now you've protected consistency on the website and then there's a lot of middle ground there? How did you guys approach that conversation? And what decision did you ultimately make?

Heather Johnson:
Well, the goal was to have the direction approved so that we could start shooting the new direction for our spring 2021 buy, so that the entire spring 2021 buy was shot in the new directive. We usually start shooting that in January, and we really started pushing this aggressively, I would say, the end of the year or last year, so November, December. So they were quick turnaround. So the timelines were tight. Do you get these tests shoots done, get the presentation in front of the people that needed to see it, multiple meetings to talk about this? And we didn't end up getting approval until February. So we really had to go back and do some reshoots, but it wasn't too bad because we had just started shooting the spring. So really I just wanted to make sure that we had an entire season shot in the same directive so it was cohesive.

Daniel Jester:
How has the response of your studio team to this new direction? Once you've got the green light and you're ready to move forward was your team excited to be part of something new? Or were they a little bit worried about the changes to the process or the impact to their workload?

Heather Johnson:
I mean, the studio team was pumped. We did the test shoots and they were like, "Let's start, this is great. Let's start tomorrow."

Daniel Jester:
They are ready to go.

Heather Johnson:
And the day is definitely a different type of day in comparison to the standard on rec day. You can definitely be more creative and take more fashion risks and more creative photography risks in this new direction. So it's a better day for them. So they are super excited.

Daniel Jester:
Yeah. And more of those images are going to end up in portfolios, they certainly should, they absolutely should for all of your team. I'm going to say, yeah. I might send you some of the images I screenshoted and ask you to tell me who the photographer was so I can share them and credit them maybe because I think it's such good work.

Heather Johnson:
We have a small, but very talented team. I have one full-time photographer.

Daniel Jester:
Oh, that's right. Yeah, that right, you do have a very small very, and even more impressive-

Heather Johnson:
So we're tiny, tiny team here.

Daniel Jester:
I have a few kind of quick hit questions that I want to ask you as we start to kind of wrap up this conversation, how important does the process become when you're tackling a project like this, just having a process that's identified and articulated?

Heather Johnson:
I mean, the process was and is so important, and it's ever evolving, once establishing the visual and creative direction and the components for that we definitely needed to define the types of crops for each product. And when do we include a prop and when don't we? What does the image selection process look like? It's very different now than before, and how does that need to function? The casting process moving from unrecognizable to recognizable we really had to expand our roster. What does that process look like especially during COVID? So we can't have a small roster like we used to where we just repeat talent, because it's recognizable we want to make sure we're really mixing it up and representing a diverse talent pool.

Daniel Jester:
Next question. How important is... Excuse me, I'm going to take it again. The next question is kind of the flip side of that question, how important do your relationships become when tackling a project like this?

Heather Johnson:
Relationships are also really, really important. It's a huge cross-functional project from concept to execution. For sure, it's truly collaborative. So relationships are everything. I always like to try to make friends in every department. You never know when you need them whether it's tech or your product manager or engineering, just make friends everywhere. So relationships really are everything. It's not just creative silo or photography silo because it does have a downstream domino effect. So yeah, relationships are super important.

Daniel Jester:
Well, Heather... Let me take that again, I paused too long. Heather, I think the work that you did and your team did is phenomenal, and I really appreciate you coming on the show to talk to us about it today. It's very clear when you look at where the creative was and where it's been, and I absolutely love the way that you approached tackling something this big that had such a huge impact on the business. There's no question in there, I'm just commending you on a job well done. I think the creative is great and I really appreciate you sharing with us your process a little bit. I think it was really interesting and I loved knowing that you had a goal around an agile metric for your assets and that you're exceeding it. I think that's incredible.

Heather Johnson:
Amazing. Yeah, thank you. Happy to share and thanks for having me.

Daniel Jester:
Yeah. If anybody wants to connect with you on LinkedIn can we share your LinkedIn profile in the show notes?

Heather Johnson:
Yeah, definitely.

Daniel Jester:
Amazing. Well, thank you so much for your time and your expertise and I can't wait to have you on the show again.

Heather Johnson:
Sounds good. Thank you.

Daniel Jester:
That's it for this episode.Thank you so much to Heather for her time in sharing this project. And I'd like to say again, that the planning and effort certainly has paid off. The creative is wonderful and Heather and her team deserve tremendous accolades for their hard work. Thanks for joining us for this episode of the E-commerce Content Creation podcast. The show is produced by Creative Force, edited by Calvin Lanz. Special thanks to Sean O'Meara, Heather Johnson and Rent the Runway. I'm Daniel Jester. Until next time.
Subscribe to the eCommerce
Content Creation Podcast
About the host

Chief evangelist at Creative Force
Daniel Jester is an experienced creative production professional who has managed production teams, built and launched new studios, and produced large-scale projects. He's currently the Chief Evangelist at Creative Force but has a breadth of experience in a variety of studio environments - working in-house at brands like Amazon, Nordstrom, and Farfetch as well as commercial studios like CONVYR. Creative-minded, while able to effectively plan for and manage a complex project, he bridges the gap between spreadsheets and creative talent.