Back to list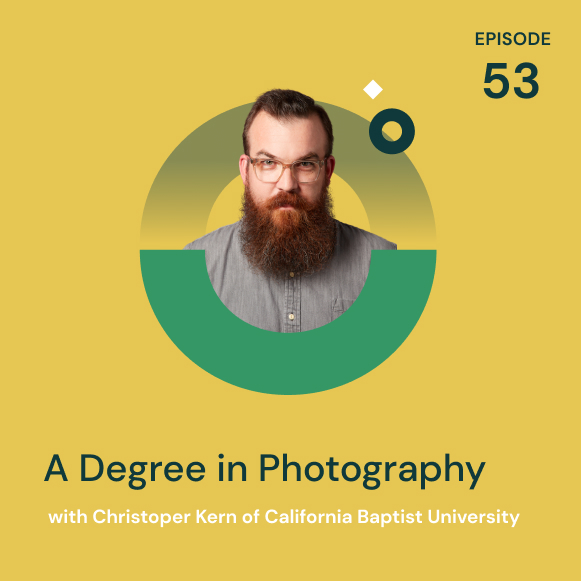 Episode 53 - March 22, 2022
A Degree in Photography with Christopher Kern of CBU
Summary
Christopher Kern is Program Lead and Assistant Professor of Photography at CBU in Riverside, CA. Chris joins Daniel to discuss the program, the students, the studio he's built out for teaching and chat about their shared backgrounds growing up in Riverside.
Key Takeaways
Chris' passion for photographic education stems from his own background, pursuing an MFA in commercial photography
CBU photography focuses not only on teaching students how to be photographers, but how to maintain and relevant and impactful portfolio in order to enter the job market as competitive as possible
"The magic is not in the medium [...] most of us are in love with photography because imagery that made us feel"
Photography is a tool to investigate curiosities, build worlds, and express ourselves
CBU's footprint is about the same as USC in Los Angeles
CBU Photography lives off site in an industrial complex familiar to many photo studio pros
The program makes photography as accessible as possible to students from all over
Links & Resources
Full episode transcript
Daniel Jester:
From Creative Force, I'm Daniel Jester, and this is the eCommerce content creation podcast.
Daniel Jester:
Riverside, California is a place that will always be incredibly dear to me. I was born here, lived many years of my life here, and have chosen to raise my own family here. After years, decades even, of having a reputation as a lower class and even dangerous suburb of Los Angeles, in some ways, it seems that Riverside is starting to overcome the cultural black hole that LA represents. More interesting and creative businesses are staying here instead of getting pulled 50 miles away to LA where the clientele is more accustomed to supporting those types of businesses. This is the context that I present this episode with my guest, Christopher Kern. Chris is the assistant professor and program lead for the photography program at Cal Baptist University here in Riverside. Chris's background is in commercial photography, as a photographer, producer, and talent agent until he joined CBU in 2017 and took over the photography program. Since then, the program has grown significantly, and now includes a full service studio, a digital dark room, equipment room, and a cohort of passionate students, instructors, and guest lecturers.
Daniel Jester:
Students are provided the space to learn and grow and have access to the tools they need.
Christopher Kern:
We have a fully stocked equipment room here on site that students could check out cameras overnight and over the weekend. And especially if they need an extended period of time, they can make arrangements with student worker. But really, the goal is they don't need anything to come here. We're providing the space and the tools for them to flourish, and really, that's why I'm spending my entire time trying to fight and provide for them. Even when it comes to printing, we supply all the ink, and for the most part, the paper too. So that's the majority of my budget, either goes to ink and paper or student worker wages.
Daniel Jester:
Right. I'm going to take a moment at the top of the episode and let you know that the photography program at CBU can always use your help. Chris's mission of having equipment and supplies available to all students comes at great cost to his budget. So if you'd like to learn how you can help, check out the show notes. Now, let's get into it.
Daniel Jester:
This is the eCommerce content creation podcast. I'm your host, Daniel Jester live, not live for you guys, the listeners, but in person with my good friend, Christopher Kern. Well, introduce yourself, Chris.
Christopher Kern:
Thanks for having me Daniel. Appreciate it. My name's Christopher Kern, I'm the assistant professor of photography and program lead at California Baptist University in our hometown of Riverside, California.
Daniel Jester:
That's right. Go Lancers. Chris, you and I didn't meet until we were kind of firmly in our careers, but are both from the area and various creative roles as photographers. You and your wife had a talent agency that you ran for a while. And now, you have built out this incredible program here at CBU for photographers, but not only that, specifically touching on a lot of the things that a commercial photographer will need to be successful in the role. So tell us a little bit about what your program and the way that you've built it.
Christopher Kern:
Growing up here in Riverside, studying photography, you definitely had to leave Riverside and go out into the world and kind of continue learning. I ended up in San Francisco and stayed up there for 10 years, got my MFA in photography from Academy of Art in San Francisco, and my wife and I moved back to our hometown at Riverside back in 2014. And 2014, I was still servicing my clients in San Francisco and LA and all over the country. And in 2017, I was recruited by CBU to come on board to build out this... At that point, they had a BA in photography with a concentration in commercial photography or a concentration in fine art photography, which most programs have those options. I'm a student of historic programs, such as Brooks Institute of Photography in Santa Barbara.
Daniel Jester:
Art Center.
Christopher Kern:
Yeah, Art Center in Pasadena. And then I ended up at Academy of Art in San Francisco, because back in 2005, it was one of the only programs offering an MFA in photography with an emphasis in commercial photography, and they were at the forefront of dabbling in digital photography. So I was able to be a participant in that transition from film photography to digital photography in the commercial world of advertising. And it wasn't eCommerce back then. It was catalog photography, and then the transition into eCommerce photography. It's come full circle. So now I'm back in my hometown, Riverside, with this opportunity to really build what I call the future of photographic education. So back in 2000...
Christopher Kern:
Came on board 2017. And in 2019, we went live with the curriculum where we did away with our concentrations and photography, and I just found a way to really create a curriculum and coursework to service students that were interested in all genres of photography, but really speak into their needs for being professional, delivering their work to let's say a client, even if they're working in the gallery world or the editorial world or the eCommerce world, and more so having the students really speak into finding their own photographic voice, because what happened historically is, most commercial programs are creating photographers with portfolios that are outdated even before the time they graduate. And the reason why is because of... Everybody's a photographer, every company's creating their own marketing collateral. I think the day and age of the old local generalist and photography, those days are pretty done. So really just observing what happens in the industry, even the most sought out advertising photographers, they're only hired off of their personal work. The fine artists, they want to create personal work. Editorial photographers, they want to create. They have passion projects.
Daniel Jester:
Right. I think that's a smart way to go because, like you're saying, the lines are much more blurred in reality than they are when you're picking a major or an emphasis at university. There's a lot of artists out there who are subsidizing their art with photography work that frankly they don't want to be doing, but you can't always pay the bills doing a certain type of work. It all bleeds together in the sense that you're going to get to do some art, but if you want to work in photography, there are some realities that you have to work in. And I think that's one of the things that I really appreciated about the way that you've built your program, is it doesn't necessarily shy away from the realities of what commercial photography looks like now in 2022, or for the last several years, that it is about...
Daniel Jester:
It's a lot about workflows, and it's a lot about thinking about upstream, downstream inputs and outputs for the process. It's not simply about crafting the best shot with what's in front of you and having the understanding of the technical ins and outs of the camera. There's a much broader awareness of how you fit in that commercial space that you don't always get from just focusing on creating the image.
Christopher Kern:
Something I always say, especially to our upper division students, is... There's this real pivot from lower division coursework, which is technique, and to what I call building the addiction of photography and getting them to create volumes of content that we could then help them refine their technique throughout that process. But then there becomes a pivot where you transition from technique into visual storytelling or really trying to help them use photography as a vehicle to communicate. So the saying I have is, the magic is not in the medium, even though we have a fixation on those tools. We need to utilize those, but really what are we trying to tell? Who are we trying to serve?
Daniel Jester:
How are we trying to make them feel?
Christopher Kern:
Feel, I mean, most of us are in love with photography because of imagery that at one point probably prompted us to feel or prompted us to think about something in a different way. But then also at the same time, we are in love with the tools and the technique. But as far as being the photographer, photography becomes a tool to exercise those ideas and curiosities and investigate the world that's before them, but also allow them to create a world that only might exist in their minds. So something, going back to just building out this program is, a survey across all photo programs, enrollment is fading.
Daniel Jester:
Yeah. I mean, the Brooks program went away.
Christopher Kern:
Yeah. The Brooks program went away.
Daniel Jester:
We still have Art Center, thankfully here, at least in Southern California.
Christopher Kern:
Yeah. And what's happening is there's a divide in the coursework, and the divide is these students have to pick, "I want to be a fine artist, I want to be a photojournalist, I want to be a commercial photographer." When in reality, at the university level, we're fighting over the same students, which we're not going to be able to service any one of those genres or concentrations if we're diluting our own offerings.
Daniel Jester:
Right.
Christopher Kern:
So there's a lot of programs that offer studio art degrees and coursework in photography, but they don't have enough students to run those classes because they've diluted their own curriculum.
Daniel Jester:
Right. Let's shift a little bit and talk about your space. We're sitting here in your office now that sits in between two parts of your studio space for the CBU photography program. One side of it is sort of a, kind of a lab, very familiar looking to a lot of people who grew up in school with the computer lab, lots of banks of IMacs in there that are... You've shared with me, you do some retouching in there, you do some printing. We popped our head in on a lecture that was going on in there on portraiture. On the other side, you've got a full fledged studio with an equipment room that's well stocked, and a place where people can build a set, get a model in there, get their subject in there and do some photography. Tell us a little bit about how you got this space and how it's been evolving.
Christopher Kern:
Yeah, absolutely. So here in Riverside, California Baptist University has about the same footprint as USC in Los Angeles, which most people don't know. And we are actually off site down the street in a industrial complex, which many photo studios across the United States, if not the world, are located in similar buildings. So the university uses this industrial complex. We actually lease about half the units. There's probably a hundred units here, and CBU probably has 40 to 50 of them, whether it's for biology labs, engineering buildings, storage.
Christopher Kern:
So a few years ago, we were offered a couple of the old engineering spaces after they built a brand new building on campus. And as soon as I knew that was an option, that was my goal to move the whole program out here. So for the last year and a half, the whole entire program is housed within two adjoining warehouses, 2,500 square feet each, and we've now made it so they work in tandem to each other. So when I'm not here, or even when I am here, we have one student worker running all the spaces. They know the studio side. They know what we call the digital dark room. And it's really to be as professional as possible, to mimic what's happening out there in the industry, and to service our internal community student population.
Christopher Kern:
But also, my goal in moving out here was to be outward facing and engaged with not only our local community, but the photographic community, and to be able to invite guests, such as Daniel, but also to make it accessible for students to arrange to do their photo shoots in this photo studio, to invite models and makeup artist and stylist. And it's very easily accessible. We have rollout garage doors, and the parking spaces right out front. It's been great. Within our digital dark room, we have 26, 27 inch IMacs, and we have 10 Canon pro 1000 printers and one Canon pro 4,000 printer.We print everything. The only class we don't print for is our intro to digital photography course, which we call the camera. We critique weekly on that digitally. But every other course that we have, weekly critiques are done in print. Final presentations are done in print. To me, photography doesn't come to life until it's printed. Doesn't matter if it's digital photography or analog photography, there's a process that occurs when you select your paper type and size, and-
Daniel Jester:
Definitely.
Christopher Kern:
... you work within those parameters. So that's really been something that our students have really championed. And we have a... At the sophomore level first semester, they take a digital printing and color management course that we've built. And from that point on, these students are empowered to, even for weekly critiques or midterm projects or final projects, they should be selecting paper types that showcase their work in the best light.
Daniel Jester:
Amazing. Let's talk a little bit about the students and the student base. We were chatting before we got into this recording, and we saw it. You've got a pretty full house here. So how have things been going in terms of enrollment in your groups of students?
Christopher Kern:
Yeah. Wonderful. So we have a bachelor's degree in photography specifically. We're not housed under communications or studio arts or anything like that. We currently have 40 majors. We have 17 minors in photography. And then the graphic design bachelor's program also has a concentration in photography, which we, I believe, have 14 or 15 students. And then we offer three sections of our intro to digital photography course every semester. So we're servicing about 120 kids a semester throughout every week. And we have a fully stocked equipment room here on site that students could check out cameras overnight and over the weekend. And especially if they need the extended period of time, they can make arrangements with student worker. But really, the goal is they don't need anything to come here. We're providing the space and the tools for them to flourish. And really, that's why I'm spending my entire time trying to fight and provide for them. Even when it comes to printing, we supply all the ink, and for the most part, the paper too. So that's the majority of my budget, either goes to ink and paper or student worker wages.
Daniel Jester:
Right. It's so important because we were also chatting a little bit about internships and diversity and that kind of thing. And I think that's a really powerful and important part of your program, which is opportunity... And the barrier to entry in photography is high. The equipment is expensive. If you're going to choose to print, it's very expensive to do it well. And I think having that opportunity for your students, that it doesn't matter, they just need to be in the program and they have access to all those resources is important, because how many amazing minds and voices in photography are we missing because they couldn't get their first camera.
Christopher Kern:
Our students in our program has championed through this pandemic. And even last year, last spring, we were able to offer some of our courses on site, face to face, while the rest of our programming was being done via Zoom, which was great to keep that community aspect intact. But also utilizing Zoom, I built a special topics course last spring. And every week, we had a different guest for our three hour course block, and we actually... A 15 week semester, we had 20 guests, so we actually continued the talks beyond the semester. And notable, photographers, such as Art Streiber, Joe Pugliese, or Jason Madara, a mentor of mine in New York, Alex and Rebecca Webb, Magnum photographers, these speakers are very interactive with our students, and the students being engaged with these speakers and ask them questions was amazing. And it even led to some of our students last summer were assisting Art Streiber in LA on shoots-
Daniel Jester:
Amazing.
Christopher Kern:
... for internships, or having students, now seniors, asking me to miss class because they're on a three day ad job with so and so photographer in LA.
Daniel Jester:
How do you handle that as an instructor? I'm sure you encourage that and want to as a photographer. Is there credit that they can get for that kind of work? Do they submit a report on it or-
Christopher Kern:
Yeah, I mean, it's definitely... Internship's not required. It's encouraged. But also, it's their responsibility to be here-
Daniel Jester:
Right.
Christopher Kern:
... within the courses they signed up for, my whole goal is to speak into these students, provide opportunities for these students, and to make sure that they really engage with that, and they have to make it a decision if they want to miss class this week for that reason or this. And the way I pay these students is with a grade. So what I tell them is, if you miss class, you're going to miss the content. You're not going to get that a in the class. So when your mom asks you why you got to C minus in your photo business class, it's not because you don't know what you're doing. It's because you didn't attend some classes, right?
Daniel Jester:
Yeah. Hopefully you were working.
Christopher Kern:
So really the students are finding that balance, and I have a few particularly that kind of play with that this year. But then also, my cohort of seniors is so amazing. They, in a good way, peer pressure, speaking to their students-
Daniel Jester:
Yeah.
Christopher Kern:
... and catch them up on what they missed, or make sure they're not missing class for other reasons.
Daniel Jester:
Let's talk about this group of students really quick, because you've brought up a couple of times in conversations that you and I have had around your group of seniors. And I'm not an educator, but it feels like a very special thing to have a group of people who are nearing the end of their continuing education journey. And in some cases, you've spent a lot of time with them. Tell me about your group of seniors this year.
Christopher Kern:
Yeah. I'm finishing up my fifth year here at CBU. And my first year, I was really thrown in the deep end and made a lot of changes, and there was a whole shift in culture I had to create. There was a whole shift in curriculum and facilities and equipment. And I think part of this cohort of seniors is, I was able to stay ahead of them on all these changes. So I taught everything or instructed my instructors to teach everything, to anticipate those changes. So this group has really benefited from our program in its entirety, right? And these seniors, particularly last year, we submitted to communications art, American photo, international photography awards. And we had three, four or five of our students be awarded by each one of those industry recognized publications or organizations.
Christopher Kern:
And we just submitted... Again, I just submitted 90 photos from our different photographers to Comm Arts this last week. And that's the investment I need to make back into these students to help them launch into their careers. I remember going to Academy of art in San Francisco. I was featured, at one point, in CMYK magazine and Comm Arts. And I never submitted. It was my director that put me out there, and I'm forever grateful for that, but really just trying to show these students by leading by example.
Daniel Jester:
Yeah.
Christopher Kern:
And I'm currently not practicing in the field, but every single one of my adjuncts are, whether they're documentary fine art photographers showing in galleries or working on social justice pieces and doing editorial content, or even [inaudible 00:20:55] actively in the eCommerce space servicing their clients in the fashion beauty realm. We've built this world class program here in Riverside, which is crazy and bizarre.
Daniel Jester:
It really is crazy.
Christopher Kern:
And I love it.
Daniel Jester:
I was born and raised here. It is crazy.
Christopher Kern:
It's crazy. And I tell the students as like, they're better off than I ever was in undergrad. And speaking about that is, really, this program is a miniature MFA program. And they're doing MFA work at the junior level of undergrad, which is crazy.
Daniel Jester:
I can tell you that the moment that I realized that the shift that I had always hoped for had happened was in talking... When I was working at conveyor in LA and I was talking to a client of ours and their art director had gone to CBU, and chose to go to CBU for art and design. And that was... I was like... I think by then, you and I had met and I knew you had this program here. But yeah, it's been really strange and wonderful to see our community, which often was... The analogy I always used was that we just existed too close to a cultural black hole.
Christopher Kern:
Right.
Daniel Jester:
Good things got sucked away from us and into LA. And the city of Riverside is a city in and of itself. It's not a suburb of LA. It was its own place, and it has its own history and its own group of people that can have some amount of success here, and that's dependent on us building the community up. And so I appreciate you very much for doing that.
Christopher Kern:
Yeah. Awesome. Well, thank you for that. And I mean, that's the biggest blessing of being here, is also... So probably a third of our students are from the Inland Empire region, which is just outside of Los Angeles. And then probably the other two thirds are from all over the United States, if not the world. And some of them come here for a specific reason. We're a Christian private university. They come here for that. But really, my goal is to create this program as a destination to serve students specifically looking for a BA in photography. And somebody was asking me the other day, is like, "What other programs are comparable in the area?" And my first response was none, and then second was Art Center, because I believe in that historic... I love history, so I just love what they've done for a hundred plus years-
Daniel Jester:
Yeah.
Christopher Kern:
... for the design community, for Los Angeles, for the world. But we're doing something different here. So even Dennis Keeley, the former director for 18 years of the photo program. He's now retired from Art Center, but he's a friend of our program. He comes out here once a year, and he just loves what we have going on. So that's super validating.
Daniel Jester:
Totally.
Christopher Kern:
My mentor here in Riverside, Steve Walag was a alum of Art Center.
Daniel Jester:
Yeah.
Christopher Kern:
Yeah, and he taught RCC, a community college here in Riverside, has some photography programs. And at one point, they had a dark room. I took film photography there because I wanted access to the dark room.
Daniel Jester:
Right.
Christopher Kern:
And I started... Some of my earliest commercial photography gigs as an assistant and as a shooter were the direct result of Steve and his mentorship of me. So it's a great community, but to some extent, we got to protect it and try to keep it here a little bit. Right. Absolutely. That's why, I mean, I'm so excited to hear. And even, a couple of my seniors are going to be staying here and the Riverside area, even though they are going to work in LA and elsewhere, but they're very invested in... There's a larger design arts community growing here. I want our students in our program to speak into the larger markets, which-
Daniel Jester:
For sure.
Christopher Kern:
... smaller towns, such as Riverside of a quarter million people.
Daniel Jester:
331,000.
Christopher Kern:
Is it up there? Okay.
Daniel Jester:
I just looked it up. I don't remember why I was doing it, but yeah, 331,000.
Christopher Kern:
Love it. But things I'm not trying to engage in, not to discredit, but I'm not interested in art walks. I'm interested... Again, these students work out into the world.
Daniel Jester:
Totally.
Christopher Kern:
... where they create change and serve a company or an institution, but they have... Yeah. They have the technical skills to be definitely employable. But really, what I'm trying to mold is a way of thinking.
Daniel Jester:
Yeah. We'll definitely be employable when we get this DAM course off the ground. That's one of the things... Just for the benefit of our listeners, one specific thing I appreciated about Chris and his program is, he's putting on a DAM course and has signed up for DAM software, because this is an important part of living and creating art and culture, and imagery, in the digital world, is managing those assets and being fluent in those systems. And I think that's a really, really cool idea.
Christopher Kern:
Yeah. Awesome. I mean, digital workflow, even in the most manual way, has been the benefit of my career for the last 20 years. Especially moving up to San Francisco, I was at the forefront of transitioning these photographers from film to digital, and kind of sticking with some workflows even since then, but so much of the industry has evolved. But the DAM system is built throughout our program, and our students, even at the intro classes are trying to work on their own internal archives, but we start off with Adobe camera raw, and maybe we don't really gear into light room, but we jump right into Capture One Pro. Capture One Pro, they're learning their sophomore year, and we're using it throughout.
Christopher Kern:
And then currently using... Canto stepped up in a big way in supporting us in digital asset management system, which we still need to come to fruition with what that actually looks like, but it's been a great way to absorb content, which I manage. I'm the only super admin, I guess, but I still use it in a very manual way, on top of everything else I'm doing. But really, that's been a great relationship with creative force and just getting me to think about these things beyond myself, and meeting Daniel years back, of really understanding the volumes of content that's created at these eCommerce production houses is far beyond. I used to think me shooting a few thousand photos a day for an advertising image library was a lot, but.
Daniel Jester:
Yeah.
Christopher Kern:
... day in and day out, that's crazy.
Daniel Jester:
It really is. It really is. And getting it all organized is... We believe, on this podcast and at Creative Force, that it's going to be the creative teams that usher in the next evolution of how we buy and sell things digitally. And maybe in some cases... I've been vocal on LinkedIn that I am I'm skeptical, but open minded about the metaverse, but all of this is going to really depend on our ability to organize things digitally in a way that we can access them quickly when we need them [inaudible 00:28:11] in the right moment. So I think it's a brilliant thing to include in your program [inaudible 00:28:16] some of those skills and that fluency.
Christopher Kern:
Yeah, it was a big gap. I mean, it was really came to fruition going to some of these industry conferences and hearing from the clients themselves what isn't being serviced in higher ed schools, particularly the fine art programs throughout the United States. They're they don't even know how to share something on Google Drive, right? [inaudible 00:28:45].
Daniel Jester:
Well, I just figured out how to share something in Google Drive, for the record.
Christopher Kern:
I asked my students all the time, why is your file name _mg_1234? Really? Or, gen1.
Daniel Jester:
Yeah. Final final.
Christopher Kern:
V2.
Daniel Jester:
Extra final.
Christopher Kern:
Yeah, so .jpeg.
Daniel Jester:
.heic.
Christopher Kern:
Yeah. Or, why are you saving your high res photo as a PNG? I don't know. So, it's a thing.
Daniel Jester:
Well, thanks Chris, for your time, and for talking to us for the show, and really looking forward to what the future holds.
Christopher Kern:
Yeah, absolutely. And I appreciate your guys support, and I'm happy to be here with you on the ground in Riverside, California, and-
Daniel Jester:
Get an extra plug in there at the end of the show here.
Christopher Kern:
There you go.
Daniel Jester:
Thanks man.
Christopher Kern:
Yep. Appreciate you.
Daniel Jester:
That's it for this episode. Many thanks to our guest, Christopher Kern, and the photography program at CBU. And thanks to you for listening. The show is produced by Creative Force, edited by Calvin Lanz. Special thanks to Sean O'Meara. I'm your host, Daniel Jester. Until next time, my friends.
Subscribe to the eCommerce
Content Creation Podcast
About the host

Chief evangelist at Creative Force
Daniel Jester is an experienced creative production professional who has managed production teams, built and launched new studios, and produced large-scale projects. He's currently the Chief Evangelist at Creative Force but has a breadth of experience in a variety of studio environments - working in-house at brands like Amazon, Nordstrom, and Farfetch as well as commercial studios like CONVYR. Creative-minded, while able to effectively plan for and manage a complex project, he bridges the gap between spreadsheets and creative talent.