Back to list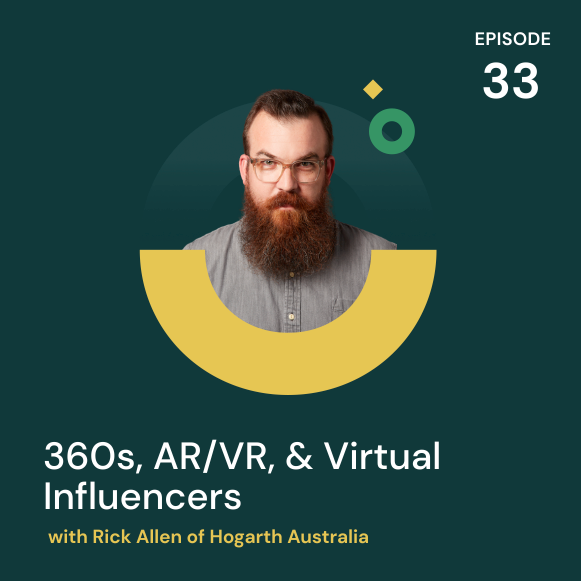 Episode 33 - November 2, 2021
360s, AR/VR, and Virtual Influencers with Rick Allen of Hogarth Australia
Summary
Rick Allen of Hogarth Australia joins the show to talk about the current biggest segment of computational assets in use today, the 360 spin, and we explore some other things the future might bring with regards to AR, VR, GAN Generated Imagery, and we talk a bit about Rozy, Korea's virtual influencer.
Key Takeaways
360 rotational assets seem to stop and start as content that brands want to use, but in some segments, like shoes and appliances, there is a clear benefit.
AR will develop into technology that allows us to virtually try on items, perhaps even becoming an in-store shopping feature, where we can check out items virtually to decide if we want to try them on physically.
LED technology that creates large backdrops, that are actually screens (like The Mandalorian Soundstage), could come down in price enough to be feasible for an e-comm studio, creating a significantly more sustainable way to capture editorial content.
Studios today should be preparing their pipelines for the data and processing needs of AR. We have yet to see what this technology can do for e-comm, but it could be a seismic shift in how we create content.
Links & Resources
Full episode transcript
Daniel Jester:
From Creative Force, I'm Daniel Jester. And this is the E-commerce Content Creation Podcast.

Daniel Jester:
As I sat down to review this episode in preparation for sending it to our editor, Calvin, it was the same day that Facebook announced its plan to change its name and what that meant for the future of its product. Whether or not that vision becomes a reality remains to be seen, but I am confident of this, the technology that is in its infancy now will make its way to e-commerce content creation. We will find a way to use this tech to enhance the customer experience. Rick Allen of Hogarth Australia has spent quite a bit of time working with 360 spin assets, which really is where this journey begins for e-commerce. He shared with us some of his thoughts of what may be next, short-term and long-term, for e-commerce content.

Rick Allen:
I think as we move back into stores, we're at different stages across world, but smart mirrors where you can try on outfits in a change room without actually trying them on. And then you can kind of get outfits together that you really want to consider and then try on the actual outfit.

Daniel Jester:
Rick is in Melbourne, Australia, and he shared with us a custom that Australians begin their meetings and gatherings with. Before we dig into the topic of this episode, you will hear Rick make a statement, paying respect to the original custodians of the land on which we respectively met. I really appreciated him sharing this custom with us and I think you can hear how important this custom is to him personally.

Rick Allen:
Thanks Daniel. I'd like to acknowledge the traditional custodians of the lands on which we all respectively meet today, recognizing and celebrating their continuing connection to land, waters, community, and culture. I'd also like to pay my respects to their elders past and present who have faithfully cared for this country for thousands of years. Cheers.

Daniel Jester:
This is the E-commerce Content Creation Podcast. I am your host, Daniel Jester, and very excited to introduce my guest for this episode, Rick Allen of Hogarth Australia, coming to us from Melbourne Australia. Rick, how are you? Welcome to the show.

Rick Allen:
Thanks Daniel. Yeah, I'm good.

Daniel Jester:
We invited you on the podcast. For some reason, we find ourselves often turning to Australians to talk about the future of things like CGI and computational photography and that kind of thing. And you and I recently had a conversation about some of the things that Hogarth are working on from both a technology standpoint, a new media standpoint, but also some of this kind of feeds into sustainability as well. You wanted to start talking first about where we are today with 360 rotationals, will it stay around, are we using that information to inform other new media like AR? So why don't you give me your thoughts on just 360s in general, where we are today?

Rick Allen:
It's had an interesting history in e-commerce space, hasn't it? It seems to start and stop over the last 10, 15 years quite a bit, but we're definitely seeing more of a push towards it, now especially with AR. It's quite a good way to build an AR model of a shoe or a backpack. I know you love shooting backpacks.

Daniel Jester:
You've listened to the show.

Rick Allen:
Yeah. I think we're all slightly triggered by the idea of a backpack strap.

Daniel Jester:
You kind of nailed my personal experience in what you just said because I've been aware of 360s and Amazon was working on 360s and it was obvious after a while that that was not the end goal necessarily. The 360, that asset was almost a by-product of the process of scanning the product for other AR, VR type things. But we still see them. Home Depot, a lot of the big hardware stores are still using almost every product on the website. Home Depot, Lowe's here in the US have 360s on their site. So definitely some retailers are still seeing value in that asset on its own.

Rick Allen:
It is interesting. It does seem to be a lot of hardware type clients really love 360. I guess you're so used to picking something up in a hardware store and to have that full view of a tool or a part, it does help the buyer definitely. And shoes, I shoot a lot of 360 shoes, and it's great to be able to see from the top and profile to really get an idea of how it might look on. And that's where we've started to see AR building models of shoes that you can then try on virtually. My kids love that feature on any website.

Daniel Jester:
What product line do you feel benefits most from having a 360 available or some sort of an interactive asset? Is it shoes for you?

Rick Allen:
Yeah, I think so. That's probably 80% of what we're doing at the moment. It was fast consumer goods, but like you said, that was mostly about scanning the box for OCR and pulling data from the box. But yeah, it definitely seems to be shoes. And tents, funnily enough. We're doing a lot of AR with tents at the moment and the goal is that you can kind of see the tent on your camp site and see if it's going to fit in an area and things like that.

Daniel Jester:
Definitely see the value in that. Tents is one of those things that the scale can vary dramatically.

Rick Allen:
Yeah.

Daniel Jester:
Sometimes even when you have imagery with a person in it, it can be difficult to really understand how much space that thing takes up. An example of this for me personally, is I just bought like an outdoor play structure for my kids that we shopped around. My wife and I shopped around, we looked at a ton of pictures. This was a relatively new product for the manufacturer that made it. And when we got it and assembled it, first of all, when we assembled it, there was a guided app that had 3D renderings of all of the parts, all of the hardware, and it walked you through step by step. It was by far the easiest assembly process I've ever been through. A lot of that, I would think-

Rick Allen:
Yeah, amazing.

Daniel Jester:
... enabled by AR.

Rick Allen:
Yeah.

Daniel Jester:
But it was significantly bigger in reality than even having images of it with kids and adults in the frame. We put it together and we said, "Oh my gosh, what have we done? We can see clear down the street from the top of this thing." Scale is one of those things that I think that emerging technologies can really help us with. Back to the hardware store thing, I guess the next step would be to be able to compare sizes of different products with AR or with those 360s so you can really get a sense of, "Are you looking at the right bolt or the right screw or something like that."

Rick Allen:
And Apple's really pushing this technology in their latest software releases so it's not going away anytime soon, I'd say.

Daniel Jester:
Right. Once upon a time, the first company that I ever worked for was a window treatment company. One of the things that we struggled with was our customers. We were a mail order company. Our customers would need to measure their own windows and different types of window treatments have different considerations when you're measuring, different clearances that you need to leave. I remember looking at my Blackberry and thinking, "You can't help me with this? Wouldn't it be so cool if I could take a picture of my window and it could just know what the measurements are? Maybe I put a little marker in there as a reference that some app knows." And this is my problem, Rick, historically, is I've got these ideas and zero skills to execute on them because it turns out that, yes, you absolutely can do that. People were working on it at the time.

Rick Allen:
Maybe not with Blackberry, but yeah.

Daniel Jester:
Yeah. It's in my iPhone now. I can go out and measure. I could have measured my backyard to really figure out if this playhouse was going to fit.

Rick Allen:
Yeah.

Daniel Jester:
Focusing a little bit on AR and maybe even VR, like getting into some virtual stuff, we've seen some places, some of the more extreme corners of the internet that are starting to develop, I've seen things like entirely virtual fashion collections and things like that. Where do you see that potentially coming into mainstream e-com, where we start to see different virtual ways of shopping and some of the other more extreme ideas that we see out there?

Rick Allen:
There's Zeekit, which I think was recently, well, not even that recently, mid-COVID recently, acquired by Walmart where that technology, you can virtually try on outfits. I think as we move back into stores, we're at different stages across the world, but smart mirrors where you can try on outfits in a change room without actually trying them on. And then you can kind of get outfits together that you really want to consider and then try on the actual outfit. I think that will start to become more mainstream. We worked hard how we could shoot things virtually during the various lockdowns to some success. I think that will become more mainstream as well. We're seeing TV productions where Hogarth is pushing sustainability in quite a big way. And part of that is shooting on location virtually in LED studios where you can, in real time, generate a landscape that you can shoot a car in or a spaceship. That's how they shot Mandalorian.

Daniel Jester:
Right. Yeah, I was going to say the Mandalorian, famously watch that video make the rounds of the internet of production of the Mandalorian. I think a lot of us hadn't seen that technology before. It's extremely impressive. And the implications for all facets of media and content creation are pretty huge.

Rick Allen:
It's probably a little cost prohibitive at the moment for e-com to go to that scale, but what you can do with Unreal Engine and the green screen these days is pretty incredible.

Daniel Jester:
Who knew when we were wondering if graphics on the Super Nintendo would ever get better than that, where we would be today? It seemed a little sometimes, and now it's like, "Oh, well, we can actually film an entire movie in the sound stage and it looks incredibly real with video game technology."

Rick Allen:
Yeah. It's just amazing.

Daniel Jester:
It really is amazing. I want to talk a little bit about, you mentioned sustainability with Hogarth, and I kind of wanted to touch more on that because there is a big case to be made for some of these different virtual ways of working computational photography. There's a big case to be made for how that can create a more sustainable process for everybody involved. Certain types of travel potentially being unnecessary because we have LED sound stages that we could leverage for some things, and like you said, it's cost prohibitive today, but it stands to reason that it won't always be cost prohibitive. But all the way down to just like LED lighting being safer for people to use in a studio than maybe strobe was and less power intensive. What are some of the things that you think we could see on the sustainability side of things with some of these advancements in technology, both from the process of creating the content, but the content itself?

Rick Allen:
Even paper rolls, that's a huge bane of my existence. We just waste so much amazing paper for a background and often it's just not necessary. You could shoot it on a gray and it can be any color. And yeah, I think small things like that where the multiplier effect, it soon adds up to real positive change.

Daniel Jester:
There's not much you can do with that background paper once it's been spent other than make a giant paper airplane.

Rick Allen:
Yeah.

Daniel Jester:
Usually you get in trouble for that. I'm with you. From storage space of the paper, the production of the paper, we've had conversations on this podcast before. Unfortunately, the reality today for many production studios is there's quite a bit of waste. Foam core is used to get spent and is rather difficult to recycle as is paper. And recycling isn't always going to be the solution. We need to find creative ways and certainly having access to one of these LED cyc walls in your studio would be pretty amazing, pretty cool to work on if not great for the environment as well. Rick, you mentioned to me about the Korean Instagram model, Rozy.

Daniel Jester:
And I want to talk a little bit about this with you because this is a whole other can of worms that we could get into, but I want to touch on it with you as long as we're talking about virtual reality and some other ways of working and generating content. What are your thoughts on the idea of an entirely computer-generated model or entirely computer-generated products? Does that create trust issues with consumers, potentially? We're seeing a lot of the stuff today more in like pop culture, but it will make its way more and more into e-com certainly. What are your thoughts on that?

Rick Allen:
It's really interesting. We started looking at it three or four years ago and that was the immediate thing that came up with consumers is the trust. It does seem a little disgenuine, especially Rozy is quite amazing. So she shoots advertising campaigns for some of the big brands and it's presented as if it's part of her life. And it's really interesting, the engagement is still real and there's a lot of engagement with her. So it's really interesting. I think we will see a shift in attitudes towards the metaverse and what is real and what isn't. I think authenticity has been really important for brands over the last few years, but I can see a shift towards, I think everyone's pretty understanding that a lot of these influencers aren't exactly authentic.

Daniel Jester:
That's a great point. Who are we to talk about authenticity of a virtual influencer.

Rick Allen:
Yeah, exactly. So yeah, I just think the attitude will shift over the next few years and the more real it looks, I think it makes it just a little bit easier to kind of accept as well.

Daniel Jester:
It's one thing with Rozy, for example, I'm looking at her Instagram page right now and it's clear, it's right in the bio that it's Korea's first virtual influencer, but it's a different situation when we don't know that. It'll be a different situation when it's revealed after somebody has potentially developed an online relationship with one of these types. And for all we know, who knows, we may already be. The problem that I have with this, Rick, is that I've seen Westworld, I've watched Ex Machina, I've seen Terminator. I know how this ends. We need to be extremely careful here.

Rick Allen:
Yeah. Whenever I read about GAN imagery, so GAN is generative adversarial networks, I think it is. And basically, it's two computer models teaching each other how to make more convincing images. That's how we use it, at least. And it gets really good. It gets also really good at detecting fake images, which is pretty interesting as well. But yeah, where we'll end up is potentially quite scary.

Daniel Jester:
I've always said that a huge part of product photography for a brand is about building trust with your customers. And you're trying to convince people to give you money in exchange for a thing that they can't actually hold in front of them in some cases. So the way that we approach this, I think, is going to have a big impact on the trust that we have in our consumers and how that might evolve over time as we start to shift more and more into some of these things. Because the benefits for e-com day in, day out when the costs get to the point that it's more accessible for a wider range of companies, are obvious because of the big one, the elephant in the room is sample availability. You're not worried about getting those samples in if you can convincingly render all of your imagery and your entire supply chain for the purpose of creating content becomes virtual, everything just happens a lot faster. But we're going to have to navigate this with some responsibility, I think. With great power comes great responsibility to quote Spiderman.

Rick Allen:
Yeah, definitely.

Daniel Jester:
Rick, before we wrap up this episode, just for our listeners that might be in a brand-based or retailer-based studio, and I know plenty of them are working on 360s or have dipped in and kind of checked it out, but what do you see as the next sort of thing that's going to impact a broad assortment of retailers in terms of new media or CGI or GAN type media?

Rick Allen:
I really do think AR is going to be a game changer for a lot of brands. I think we need to invest a lot more time into working that out at scale. It's one thing to build a convincing model of 300, 400, 600 things. It's a whole different pipeline, right? So I think looking at pipelines for building things like that at scale is going to be well worth the investment.

Daniel Jester:
That's enough for me and that's enough for, I think, our listeners too. Yeah, I'd be thinking about that and figuring out what those pipelines might look like. Rick, thank you so much for taking the time to join us for this episode of the E-commerce Content Creation Podcast, and also for sharing your tradition with us. It was quite moving and a great way to start the episode. So I appreciate that very much.

Rick Allen:
No, thanks for the opportunity.

Daniel Jester:
That's it for this episode. While I make jokes about popular AI turned evil movies, I think there is a lot of value that we can get out of these emerging technologies from enabling more sustainable processes to making things more accessible for everyone, as long as we approach this technology with respect and discretion. Many thanks to our guest, Rick Allen, and thanks to you for listening. The show is produced by Creative Force edited by Calvin Lanz. Special thanks to Sean O'Meara. I'm your host Daniel Jester. Until next time, my friends.
Subscribe to the eCommerce
Content Creation Podcast
About the host

Chief evangelist at Creative Force
Daniel Jester is an experienced creative production professional who has managed production teams, built and launched new studios, and produced large-scale projects. He's currently the Chief Evangelist at Creative Force but has a breadth of experience in a variety of studio environments - working in-house at brands like Amazon, Nordstrom, and Farfetch as well as commercial studios like CONVYR. Creative-minded, while able to effectively plan for and manage a complex project, he bridges the gap between spreadsheets and creative talent.